Onboarding new clients should be a joy without the added repetitive tasks. Why spend valuable agency time doing tedious tasks when you can automate client reporting and create effective marketing reports in seconds?  
If you enjoyed AgencyAnalytics' time savings and ease of use before, you'll love the recent updates.
New to this robust automated client reporting platform? You'll appreciate how easy it is to work with it to improve client reporting and retention.
Here is a quick video to walk you through what's new.
Let's dive into details to explore these latest updates: 
1. Aesthetic Agency Tools
The first and most obvious thing you'll notice is the fresh look and feel of the app.
This makes dashboards and reports even easier to understand and digest for your clients, and simpler for you to create.
2. Improved Dashboard Editor Functionality
Ease-of-use and saving time are two things agency tools need in order to be adopted. Your agency needs an intuitive interface that allows you to quickly create dashboards that your clients will actually want to look at.
A brand new slideout menu on the right-hand side of your dashboard editor will immediately allow you to connect to 75+ integrations so you don't have to break your flow to gather all your clients' marketing metrics in one place.
3. Customizable Agency Tools to Meet Your Clients' Needs
Make your dashboards and reports easy to understand for your clients by adding metrics and widgets in varied formats, including customizable area charts, pie charts, and much more!
Go ahead and update the style and visual presentation of each widget, so that it matches your agency's preferences and colour palette.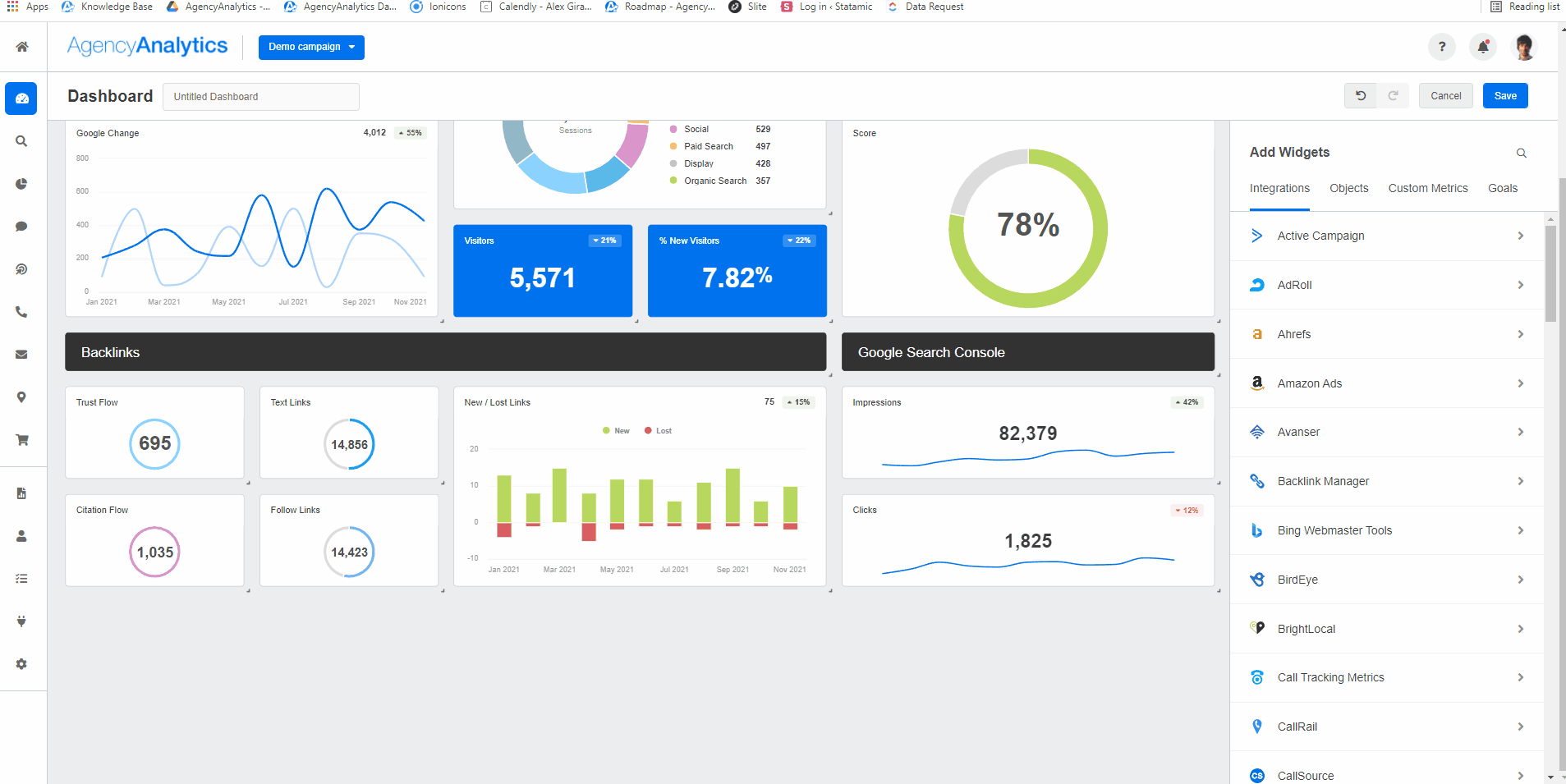 Creating a dashboard has never been easier. Simply click and drag, so customizing your clients' dashboard layouts are a breeze.
4. Updated Report Editor: Better than Copy-Paste
Another thing an effective agency tool needs is functionality. Your re-designed report builder now allows you to be even more efficient with client reporting. 
Now you can clone an existing report section. One click and you're done! Onboard new clients even faster than before. 
Try out the new dashboard and report editor for yourself!
Automated reporting with AgencyAnalytics' intuitive platform saves 6,000+ agencies countless hours each and every month. With the latest updates to this tool of choice for agencies, building insightful and attractive client reports & beautiful marketing dashboards just got a whole lot easier.
Alex is in product marketing, pushing the great work from the engineering team out into the world. When he's not marketing, he's probably rock climbing or researching the latest eCommerce trends!
Read more posts by Alex Girardi ›
Try AgencyAnalytics risk-free for 14 days. No credit card required.