Basis Standalone DSP Dashboard
Informative Basis Standalone DSP dashboards and reports to engage your clients.
Performance Analytics
Monitor how well your Basis Standalone DSP campaigns are running and report to your clients
Hyperlocal Data
Track audiences by country, region, city, and audience segment
Cross-Device Tracking
Drill into device-based performance data with cross-device tracking
Automated Reports
Run and send reports on a cadence that suits both you and your clients - automatically
Customizable Dashboards & Reports
Beautiful, Informative Dashboards
Wow your clients with easy-to-understand dashboards and custom reports, built with highly-visual graphs and charts. Bar charts, pie charts, line charts, tables, and more - include the visualization that suits the data so that your clients can absorb it at a glance.
Explore All Available Centro DSP Metrics
See all the metrics you can easily add to your client reports and marketing dashboards
Audio Video Starts

Click CVR

Clicks

Companion Clicks

Companion CTC

Companion CTC Revenue

Companion Impressions

Complete View

Completion Rate

Conversions

CPA

CPC

CPM

CTC

CTC Revenue

CTR

Cvrm

Data Spend

Date

Ecpcv

Eligible Impressions

Impressions

Measured Impressions

Measured Rate

Media Spend

Quartile 1

Quartile 2

Quartile 3

Revenue

Spend

View CVR

Viewability Fee

Viewable Impressions

Viewable Rate

VTC

VTC Revenue
Break your clients' Basis Standalone DSP reports down by demographics - Country, Region, City, and Audience Segment - to get granular data on how your campaigns are performing granularly.
Monitor how people are interacting with your Basis Standalone DSP campaigns, broken down by device. Make informed decisions on how to optimize your ads by device so that you can get the best results possible
On-Demand Client Dashboards
Give your clients 24/7 access to the dashboards they need, so they can indulge in data when they need it - even while they're burning the midnight oil. Easy logins mean your clients can consume their data without delay and without needing to contact you.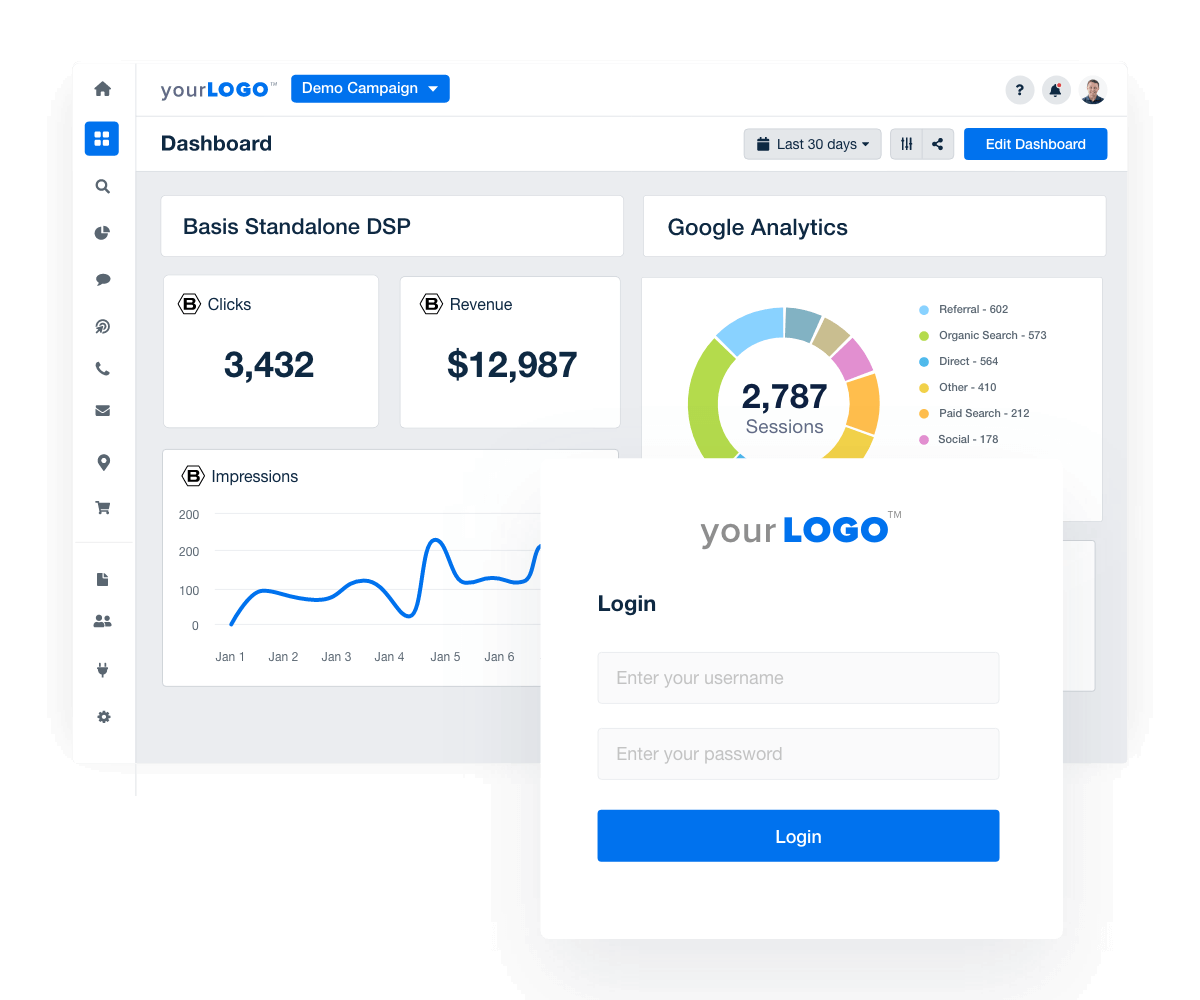 Custom Dashboards & Reports
Fully White-Label Dashboards
Add your branding and logos to your dashboards and reports so everything looks like it's coming straight from your agency. Tell your clients you developed your own in-house reporting system - we'll keep the secret! They'll just enjoy the professional look and experience.
Connect the Basis Standalone DSP integration in seconds to streamline your client reporting.
Everything Your Agency Needs
Try AgencyAnalytics risk-free for 14 days. No credit card required.