Kelsey Wagner founded MyMediaMatters in 2017 in Ponca City, Oklahoma, with one clear goal in mind: helping local businesses succeed in the challenging digital space. 
And she has stayed true to her goal with her small but mighty team serving over 44 local business clients while successfully running another facet of her business–a local magazine. 
"The marketing agency focuses mainly on website and graphic design, and the Ponca City Monthly Magazine is separate," Wagner explains. "But at the end of the day, we're getting information, creating content, and delivering it to the people who need that information." 
According to Wagner, the lessons she learned prior to starting her agency, combined with the six years of experience, are evidence that her agency has successfully navigated the tumultuous early years she refers to as the "wild west" phase. 
This 100% women-owned company has developed over 350 websites since opening its doors, and Wagner is determined to further streamline operations and grow her marketing agency. 
Bridging the Gender Divide From Farming to Tech 
Wagner's diverse background gave her many valuable lessons and skills that she used during her entrepreneurial journey. 
Before starting MyMediaMatters, she worked for a nonprofit company, at a bank, and also holds a degree in journalism and administrative leadership. 
"I've done a little bit of everything," Wagner laughs. "But I've always been a big fan of interdisciplinary education." 
In addition to her office jobs and formal education, she recalls her memories of working as an entrepreneurial farm girl alongside her dad.
"The very first business I started was with my dad," she shares. "We took his tractor supply invention from design to mass production." 
Wagner says she's always gravitated toward more male-dominated industries. 
"I grew up on a farm and was working with my dad and Grandpa," Wagner says. "So I was raised with the mentality that gender didn't really matter. I was the only girl driving a combine. But my family always says that girls are actually better combine drivers because they don't tear stuff up!"
Image: Kelsey Wagner with Derion Schieber, owner of The Farm House Kids Co., checking out the logo MyMediaMatters designed for their downtown grand opening.
She's always gravitated towards technology and had a love for computers. But when she started working with people in the industry, she noticed a clear divide. 
"I started noticing that I was being treated in a different way than my male counterparts during meetings," she says. "Because they assumed I didn't know what I was talking about, and it started happening so frequently that I realized that I needed to help them understand that women are equal and able to do all the things in technology." 
MyMediaMatters is proud to offer their employees flexible paternity leave. 
"I've made it one of our core goals because there aren't that many opportunities out there for women who want to work and have that flexibility," says Wagner. 
But one lesson has always stuck with her throughout all of her past experiences. 
"Every single industry I've worked in was always about serving the customer," Wager says. "It doesn't really matter what you're offering as long as you have a good product and great customer service. So, that's really what roots us at MyMediaMatters–serving our customers." 
Navigating Early Agency Growth Challenges 
It wasn't until Wagner had been laid off for the second time at the same bank she was working for that she decided she wanted to start her own business. 
"I had been building websites for five or six years at that point, just as a side hobby. And I knew there was a huge demand for it," says Wagner. 
It took her about a year before she could actually pay herself a salary, and business started "exploding exponentially." That's when MyMediaMatters started to really grow. 
After her first year running the business by herself, she was able to hire her first employee. Within the next two years, she was up to five employees and had moved offices four times in just five years. 
"I would say that the first two years of being in business was kind of like the Wild West," she laughs. "It was just anything goes, and we have customers that need things. We were just trying to catch up and meet the needs."
Like many agency owners trying to grow their businesses, Wagner realized her methods weren't sustainable long term. They were running into some staffing challenges and processes that were holding them back. 
"We didn't have a client onboarding process, and we didn't have anything streamlined for delivering monthly traffic reports to our clients. We were doing everything manually," Wagner shares. 
MyMediaMatters also didn't have policies in place yet for onboarding new employees, causing some difficult employee turnover. 
"When I think about the lifecycle of a business," she explains. "Those first five years are pretty transformative, and you either succeed and grow and overcome, or you get overwhelmed, and you fail."
Image: The MyMediaMatters and Ponca City Monthly team attending a new teacher event in Ponca City.
Community Support Propels Agency Beyond Five-Year Milestone
In order to get her business past the five-year make-or-break-it threshold, Wagner knew she needed some systems and processes in place to accelerate her agency's growth. 
She hired two specialists to set her agency up for long-term success: a business consultant and a human resources consultant. And they began reviewing all of the agency's internal processes. 
"Once I hired the business consultant, I would go to her and talk to her about things and she started saying, 'If you're spending your time doing HR work, you're actually not making money when you should be spending your time making money.'" 
After working with these consultants, Wagner was able to take slow down from the day-to-day and take a step back to focus on the business.
"They helped me do long-term planning and setting our next five years of business goals, so it's been a great process," she shares. "When she sat down with me and started looking at all of these things, it all started making a lot of sense."
Wagner also relies on various sources for business advice, like leadership books, and her group of entrepreneurial friends for advice. 
"Ponca City is full of entrepreneurs, and we're really proud of that," she smiles. 
She's always been very actively involved in her community, including being the upcoming chamber chair for the Ponca City Chamber of Commerce. 
Image: Kelly Cross, Chair of the Ponca City Business Council, presenting Kelsey Wagner with the September Chamber Business Partner of the Month award. Shown with Kelsey are her staff (left to right) Jill Rowe, Robyn Ryan, Jennifer Vaughan, Lauren Payne, and Jessica Anderson.
"People say I have a lot on my plate, but I'm a bit of a self-improvement junkie," she laughs. "There are a lot of hours in a day, and if you use those hours really wisely, you can get a lot done. And it does help our agency. We get the benefit of customers who come to us because we're involved, and they know that we really care about our community."
Another way Wagner shows her clients that they're invested in the local economy is through their physical office presence. 
"We realized that a physical office is something we needed," she admits. "So we bought a building downtown on Main Street, and it shows our clients that we're a legitimate business that has deep roots in the community and that we're here for the next 30 or 40 years. We're not going to be a flight risk. Our building is a big part of who we are, and we love it." 
Image: MyMediaMatter storefront on Main Street, Ponca City, Oklahoma
Fostering Collaboration to Change the Local Marketing Agency Landscape
Wagner has chosen to view their community as a pool of potential collaborators rather than competitors, even if it includes many individuals in the marketing agency industry.
"I can quote all the different books I've read about collaboration, but I think it's important to always create synergy with other like-minded people, even if they're technically your competition," she says. 
They've been able to work with other local agencies who offer different services than they do, like video production, for example. 
"There's a video production agency right down the street from us. A lot of people think we're competitors, but we're really super good friends," she smiles. "We do tons of work together, and I just feel like that collaboration helps to build a more successful, thriving community mindset."
She says having this mindset has resonated with younger generations she's spoken to. 
"They want everyone to get along. So I feel like 'competition' is an older type of mindset where everything was very cut-throat," she explains. "Know what you're good at, and focus on that. Don't try to mimic what others are doing. Find what makes you special, and just do that because there's only one of you."
So, MyMediaMatters has focused on differentiating themselves with their services and how they work with their local clients. This has often opened new doors for their agency, including starting the magazine side of her business. 
"I'm always open to new ideas and opportunities that come my way from people I know in the community," she says. "I was approached by someone locally who said, 'You have a marketing agency; you could run a local magazine for Ponca City, too.' So we called it the Ponca City Monthly Magazine." 
Leveraging Unique Insights From Others To Improve and Expand
Wagner's strategy to stay ahead of the curve involves networking with like-minded entrepreneurs in her local community.
"We meet once a month to compare notes," she says.
In addition to networking within her local community, Wagner reaches out to a broader network to gather additional ideas and insights for improving her operations.
"I attend a women-in-business conference in St. Louis every year, and it always reminds me that there's so much growth potential and so much that I haven't even touched," she shares. 
For example, a 24-year-old entrepreneur discussed important KPIs and metrics that she was tracking for her successful event planning company. Another business owner spoke about the challenges within the golf supply industry. 
"This woman is half my age, and the other is working within a very male-dominated industry across the world," she exclaims. "So I came back to Ponca City and looked into what we're tracking and make any improvements. It's just a bunch of techie women that I just love, and the conference gives me so much inspiration." 
Retaining Customers and Driving Growth With Effective Client Communication
As MyMediaMatters grew over the years, taking on more clients while offering the same level of service became increasingly challenging. 
In their early days, they had account managers in place that were responsible for communicating with certain clients. 
"It caused us some problems because we weren't tracking changes as well as we could have been," Wagner shares. "A client might email a change in, and it might take two weeks, and it might take a month, or it might get lost altogether." 
To solve this problem, they implemented a helpdesk software that handles all incoming client requests where everything is being tracked. It starts with the client getting a ticket, and then MyMediaMatters guarantees that changes will be made within five business days. 
"They know when everything's been completed, and that way, at the end of the year, or even during regular monthly meetings, we can say, 'Look at all the changes that we've done,' and that really helps them know that they're getting the value, not just the traffic reports or website edits." 
Wagner says they've learned hard lessons from losing customers in the past due to a lack of communication and the relationship deteriorating. 
"They hadn't heard from us in 6 months, and that was partly because we didn't have policies and procedures in place to make sure we were having those touch points," she says. 
Now, depending on the client's chosen service packages, MyMediaMatters has a conversation with their clients to determine how many touch points are necessary. 
"Some clients don't want to be bothered all the time, but we want to touch base as much as we can to show that we care about their businesses and that they matter to us," says Wagner. "Putting that at the forefront helps us retain our customers." 
They also streamlined their client onboarding to set realistic expectations upfront. They have an onboarding form that asks all the questions they need to get started and explains important details for the client, like timelines hosting agreements, and any legal disclaimers.
"We want our clients to know exactly what they're signing up for, and we want them to have all of the information they need," she says. "So we have a very thorough onboarding form, and then we schedule a client onboarding meeting to go over timelines and expectations in person." 
In fact, Wagner recommends meeting with clients in person even when things go south. 
"There's usually always more to the story, so if you can get face-to-face contact, that's huge," she says. "If I can sit down with people face-to-face, nine times out of ten, we can figure it out."
Another way their agency shows value is by cross-training everyone on the team. This ensures everyone on the team is up to speed with clients and ongoing projects.
"We kind of got ourselves boxed into our own silos for a while," she admits. "So, cross-training has really given me the ability to step away if I need to." 
It's also helped them spread workloads around to whoever availability and determine who has time to work on specific projects. 
"Customer satisfaction is a big thing, so we have metrics in place that we keep track of for customer retention," Wagner says. "It's like a piggy bank. You have to keep depositing into that piggy bank and really grow that relationship." 
And they've been fortunate to grow alongside some of their small business clients over the years. 
"We've had some clients who are in the small business range that grew into multimillion-dollar companies," she says. "So we'll continue to take on those clients, but we're also specializing in bigger clients, and that's where our growth is headed." 
Achieving Award-winning Success by Focusing on What Matters
MyMediaMatters has worked with various clients, from medical spas to non-profit organizations and real estate businesses. And although Wagner has thought about creating a niche for her agency, she's always reminded about the people who are behind the business. 
"We're invested in them as people, and their success as a business. So I think if we keep that at our core, wherever we decide to go with our agency will take care of itself," says Wagner. 
They're currently up for a few Main Street awards for entrepreneurship after partnering with another local business to get signage on their building.
Image: MyMediaMatters celebrating their Main Street nomination for Best Digital Influence in Ponca City.
"It hasn't always been a walk in the park, but we're the ultimate American success story," she smiles. "I'm just happy and blessed that I get to do what I love every day." 
Her advice for other agency owners to also see success would be to know the value your agency brings. 
"We're in the business to make money," she says. "We absolutely love what we do and love our communities, but if you don't set your prices where you're able to be profitable, you're not going to be able to serve your clients." 
And although the digital marketing landscape is constantly evolving, like the challenges and opportunities of AI technology, Wagner finds comfort in wise words from American author Simon Sinek.
"He talks about finding your 'why,' and I think as long as we're able to take the stories of our clients and deliver that to their customers, no matter what the medium is, that's what we're here to do," says Wagner.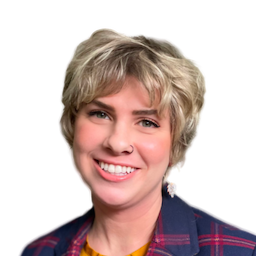 Richelle Peace is a joyful writer with a degree in Journalism. She loves writing web content, blogs, and social media posts. Whatever the topic, she's fascinated by learning and sharing.
Read more posts by Richelle Peace ›
Try AgencyAnalytics risk-free for 14 days. No credit card required.