When it comes to digital marketing, it's easy to get carried away with countless services to offer your clients. With all the different mediums like social, email, search engines, and more, you're probably thinking it's good to cover your bases with all of them, right? WSI eStrategies Managing Partner, Mark Jamieson would argue otherwise.
"Most small to medium-sized agencies cannot specialize in everything," Jamieson says. "It's impossible because there are too many moving parts. We've tested a lot of different models and this is why we stick with what we know." After all, "if you try to be a master of everything, you'll be a master of nothing."
His agency has combined web development services, SEO, and paid search to create a powerful digital marketing strategy for their clients, something Jamieson refers to as "The Digital Marketing Holy Trinity."
Watch this video for insights on how WSI eStrategies saved $19k+ a year by automating their client reporting.
How WSI eStrategies Found Their Niche
When you're trying to find a niche for your agency, you need to highlight something that makes you stand out. Maybe your agency is process-focused, such as having a unique way of managing projects, a specific geographic concentration, or a verticalized specialty. Or maybe you're people-focused with a team made up of the top talent in your market. Whatever your specialization, you want to have a key differentiating factor that helps you stand out in crowded markets. 
Back in 2014, Jamieson was looking for a change in his career path. He had a background in sales and marketing and successfully operated a security and surveillance company for over 15 years. He and his business partner were interested in the growth of the internet and saw it as a long-term, sustainable opportunity that they could both grow into.
"We knew it would evolve and grow, but never go away," Jamieson says. "WSI came onto our radar and the rest is history."  
In the early stages of operating WSI eStrategies, they faced challenges like finding their niche and solving pricing models– something that many entrepreneurs go through.
So, they began pouring all their resources into mastering web development while simultaneously mastering SEO techniques and eventually adding paid search– creating the lead-generating trifecta of services. 
However, Jamieson was adamant about niching by services and not by industries, especially after the COVID-19 pandemic. He admits that no one could have predicted what was going to happen, but that it would have been detrimental to his agency if they had specialized only in a specific vertical, like restaurants or tourism advertising for example. 
"There are a lot of pros and cons to niching and specializing in certain business areas. But ultimately, you need to focus on what's important to your business and what's driving growth and revenue."
Plus, when an agency specializes in specific, strategic capabilities, they can hone their skills and drive targeted growth for clients. 
Delivering Quick Wins on Strong Foundations 
Sometimes the simplest solution is the best solution.
When a recent client came to WSI eStrategies with some concerns about their website not appearing on Google's SERP, Jamieson's team offered to do some investigating.
"Smart agencies understand that you need to deliver quick wins. You need that low-hanging fruit that's going to drive clicks and calls, etc. It's about creating a combination of everything so you can see some results in three months and good results in six months," says Jamieson.
The client said they parted ways with their previous marketing agency that was supposedly helping them with their SEO because they weren't seeing the results they had hoped for.
"WSI audited their website and within ten minutes we realized their website was set to noindex. So we fixed it and within 3 or 4 weeks they just started exploding everywhere and they thought we were SEO Gods," Jamieson laughs. 
What it really comes down to for WSI eStrategies, are the fundamentals. If you don't have a solid foundation, (i.e your website), you're not going to see those great results.
"If the foundation is cracked, or in poor condition, it doesn't matter how much money you sink into it. It's not going to work. And that's why we recommend our clients redevelop their websites because we know how to do it properly and get you the results you're looking for." - Mark Jamieson.
That was a lesson that Jamieson and the team learned early on. Controlling the website build and marketing strategy from the start was far easier and more efficient– for both them and the client– than trying to fix someone else's work.  
Read More: The Benefits of SEO: What To Tell Clients About Their ROI and Beyond
Expanding Agency Expertise Beyond SEO
Like all great agencies, the team at WSI eStrategies knows that SEO is a crucial component of their marketing strategies, but it can also be a slow and steady process. 
So, in order for Jamieson to deliver faster wins for his customers, he introduced PPC campaigns into the mix.  
"Within the last couple of years, we've created a package that contains web development, SEO strategies, and PPC management all built into one monthly fee. And we're seeing great success with this model," says Jamieson.
This hybrid model gives WSI eStrategies the runway they need to build, optimize, and rank a website organically while driving revenue using the faster return platforms such as Google Ads and Facebook Ads. 
Clients realize they're getting revenue into their pipeline faster, which provides additional opportunities for investment in the long-term growth of the site. 
"We work in a lot of different areas with our clients, but it's usually not all at once. When we recognize they're successful with one type of advertising, we're able to make valuable recommendations to them," says Jamieson. "We're not in it for the short term. We're interested in our client's long-term success."
Creating an Agency Structure That Works 
Everyone will have different opinions on what the ideal agency structure is. But, we all have unique skill sets that we bring to the table and things that we enjoy doing more than others. And WSI eStrategies is no exception. Each person on their team hones in on their skills surrounding their holy trinity approach. 
"We have a technical side of our team, then we have project managers, and myself and my partner are mostly strategy and client facing," says Jamieson. "Web dev, search engine optimization, and any type of paid search is 90% of everything we do, so we've built our team around that."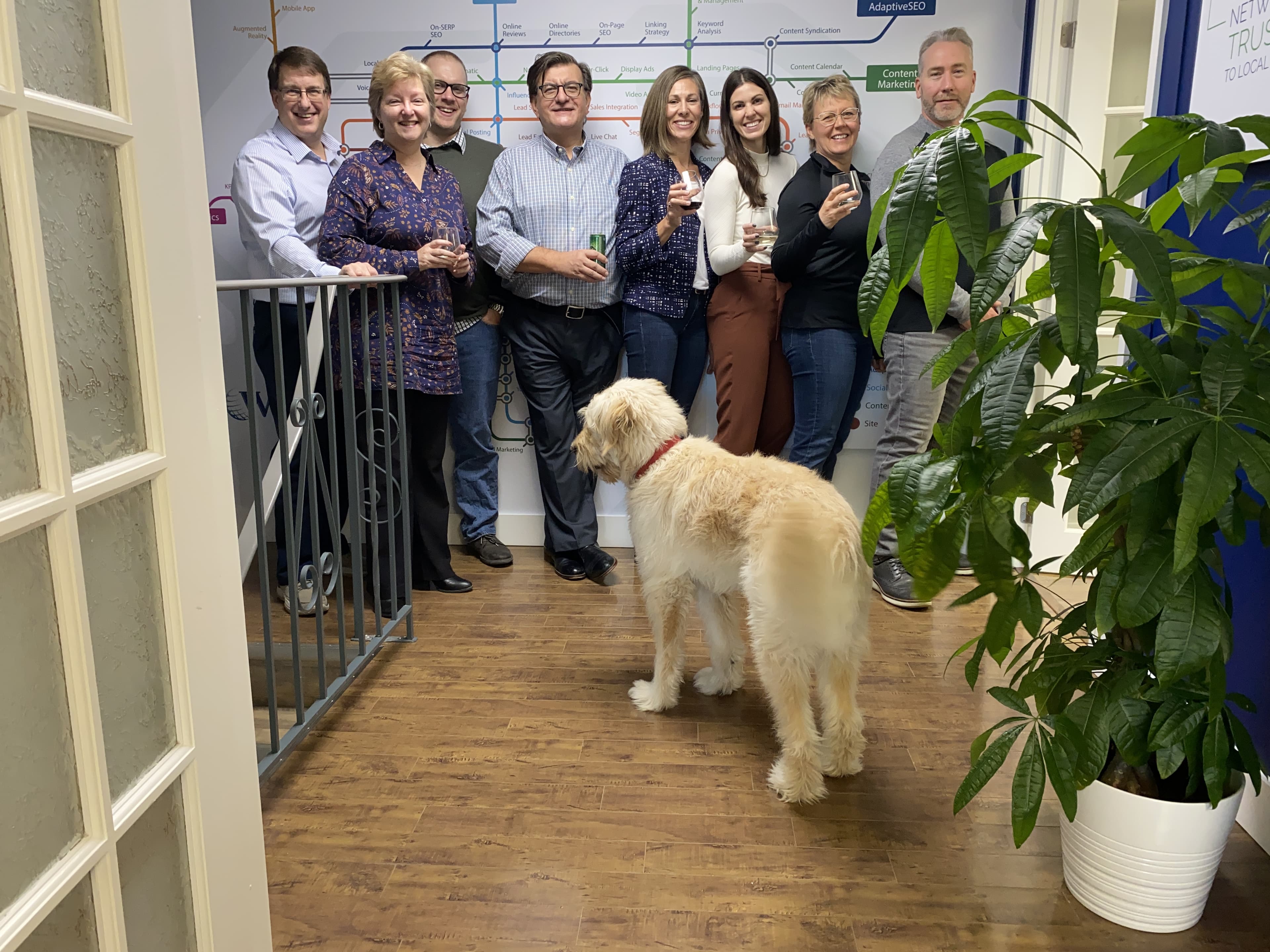 Image: Team photo, including a furry coworker, at WSI eStrategies headquarters
Their Ontario-based agency successfully works with clients in neighboring provinces within Canada and beyond. 
"We always want to present something that is tangible to our clients. Something that will actually produce results based on a budget that they have. Our success rate is massive, we're an award-winning agency, and we're confident in what we're doing because of our structured approach," Jamieson adds.
Arriving at the Best-Fit Agency Pricing Model 
Pricing your agency's services can be a challenge for many agencies when starting out and it's totally understandable. There are so questions that may come your way such as:
Do you charge per hour? 

What's your base hourly rate? 

Do you create packages? 

Or maybe build contracts? 
As Jamieson describes, "When it comes to digital marketing, there's really nothing standardized for pricing across the board. We needed to learn how to price properly and fairly for the value and quality of work we were doing."
But after testing a few different pricing models and balancing in-house and outsourced work, Jamieson and his team found the right balance. He always kept his ear to the ground and made note of what clients were being quoted from other agencies. 
Some agencies discover that spending too much time on a number of smaller clients doesn't equate to more revenue. In fact, focusing all of your agency's time and resources on smaller clients as opposed to larger ones can actually make it difficult to scale. There are many pros and cons to having smaller vs. larger clients and you'll need to figure out what works best for your agency. 
Pricing models and solutions may not be the same for every agency, but sometimes, it can be a matter of getting to the bottom of what your client's goals are.
"The client doesn't care if they're spending $1,000 as long as they're making $2,000. If we develop the right strategies with the right right marketing tactics and show them a return on investment, they're going to be happy." - Mark Jamieson. 
After all, the biggest question clients have about their marketing campaigns often involve what return on investment (ROI) they're getting for the money they spend. So, if your agency is delivering a great ROI, your clients will be happy to give that investment up front.
Focusing on Team Excellence & Development
For all eight team members at WSI eStrategies, continuing their digital marketing education is mandatory. They set time aside to stay up to date with current trends, learn new strategies, and more, and that's what keeps them successful.
The team at WSI eStrategies is expected to stay ahead of the curve by getting recertified when updates are made to marketing platforms and must allocate 2-3 hours a week to education in their fields.
And we all know that many of the marketing tactics that worked ten years ago are worthless today. With changing technologies and platforms, it's important for digital marketers to stay on top of their education. 
"We want to focus very strongly on web development, SEO, and PPC so we can be masters of all three," Jamieson adds. "This is what we do." 
Mark believes that if your team enrolls in an online course, and attends a networking event or webinar, the knowledge and skills will not only benefit your agency but also serve your clients in the long run.
Besides education, WSI eStrategies places a huge emphasis on ensuring client success through every member of their team. 
"Each role is equally important. From the strategist who digs and plans out the tactics and strategies to the technicians responsible to see them through. We're all working together to provide top-quality digital marketing solutions. This results in educating our clients to show the value of leveraging the internet for more sales and leads," Jamieson says. 
Optimizing for Scalable Client Success 
Becoming an expert at anything takes learning, practice, and processes. Lots and lots of processes. 
It's been a long-standing joke at WSI eStrategies that they run their business a bit like how NASA launches a space shuttle. With a checklist!
"If we're doing any type of marketing, even for web development, we have a checklist that needs to be followed before we move on. We can't go from A to C without checking off B," Jamieson laughs. "We're very process oriented for sure."
Having these checklists has helped them remain successful in the long run by creating repeatable processes across a variety of digital marketing strategies. And repeatable processes makes scaling that much easier. After all, you don't have to reinvent the wheel with each client when you've got one that rolls perfectly well.
The Importance of Open Client Communication
Building up a wealth of knowledge and the addition of PPC campaign optimization isn't the only solution that keeps WSI eStrategies ahead of the curve. It's all about maintaining agency-client relationships. 
For Jamieson, getting face-to-face time with clients IRL and giving them that personal touch is not a thing of the past. 
"Because the culture of this company is customer-centric, we have a higher than average retention rate. We work equally as hard to keep that relationship with our clients," says Jamieson. 
If client relations is an afterthought, you're not going to get far in the agency world. This is why it's so important to deliver a niche service that they cannot get elsewhere with the combination of unmatched customer service. Having strong relationships with clients gives your agency staying power and in turn, helps your business grow with referrals and word of mouth. 
"We communicate with our clients often and we make a point to reach out with news, good or bad. We don't want our communication to just be emails and reports. We want them to come in, have a cup of coffee, if it's 5 o'clock, maybe a beer, but we want to talk about what they can expect moving forward. We're not in it for the short term. We're interested in our client's long-term success," Jamieson says.
Enhancing Client Retention
In order for WSI eStrategies to focus on their niche service offering/remain successful, they use AgencyAnalytics to deliver easy-to-read reports to their clients.
Once their model of combined web development and SEO took off, they realized a better, more efficient way of reporting for their clients was needed
"Our biggest struggle was reporting," Jamieson admitted. "It was manual, labor intensive, and it just felt all over the place. And that's where AgencyAnalytics really came in to help us."
Focus on scaling your agency and not the time-consuming reporting. AgencyAnalyics delivers customization and white label capabilities that enable your agency to create dashboards and reports in a fraction of the time.
Clients of WSI eStrategies are mainly interested in seeing goals completed in their detailed 20-page reports that contain 17 sections. 
"Although the clients are always interested in the keywords driving traffic, channels, month over month or year over year comparisons, sales are really all that matters to them and AgencyAnalytics helps us present this in a clear and easy way to our clients." 
As for the future, WSI eStrategies is focusing on growing their agency.
"Our goal is always to be successful with our clients," says Jamieson. "If you're not moving forward, your business is dying. You don't always have to be moving in big bounds, but as long as you're moving forward."
Want to find out how AgencyAnalytics can help your agency scale? Get started with a free 14-day trial and put all your client's marketing metrics in one place, without the time-consuming task of manual reporting.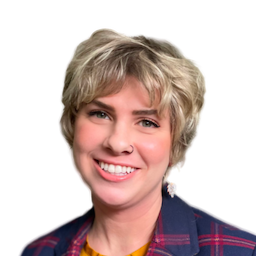 Richelle Peace is a joyful writer with a degree in Journalism. She loves writing web content, blogs, and social media posts. Whatever the topic, she's fascinated by learning and sharing.
Read more posts by Richelle Peace ›
Try AgencyAnalytics risk-free for 14 days. No credit card required.