While other social platforms like Instagram and TikTok are taking the world by storm, when it comes to business networking and lead generation, LinkedIn is by far the most effective marketing tool for agency owners.
Pretty much every marketer looking to make B2B connections are actively doing so on LinkedIn, with 93% using the platform for its high concentration of potential leads.
On a platform exploding with content, all looking for the attention of millions of professional users, it can feel like a major challenge trying to break through the noise and reach your target audience.
But just because something is a challenge doesn't mean it can't be a fun challenge. Let's take a look at 14 pop songs and how their lyrics serve as inspiration for an authentic LinkedIn marketing strategy that promotes your agency for all the right reasons–taking your page from a supporting act to the main event.
LinkedIn Marketing Tips From Your Favorite Pop Stars
Where would we be without music?
Music is the universal language that can bring people together, no matter the circumstance. The world at large has a lot to learn from music's ability to unite people, especially these days.
But as creative agency owners, there are countless messages we can take directly from our favorite artists and bands to help us attract and retain clients, so we can grow our online communities in a meaningful way. 
#1. Effectively Convey Your Agency's USP 
That Don't Impress Me Much - Shania Twain
Shania isn't impressed by someone who can't show her who they truly are, and neither are your clients.
It doesn't matter how fabulous you think your agency is, if you don't effectively communicate that on your LinkedIn page, how is anyone supposed to know that?
So you got the brains, but have you got the touch?
LinkedIn is a highly competitive space when it comes to standing out from your competitors. The platform is rife with agency equivalents of Brad Pitt rocket scientists, so it's essential that you differentiate your offering from the other agencies so you can position yourself as the gold standard agency that you are.
Make sure you have a firm understanding of your unique selling point and make it loud and clear on your profile.
Finally, a moment for the iconic head-to-toe leopard print outfit in the video. And, of course, the ad-libs.
#2. Post Content with Purpose 
Psycho Killer - Talking Heads
It's tempting to post any old thing just to keep the content rolling out on LinkedIn.
But think about it from a consumer perspective. Isn't it super annoying when you happen upon content that you know has just been published for the sake of it and isn't actually offering any insight of value?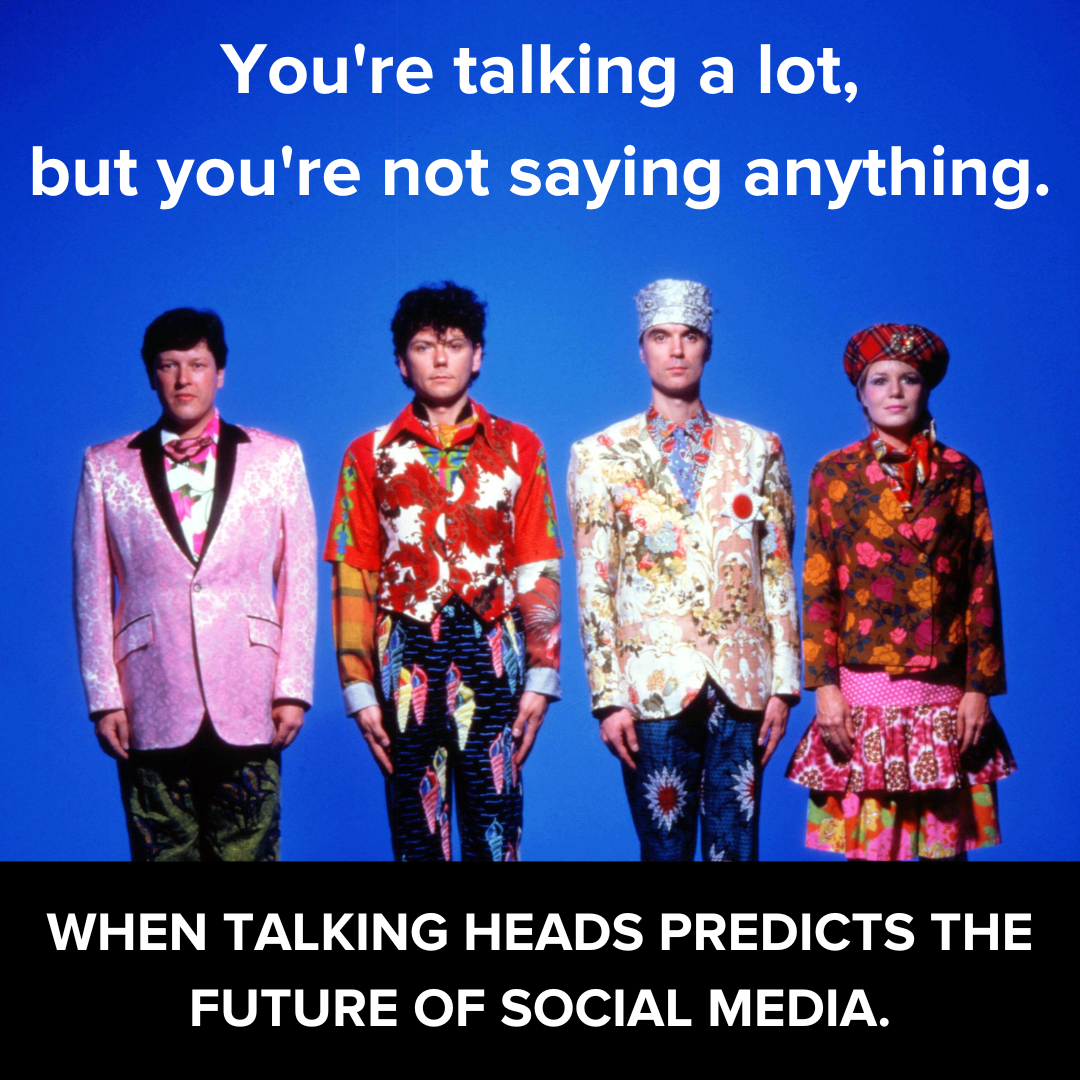 If you keep posting the same stuff or repeating content you saw elsewhere without putting a fresh perspective on it, what's the point?
When creating content for your LinkedIn page, make sure you keep your marketing goals in mind to keep you on track in providing value to your audience.
Next time you're tempted to repost the same content from last week but with a mustache as an unconvincing disguise, try focusing on:
Promoting your agency's successes with case studies of happy clients and testimonials and Showcasing your portfolio

Building a meaningful community by finding highly targeted customers and connections with personalized content

Offering tips in a unique way to attract more clients

Staying on customers' radars and growing your connections and email marketing list
We get it. You're under pressure (David Bowie reference fully intended) to stay on a client's radar, and a part of that is the need to keep up with the insatiable demands of social media. But don't compromise your integrity to appease the algorithm overlords.
Before you hit publish on that next post you know is more likely to send your reader to sleep than to excite them, just take a moment and think about how you can improve.
We're all unique and, therefore, have something of worth to say. Trust yourself, and don't be afraid to put your spin on things. You'll be surprised to learn that people will actually connect with your client's company page on a much deeper level!
#3. Keep Your Agency's LinkedIn Page Up To Date
So Fresh, So Clean - OutKast
LinkedIn has over 900 million users worldwide.
Over 75 million of these accounts are businesses. That is a lot of potential B2B connections and clients for your agency.
Your agency's page is like the door to your store, so to speak. And with the potential for such massive exposure, it's super important to keep your LinkedIn profile up-to-date, fresh, and clean so you can continue growing your network and making connections.
There's no time like the present for a little sprucing up of your company's LinkedIn page. Don't forget to update any relevant changes to your agency, such as recent advances and achievements, while also remembering to remove whatever no longer serves your page.
Communicate your brand and values consistently with updated case studies and tips to showcase your agency's expertise, and add a little flair with your brand's unique tone and personality to keep people engaged.
It's also essential to remain active on your page. Whether you're posting, reposting, or making new connections, make sure the most recent activity on your page isn't a tumbleweed GIF from 2019. It'll make your agency look outdated, and you don't want that in an ever-changing digital landscape.
If you want LinkedIn users to stare at your page the way everyone stares at André 3000, you've got to keep all elements of your profile updated as required.
#4. Join or Create LinkedIn Groups
With a Little Help from My Friends - The Beatles
After all, LinkedIn is just social media for professionals. So you might as well use the social aspect to your advantage so you can have fun entertaining and educating your community in an engaging way!
There are so many wonderful LinkedIn groups that are full of other like-minded agency owners and marketing nerds for you to connect with.
When you join LinkedIn groups, you gain direct access to prospective clients and invaluable information. These groups provide a wonderful opportunity for you to get support, grow your network, and generate leads.
Here are some fantastic LinkedIn groups for agency owners:
There are many more LinkedIn groups out there, many with a massive number of members. So, sometimes, making real connections in these groups isn't exactly realistic.
Why not consider creating your own LinkedIn group for others to join?
This provides a space for a smaller group of people to actually connect with each other so you can nurture these relationships and legitimize your company profile. Perhaps something that is focused on your agency's niche, such as law firm SEO or dental marketing? 
Starting your own LinkedIn group also sets you apart from everyone else and positions your agency as a leader in the field. It's a great chance for you to show off your expertise, gently promote your LinkedIn company page, and ultimately reap the rewards of your LinkedIn marketing efforts!
#5. Use LinkedIn's Sponsored Content
Money, Money, Money - ABBA
Ah, all the things I could do
If you've got a little extra money in your marketing strategy budget for sponsored content, set some aside for an occasional sponsored ad.
According to the 2022 Digital Global Overview Report, a sponsored ad on LinkedIn has the capacity to reach an astonishing 14.6% of the entire population.
That's a lot of opportunity for B2B connections and potential leads for your company page!
We don't recommend putting money behind every single LinkedIn post because that could be a big old waste of your hard-earned cash.
However, if you want to promote a new service or offer, or you've got a post you think is particularly interesting and valuable to your audience, then LinkedIn advertising can help you reach more people than an organic post and potentially lead to new leads and connections.
#6. Link To Your Website and Other Social Media On Your LinkedIn Profile
Everywhere - Fleetwood Mac
In this social media-mad world, those who manage to create a strong presence online have struck content marketing gold.
Oh, I - I want to be with you everywhere
This was true for Christine McVie, and it's also pretty much true for everyone online these days.
There seems to be a cult-following culture online these days, so if your LinkedIn profile is compelling enough for someone to want to connect with you in the first place, then odds are they're going to want to see more from you!
Don't miss out on taking your LinkedIn connections with you everywhere! Make sure you've included relevant links to your agency's website, email footers, other social media profiles, and any other relevant media platforms like podcasts or YouTube channels linked to your LinkedIn page.
#7. Tell Your Clients and Colleagues How Much They Mean To You
Your Song - Elton John
Tell your clients, colleagues, and employees how much you appreciate them on LinkedIn.
I hope you don't mind that I put down in words
How wonderful life is now you're in the world
Whether you're liking a post, commenting on a LinkedIn status update, or reposting your peer's content, it's so easy to show your connections a little LinkedIn love!
Or, if for example, you've just hired a new employee or onboarded a new client, you can go the extra mile and make a separate post to welcome them to your team, introduce them to your network, and tell them how excited you are to be working with them.
It might sound a little cheesy, but everyone likes to feel special, so why not? It's a great way to foster business relationships, retain clients, boost your company culture, and show your LinkedIn audience how much you care.
#8. Don't Waste Your Time On Bad Leads or Fits
Bills, Bills, Bills - Destiny's Child
As important as it is to remain active and like and comment under your connections' posts, sometimes you've got to realize when it might be time to pack it in with a certain prospective client.
Social media provides a great opportunity for you to connect with other agency owners and businesses needing your services.
But if you think you might be chasing a bad fit, or are constantly engaging with a peer and getting nothing back, it might be time to reevaluate.
Can you pay my bills?
Can you pay my telephone bills?
Do you pay my automo' bills?
If you did then maybe we could chill
I don't think you do
So, you and me are through
As an agency owner, your time is precious. You're already too consumed with focusing on your growth to waste your time on something that won't be worth the reward.
While it's important to go after what you want and be committed to your cause, sometimes it's just not meant to be, and your time and energy might be put to better use creating client campaigns to help you nurture your existing relationships and reach better quality leads.
#9. Save Time By Reusing Content From Blogs For LinkedIn Posts
You Spin Me Round (Like a Record) - Dead or Alive
I've got some good content marketing news for you–you can reuse content from your blogs to make even more content to use across social media!
When you're trying to stick to posting weekly on LinkedIn, it can sometimes get a little difficult to stay inspired and keep coming up with ideas you can actually use for good quality content. 
Between kickstarting new client campaigns and following up with potential leads, your agency is flat to the mat with maintaining and growing your community.
Often, you simply don't have the time yourself outside of billable hours to promote your own content. Repurposing content is a perfect way to streamline the process and save you time.
Your blog posts are written for your desired target audience in the first place, so they make for perfect B2B marketing LinkedIn content!
You spin me right 'round, baby, right 'round
Like a record, baby, right 'round, 'round, 'round
Take different points from your blogs and turn them into their own individual posts so you can get even more mileage out of each wonderful blog post.
If you're struggling to come up with fantastic and engaging content to post on LinkedIn, we can help!
#10. Put In The Work
Work - Rihanna
Users who post on LinkedIn every week have 5.6 times more followers than those who post on a monthly basis.
Like anything, when you put in the work, you see the results. Try to stick to a regimented schedule for creating content and posting it every week so you can really grow your presence on the platform and build brand awareness.
You track your clients' campaign progress, but don't forget your own! Easily keep a finger on the pulse of your own LinkedIn marketing efforts with this template. Try it free for 14 days in AgencyAnalytics.  
#11. Show Off Your Agency's Personality
Photograph - Nickelback
Let's face it, sometimes LinkedIn can be a little bit dry. Get leads, grow, inspire, hire staff, work harder. Sometimes, you need to bring the social into social media by showing off the people–and the personality–behind your agency's success. 
By highlighting your agency's personality on LinkedIn, you can create a unique and memorable brand identity that resonates with your target audience.
Sharing industry insights, thought leadership, and company updates that demonstrate your agency's expertise and establish your credibility are all great. But don't forget about the people behind the scenes and the crazy, creative, and unique approach they have to marketing–and life. 
So, don't be afraid to let loose and have a bit of fun sometimes.  
#12. Be Daring, Be Different
All Star - Smash Mouth
To stand out on LinkedIn, marketing agencies must be willing to break away from the mold and take risks in their approach.
After all, as Smash Mouth puts it:
Only shooting stars break the mold.
Pushing boundaries, not just to promote your services but also to help shape the future of marketing, helps create a unique voice on a crowded social media platform. 
But make sure you stay on brand–you don't want to try too hard or stray too far into polarizing topics, as you could risk alienating potential clients.
Marketing agencies should think of LinkedIn as more than just a platform for self-promotion; they should use it to engage with their followers and build meaningful relationships. 
#13. Become Part of the Community
Part of Your World - The Little Mermaid
Participating in conversations, creating and sharing content, and joining groups can all be effective ways to become an active member of the LinkedIn community.
Try to avoid being a post and dash user who simply adds something that seems important to the agency but may not be important to the target audience. 
Watch and you'll see
Some day I'll be
Part of your world
Stay active and stay engaged with both your own agency's posts and with posts by others in your industry. 
#14. Take Breaks From Work and Social Media
Toxic - Britney Spears
Not to contradict the last point, even if it does a little bit. But, after all this talk of staying active, maintaining a LinkedIn presence, and keeping things up-to-date, we think it's important to finish off on the note of taking breaks when you need them.
Don't you know that you're toxic?
At the end of the day, LinkedIn is another form of social media, and therefore it's highly addictive to us dopamine-hungry internet users.
While LinkedIn is a super useful marketing tool, it's essential that you take time away from it to prioritize your well-being and switch off from work.
The world won't end if you disable LinkedIn notifications outside of working hours and clock off every evening. It'll serve you and your agency better in the long run if you take the time to recuperate so you can come back stronger and smash your goals.
What Have We Learned About An Effective LinkedIn Marketing Strategy From Pop Music?
So, what is it that music can teach us about LinkedIn marketing for digital agencies?
We've learned the importance of a fresh and active online presence, producing consistent content of high quality, and how to navigate the platform to your advantage by utilizing sponsored content and joining groups.
But as a whole, there is a greater lesson that you can take from music and bring into your approach to marketing your agency.
Music is all about enjoyment and creativity. So remember to have fun with it, enjoy the process, and bring your own flair to your LinkedIn marketing.
Abby Wood is the founder of The Content Lab (a white label content agency serving digital agencies worldwide) and Content Goodies (providing white label copywriting templates for web designers).
Try AgencyAnalytics risk-free for 14 days. No credit card required.