Your dental clients invest a lot into digital advertising, and as a result, they expect to know what they're getting in return for working with you.
But do you know what kind of Return on Investment (ROI) you're actually getting for them? 
That's often where digital marketing for dentists gets tricky.
A business focusing on sales targets, customer retention, or promotional activities can use ROI effectively to measure ad spending and results across their platforms, track running costs, and manage their campaign budgets.
And with almost half of small to medium-sized businesses overlooking the measurement of the ROI, it's the perfect opportunity for agencies to step in and demonstrate the success and value of their services. But reporting ROI can be complicated unless you have the right tools.
Our team at Marion Relationship Marketing specializes in serving dentists and dental clinics. With this type of healthcare client, varying service pricing done outside of marketing tracking tools can make communicating ROI an inexact science.
As a result, we've honed in on a strategy for reporting ROI and reinforcing the value you're driving so your dental clients view your work not as a cost but as the net revenue driver it should be.
In this article, we'll explore
Setting Yourself Up for Success
When many businesses measure the ROI of their digital marketing efforts, it's common to focus primarily on whether the current platforms and strategies in place are driving phone calls and form submissions.
Most marketers view this as their job: we get people to call or submit a form, and it's up to the client to close them. We aren't in the business, so we can't make patients choose one dental clinic over another. We can only give the client the opportunity to close the customer.
And in a crowded space like marketing, where you're regularly competing on price alone, many agencies don't have the resources to review leads for quality. You have the number of calls and the number of forms that are synced to your report and sent to the client automatically, streamlining operations.
Here's the problem: Your client is tracking the actual patients that come in from you. Just because you don't know the real number doesn't mean that they don't. The more often you report inflated numbers, the less they trust you. And your good dental practices that spend big dollars know how to close. 
Here's the second problem: It's incredibly one-dimensional and may not match your client's goals or be the best reflection of the success of your work. Total Contacts is only one component of a dental marketing campaign, especially when you're coordinating multiple platforms and advertising activities. 
This is why it's important to set Key Performance Indicators (KPIs) when marketing your client's dental practice. 
Choosing the Right KPIs for Dental Clients
KPIs are measurable goals used to help choose the best activities for developing a marketing plan. They are:
Clear, Defined Goals
Many times, clients do not have any goals beyond "get more patients" so you have to pull it out of them with questions like:
What is your biggest current pain point?

Are there things your competitors are doing you wish you were too?

Why now? Why are you considering a marketing program/switching from your current company?

Are there certain types of patients or areas of the business that you want to grow?
Quantifiable (Measurable) Desired Outcomes
Next, you have to figure out how to quantify these goals, and that always starts with benchmarking current performance:
How many patients are you seeing now, and how many do you want to be seeing within the next 90 days? Next year?

You're currently collecting 5 new Google reviews per month. We want to get to 10.

You have no content program now. Within 60 days, we want to be creating two new pieces of content each month focused on the treatment type we want to grow.
Relatable to Your Client's Business and Targets
This can get much deeper and be more related to the owner. 
Do they want to sell in 5 years? 

Do they want to hire another dentist so they can work less?

Do they want to add more locations?
Communicated Throughout the Business (Marketing, Sales Teams, Etc)
In dentistry and really most medical businesses, the patient liaison team is central to your success. 
The first meeting upon starting the relationship is meeting with them to ensure:
Marketing copy matches what they say on the phone/in-office

Where leads need to go (emails, phone numbers)

Established processes for tracking patient leads through the process

Any FAQs they receive that you can proactively address
Money Math Proposals
If you do this well, your proposals can start with what we call the "Money Math" side. It should include:
Benchmarked data – where they are now

Goals – where they want to go

How you're going to get them there with your proposal– This is where you justify your budget recommendations and demonstrate your projected ROI with actual math based on your research, including keyword volume, traffic, CPCs, click-through rates, conversion rates, the client's close rates, etc.
This kind of revenue-first marketing approach is often easier to digest than a proposal summary or statement of work and should make it click for your new client to get them to sign and move forward.
Want more information on how to create proposals that convert prospects into clients? Bookmark the following:
Digital Marketing for Dentists: Reporting on ROI With the Right Metrics
Collecting and reporting data is essential for viewing how successful your client's dental practice has been due to marketing activities, but it's important to know which platforms to focus on that align most with your client's goals. 
1. Sales Growth
If their focus is to increase new patients, measuring an increase or decrease in total patients before and after the launch of a dental marketing campaign is imperative for understanding the success of your activities, overall growth from the campaign, and which areas require improvement.
2. Cost Per Lead
Reviewing the Cost Per Lead (i.e., the marketing efforts converted into prospects) helps your team estimate a budget for continued future campaigns and review future activities that turn future prospects into customers. It's important when reviewing this measurement to focus on the quality of the lead rather than the total figure of potential interest–as not all prospects will convert into customers.
3. Cost Per Acquisition (CPA)
This type of KPI can illustrate which marketing platforms have helped your client's practice reach its targets and successfully acquire patients, revealing the quality of the leads converted and demonstrating your ability to convert these prospects into patients. 
4. Return on Total Marketing Spend
Your client's Return on Marketing Spend (ROTMS) measures the performance of campaigns against the total costs of marketing activities. Similar to ROAS, which is the common metric used to review Ad spend, ROTMS results in a more comprehensive number that includes management fees and all costs associated with driving new patients to your clients. 
This is an essential metric to consider when reporting ROI, as it provides a full picture of total spending whilst factoring profit margins, operating expenses, and the performance of your client's business. 
An example of the client-facing dashboard with an embedded video review of current performance. 
5. Patient Retention
It is often much more expensive to bring in new patients than to retain current ones. 
Measuring your client's patient retention rates tells you whether to focus your future marketing efforts on new or returning patients. Plus, it can differentiate the value of your agency's services compared to your competitors when you bring in repeat customers for your clients' dental practices. 
This is how our clients are looking at it, and if we want to be their true long-term partners, we need to look at it the same way.
Setting Client Expectations in an Unpredictable Field
The best digital marketers in the field will tell you there is no use planning a campaign without defining your dental client's marketing budget and knowing their clinic's capacity. Although it is always advisable they have some room for movement, understanding these limitations is paramount.
For example, suppose the hygienist is booked for work several weeks in advance. In that case, there is little benefit in pushing all advertising expenditure towards these services, even if dental cleans and other low-cost treatments bring in more conversions than higher-cost procedures. 
Dental work at the top end of the price list, such as root canals or emergency work, may not bring in as frequent bookings, but a number of new customers may help you to exceed your advertising goals. Review the current performance of your client's services and past marketing efforts to define a dedicated customer journey and draw up a budget vs. the profit required for results to be successful. Your ROI will be determined by if the results meet your estimated predictions. 
Tracking Against Goals 
Digital marketing for dentists (or promotional activity in the medical field in particular) is a tricky field to draw up specific goals to measure against. This is because, generally, patients will only seek out care when necessary or commit to routine check-ups and cleans. 
When tracking KPIs you should consider in the early planning stages how patient behavior may impact your marketing efforts and the results of campaigns. 
An example of AgencyAnalytics' goal-tracking widgets.
Therefore, when measuring results against customer behavior, it is easier to break down categories into specific focus points, such as:
Revenue generated per patient visits

Average Customer Lifespan (new customers, current or returning customers)
Consider other challenges you may face during your dental marketing campaign and highlight how you plan to address these, such as limitations with your client's CRM system, current social media performance, and resources to create promotional assets. 
What To Include in an ROI Dashboard
Now you've set your KPIs and focused on the activities and platforms you'll use to showcase your dental client to the world. It's time to decide how you will track the performance on their channels! Custom marketing dashboards are an innovative solution for collecting data and showcasing successes to your dental marketing clients. This can be essential for campaigns coordinated across multiple platforms, which all have their own dedicated reporting systems - compiling information into one, easy-to-use, accessible shared space.  AgencyAnalytics understands that no two clients are the same - which is why they offer personalized dashboards with a full suite of customizable widgets, a drag-and-drop report builder, and white labeling capabilities so you can build reports to match your client's needs.
1. Website Traffic
Here is where you get all your Source data, so you know what exactly is driving all your leads.
Google Analytics is one of the most used platforms to track website traffic, from tracking website performance and offering insight into customer behavior to popular pages/copy. 
Website analytics is a handy tool to measure the success of most of the strategies you've put into place. 
Monitor all your clients' Google Analytics data in live dashboards that are easy to understand. All from one single login. Try AgencyAnalytics free for 14 days! 
2. Social Media Analytics 
The back end of social media shares several insights on follower growth, post-performance, and audience demographics. You can also plug your social media accounts into AgencyAnalytics social media reporting tool to see all your metrics in a comprehensive social media dashboard.
Track your clients' social media accounts from one platform. Try AgencyAnalytics free for 14 days! 
3. Email Database
Email marketing is a great platform for touching base with a client's current customers and encouraging prospects to move further down the sales journey to convert to new patients! You can also monitor unsubscribes, click rates, and open rates and also clear your database of any old addresses to free up space for new clients.
Get all your clients' real-time email marketing metrics in live dashboards. Try AgencyAnalytics free for 14 days! 
4. Phone Call Tracking and Listening
Our work with clients in the medical field has revealed that 85% of new leads come from phone calls. However, these can sometimes result in reschedules or even cancellations - so ensure you are rating your calls to see how many convert into physical customers. 
Platforms such as CallRail feature innovative keyword identification tools that can help make this process less time-consuming.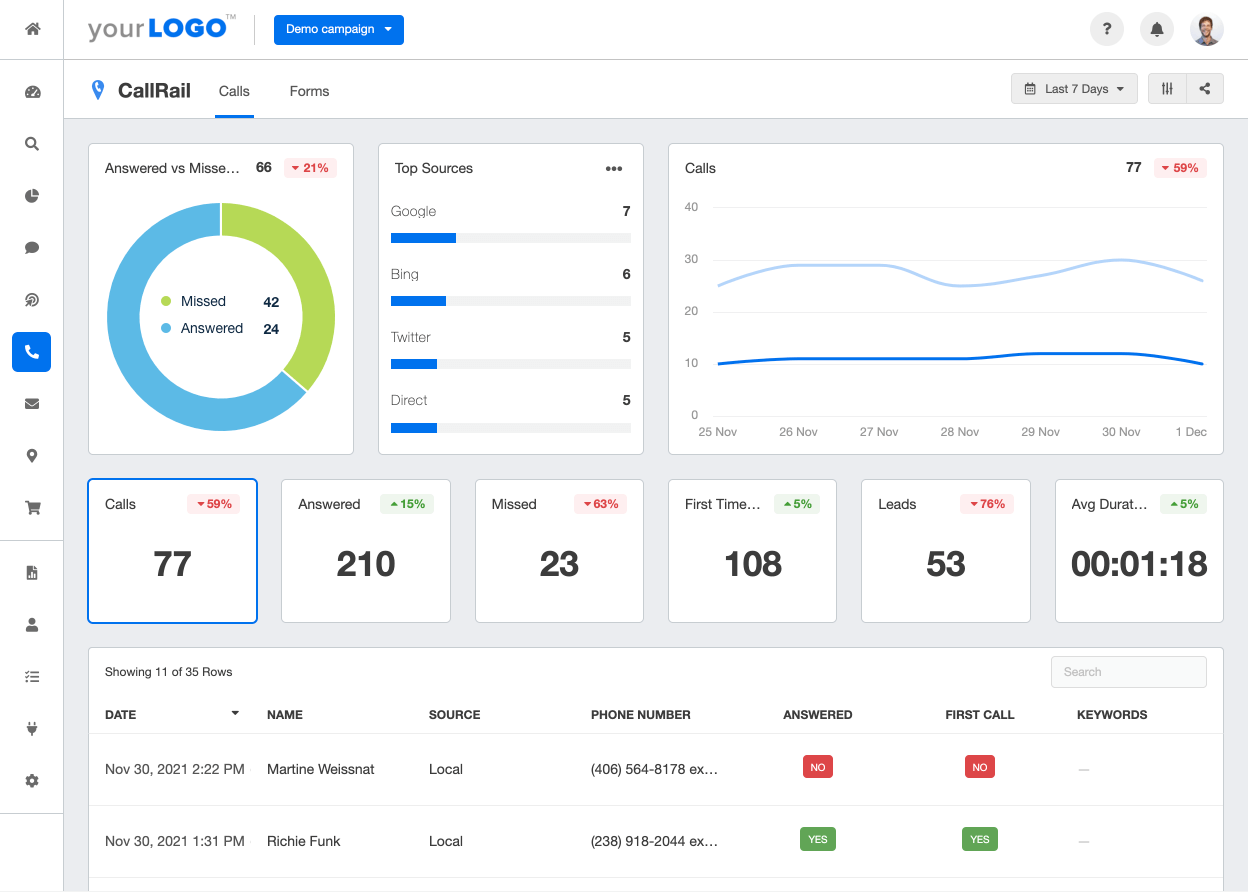 Keep all your clients' call-tracking metrics in one place with AgencyAnalytics. Try it free for 14 days!
Challenges With the Classic ROI Formula in the Dental Field
There are many simple formulas used for calculating your marketing ROI. 
However, when it comes to digital marketing for dentists, the best practices focus on calculating the number of new patients gained from planned activities by the average lifetime value of a patient. Here is the overall ROI calculation broken down:
(Lifetime Value of Patient x Number of New Patients) - Cost To Service = Profit
Profit / Cost of Investment (i.e. Marketing expenses) x 100 = ROI % 
This ROI forecast formula, however, assigns the same average value for all new patients, which may not be the case for clients acquiring new customers to their books. 
For example, some patients only use the services on one occasion, such as when they are experiencing a dental emergency.
These types of customers offer lower value to a business and, therefore, cannot be compared equally to returning customers or higher-priced procedures. This makes understanding the quality of patients and categorizing this all the more important for working out the total ROI. 
Unfortunately, typical marketing dashboards only review metrics based on cost instead of focusing on potential profit generated. 
A returning customer, for example, may begin with only a routine check-up on their first contact with a dentist but continue with repeat cleaning treatments, accounting for 2-4 visits a year. 
Similarly, the cost of treatment should also be considered–a person visiting for complex dental surgeries may require extensive visits, cleans, and procedures over the course of the year.
With both of these factors to consider when digging into marketing metrics, it is important to track not only what a patient can initially bring to a business but also the potential profit a business can make from attracting valuable, returning customers. 
| | |
| --- | --- |
| One-time Services | Return Services |
| Dental Implants ($3000-$4500) | Teeth Cleaning ($75 - $200) |
| Dentures ($600 - $3000) | Dental filings ($150 - $450) |
| Tooth Extraction ($219 - $4000) | Scaling ($140 - $300)  |
The ROI can then be determined by how successful your marketing efforts have been in adding these quality patients to your client's database for future earnings.
Adding Context To the Numbers
Presenting numbers to your clients is one thing. What they think of them is another. Some clients have claimed the numbers were wrong because they don't match how they "feel" it's working–but that's just based on their own intuitions. 
Even if you are in a position where you cannot determine an exact measurement, the conversations started from this can have many benefits for businesses, as they likely have not considered what their Lifetime Customer Value is previously. Remember, your clients are dentists, not marketing experts.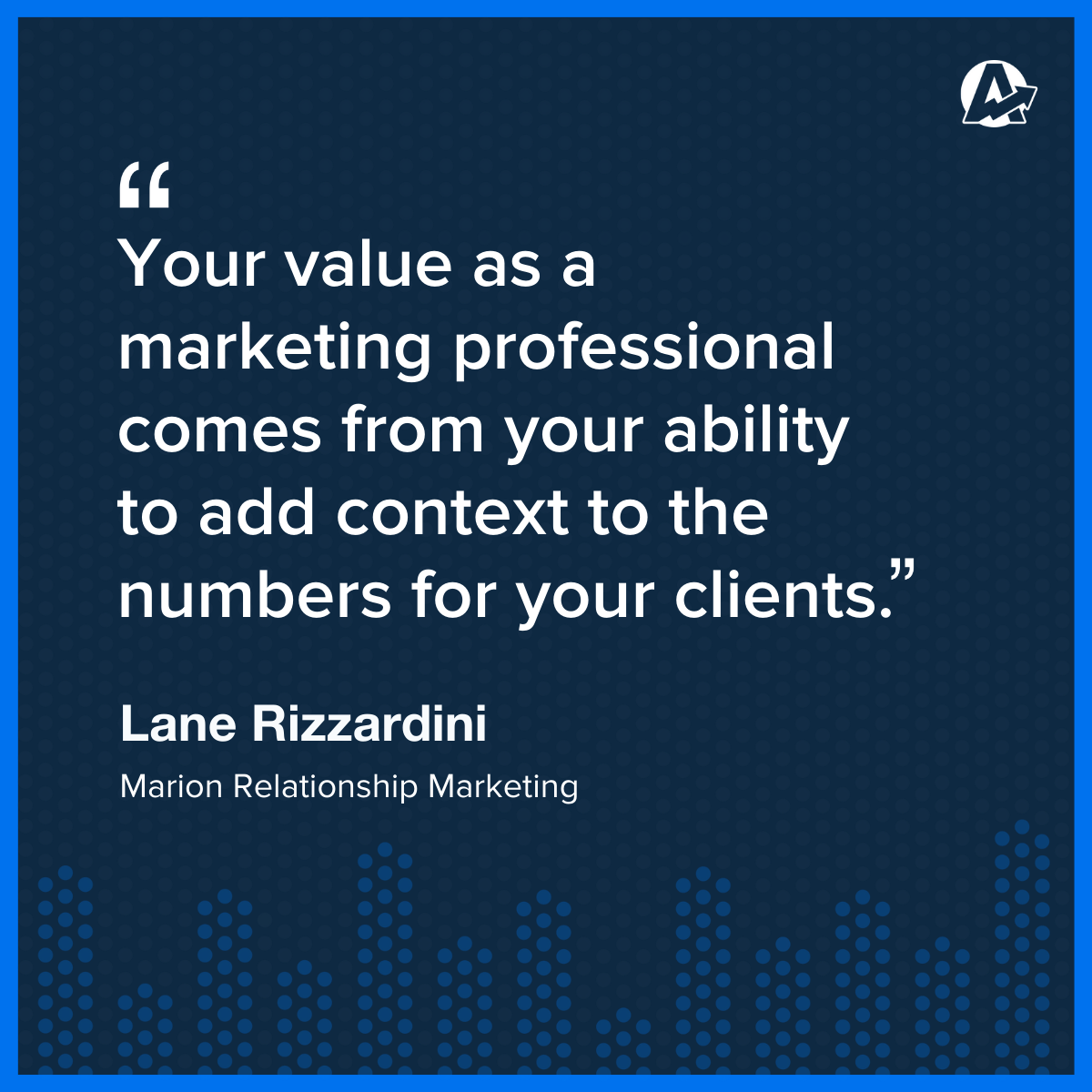 Many will see a bunch of numbers and glaze over, and if they want the numbers, they can sign up for Google Analytics themselves. Your value as a marketing professional comes from your ability to add context to the numbers for your clients. 
But how do you do that efficiently? By effectively reporting ROI. 
Here's a tip! Add a Loom video going over your reporting to save time and the back-and-forth emails, so your agency can focus on activities that produce results and generate revenue:
You're certainly not visiting all your dental offices every month, so it's a great way for them to see your face and hear your voice, reminding them they have a real person pulling the levers.
Centralize Your Reporting in One Place
In summary, taking the time to strategically set out and report KPIs is beneficial to supporting both your clients' business objectives and also, tracking the success of dental marketing campaigns. 
Once you've confirmed the ROI of your planned activities formally, you can create a more accurate budget and get started on showcasing your best work across the industry's dedicated platforms, reviewing performance consistently to ensure you're getting the results needed to meet targets.
Sign up for a free 14-day trial with AgencyAnalytics to discover innovative solutions for reporting your digital marketing analytics, campaign performance, and ROI. Start using custom marketing dashboards for your dental clients today.
---
Related articles: 
Written by
Lane Rizzardini
Lane is the owner of Marion Relationship Marketing, a local, serviced-based business that has been helping dental practices for over 12 years. 
Try AgencyAnalytics risk-free for 14 days. No credit card required.