Revenue Marketing is a powerful tool for agencies to increase profits. This type of marketing is designed to drive revenue growth by focusing on activities that have a measurable, tangible impact on the bottom line.  And it can be applied to client campaigns as well as the growth of your own agency. 
Think about your clients' (or your agency's) sales and marketing teams. How often has the sales team expressed frustration over the high-volume but low-quality influx of leads from marketing campaigns? 
On paper, it looks like those digital marketing campaigns were successful! In reality, not so much.
Reporting on metrics such as page likes made one client very happy, and significant growth on these numbers looked very good. However, only 1% of those converted and ended up only growing engagement but pushing no revenue, which is what matters most. –Expand Agency
Nowadays, marketing teams must go beyond just brand awareness and passing top-of-the-funnel leads to sales teams. Quality and volume matter when it comes to lead generation, especially if your clients have revenue targets to meet. By adopting a revenue marketing model, you'll trim away any excess marketing efforts that don't result in revenue while bringing about more synchronicity between sales and marketing teams.
Read on to learn about:
Let's get started.  
What Is Revenue Marketing?
In a nutshell, revenue marketing refers to assigning revenue goals to the sales and marketing teams. 
As you know, marketing teams are often responsible for top-of-the-funnel leads, which are then passed on to the sales team. However, in this model, the marketing team's responsibility goes beyond demand generation. 
Instead, marketing teams adopt a more sales-driven approach by focusing on qualified customer acquisition and conversion-driving marketing campaigns.
Generally speaking, a revenue marketing strategy requires marketing teams to:
Generate qualified leads (not just ones at the top of the funnel)

Nurture warm leads to increase the chances of conversion

Determine the marketing channels with the most revenue potential
On the flip side, the sales team is required to share continuous feedback with the marketing team. This helps to refine digital marketing campaigns and ensure that revenue targets are met.
And so, this model has a streamlined emphasis on revenue-generating activities that aligns the full funnel to the end goal–revenue. 
Create custom goals to track your clients' progress against key objectives with the goals feature in AgencyAnalytics' client reporting platform.
Using a revenue marketing strategy is also a unique selling proposition for niche agencies that focus on qualified lead acquisition and revenue generation. 
For our clients, the KPIs are pretty simple: It's leads, revenue generated, and Cost Per Acquisition. Our clients are typically local, service-based businesses and thus don't care too much about brand awareness or percentages. The marketing dollars need to translate to top-line revenue, and so it's our job to help our clients connect the dots.

–Lane Rizzardini, Co-Owner of Marion Relationship Marketing
Is Revenue Marketing Different From Marketing ROI?
You may be wondering–is revenue the same as marketing ROI? Not quite, but they are related.
Having a view to Marketing ROI is an important element of revenue marketing, but it is only part of the bigger revenue picture. As you know: 
Marketing ROI = (Total in Sales / Total Marketing Spend) / Total Marketing Spend
In other words, Marketing ROI measures just how profitable marketing efforts were. But it does not always take into account the bigger picture, such as customer lifetime value, the willingness to take a loss on new client acquisition campaigns, or the need for startup growth in the early, pre-profitability stages.
On the other hand, think of Marketing ROI as a branch of revenue marketing. Your clients must evaluate which channels produced the highest Marketing ROI to make the best decisions.
Yes, investing in marketing channels with high ROI will bring your clients one step closer to increasing their revenue. But there are times when revenue will trump ROI to drive overall growth.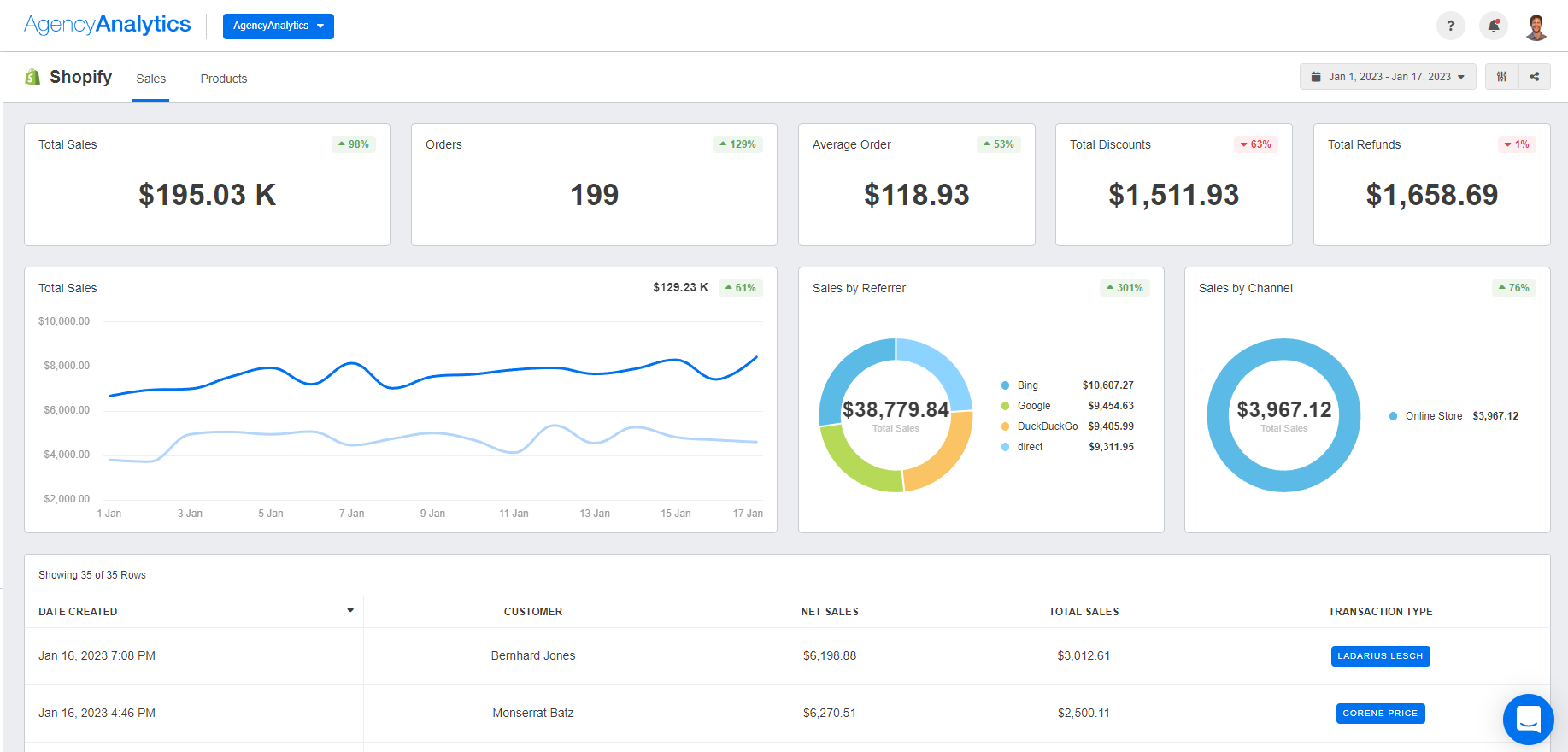 Monitor and report on the revenue metrics that matter. Create client-ready reports in minutes with a set of pre-made dashboard templates in AgencyAnalytics. Try it free for 14 days!
Why Is Revenue Marketing Important?
Aside from the obvious goal of driving revenue, there are a few reasons why this model has the potential to change the game for your clients. Let's explore them below.
Ensures Alignment of Sales and Marketing Teams
Anyone who has worked with sales or marketing will understand the regular back-and-forth of lead quantity versus quality, and it often becomes a bit fuzzy about who is responsible for conversion. 
Because this model shares revenue targets across the board (and not just for the sales team), there's greater alignment and an increased chance of success. 
In fact, a study by Marketo has found that aligned sales and marketing teams resulted in 67% more conversions and a whopping 209% more revenue. That's some food for thought! 
What Happens When Sales and Marketing Teams Aren't Aligned?
Take a look at this quick comparison of a few different marketing campaigns. 
On the surface, the Facebook Ads gen campaign was a smashing success, driving a bunch of leads into the pipeline. But a closer look at the revenue generated makes it painfully clear that the better campaign was PPC. 
| Campaign | # of Leads | CPL | Close Rate | AOV | Total Cost | Total Revenue |
| --- | --- | --- | --- | --- | --- | --- |
| PPC | 1000 | $14.00 | 10.00% | $422 | $14,000 | $42,200 |
| Facebook Ads | 10000 | $1.50 | 1.25% | $188 | $15,000 | $23,500 |
To summarize the above, what looked like a success for the marketing team was actually a loss for the sales team. And that's because of a lack of alignment. Here's why:
While some of those Facebook leads were interested in your client's product offerings, most were nowhere close to conversion

The sales team had to work 10x harder to contact and close the affiliate leads versus the smaller quantity of PPC leads
The solution? Use a revenue marketing strategy to review which of your client's marketing campaigns perform the best. In this case, Facebook Ads aren't one of them. It won't matter if the lead numbers are high–if it isn't resulting in revenue and ROI, it doesn't make sense. 
The performance of campaigns over a period of time has allowed the client to review results and how those results translate into actual business for them. So reviewing their revenue numbers with the data we report provides a deeper look at how to proceed. We review data and progress quarterly with clients to determine changes or additional strategies needed as they grow and evolve.

–Jamie Contreras, CEO of Optemyz
Use a custom marketing dashboard to monitor your clients' cross-campaign revenue metrics. Create your own live dashboard on AgencyAnalytics with your 14-day trial today.
Scalable Approach to Revenue Growth
Let's continue with the example above. Facebook Ads was clearly a no, and your client wants your agency to recommend what's worth pursuing. 
Upon further analysis, you've found that many qualified leads come across your client's website organically and fill out contact forms. It leads you to believe that their SEO efforts are paying off.
Add this to the mix, and it's easy to see which two approaches have the biggest potential for revenue gains. 
| Campaign | # of Leads | CPL | Close Rate | AOV | Total Cost | Total Revenue |
| --- | --- | --- | --- | --- | --- | --- |
| PPC | 1000 | $14.00 | 10.00% | $422 | $14,000 | $42,200 |
| Facebook Ads | 10000 | $1.50 | 1.25% | $188 | $15,000 | $23,500 |
| SEO | 800 | $10.00 | 8.00% | $567 | $8,000 | $36,288 |
As you can see, this client currently spend $8000/month on ongoing SEO efforts. This results in approximately 800 leads per month and a cost per lead of $10. In addition, the monthly SEO-related revenue is $36,288.
That's a marketing ROI of roughly 354%, and the math makes sense in this case! While SEO generated significantly fewer leads than Facebook Ads, it results in more revenue and less hassle for the sales team (since most leads are already qualified).
And so, with these data-driven insights, it's much easier to replicate results each month and even scale upwards to drive revenue. 
Aside from these golden insights, using a revenue marketing strategy will differentiate your agency and show what you're capable of. 
Agency Tip: If you're managing multiple clients, having this clearly outlined approach is a replicable process that's easily applicable across many clients. That way, you'll be in a better position to grow your digital agency and manage multiple revenue-driven clients at any given time. 
The Differences Between Revenue Marketing and Traditional Marketing
We know you're familiar with the ins and outs of traditional marketing, but what makes it different from revenue marketing?
Let's explore below. 
| Traditional Marketing | Revenue Marketing  |
| --- | --- |
| Marketing team is primarily assigned goals in the earlier sales funnel phases (e.g., brand awareness, traffic, etc.)  | Marketing team looks for high-intent conversion opportunities throughout the entire sales funnel  |
| Generate marketing qualified leads (MQLs) | Generate sales-qualified leads (SQLs)--or close–to move them faster along the sales cycle  |
| Separate KPIs for sales and marketing teams | Shared revenue goals for sales and marketing teams  |
| Marketing and sales teams have distinct functions and operations | Marketing and sales teams have a collaborative, continuous feedback loop |
As we've outlined, revenue marketing focuses on just that–revenue marketing. As such, it includes the full gamut from impressions to clicks, to conversion, to AOV (or ARPU for SaaS models), and to customer lifetime value. 
Traditional marketing has a clear hand-off of leads from the marketing to the sales team (often around the brand awareness or consideration phase). At this point, the sales team works on getting leads sales-qualified and closer to conversion.
However, revenue marketing also places qualified lead acquisition in the hands of the marketing team and way earlier in the sales funnel.
As a result, the sales funnel is filled with warmer leads from the get-go and a higher chance of revenue down the line. This results in more streamlined demand generation from the marketing team and productive use of the sales team's time. It's a win-win!
To break this down further, here's a quick visual reference.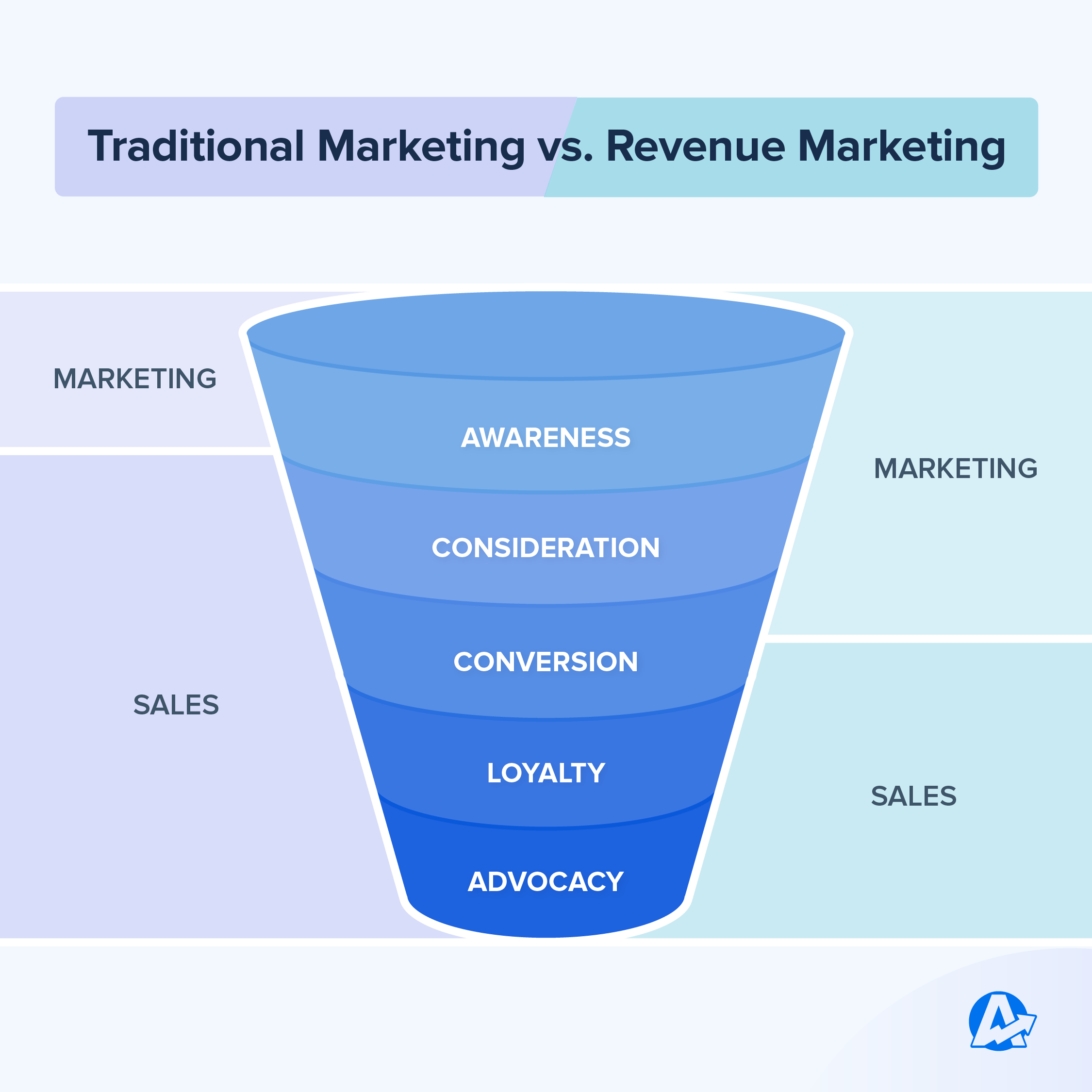 While there isn't necessarily something wrong with traditional marketing (e.g., for a brand awareness goal), it may not be the most efficient approach for reaching aggressive revenue targets. 
Agency Tip: Consider using the Objectives and Key Results (OKR) framework for clients with ambitious revenue targets. This will break their goals into actionable steps and bring them closer to achieving their desired revenue goals. 
How To Create a Revenue Marketing Strategy
Now that we've outlined the ins and outs of the revenue marketing model, here are the steps to create a revenue marketing strategy.
Cleary Define the ICP (Ideal Client Profile) 
The creation of an ideal client profile may have traditionally rested in the hands of the marketing team (assuming your agency hasn't worked on it). To do this, they may have:
Conducted market research (e.g., online sweeps, surveys, analyzing leads in your client's CRM)

Run a competitor analysis to determine a unique selling proposition

Outlined key ICP elements such as demographics, pain points, and job responsibilities
Download our free client profile template
Use this template to build your ideal client profile
And while there's certainly value in this exercise, a sales team has the ability to add a lot of context and color. 
Remember that the sales team is on the ground and interacting with your clients' current and prospective customers daily. And so, their real-life experience will add ICP details that the marketing team may not be aware of.
Tips To Create or Refine Your Client's ICP
Looking to refresh or create your client's ICP? Get their sales team involved and ask the following:
What type of client tends to convert better?

Which sources drive higher-quality leads?

What client profile characteristics drive higher-value orders?

What types of customers are retained for the longest duration? 
This will have a trickle-down effect because:
Your agency will have more detailed and relevant insights, which results in more ICP-related marketing efforts (e.g., inbound marketing campaigns)

The sales team will keep their eyes and ears open for any ICP-related insights that'll help refine digital marketing campaigns (if needed)

You can gain valuable insights into pain points that can be converted into effective marketing campaigns
Agency Tip: Don't be afraid to revisit your client's ICP for any updates or tweaks. This customer-centric approach will result in more targeted marketing and a higher chance of conversion later down the road. 
Evaluate Revenue-generating Marketing Channels
As we've previously outlined, revenue marketing focuses on the marketing campaigns with the most conversion results. 
To get the most from this exercise, use the following questions to evaluate the digital marketing campaigns with the highest potential:
Which of my client's marketing channels produced the most revenue with the lowest effort by the sales team?

What are the revenue metrics for each marketing channel (e.g., cost per lead, total number of sales, conversion rate)?
Conversely, are there any marketing channels producing marginal or no revenue?

Should my client's budget be increased or reallocated for any digital marketing campaign?

Does my client get revenue from repeat customers? If so, what are the best ways to keep them engaged?
Use the insights to show your clients how much revenue their digital marketing campaigns generate. That way, they'll see what's worth investing in.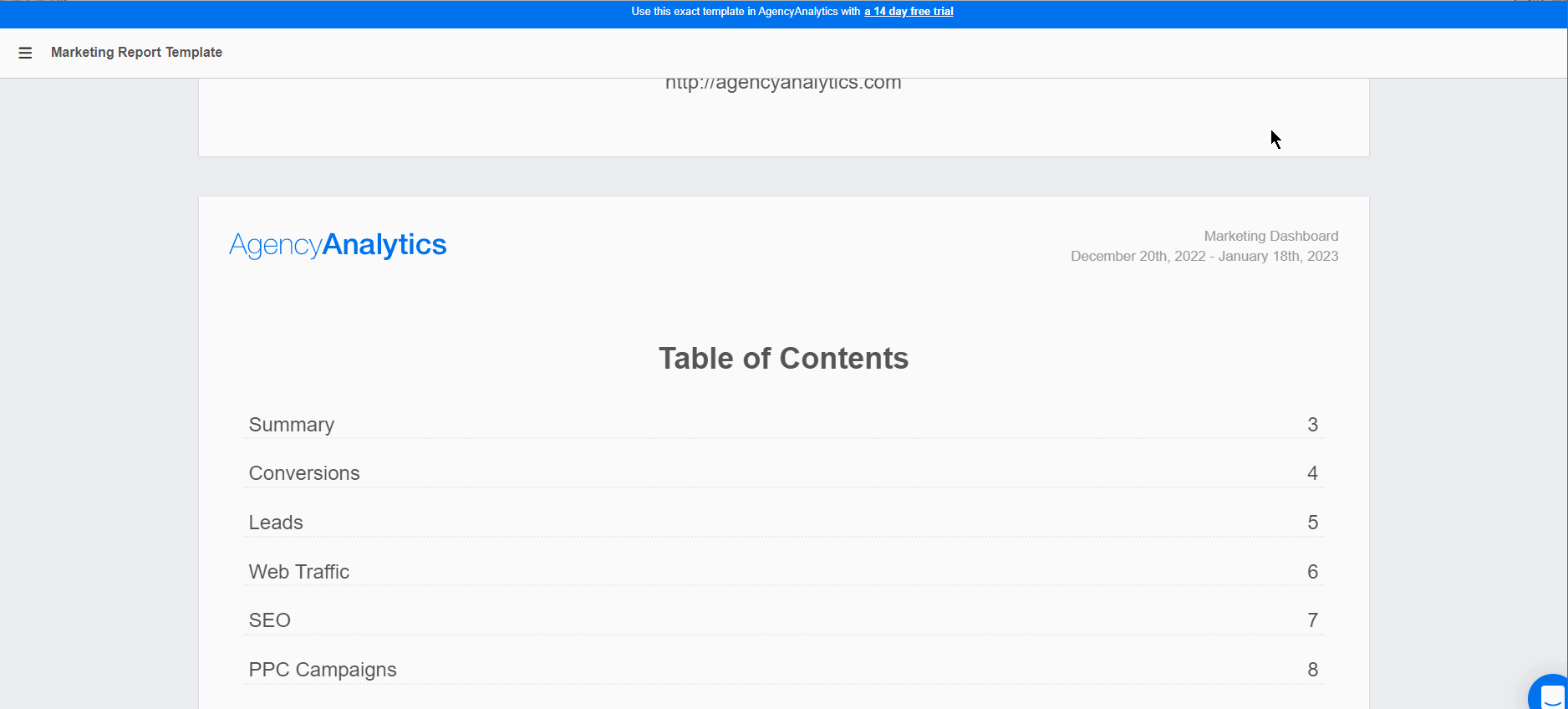 Use a marketing report template to summarize your clients' most impactful digital campaigns. Try our range of report templates on AgencyAnalytics–it's free for 14 days. 
Stay On Top of Revenue Marketing Metrics With Ease
The only way to keep tabs on your clients' revenue progress is by reporting on the right marketing metrics. 
After you've done the groundwork, monitor revenue metrics and observe any historical trends over time. Was there an increase in revenue for a particular month? Perhaps there was a dip in conversion rates because of decreased website traffic.
Whatever the case may be, AgencyAnalytics is the automated reporting tool that will let you see the bigger revenue picture.
Reports are an excellent asset for us since we can also see areas of growth opportunities for our clients. Since the numbers speak for themselves, if a client wants to get a sense of where they could potentially increase their business revenue, it's best to harness the reports. Ultimately, the numbers help indicate potential areas of growth and opportunity.
With your AgencyAnalytics platform, it's easy to: 
Don't waste time on excessive manual work or second-guessing your clients' progress. Incorporate goal-tracking into your client reporting to make informed recommendations with AgencyAnalytics. Sign up for a free 14-day trial today!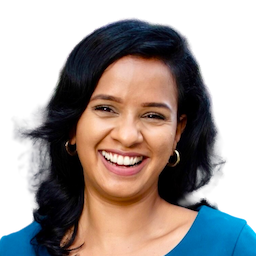 Faryal Khan is an experienced marketer and brand photographer with a passion for content creation. She creates value for brands through storytelling and captivating visuals.
Read more posts by Faryal Khan ›
Try AgencyAnalytics risk-free for 14 days. No credit card required.