Your agency's output is only as good as your team. The ideal scenario is to stack the deck with top talent who will all consistently deliver the exceptional level of service that your clients have come to expect from your agency. 
The challenge? Top talent can be tricky to land. Since these high performers are in high demand, they always have lots of options. So how can your agency convince these superstar candidates to work for you? The answer is recruitment marketing, one of the most effective methods for attracting the best of the best. 
In this article, you'll learn how to leverage the power of recruitment marketing to draw in top-notch candidates, from the brightest grads fresh out of the best schools to senior leaders who can take your agency to new heights.
What Is Recruitment Marketing? 
Recruitment marketing is a strategy focused on attracting the best talent to your agency. It goes far beyond simply putting up a job posting and hoping some quality candidates apply. Instead, recruitment marketing plays a long game, investing time, budget, and careful consideration into mindfully building a reputation for being a great workplace. 
In a world where burnout is becoming more common and people wear 60 hour weeks on their sleeves like a medal of honor, to attract top talent you need to offer something different.

Steve Andrews, CEO, She Reigns Creative 
All recruitment marketing efforts are based on the concept of developing, strengthening, and amplifying the reach of your employer brand. This approach can therefore encompass every piece of creative content your agency produces because everything that your agency's name is attached to has the potential to show prospective candidates the great work they could be doing if only they worked for your agency.
Many agencies are so busy looking for new clients and putting out incredible work for their existing ones that building their employer brand gets bumped to the bottom of the priorities. It may seem counterintuitive to pull away from paid work to focus on employer brand, but the long-term effect of recruitment marketing is worth the effort.
The good news is that many of the same marketing strategies and principles that you're already familiar with can be applied to your own agency to build your employer brand and attract the talent you want. 
How Employer Branding Attracts Top Talent
Employer branding is not just a catchy phrase that's thrown around in HR-related conversations. It's an essential puzzle piece for agencies wanting to attract top-of-the-line talent. Why, you might ask? Because people are a powerful resource at a marketing agency. 
The biggest contributor to our growth is our people.  We bring on smart, driven, and talented individuals who align with our North Star of helping people feel proud, prosperous and connected. Jessica Weiss, Director of Marketing & Strategic Partnerships, One Firefly
Employer branding becomes a beacon that guides the right talent to an agency's doorstep. It works like an invisible force field, subtly but effectively pulling in skilled individuals who align with the agency's culture and vision
In an age where every detail about a company is just a click away, transparency wins the race. An agency's employer brand isn't just the image it projects. It's the reputation, the employee testimonials, the LinkedIn posts, and the Glassdoor reviews. It's as real as the coffee stain on a marketer's white shirt after an all-nighter finalizing a client campaign.
A robust employer brand delivers very tangible benefits, reducing recruitment costs and decreasing the time to hire. It also paves the way for lower turnover rates. When an agency's values resonate with the employees, they stick around. They don't flee at the sight of a slightly greener pasture. 
Employer branding isn't just important; it's a lifeline. It's the tune to which the dance of talent acquisition gracefully moves. For agencies seeking to paint a vivid image of their culture and essence, employer branding is their brush, canvas, and colors. 
2 Major Differences Between Recruiting and Recruitment Marketing
While 'recruiting' sounds similar to 'recruitment marketing', they are not the same. To illustrate one of the biggest differences between recruiting and recruitment marketing, let's take a look at a hypothetical scenario.
Imagine you're sifting through a pile of resumes. You've run them through your Applicant Tracking System, but even the ones it identified aren't up to par. You're frustrated, on a time crunch to fill a major vacancy, and your boss is breathing down your neck. Welcome to the wonderful world of recruiting.
Now imagine that you always have an existing stream of excellent candidates pouring in, regardless of job postings, because everyone wants to work for you. This means that when a position opens up, you have a wide pool of top talent to pull from. Instead of hoping beyond hope you can find a qualified applicant, the hardest decision you have to make is picking from the long list of impressive candidates you already have on file. This is what successful recruitment marketing looks like.
That's the gist of the difference between recruiting and recruitment marketing. Let's dive deeper into some more of the details.
| Recruiting | Recruitment Marketing |
| --- | --- |
| Short-term in nature; fills an immediate need like an urgent job opening | Long-term in nature; builds a talent pool of qualified candidates over time |
| Reactive; responds to an existing need or skills gap | Proactive; takes action to build a resource backlog for the future |
1. Short-Term vs. Long-Term
In general, recruiting addresses an immediate need where an open position needs to be filled as soon as possible. 
Conversely, recruitment marketing is a long-term strategy that aims to build a talent pool of qualified candidates while at the same time creating awareness and interest in your agency as an employer.
Creating the best possible place for work and a culture that respects employees drives the ultimate goal–exceptional marketing and happy clients. Michelle van Blerck, Communications Manager, Digital Freak 
2. Reactive vs. Proactive
Since recruiting is focused on filling specific job vacancies, it's more reactive in nature. Recruiting involves the whole process of creating job postings, reviewing applications, interviewing candidates, and then choosing who to hire. 
Meanwhile, recruitment marketing focuses on proactively getting your agency's name out there, regardless of whether there's an open position or not, because you want your agency to be top of mind in the future.
Here's a fun way to think about it: Recruiting is like throwing a fishing line out into a vast ocean, hoping to reel in a big fish. On the other hand, recruitment marketing is about making your boat so spectacular and attractive that the fish can't help but swim over to see what the fuss is all about.
Top Recruitment Marketing Strategies for Agencies
Keep in mind that any work your agency puts out to the public isn't just seen by the target audience but also by potential candidates, clients, and competitors, too. Thinking about recruitment marketing from this angle creates a wide net of opportunities to contribute to your employer brand.
Here are a few more agency management tips to boost your talent acquisition efforts.
1. Develop Your Employer Brand
Your agency has substantial expertise when it comes to developing your clients' brands. From brand palette to website design to tone of voice, most marketers can practically do it in their sleep. But for some reason, it's always easier to work on someone else's brand than it is to work on your own. 
Developing your employer brand requires you to get outside your head and treat yourself like any other client. Take a deep, self-reflective look at your agency and its values, culture, and USP. Who are you in the marketplace? What do you represent? What do you believe in? This leads us to the next tip.
2. Define Your Agency's Values 
From the following list of examples, how many would you consider to be company values? 
Collaboration

Innovation

Transparency

Integrity

Openness

Curiosity

Inclusion

Courage
Chances are, you have at least a couple of those values mentioned somewhere on your website. Leverage them as creative direction and inspiration for your employer brand. 
If you're feeling stuck:
Go through some old case studies and search for commonalities. What are the themes in the positive feedback you received? 

Ask employees what they love about your agency. What makes them excited to come to work every day?

Read reviews and testimonials from clients. What stands out?
Take everything you've learned and use it to demonstrate to prospective employees why your agency is the best place to work. 
AgencyAnalytics core values.
3. Win Marketing Awards
You might be thinking, "That's easier said than done." But don't rule this idea out until you've consistently tried to enter your best work in relevant industry competitions. 
Winning industry awards is one of the best ways for agencies to develop their employer branding and reputation. Not only do awards boost your public profile and credibility, they amplify your exposure and put you on the map in the minds of some of the best marketers out there. It's a perfect way to showcase what your agency is and what it does best.
There are tons of marketing awards out there. From specific awards like best PPC campaign or best dental marketing campaign to massive global awards, there's an award out there for agencies of all types, no matter your size or niche. 
4. Optimize Your Job Postings
Although we previously mentioned that creating job postings falls under recruiting instead of recruitment marketing, your approach to your job postings can embody your company values and what sets you apart.
Seeing your agency on career sites and job boards may very well be the first time a top candidate hears about your agency, and you want to make a good first impression. The content and writing style of the job posting gives candidates their first glimpse into your agency and agency culture. 
Don't be 'that company' with the obviously copy/pasted job posting without paragraph spacing or punctuation, riddled with misaligned bullet points and other formatting errors. That's the equivalent of a candidate showing up to a job interview wearing sweatpants, a stained shirt, and mismatched shoes.
Make the experience of reading the job posting as enjoyable as working at your agency. Break up any walls of text and add bullet points, headings, and anything else that improves the user experience because it all reflects your agency and how you approach the work.
Lastly, don't forget about keywords and SEO! As a marketing agency, you're intimately familiar with all of the SEO best practices, and it's worth it to put them to good use in your job descriptions. Not only will it get your posting in front of more eyes, it will also increase your brand exposure.
When you're building a company, you don't want to hire all the same types of people. Just like in a recipe you need different ingredients to make a dish shine. The biggest challenge was people. Not just finding the right people, but ensuring that we had the right mix of people and then supporting their individual needs while staying focused on the company as a whole. 

Yanira M. Castro, CEO, Humanity Communications Collective 
5. Have a Consistent Message
Consistency is paramount when it comes to building your employer brand and reputation, not only in things like logos and tone of voice but also in presenting a cohesive, unified front. 
Regardless of where the candidate happens to be, whether it's checking out the latest news on your agency's Instagram page, exploring your website for more info, or considering applying to a job post, they should feel like they're dealing with the same entity. For example, standardizing your LinkedIn banner with your agency logo can go a long way in adding another level of professionalism to your recruitment marketing.
6. Recruitment Marketing on Social Media
How active is your company on social media, and how often do your employees post about your agency? If the answer is 'not much,' you're missing out on a huge opportunity to connect with prospective job seekers.
Social media is a great way to amplify your agency's employer brand and showcase your work, achievements, and awards. You likely won't get anywhere if you aggressively try to recruit people, but if you take time to gently nurture the relationship through liking and commenting on the posts of the industry's best marketers, you'll organically build relationships that could pay off when the time comes. 
Further, when internal team members share job opportunities on their personal profiles, it provides an organic endorsement that the agency is a great place to work.
LinkedIn Is Key to Building an Agency Brand
LinkedIn provides a great opportunity for your agency's senior leadership to position themselves as thought leaders in the industry, which has the added benefit of building your agency's credibility. 
It's also where all the senior leaders and agency owners spend their time–more than 65 million business decision-makers are on LinkedIn, and they use the thought leadership content on the platform to help them determine who they want to work with.
If you're trying to attract C-suite talent, having your own senior leadership team posting consistently on LinkedIn could make those talented prospects feel they'd be in good company should they choose to join your agency.
7. Manage Your Employer Reviews 
Most agency owners and senior leadership recognize the power of customer testimonials and reviews for building consumer trust and driving new business. But many don't place the same emphasis on employer reviews: where employees (both former and current) rate how great it is to work at your agency on websites like Glassdoor or Indeed. 
Much like how consumers use reviews before making a purchase, 61% of Glassdoor users look at company reviews to determine whether they'll apply for a job.
Keep in mind it doesn't take a lot of reviews to make a strong impression, like this example from Squeeze Marketing. 
That's why it's in your agency's best interest to not only monitor employer review sites but also to respond to those reviews, especially if they're negative.
'Wait,' you might be thinking, 'won't responding to negative reviews only bring more attention to them?'. While that's an understandable fear, the truth is that most people prefer to see businesses respond to reviews publicly because it shows the business is willing to work with people to find a solution. 
Businesses that respond to reviews are seen as 1.7x more trustworthy, so it's definitely worth the effort. If you are responding to reviews, the faster, the better. Lingering negative words can create ripple effects quickly.
It may seem counterintuitive but don't make the mistake of trying to edit or erase every single negative review. If you came across a company with hundreds of glowing 5-star reviews from employees without a single bad review in sight, would you trust that place or would you be suspicious? While you want to avoid bad reviews as much as possible, leaving a few less-than-sunny reviews up (and responding to them appropriately) reads as honest and provides a more well-rounded perspective on your agency.
8. Create and Optimize Your Careers Page
If you're looking to attract the best talent, it helps to show them you're hiring. Having a clean, well-organized Careers page will allow potential candidates to see your vacancies and also make them consider whether they'd be a good fit for any of the roles.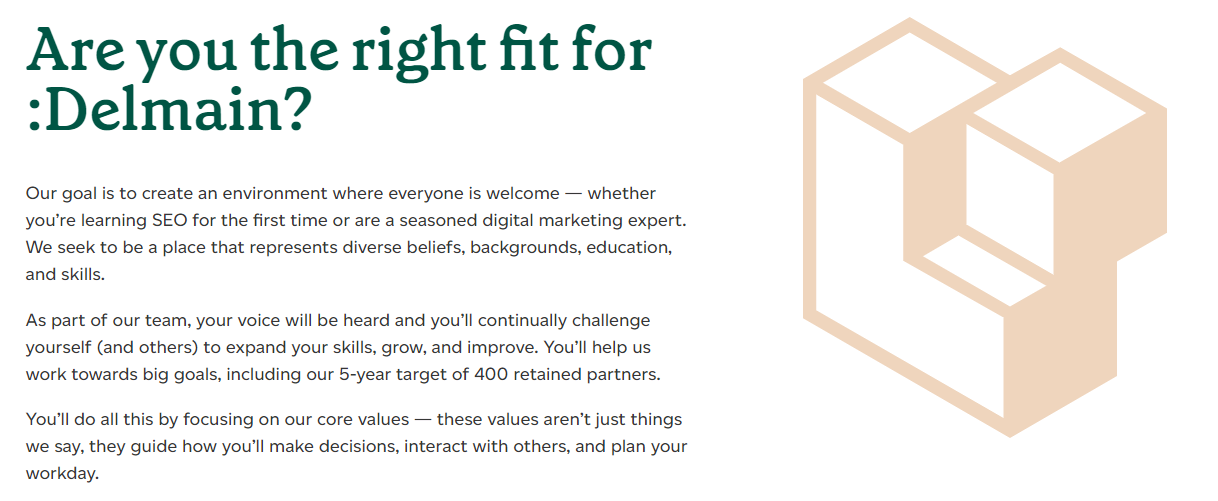 Source: Delmain's career page
You'll want to ensure the page is easy to use and that it provides all the info the candidate needs to decide whether or not to apply.
We previously mentioned optimizing your job postings with SEO best practices and keywords, and you should also implement those same principles on your Careers page. For roles that are hybrid or in-person, it can help to geo-optimize your Career pages to the location of the user so only the relevant open positions will show up. 
9. Create a Separate Landing Page for Recruitment Marketing
Another option is to create a separate landing page for recruitment marketing specifically. In this scenario, targeted ads would direct prospective candidates to a specific recruitment marketing landing page, which would then allow your agency to track the performance of your recruitment marketing campaigns. Analyzing the data will help you identify what works and what doesn't, making your future recruitment marketing initiatives even more effective.
Having a separate landing page for recruitment marketing assists in your data collection efforts as you can track exactly which paid ads are performing the best with UTM parameters, as well as A/B testing different landing page versions to find the most effective combination of layout, copy, and messaging.
When people feel valued and cared for, they naturally deliver their very best work. This culture can also help your agency grow, attracting top talent by showing people what you do to support your staff and that you truly respect their needs.

Michelle van Blerck, Communications Manager, Digital Freak 
Another great thing about creating a recruitment marketing page is that it allows for specific and personalized messaging optimized for the type of talent you seek. It's also an opportunity to lean into your employer branding and streamline the process with all of the relevant info on a single page.
10. Make Recruitment Marketing a Part of Your Content Strategy
If you're serious about recruitment marketing, consider creating specific recruitment marketing content to assist in your efforts. This may include videos, blogs, social posts, emails, infographics, ebooks, case studies, podcasts, and more–all of which can be easily shared across the major social media platforms, further amplifying the reach of your employer brand.
Let's say your agency has created a program to help plant over 1,000 trees in partnership with Evertreen (just as an example). Don't miss the opportunity to share the details in a blog post.
Or, imagine if your agency is attending the biggest conference or convention in your industry. This is a great opportunity to collaborate with your social media team and create a series of posts throughout the week highlighting your presence and encouraging attendees to stop by your booth and say hi.
Maybe your agency won an award for your company culture. This is the perfect chance to create a short, shareable video where employees talk about what they love about your agency.
Recruitment Marketing: Easier Than You Think?
While having a robust recruitment marketing strategy may sound like an additional, heavy lift, you might be surprised at how easily your agency can repurpose your existing expertise to turbocharge your hiring process. After all, you're already an expert at selling your services to clients and then selling those clients to customers. With recruitment marketing, you're shifting the audience from clients to top talent while still using many of the same strategies and tactics you're already familiar with.
With a steady incoming pipeline of top talent, you'll be able to reap the benefits of a successful recruitment marketing strategy the next time you're looking to add another expert to your team, whether your agency just signed an exciting new contract, you've just expanded your service offerings, or maybe you simply want to stay ahead of the competition. Recruitment marketing will make that process so much easier.
So get out there and create a recruitment marketing funnel to attract the top talent that your agency deserves! While you're building your dream team, keep track of your recruitment marketing efforts from 75+ platforms right from AgencyAnalytics–try it free for 14 days.
Michael is a Vancouver-based writer with over a decades' experience in digital marketing. He specializes in distilling complex topics into relatable and engaging content.
Read more posts by Michael Okada ›
Try AgencyAnalytics risk-free for 14 days. No credit card required.