In today's digital marketing ecosystem, every dollar spent on advertising is an investment. As an account manager at a marketing agency, you're juggling multiple campaigns on various ad platforms. The stakes are high, and so is the expectation to deliver positive results.
Yet, how can you ensure that your clients' advertising costs are genuinely serving their marketing strategy? The answer is simple: by mastering the ability to measure ROAS, or Return on Ad Spend. This critical metric gives you the power to track and quantify the profit generated by every penny in ad spend.
To show clients their ROI, you can track and report on the revenue and conversion data that's directly attributed to your campaigns. This can include metrics like total sales, revenue generated, cost per acquisition (CPA), conversion rate, and return on ad spend (ROAS). By comparing these metrics to the amount spent on advertising, you can show clients the actual impact of their investment in your services.

Justin Hoffman, Marketing & Sales, Web Solutions Firm
Achieving a positive ROAS signals that the marketing strategy is working, and hitting the target ROAS consistently points to an effective, finely-tuned campaign. The all-important ROAS calculation, therefore, isn't just a fancy math problem–it's a vital component of campaign optimization and client reporting.
The goal of this guide is to help you understand ROAS, how to measure it, and how it can significantly influence marketing strategy decisions. It won't sugarcoat the challenges nor oversimplify the complexities. But it will offer practical, actionable insights that you can apply directly to your day-to-day work.
So let's cut to the chase: measuring ROAS is not an option; it's a necessity. It's time to delve into the world of ROAS, where every penny counts, and the profit generated from ad spend is king.
What is ROAS?
Return on ad spend is a marketing metric that measures the revenue earned by your business for every dollar spent on advertising. For all purposes and intents, ROAS is similar to ROI (Return on Investment). In this case, the money you are spending on digital advertising is an investment of which you're tracking the return.
In simplest terms, ROAS measures the effectiveness and profitability of your advertising efforts. The more effectively your ads connect with prospects, the more revenue you should expect to earn from every dollar invested in advertising.
If you're so inclined, you could measure Return on Ad Spend at different levels within your Google Ads account: the ad group level, the campaign level, the account level, and so on. Provided you know your ad spend and revenue at every level, you can easily calculate ROAS.
ROAS and ROI are quite similar in that they help evaluate how well a particular campaign is performing. Although digital marketers might often use these terms interchangeably, the truth is that they are different.
ROI typically focuses on the overall success of your digital marketing efforts, and is often tied to an entire strategy and the client's business operations. From the perspective of paid search ads, ROI measures the ad profit in relation to the cost. The keyword here is profit, as it takes in consideration the cost required to fulfill any orders generated by the campaign.
Usually, Return on Investment is a business-centric metric that helps you to better understand how ads contribute to your client's bottom line.
ROAS, on the other hand, focuses on particular advertising campaigns, groups, or even keywords and ties a direct connection between advertising and revenue. The ad-centric metric usually measures the gross revenue generated based on every dollar you spend on ads. It specifically aids in understanding the effectiveness of a PPC or paid search ad campaign.
Why Understanding ROAS is Essential for Marketers
ROAS is arguably the best metric for helping a business understand how their PPC ad campaigns are performing. This metric also gives you the information you need to prioritize your campaign spending across your paid search campaigns.
For instance, let's assume your business is running 5 different PPC ad campaigns simultaneously. You're looking to boost your ad spend but aren't sure which campaigns are offering the best results per dollar. ROAS will provide you with that answer, thereby letting you optimize your PPC budget by increasing your investment in the best-performing ads.
Once the ROAS for every ad campaign is ready, you can see which campaigns are giving more value for money. And if you realize that some campaigns greatly outperform others, you might think about reallocating some of your ad campaign budget to campaigns that are performing well.
What's great about ROAS is that it isn't only good for ad campaigns. You could also use the metric to evaluate target keywords and ad groups as well. For instance, if you realize that your ROAS is higher for specific keywords that you're targeting, you might want to create new PPC ad campaigns based on the highest-performing keywords.
Calculating ROAS
Now that we've defined return on ad spend and why it's such an important metric, let's look at how to calculate it. Contrary to other marketing calculations, ROAS is fairly easy to calculate due to the simplicity of the formula. ROAS is simply the total campaign revenue divided by the advertising campaign costs.

Before putting the ROAS formula to work, you must first determine the component of your online advertisements you'd like to evaluate. After that, take the total revenue that the ad has generated and subtract the amount spent to run the ad, after which you'll divide this value by your ad spend.
Many PPC channels like Google Ads or Facebook Ads make it easy for you to track conversions and sales for every ad. With this conversion and sales data at your disposal, you can put it into the ROAS formula in order to understand the return on ad spend.
What is a Good ROAS?
After calculating ROAS, you'll probably wonder what a good benchmark for ROAS is? Well, the truth is that there isn't a right answer for what good ROAS is. Usually, a good return on ad spend depends on the type of business, the industry, as well as the products it sells. However, there are a few guidelines for determining whether your business is achieving a good return on advertising spent.
Although ROAS doesn't necessarily try to explain the impact a specific campaign has on your ecommerce business or company, determining a good return on advertising spend for your campaigns requires you to consider several business-related factors.
First, you must think about your overall goals growth-wise, and your timespan for achieving the goals. However, your goal should not be to do "good enough" and an above-average return on advertising spend might not suffice. An acceptable ROAS is typically influenced by operating expenses, profit margins, and the general operating health of a company.
And while there isn't a conclusively right answer for this question, a common ROAS benchmark is a ratio of 4:1, or $4 in revenue for $1 ad spend. New businesses operating at lower budgets might need higher margins, while ecommerce stores that are committed to growth can afford to spend more on advertising. A company will gauge its ROAS goal once it defines its budget as well as gets a firm idea about its budget margins.
Defining a good return on ad spend depends on whether you mean "good for the advertising campaign" or "good for a company or industry." That said, a good ROAS should be at least in the range of 400–500% for most ad campaigns.
The ROAS Implication on Ad Campaigns and Advertising Costs
ROAS is a crucial metric for any online advertiser and is the online advertising equivalent of Return on Investment (ROI).
Embarking on any ad campaign comes with the expectation of profitable returns, but managing advertising costs separates successful campaigns from the not-so-successful ones. ROAS is a powerful metric that helps to unravel this mystery. It uncovers the profit generated by each dollar spent, guiding account managers to optimize marketing strategies effectively.
ROAS is akin to tracing the breadcrumbs from ad spend to generated profit. It shows how the advertising costs tie into the bigger picture of a client's marketing strategy. Whether it's a campaign promoting a seasonal sale or introducing a new product line, the ROAS provides key insights. 
We reverse engineer everything based on business growth. If it isn't growing the business, we cease to be relevant in the market. For paid strategies (specifically eCom) we track sales and ROAS.

Bodie Czeladka, Creative & Managing Director, Dilate Digital
By linking advertising costs directly to revenue, it shows the direct effect of marketing efforts on the bottom line, making it one of the most important metrics in the marketing sphere.
ROAS is often used to describe the profits attributable to, and made by, advertising campaigns. Ultimately, the goal of this cornerstone metric is simply to measure the effectiveness of a marketing campaign.
The Art of Setting ROAS Targets
When setting a target ROAS for various campaigns, the average order value plays a significant role. After all, campaign revenue is the denominator in this simple formula. But AOV isn't the only piece of this puzzle. 
To set the target ROAS, consider the campaign's objectives, product margins, and the client's overall marketing goals. Each campaign may require a unique approach, and there's no one-size-fits-all rule. It's a matter of carefully calculating, analyzing, and adjusting over time.
Calculating the target ROAS (Return on Ad Spend) for an ad campaign involves understanding your profit margins and desired profitability.
Here's a simple formula to calculate the target ROAS:
Let's break this down:
Profit Margin %: This is the profit margin of the product or service you're advertising. You calculate it by subtracting the cost of the product from the selling price and dividing that number by the selling price. Multiply by 100 to get the percentage.

Desired Profitability %: This is the percentage of profit you want to make from the ad spend. It should be a realistic figure based on the business's financial goals and previous ad performance. For example, if the client wants to see $3 of net profit for every $1 spent in paid ads, the desired profitability is 300%.
Using this formula, if a product has a 50% profit margin and the client wants to see a 300% profit once the COGS (Cost of Goods Sold) is taken into consideration, your target ROAS would be 6.0 or 600%.
Basically, for every $1.00 spent, the client generates $6.00 in revenue and $3.00 in gross profit. 
It's important to note that this is a simplified formula and assumes that all sales revenue comes from paid advertising. In reality, other factors may influence sales, so the target ROAS should be used as a guideline rather than a hard rule. It's also crucial to continually review and adjust your target ROAS based on actual campaign performance and changing business goals.
Although it's good to aim high, setting too aggressive a ROAS target can make it very difficult to scale, especially in a competitive market.
Balancing Immediate ROAS against Customer Lifetime Value
As account managers, it's vital not to get lost in the short term and forget the customers' bigger picture. Yes, achieving a strong ROAS from the get-go is impressive, but winning loyal customers who will generate revenue over time is equally important. And, sometimes, clients are willing to sacrifice on the initial ROAS if the lifetime value of the client is high enough. 
For instance, consider a campaign that attracts customers who make smaller initial purchases but return–frequenty–for repeat purchases. The immediate ROAS may not seem attractive, but the customer lifetime value can more than make up for it. Balancing the immediate ROAS against the longer-term customer value ensures that the marketing strategy doesn't miss out on these valuable repeat customers.
Remember, ROAS is a powerful tool but should never be viewed in isolation. It's part of a broader toolbox that, when used effectively, can build robust, profitable campaigns. Keeping an eye on the bigger picture and understanding the nuances behind the numbers is what truly sets great marketers apart.
Tips for Improving Return on Advertising Spend
The only way to improve your ROAS is to increase your overall revenue or reduce ad spending by optimizing your ad performance. Increasing your revenue could require that you significantly increase prices or look for different vendors who will let you reduce your production costs. It could have nothing to do with your PPC campaigns!
And while we won't be able to provide every detail about optimizing your ads in this post, here are a few ideas on how to improve your ROAS.
1. Create Ads for a Mobile Audience
As you think about ROAS for your Google Ads or Facebook Ads, it is important to factor in your mobile audience.
Google research shows that there are currently more searches on mobile devices than desktops. Besides, close to 50% of consumers who perform a local search for a service or product will make a purchase in a day of performing the search. And since most local searches are done on mobile devices, it is crucial to have these users in mind as you create PPC ads.
2. Consider the User Journey
Virtually all aspects of paid search ads come back to your audience. Failure to think about the consumer as well as their position in the buyer's journey means that you might miss out on profit maximization. And although most PPC ad journeys begin with a single click, you must carefully plan where a user goes next.
For instance, when creating your PPC ads, you want to ensure that you're giving an offer relevant to the buyer you're targeting. And this is where buyer personas come into play. Besides, there are chances that you'll have more than a single buyer so think about how the ads will be perceived by the target audience.
Besides offering relevant offers based on your target buyer and their position in the buyer's journey, you need to consider the messaging. PPC ad messaging must be consistent across all campaigns when it comes to tone and brand voice. However, the way you capture their attention and convince them to take a step forward depends on their behaviors and motivations as well as where they are in the consumer journey.
3. Watch Your Competitors
Just like any other marketing tactic or strategy, it pays to watch your competition. Are they running successful PPC ads? What is it that they are doing well? By evaluating their mistakes and successes, you can easily look for ways to bolster your own advertising campaigns. Although there isn't a way to understand how the ads perform without approaching them, you can easily see the kind of ad content they are feeding to search engine users and look for ways to emulate it. If you're running Facebook ads, it's easy to find exactly what ads your competitors are using.
4. Work Towards Improving Your Ads Quality Score
When talking about Google Ads, a higher Google quality score often means that your cost per click goes down and, as a result, your ad performance increases. These factors play a crucial role in the chances of search engine users seeing and clicking on your advertisements.
There can also be a correlation between quality score and lower cost per conversion, and lower ad campaign costs mean that you'll enjoy a higher ROAS. Google often uses quality scores to determine an ad ranking, with a large part of your quality score formula revolving around ad relevance.
To improve ad relevance, you could begin by structuring the campaigns into smaller, more targeted groups. Instead of a single ad group with all keywords, create ad groups that are specific and directly related to the keywords they have.
5. Audit PPC Campaign Negative Keywords
Negative keywords act like the bouncer at your store's entrance—they keep the wrong crowd out. By regularly reviewing and updating negative keywords in your PPC campaigns, you prevent ads from showing for irrelevant search queries that can eat up your ad budget.
6. Use Bid Adjustments
Bid adjustments are like the volume knob on your ad spend—you can turn it up for high-performing ads and down for those that aren't hitting the mark. With smart bid adjustments, you can boost visibility during the peak performance times or locations or for specific demographics.
7. A/B Test Ad Copy and Landing Pages
Even the smallest changes in ad copy or landing page design can have a significant impact on campaign performance. A/B testing allows you to experiment with different ad copy and landing page versions to identify which resonates best with your audience.
Remember, your ad and landing page are like a shop window and interior—they should draw people in and make them want to stay (and buy). A/B testing helps you find the perfect window display and store layout to maximize conversions and drive ROAS upwards.
8. Tap Into Remarketing
Remarketing is the digital equivalent of a gentle nudge, reminding people who've visited your client's store (or website) to come back and complete their purchase. Remarketing campaigns typically have a higher conversion rate, as they target people who've already shown interest in the product or service.
9. Understand Search Intent
The difference between a casual browser and a ready-to-buy customer often boils down to search intent. By understanding and aligning your ads with the searcher's intent, you can attract visitors who are more likely to convert.
When the right message meets the right person at the right time, it's a recipe for success. Understanding search intent is like knowing why a customer walked into your store—you can provide exactly what they're looking for and make the sale.
The key is to keep learning, testing, and adapting to maximize your return on advertising spend. After all, every marketing voyage brings new insights and opportunities.
ROAS Pitfalls You Should Look Out For
Although focusing on improving ROAS can be helpful, approaching it from the wrong angle can be detrimental to your online advertising campaigns and business at large. Here are a few pitfalls to be aware of to keep your marketing efforts on track.
1. ROAS Doesn't Apply to All Marketing Efforts
First off, remember that ROAS can't be applied to all marketing efforts. For you to assess any marketing campaign using ROAS, its true cost needs to be concrete. For instance, since PPC advertisements usually have a well-defined budget, establishing the return on advertising spend for a PPC campaign requires that you simply divide revenue by cost. On the flip side, the actual cost of many marketing campaigns, for example social media marketing, can't necessarily be determined on a campaign-by-campaign basis.
2. Ad Campaigns Don't All Contribute Directly to Sales
Here, we will focus on the ROAS formula's numerator. As you probably know, not every marketing effort will translate to conversion, and many initiatives are not meant to do so as well. Some initiatives – like newsletters and blog posts – are supposed to capture the attention of the target audience and get them to engage more with a brand. Others, like testimonials and customer reviews, are deal-closers.
In simple terms, it wouldn't make sense to evaluate the return on ad spend of any top-of-the-funnel marketing effort. Although these initiatives can play a crucial role in the customer's buying decision, since the aim isn't to make a direct sale, there isn't sufficient reason to bring in ROAS when assessing the overall campaign's effectiveness.
The Takeaway
Solely relying on ROAS metrics could be misleading. The value of ROAS to any business often depends on the goals of the advertising campaign, conversion factors, and what's being spent. Some campaigns can provide a high ROAS but the company might still end up losing money due to other costs aside from advertising.
Ultimately, the key to demonstrating the success of your campaigns is to provide clear and transparent reporting that shows how your services are directly contributing to your clients' business objectives.

Justin Hoffman, Marketing & Sales, Web Solutions Firm
ROAS is calculated by considering the cost of advertising, so any other factors that could be eating into your profits might not be factored in.
All the same, ROAS can be extremely helpful for a business when used properly. It can help determine whether the ad campaign, ad group, or keyword is profitable, as well as provide key information about which campaigns you should be allocating more budget to.
If you're interested in tracking ROAS for clients, you can largely automate the process with our PPC dashboard or PPC reporting template and custom metrics to display the ROAS by campaign, channel, or across all of your agency's campaigns.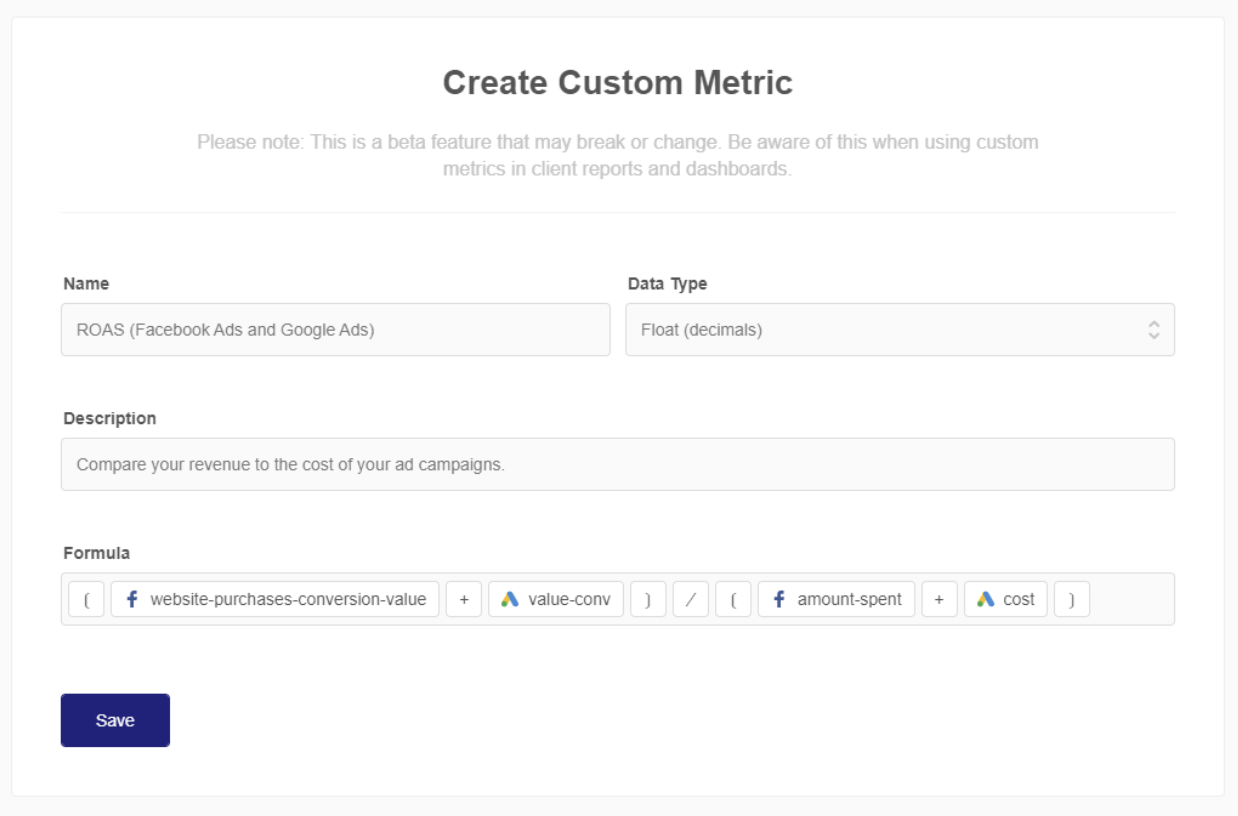 Easily create custom metrics to display the data your clients need to see inside automated dashboards and reports. Get started with your 14-day free trial.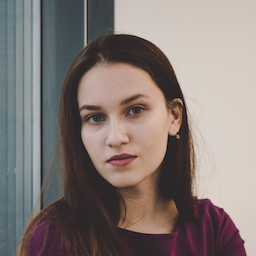 Lisa is a self-published writer and editor who has worked in the PPC/Search Engine Marketing niche for years. As a search engine marketing expert, she has led hundreds of paid advertising accounts for search engines, mobile, display, retargeting, and social media ad campaigns. When she's not writing, she can be found with her nose stuck in a book.
Try AgencyAnalytics risk-free for 14 days. No credit card required.