In many ways, Google is the front page of the internet–especially for local businesses. It's the first place many people turn to when they're looking for information online, whether they want to learn more about a product or service, search for businesses nearby, or need directions to a new place.
Your clients' Google Business Profile (GBP), formerly known as Google My Business (GMB), is an essential part of digital marketing as it determines how their business appears across all of Google's platforms–including the ever-important Search and Maps. 
Not only that, but GBP comes with a set of built-in tools called Google Business Profile Insights (sometimes referred to as Google Business Profile Analytics), and Google has been tinkering with it to make it even better.
Recently, Google Business Profile officially sunset the Insights section as they have transitioned to their new Performance metrics. So from here on out, GBP Insights will be known as Performance Metrics.
This article will take a deeper look at the changes to GBP Insights and explore how agencies can leverage the new GBP Performance Metrics to boost their clients' local search presence and make the most out of Google Business Profiles.
What Is Google Business Profile Performance Metrics? 
GBP Performance Metrics is Google Business Profile's analytics platform dedicated to your GBP listing. It displays key metrics such as how many people viewed the profile, how users found it, and the most common ways users interact with it. 
In other words, GBP Performance Metrics measures and tracks all the traffic and activity related to your client's GBP listings.
Why is Google Business Profile Analytics Helpful?
Many businesses treat their Google Business Profile as a simple business listing and never realize its full potential. Even seasoned marketers are guilty of treating GBP as an afterthought, focusing on getting their client's Facebook, Instagram, Twitter, or LinkedIn accounts set up first. 
But your Google Business Profile is so much more valuable than you might think, especially for businesses with a local footprint! Agencies can leverage GBP Performance Metrics to not only drive their client's SEO strategies but also increase their search presence, grow awareness of their business, and ultimately drive more conversions and sales.
After all, Google Search and Google Maps dominate the competition with over 80% market share in their respective categories. Meanwhile, Bing, the second most popular search engine after Google, comes in at a paltry 9% market share, while Apple Maps only controls around 11% of the navigation app market.
The Google profile is often the first thing people see, and first impressions matter, so it's in your client's best interests to have the best Google listing possible, and Insights can provide the data needed to achieve that.
What Insights Does a GBP Performance Report Provide? 
GBP Performance reporting allows you to track and monitor a wide range of key metrics to see how customers are interacting with your client's business profile over time. 
How Is GBP Insights Changing?
Google is making it easier to access more profile metrics directly from your client's business profile through Business Profile Performance reporting as new metrics continue to be added. 
According to Google, here are the metrics you'll see in your client's business performance report, as well as a few of the known differences from GBP Insights so far:
GBP Insights Performance Metric

What It Is

What's New?

Searches

The search queries (i.e., keywords or phrases) that lead people to discover your client's business.

Now updated monthly instead of quarterly.

Users who viewed your profile

The number of unique visitors to your client's GBP listing, broken down by device and platform.

This metric is focused on unique visitors, so multiple visits in a day are only counted once.

Sometimes referred to as the "number of people who viewed your Business Profile," this metric was launched in February 2021 and has not changed since.

Direction requests

The number of unique individuals who request directions to your client's business. 

This metric originally tracked the number of unique customers who requested directions to your client's business.

It has been updated also to show the location of customers making the direction request. Changes were also made to make this metric more accurate. It now accounts for things like multi-tapping, direction request cancellation, and spam.

The new direction requests metric is in the "Interactions" section of the Performance page on Search, while the old metric is on the Insights page.

Calls

The number of people who click the call button on your client's business profile.

Note: This metric requires your business phone number for Insights to track calls.

No changes have been announced yet.

Website clicks

The number of clicks on the website link provided in your client's business profile.

This new metric has been added to the "Interactions" section of the Performance page and it doesn't include clicks on the website from Google Business Profile websites, so this number may be different from what you see on the Insights page or in Performance reporting.

Messages

The number of unique conversations started through messages.

"Message response rate" and "Average response time" metrics were launched in March 2022. 

"Message response rate" measures the percentage of messages you responded to, and "Average response rate" measures how quickly you responded and are calculated on a monthly basis.

Bookings

The number of bookings completed by customers.

Note: To track this metric, your client must have set up bookings with a provider.

No changes have been announced yet.

Booking clicks

The number of clicks on a hotel's free booking link.

Note: Applies to hotels only.

No changes have been announced yet.

Total interactions

A summary of your total interactions.

No changes have been announced yet.

Food orders

The number of food orders (both delivery and take-out) made directly through your client's business profile.

Note: Applies to restaurants only.

No change since it launched in Feb 2022.

Products

The number of views on products over a specified time period.

Note: Only products available at your client's physical location count towards these views. Products available online are not included.

No changes have been announced yet.

Menus

The number of clicks on your menu per day.

No changes have been announced yet.
Note that this is not an exhaustive list, as Google will continue rolling out more metrics along with more detailed data for use in your clients' local marketing reports. 
Accessing GBP Performance Reporting
Much like in Google Analytics, you can track your client's GBP performance over time and set custom date ranges. However, the first thing you should do is double-check that your client's Google Business Profile is verified because only verified profiles can access GBP insights and performance reporting. For more information, click the following link to learn how to verify your business on Google.
Once the Google Business Profile has been verified, the next step is to find it. If you're already signed into your client's Google account on Desktop, simply click on the Google Apps icon in the top right and click on "Business Profile," as seen below: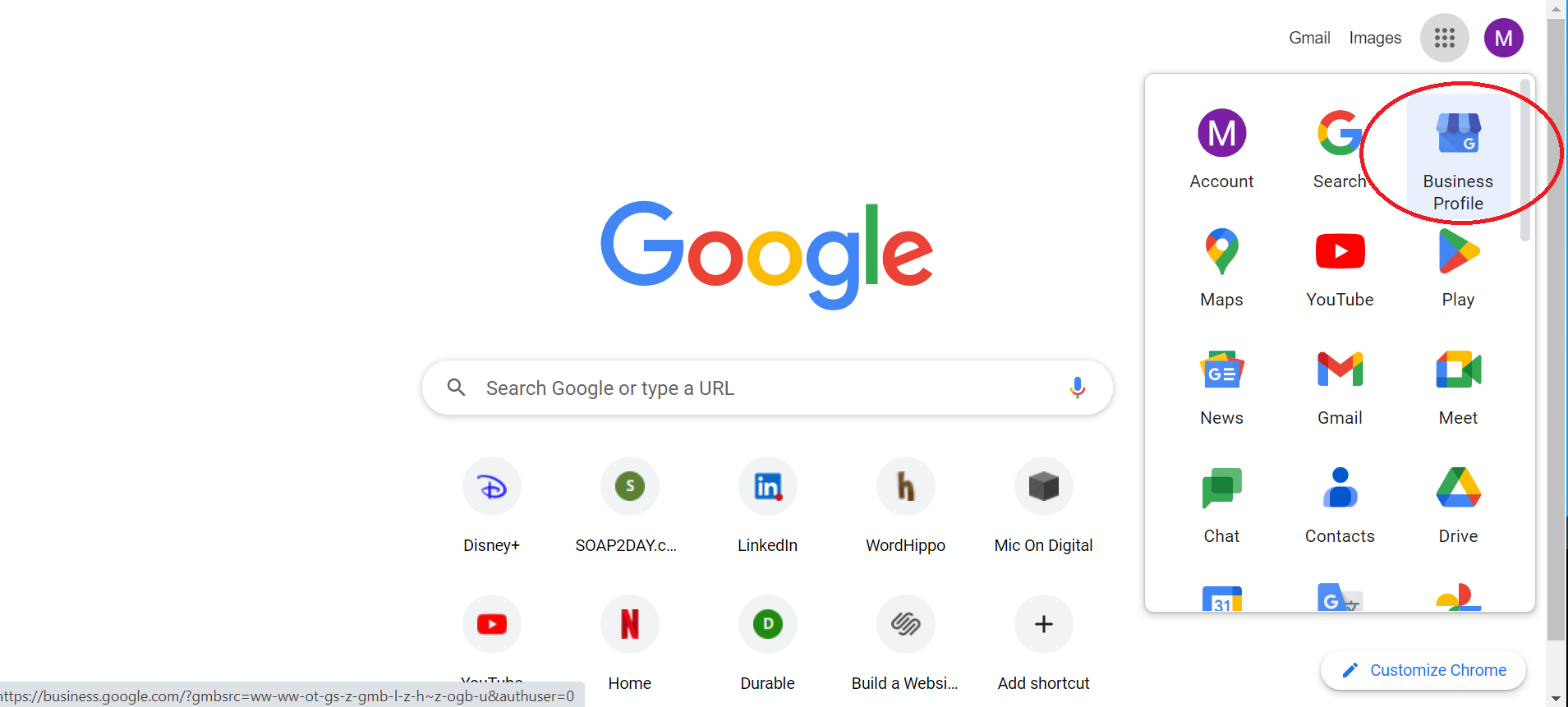 Next, click on Performance, circled in red in the screenshot below:
From there, simply specify the time period for your report at the top of the page and select Apply.
Google Business Profile Reporting
AgencyAnalytics' reporting platform seamlessly integrates with your client's business profiles to create customizable GBP dashboards that automate GBP reporting in one easy-to-use platform. Add over 20 key GBP metrics to your client reports and marketing dashboards with ease.
Create effective local SEO reports and keep all your clients' GBP Performance metrics under one roof. Try this exact dashboard free for 14 days with AgencyAnalytics. 
What Is the Difference Between Direct, Branded, and Discovery Searches?
Google has categorized searches into three different types:
But the differences between these different search categories aren't always clear, so let's take a closer look at the distinctions between them with examples to better understand what they are and how to use them to your advantage.
GBP Direct Search
As the name implies, direct searches are when someone knows exactly what they want and are searching for the specific location of a business, using the actual business name and address while indicating a high level of local intent.
The result of a direct search is usually a GBP listing (or sometimes a knowledge panel) for the specific location you're looking for.
For example, let's say you're hungry for a Big Mac, so you grab your phone and Google "McDonald's on Main Street" because that's where you are. Google would count this as a direct search and provide you with the specific listing for that location.
GBP Branded Search
All branded searches contain the name of a brand–whether it's for a business, product like Apple Watch, or service such as Uber Eats–but there are two different cases that Google considers a branded search, and it's based on the search results that are displayed. 
The first case is a simple search of the brand name without the explicit local intent of a direct search, and this type of branded search results in the brand logo in a knowledge panel with a map pack of nearby locations underneath.
The second type of branded search results in multiple GBP listings of businesses or locations that sell the particular brand you searched for, but to make matters more confusing, this type of branded search can have local intent.
For example, simply Googling "McDonald's" or "Starbucks" counts as a branded search based on the first type without local intent. Meanwhile, searching for "McDonalds near me" or "local Starbucks beans" has local intent and would result in a 3-pack of several listings while being counted as the second type of branded search. 
GBP Discovery Search
Luckily, discovery searches are more straightforward. When someone searches for a product or service category and the listings for multiple businesses that offer it pop up–that's a discovery search.
So if you searched for "cafes near me," you'll get multiple listings of nearby cafes, and Google would count it as a discovery search.
Google Business Profile Insights vs. Google Analytics: What's The Difference?
The most important difference between Google Business Profile Performance Metrics and Google Analytics is their focus. While Google Analytics is dedicated to helping you understand your client's website traffic, GBP Performance Metrics is devoted to your Google Business Profile listing instead.
At the same time, both GBP Performance Metrics and Google Analytics allow you to track, monitor, and report on key metrics, and both platforms also seamlessly integrate with AgencyAnalytics. 
The Most Important Tip for Google Business Profile Insights
Google Business Profile is probably one of the most overlooked and underrated marketing tools out there, but if it's used right, it can be one of the most powerful platforms in your marketing arsenal.
While everyone else is obsessed with Facebook, Instagram, TikTok, Twitter, and LinkedIn, they're missing out on the fact that Google still dominates how we search for information and navigate the world both online and in real life. 
So take the following tip to heart, and soon, you'll be outdoing your competition by ranking better, getting more traffic, and increasing your conversions in no time.
Do a Google Business Profile Audit
If you want your clients to get the most out of GBP, the first thing agencies should do is perform a Google Business Profile audit to find out whether your client's Google listings are optimized. If not, then check out GBP Performance Metrics and analyze your client's KPIs and metrics to see where their listings are lacking and execute a strategy to fix that. 
Get the Free Google Business Profile Checklist
Keep these useful tips, insights, and ideas handy whenever you need them.
Download Now
A great place to start is to make sure all of the relevant information is included and up to date in your client's GBP listing, such as the business name, address, business hours, phone number, and website link. 
If your client's profile doesn't have any photos, consider adding some to make the profile more engaging, and if they already do have photos, make sure they're high-quality.
You'll also want to take a look at your client's reviews and decide whether they should respond to any of them or not. A good tip is showing gratitude for positive reviews and thanking customers for feedback–even if they're negative. It's not mandatory to respond, but whatever you do, don't get into arguments in the reviews or get overly defensive because that reflects badly on your client's business.
For a more in-depth list of tips for optimizing your client's GBP listings, check out our article on how to perform a Google Business Profile audit!
Michael is a Vancouver-based writer with over a decades' experience in digital marketing. He specializes in distilling complex topics into relatable and engaging content.
Read more posts by Michael Okada ›
Try AgencyAnalytics risk-free for 14 days. No credit card required.