As the TikTok social media juggernaut continues to roll onwards with 834.3 million users worldwide, they are aggressively trying to monetize this growth through its advertising offering.
To this end, TikTok has launched a 'global agency team' to build relationships with the agencies and advertising companies that control a majority of the world's advertising dollars. On the other side of the coin, businesses that want to connect with TikTok's user base of mostly younger customers are looking for partners and agencies to help them succeed.
In this guide, we'll tackle how to get started with TikTok advertising, from setting up your ads to reporting efficiently to showcase your success metrics to your clients with a PPC reporting tool, including:
The State of TikTok
TikTok's steady growth, and higher engagement rates, compared to other social media platforms, are a particularly strong allure for businesses looking to establish an early-mover advantage on TikTok.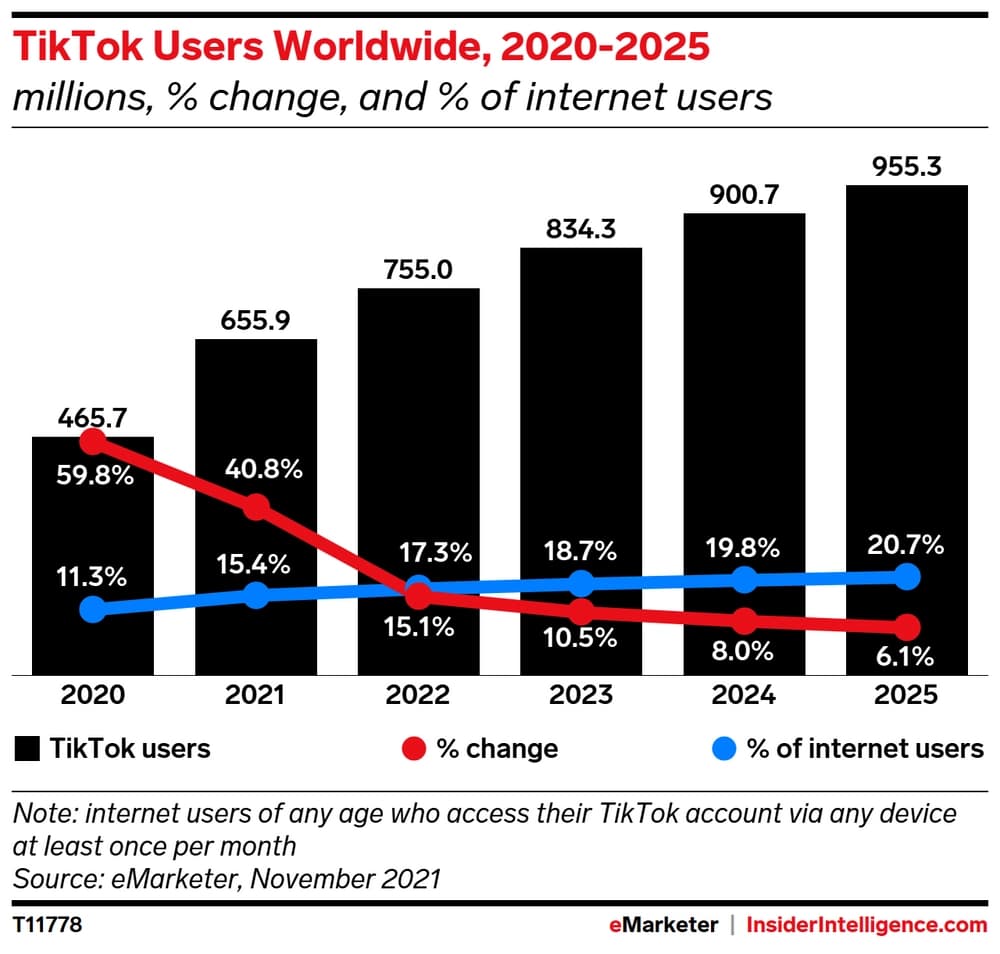 eMarketer also recently released demographic stats for TikTok users in the US, showing that their highest concentration is within the 18 - 34 age demographic.
High Engagement on TikTok Ads
And the high engagement rates among millennial and Gen Z users on TikTok also extend to TikTok Ads.
The company recently released some compelling metrics on the efficacy of the TikTok Ads offering. As per the report, ads on the platform generated higher early user engagement and attention, created stronger brand recall, and drove more positive brand sentiment compared to other tested platforms.
TikTok has also further expanded beyond these signals of ad measurement to offer sales conversion metrics and performance-based buys.
The above facts, along with the constant news cycles about TikTok, create an environment of opportunity for agencies that can position themselves to be experts in helping their clients succeed on this rapidly growing platform. 
Your marketing agency can easily jump into TikTok's user-friendly advertising platform and create exciting ad content for your clients without needing much, if any, technical assistance. 
Advertising Content that Works on TikTok
Being a relatively new social media platform, there is currently a lack of understanding among agencies and clients on the type of content that works best for TikTok.
The virality of our platform really depends on things like the hashtag, music and an active call to users to participate in something. Just using content across different platforms won't work.

— Lionel Sim, Director of Global Marketing, TikTok.
Don't make Ads. Make TikToks.
TikTok keeps repeating the number one rule. And that's to entertain. Agencies that create native content for TikTok will be rewarded on this visual platform that leverages the content graph rather than the social graph. The businesses succeeding on TikTok create authentic content that closely aligns with the community they would like to connect to.
Shoot in 720p Plus.
While you don't need a big production budget, you do need to ensure that your video quality is not grainy. This is a mainly visual platform, after all. According to TikTok, 83.2% of their top-performing content has a video resolution of 720p or higher.
Orientation Matters.
Another point to note is that the vertical orientation of your videos matters. A majority of TikTok videos are shot in vertical format. TikTok users aren't expecting to have to rotate their screen to watch the next video on their For You Page. "Videos shot in vertical format see a 40.1% lift in impressions compared to videos using a square or horizontal aspect ratio," says TikTok.
Fill up the Screen.
Your videos should take advantage of the immersive full-screen experience that the TikTok platform offers. More than 98% of top-performing videos take up the whole screen. The videos that use the full 9:16 aspect ratio perform much better than videos that fit poorly on the screen and show empty black space and screen edges.
Keep the Sound On.
TikTok says that 93% of their highest-performing video content contains some kind of audio track. So you could talk on camera, use a voiceover, or add an awesome music soundtrack.
Keep It Brief and Relevant.
TikTok's own data points to the fact that 1 in 4 top-performing videos are between 21 and 34 seconds in duration. So use your storytelling skills to keep it short and sweet. Keep it brief enough to be interesting and relevant enough to connect with the target audience. Use different angles and transitions and these types of inclusions in TikTok videos result in a 40.6% lift in impressions.
Use Captions, Hashtags, and CTA Buttons.
Create punchy captions that reinforce the message in your video. Using brand and target audience-relevant hashtags in your content is also important to improving performance and engagement rates. TikTok says that the use of captions creates a 55.7% lift in impressions, and CTAs result in an 11.3% lift in impressions. Hashtag challenges are a type of ad that brands like McDonald's have leveraged for great results.
Agency Tip: TikTok advises marketers to create videos that grab attention and earn trust. In 2023, TikTok reports that high entertainment ads are rated 25% higher for brand love and 15% higher for purchase intent vs. low entertainment ads. Viewers are weary of clickbait CTAs like "wait till the end," so aim to be more authentic, aka, trustworthy.
Make It Funny.
TikTok users are over endless to-do lists and feeling burnt out. They use the platform as an escape from reality, so what's trending tends to also be funny. The platform reports that 92% of users felt a positive emotion after seeing a TikTok video that ultimately resulted in an off-platform action. So jump on trends to bring humor into your content and inspire a joyful reaction.
5 Types of TikTok Ads
TikTok offers advertisers the ability to tap into these five types of TikTok Ads.
1. In-Feed TikTok Ads
Ad content duration: Up to 60 seconds of video.
TikTok recommends that you limit the duration to 9-15 seconds. These ads appear as users scroll through their 'For You Page' in TikTok. The in-feed ads blend in with TikTok's native feed resulting in potentially high visibility and engagements. Users can comment, share, and interact with these videos, which also allows you to add a CTA button that leads them to a landing page.
2. Brand Takeover TikTok Ads
Ad content duration: 3-5 second videos or 3-second images.
As the name implies, these ads take over the user's screen as soon as the app is launched. This full-screen, auto-play ads can include a CTA and links to landing pages on TikTok that drive the target audience deeper into your brand story. These full-screen ads can direct users to either a Hashtag Challenge or a landing page. TikTok ensures that only one Brand Takeover Ad is displayed to a user per day, which means that there is higher visibility. This increase in visibility comes at a premium price point.
3. Top View TikTok Ads
Ad content duration: 60 seconds of video.
Similar to Brand Takeover ads, TikTok's Top View ads auto-play after users sign in. The difference is that they occupy the screen with a delay of about 3 seconds after the sign-in and auto-play a 60-second long video.
4. Branded Hashtag Challenge TikTok Ads
Ad content duration: Varies.
With a median engagement rate of 17.5% touted by TikTok, these sponsored hashtag challenges appear at the top of TikTok's Discover Page. Users who click on the hashtags are led to landing pages on TikTok and to a collection of other TikTok videos that are participating in the hashtag challenge.
Source: e.l.f. Cosmetics challenge
These kinds of ads encourage user-generated content that can result in exponential and viral brand awareness, as with the e.l.f Cosmetics challenge above that resulted in nearly 5 million user-generated videos and 7 billion views.
5. Branded Effects TikTok Ads
Ad content duration: Varies.
Add custom brand filters and special effects to your ad content to potentially garner higher engagement. Brands often combine these ad formats with other TikTok ads to promote themselves. These ads containing shareable stickers, filters, and special effects encourage the creation of user-generated content around these branded effects.
Setting Up Your First TikTok Ad Campaign
Your agency can get started with TikTok ads via the TikTok for Business sign-up page. You'll need to provide information to set up your TikTok Ads Manager account as a brand or individual. Once your brand is approved, follow the steps below:
Step 1: Create a Campaign
Start under the "Campaigns" tab and click on the "Create" button.
Step 2: Choose the Right Objective
Think about your business goals and align your advertising objectives on TikTok with those specific goals.
The objectives can be categorized into:
Awareness: This objective will include creating more visibility for the brand you are promoting.

Consideration: You select this objective to drive traffic to your client's website, content, or app installs.

Conversion: Drive sales, sign-ups, and similar conversion activities by selecting this objective.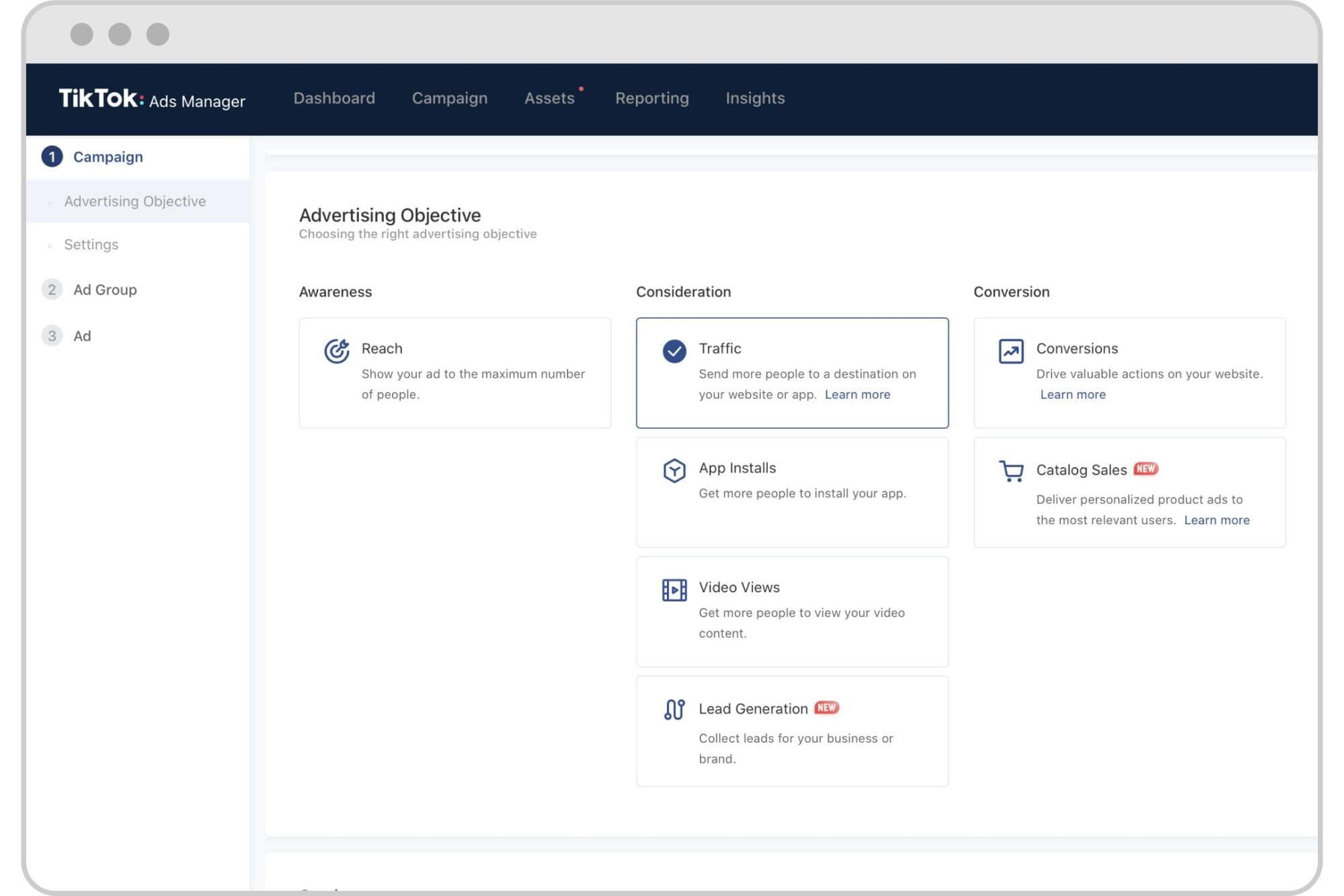 Step 3: Name Your Campaign and Define the Budget
Once you name your campaign you will be allowed to create a budget for it. Set a lifetime budget to quickly reach as much of your target audience as possible. Set a daily budget to gradually expand your reach among your target audience. Your campaigns will stop running when they reach the set budget amount.
The three budget choices available to you are:
Daily Budget — Your ad delivery is limited by the amount you want to spend each day, allowing your campaign to reach your target audience at an even pace.

Lifetime Budget — You set the total amount you're willing to spend on all the ads in your campaign. Your budget will be distributed throughout the entire provided time range. However, the spend will not be evenly spread through each day like the daily budget campaigns. 

No Limit — This budget lets TikTok know that you're willing to spend as much as it takes at the campaign level. You will still be able to set spending limits at the ad group level.
Step 4: Create a TikTok Ad Group
The next step is to create an ad group for your campaign, which is where you can define the following criteria:
Placement: Placement refers to where your ads will be shown inside the app and on TikTok's partner apps. You can either select automatic placement, which will include all TikTok partner apps, or you can choose the "Select Placement" method and manually choose where your ads appear.

Creative type: In terms of creative type, you have the option to turn on "Automated Creative Optimization", which involves TikTok's system automatically generating creative assets for you such as images, videos, and ad texts. 

Targeting: Targeting on TikTok offers various options including audience demographics, targeting by device, interest, and operating systems, amongst others. Similar to other ad platforms, you can also choose to include or exclude custom audiences or lookalike audiences in your targeting.

Budget & schedule: Next up, you can choose the timing and budget for your ad campaign. This can include setting a daily budget or lifetime budget, which can be set to start or end at certain times of the day or week. 

Bidding & Optimization: Finally, you can select your bidding and optimization options for the ad group. The three types of optimization goals include conversions, clicks, and reach. In terms of bidding, just like other platforms you can set a manual bid for each optimization type or let TikTok manage your bids automatically.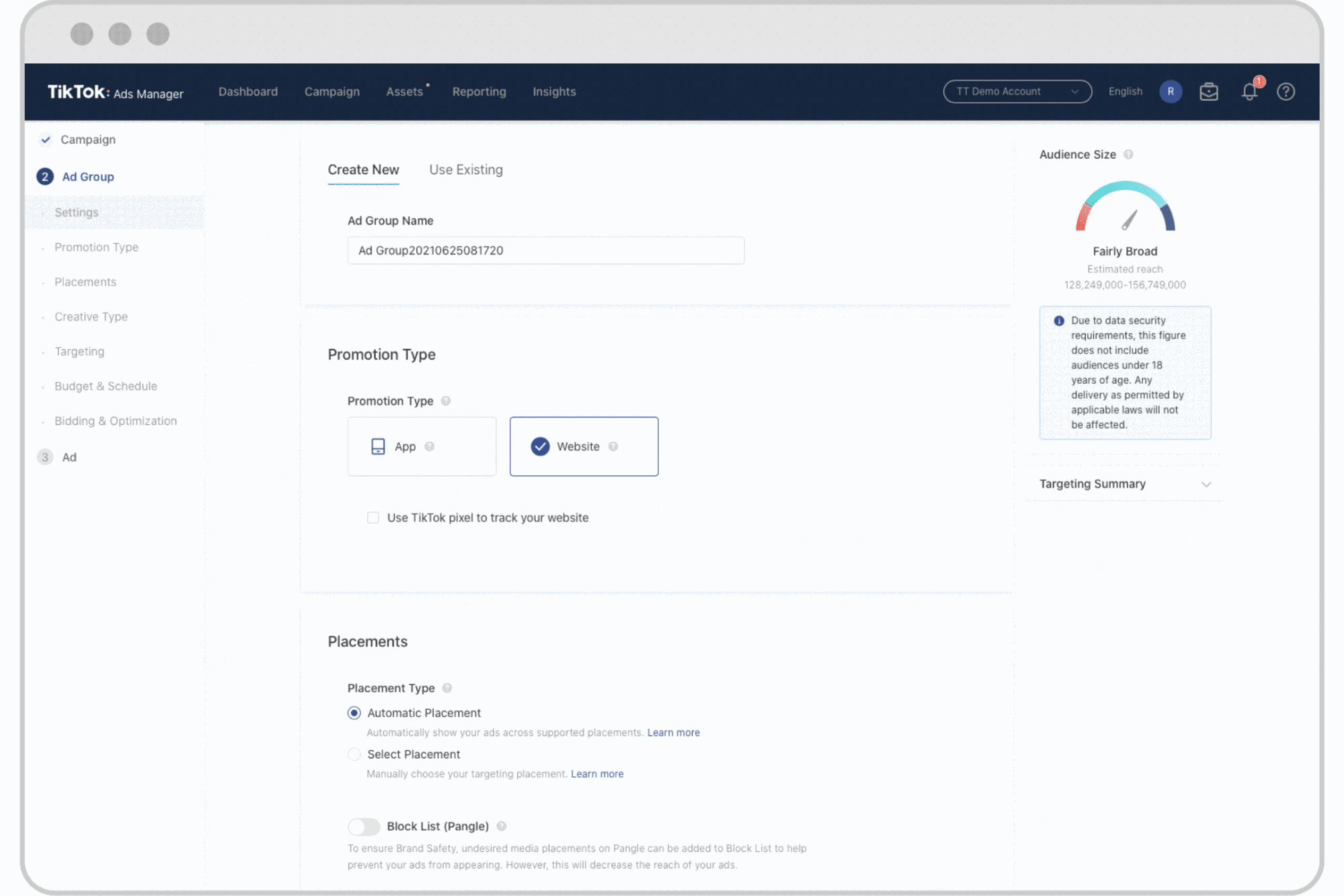 Step 5: Create an Ad
The final step to launch a campaign is to create an ad for your ad group. In this section, you can choose to either upload your pawn ad creative or design ads right inside of TikTok Ads Manager. The two ad forms that are supported include images and video. After setting up your ad creative, choosing a thumbnail, and adding your CTAs, you also have the option to add tracking link URLs or relevant pixels to your ads to track performance data.
That's it, you're now ready to submit your ad for approval and start tracking the results of your campaign.
TikTok Ads Marketing Reports with AgencyAnalytics
Now that you've launched your ad on TikTok, the next crucial step is to measure your performance of each campaign, ad group, and ad creative in order to optimize results and increase your client's ROAS.
With our recent TikTok Ads integration, you can now easily automate the process of collecting, visualizing, and sharing TikTpk ad performance data with clients. To do so, all you need to do is navigate to the integrations page of your dashboard and follow the steps to connect your ad account.
After integrating your TikTok account, you'll then find our prebuilt dashboard that includes the following four main sections:
Campaigns

Ad Groups

Ads

Demographics
Automate your clients' TikTok Ads reporting in minutes. Try it free for 14 days!
A Handy PPC Reporting Tool for Performance Metrics
Within the first three tabs, the PPC reporting tool provides all your performance metrics for the campaign, ad group, or ad in question, including:
CPC (Cost-per-click)

CPM (Cost per thousand)

CTR (Click-through rate)

Clicks

Conversions

Impressions

Results

Ad Spend
Additionally, choose to include more PPC data in your TikTok ads dashboard by clicking the "Metrics" button in the top right-hand corner. Specifically, you'll find the following metrics:
Average Video Play

Comments

Conversion Rate

Cost per Conversion

Cost per Result

Follows

Full Views

Likes

Profile Visits
Finally, in the Demographics section, you'll find a detailed breakdown of which market segments are interacting with your TikTok Ads. This dashboard can also be further broken down into:
Alternatively, for cross-channel reporting, choose to add your TikTok Ads metrics to a white-labeled social media dashboard or dedicated PPC report that includes data from any of our 60+ integrations like Google ads.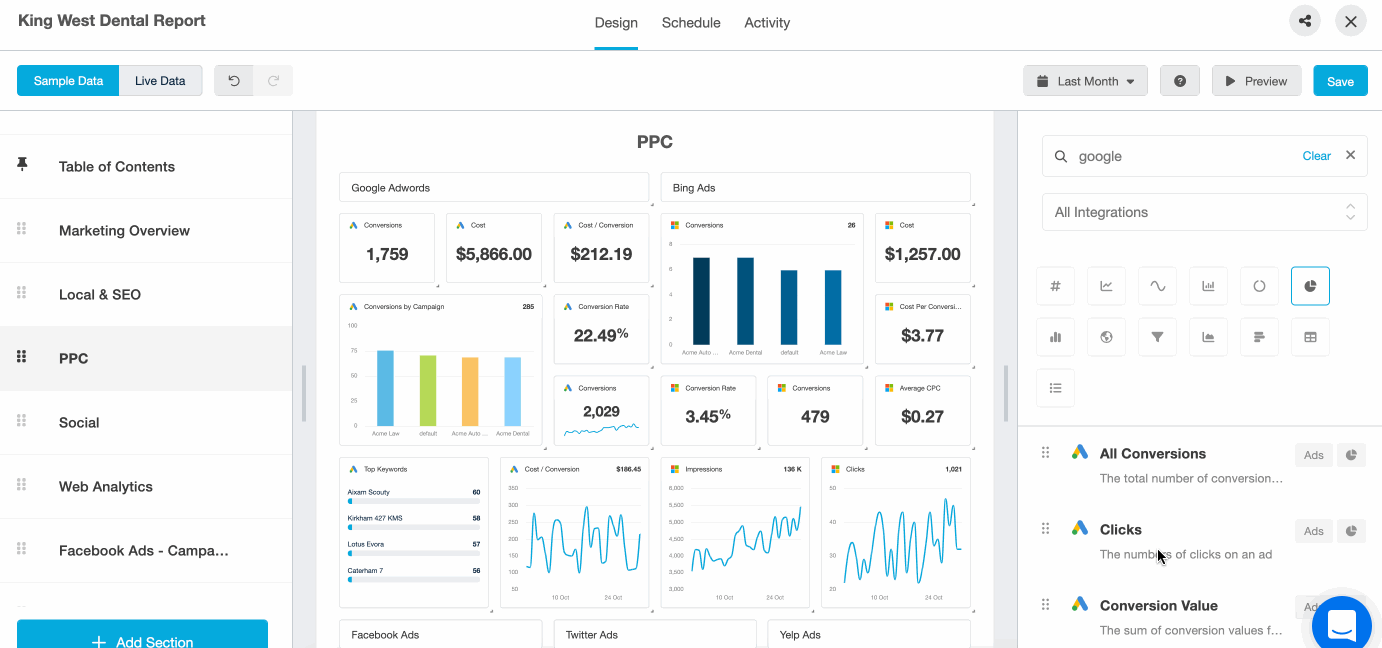 Create your own PPC Report for clients in minutes with our template. Try it free for 14 days! 
PPC Reporting Tools Highlight TikTok Ads Success for Agencies
If a client's target audience is in the millennial or Gen Z age group, TikTok Ads are definitely worth experimenting with. As a newer platform, it's important to reiterate that the content you create for TikTok should be specifically designed for the platform as it's quite different from other platforms like Facebook ads and Instagram.
By "creating TikToks, not ads", you'll put yourself in a position to stand out from other companies that aren't embracing this platform-native approach to advertising.
After you get your first TikTok Ads up and running, the next step is to make sure you're accurately tracking your results and creating custom reports for clients. Automate the process of collecting ad performance data to visualize all your clients' real-time marketing data under one roof with our ikTok Ads integration.
Combine your Tiktok Ads metrics with other PPC metrics using a PPC report template. That way, your agency has everything it needs to track campaign performance across multiple channels and highlight your ROI in a scalable way.
If you're ready to start automating your TikTok Ads reporting, get started with a free trial here.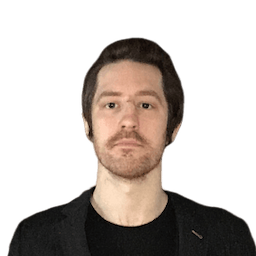 Peter Foy is a content marketer with a focus on SaaS companies. Based in Toronto, when he's not writing he's usually studying data science and machine learning.
Read more posts by Peter Foy ›
Try AgencyAnalytics risk-free for 14 days. No credit card required.