Mapping your Sales & Marketing Funnel in HubSpot: Lifecycle Stages, Lead Statuses, and Deal Stages
Taking time to set up your HubSpot sales and marketing funnel is a critical step to any business's growth. 
'With great tools, comes great power'...but it's important to have a plan in place before you bust out of the gates. Every organization is different, which is why it's important to start with a map.
Sales process mapping is simply laying out your funnel.  This makes it easy to walk through your funnel steps and get an idea of what your prospect would be exposed to. Mapping this process starts with a few simple components:
Lifecycle Stages

Lead Status

Deal Stages
What are the HubSpot Lifecycle Stages?
There are 7 stages to the HubSpot Lifecycle:
Subscriber

MQL

SQL

Opportunity

Customer

Evangelist

Other
Let's discuss these a bit more in-depth.
Subscriber
This is just someone who has subscribed to your content or taken the first step to learn more about you. This is the Top of the Funnel in the buyer's journey. Educate these leads with content and make them aware of the benefits of your product.
If you import a list of contacts in HubSpot, by default they will be set to the Subscriber stage.
Lead
This is a contact who converts on a form other than a blog. This is the next step in your marketing funnel. Leads generally have shown more interest or asked for a demo.
MQL
A Marketing Qualified Lead (MQL) is a lead that the marketing team has vetted and can hand off to a sales team member for further qualification. Every company has its own definition of what an MQL is and is not. By definition, you should consider this to be initially qualified in some way in accordance with your Ideal Customer Profile (ICP) is.
SQL
A Sales Qualified Lead means that the sales team has qualified and accepted the lead. This marks the move out of the marketing funnel and into your sales process.  Again, each company has their definition of what is sales qualified, so customize this to your ICP.
Opportunity
This is a lead that has talked to sales and has a value associated with it. This is a significant sales milestone and usually is paired with a deal being created.
Evangelist
Your biggest fans are your Evangelists.  They promote your brand and service to everyone. These should be leveraged to help your company grow through case studies and testimonials.
Thoughts on How To Use HubSpot Lead Statuses
It's no secret that Lifecycle stages are important, but lead statuses allow you to go a bit deeper into the relationship you are building. Lead statuses are usually part of a subset within SQL.
If you are a fan of segmentation, then the Lead Status gives you valuable information on leads within your sales processes. 
The Lifecycle stages help identify points along a customer journey, Lead Status provides color commentary, with more detail, into the status of a person and the company they represent and if they are a good fit for the product. Many sales experts will tell you, Lifecycle Stage is never enough. In that case, look to Lead Statuses.
Lead Status can be fully customizable. To make this process as unique to your business as you need. This will help when you want to segment leads and prioritize certain steps or touches.  Marketers use Lead Status to identify prospects that need specific lead nurturing and sales can make sure no lead drops through the cracks.  
Here is an example of a basic collection of Lead Statuses. But keep in mind that you can create custom lead statuses:
New: contacts that are new to the sales team

Attempting to contact: placed in an outreach sequence

Connected: responded or connected with the sales team

Working - Open Deal: open deal or opportunity has been identified

Closing: negotiations and quote

Nurture: educate and nurture towards a goal or qualification

Unqualified: not a fit at this time
Defining Lead Statuses to Match Your Organization
The most important factor that will determine your overall success—are marketing and sales on the same page? This means the same page about Lifecycle, about Lead Status, about the process in general, and how everything is defined.  
Your marketing and sales teams should take the lead here and define lead statuses that make sense for the team. Discuss and determine what actions occur at what steps and if they change any statuses.
More often than not a contact Lead Status will be changed by the salesperson as they take them through major sales steps.  But some of this can be automated to look for other property changes or values. Discuss and map these changes out and use Workflows to bring them to life.
Visualize HubSpot Data 
HubSpot does a great job of visualizing your lead data, but what about when you want to view your HubSpot data next to other marketing data? For this, look into a data reporting tool, you can start here!  Bringing in your data to a reporting platform can help you overlay analytics, paid, and other activities into view: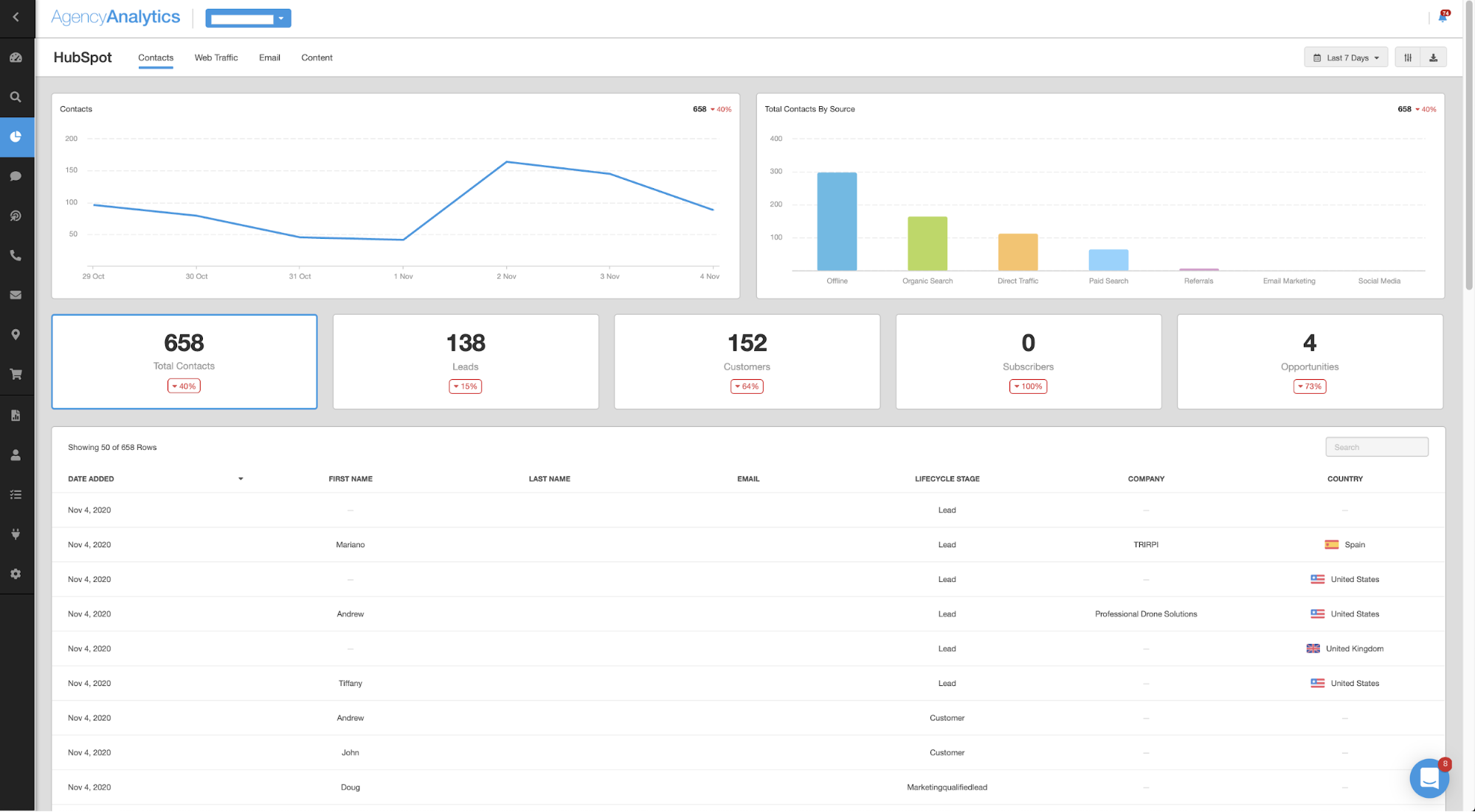 With the HubSpot data integration for AgencyAnalytics, you can keep an eye on contacts coming in, contacts by source, and well as counts for your certain Lifecycle stages.
Quickly add the Hubspot integration to AgencyAnalytics to up-level your Agency. The integration automatically pulls in your clients' latest Hubspot metrics into a customizable interface. Easily select important Hubspot metrics to track and highlight for your client-facing reports and dashboards.
You can also bring in Google Analytics data to get a deeper understanding of the customer's journey.  
Your marketing team will also love keeping an eye on all the emails that they send out—including open rates, sent, opened, bounced rate, and more.
Connect HubSpot now to instantly access all of your client data (you'll find it under "Analytics" in your campaign's left side menu), and check out AgencyAnalytics on the HubSpot app marketplace.
Here's a quick tour of our HubSpot integration:
First up you'll find detailed information on your website traffic, both as an overview and broken down by channel:
Switch across to Email or Contacts at the top of your dashboard to see data on email marketing campaigns, leads, customers, and a lot more. You'll have all of your CRM data at your fingertips:
And don't forget your on-site content metrics. Track landing page effectiveness, conversion rates, CTAs, blog post views, and more!
Add all of the above to your automated client reports, alongside data from any of our other integrations. Note that your access to certain HubSpot features will depend on your HubSpot subscription tier.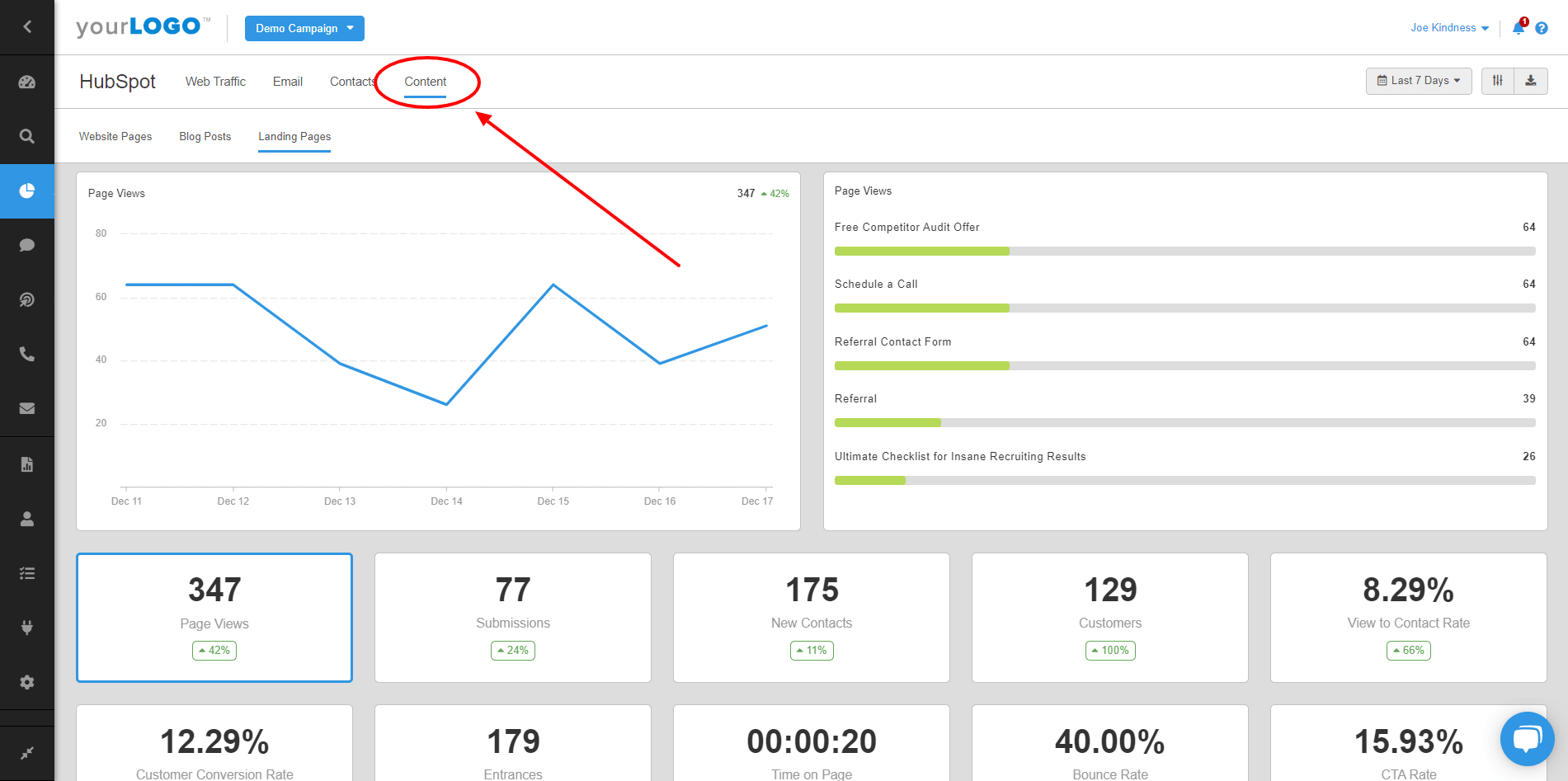 Tying It All Together
Taking the time to set up your well-oiled sales and marketing machines is well worth it. Lifecycle stages, lead scoring, and deal stages can set your organization up for scalability and is also a great exercise in interdepartmental communication. 
Setting up markers will help make sure your opportunities never fall through the cracks. Mapping these stages ahead of your build sets you up nicely for segmentation, reporting, and sales process optimization. Bringing in data from other channels and your CRM will help you to make the data-based decisions you are striving for.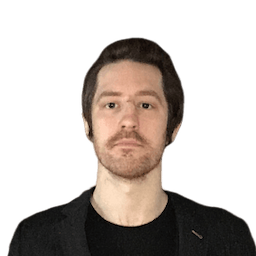 Peter Foy is a content marketer with a focus on SaaS companies. Based in Toronto, when he's not writing he's usually studying data science and machine learning.
Read more posts by Peter Foy ›
Try AgencyAnalytics risk-free for 14 days. No credit card required.