First, let's cut to the chase: We've just rolled out a Bing Ads integration, and it's now available to all customers. You'll find it under "Ads –> Bing Ads" in the left hand campaign navigation:
We know that a LOT of our customers are using Bing Ads. The feedback that we've gotten is that this is the one integration that was holding up many of our customers from moving all of their reporting into AgencyAnalytics.
We've actually had Bing Ads in beta for about 6 months now (HUGE thanks to all customers who participated in the beta!), but we held off on releasing it because we knew how popular it would be from the get-go, and we wanted to get it right.
As of today, it's finally ready. It's go time!
Background
Microsoft released Bing Ads in it's current incarnation in 2012. At that time, Adwords had something like 95% market share in the PPC space, and Bing Ads had some catching up to do. And catch up they did! Various sources report Bing's current PPC market share at somewhere between 25% and 33%.
Search Engine Land goes so far as to call Bing Ads an overlooked secret to more search advertising revenue. Among other things, they recommend Bing for their:
Low cost per click

Low competition

High CTR

User demographics (Older, wealthier)
Our good friends over at Wordstream put together a great blog post on "7 Ways Bing Ads Beats Google Adwords". They cite:
Less competition and lower CPC

More granular control at the Ad Group and Campaign levels

Better device targeting options

More control over search partner targeting

No forced "close variants"

Better social extensions

Better search demographics
If you're not running Bing Ads for your customers yet, you're leaving revenue on the table! Here's a great "Beginners Guide to Bing Ad Management" to get you started.
AgencyAnalytics Bing Ads Integration Tour
The AgencyAnalytics Bing Ads integration layout should be pretty familiar to any customers already using our other "Ad" integrations. Same eye catching, full color charts and graphs across the top:
Tabs across the top where you can view metrics by Campaign, Ad Group, and Keywords, along with an additional tab for Conversions if you have them configured in your Bing account. Familiar options in the Settings area where you can enable/disable your chosen metrics for display, and apply filtering: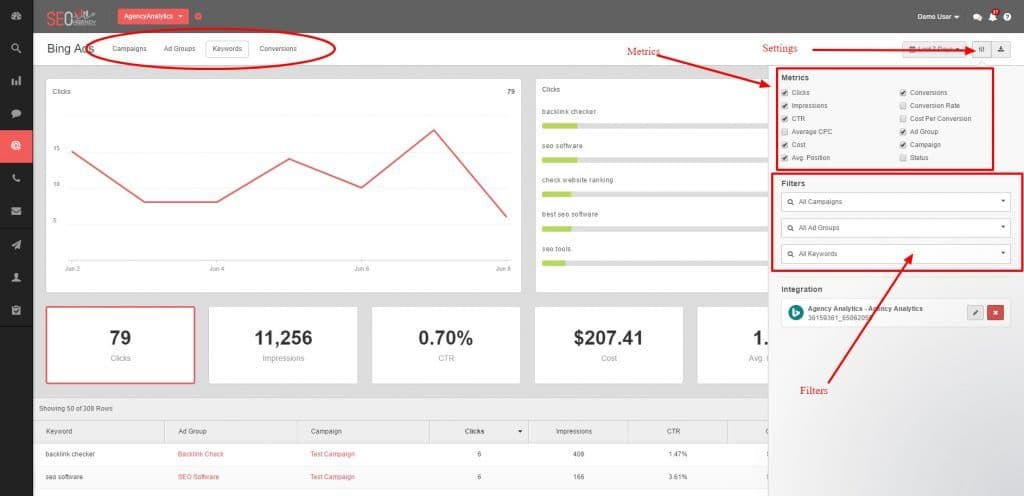 Click any of the large data boxes in the center of the screen to generate chart/graphs for that metric above:
Sort any column by clicking the arrow:

And of course, you can also now add Bing Ads sections to any automated customer report:
When you're ready, don't forget to grant your customers permission to view their Bing Ads data through their white labeled dashboard!
Click here to login and configure Bing Ads for your campaign reports now!
Trever Clark is a Digital and Social Media Strategist. Passionate about: SaaS onboarding, customer success, and home-distilling artisanal whiskies like a true Grand Rapids hipster.
Read more posts by Trever Clark ›
Try AgencyAnalytics risk-free for 14 days. No credit card required.