Save hours each month and delight clients with automated CallSource reports and live dashboards.
Automated CallSource Reports
CallSource reporting done right: Informative, customizable reports that clients will love
Essential CallSource Metrics
Call status, names, city, duration & more. Filter by source, hear recordings & see trends over time
Call Source Attribution
View the source of each call, to show clients how your marketing is generating customers
Built For Agencies
Access time-saving tools, report on all channels, and scale your agency with an all-in-one platform
Integrate All Clients & Digital Marketing Channels
CallSource Reporting For Agencies
Integrate CallSource along with 75 other integrations and tools, for an all-in-one agency reporting solution. AgencyAnalytics helps you create beautiful custom CallSource reports and dashboards, to effortlessly analyze and share data with your clients and your team.
Explore All Available CallSource Metrics
See all the metrics you can easily add to your client reports and marketing dashboards
Abandoned

Busy

Calls

Connected

Date

Unanswered
Visualize CallSource Data Your Way
Actionable CallSource Insights
Monitor and report on call status, duration, customer details, and more. Filter data by source, and see comparisons across time. Choose from a huge range of customizable widgets. Clients can even listen to call recordings directly within our interface!
Show Your Agency's Value & Improve Client Loyalty
Credit For Your Marketing Efforts
Break down calls by source, to show exactly how your agency's work is generating calls to your client's business. Give them the complete picture by adding PPC, rankings, Google Business Profile, or any other data. Our reports give clients a seamless cross-channel overview of all your agency's work.
Up-To-The-Minute CallSource Data For Staff & Clients
Live CallSource Dashboards
Keep your team informed, and impress clients by giving them a personalized CallSource dashboard. Clients can access call data, recordings, and metrics from any other SEO or marketing integration. You have full control over client logins: avoid information overload by choosing the exact metrics they see.
The Essential CallSource Reporting Time-Saver
Automated CallSource Reports
How many hours do you spend on each client report? Set up automated CallSource reports in an instant, via an intuitive drag-&-drop interface. Hit the "easy" button for reporting, to save countless staff hours each month. Gain more time, so you can focus on doing great work for more clients.
More Than Just A CallSource Integration
True Cross-Channel Reporting
Integrate SEO, PPC, social, email, local, and ecommerce platforms, along with our own powerful SEO tools. We're built for holistic agency reporting, so you can present cross-channel data in a seamless and intuitive way. You can even create custom widgets with data from any source via Google Sheets!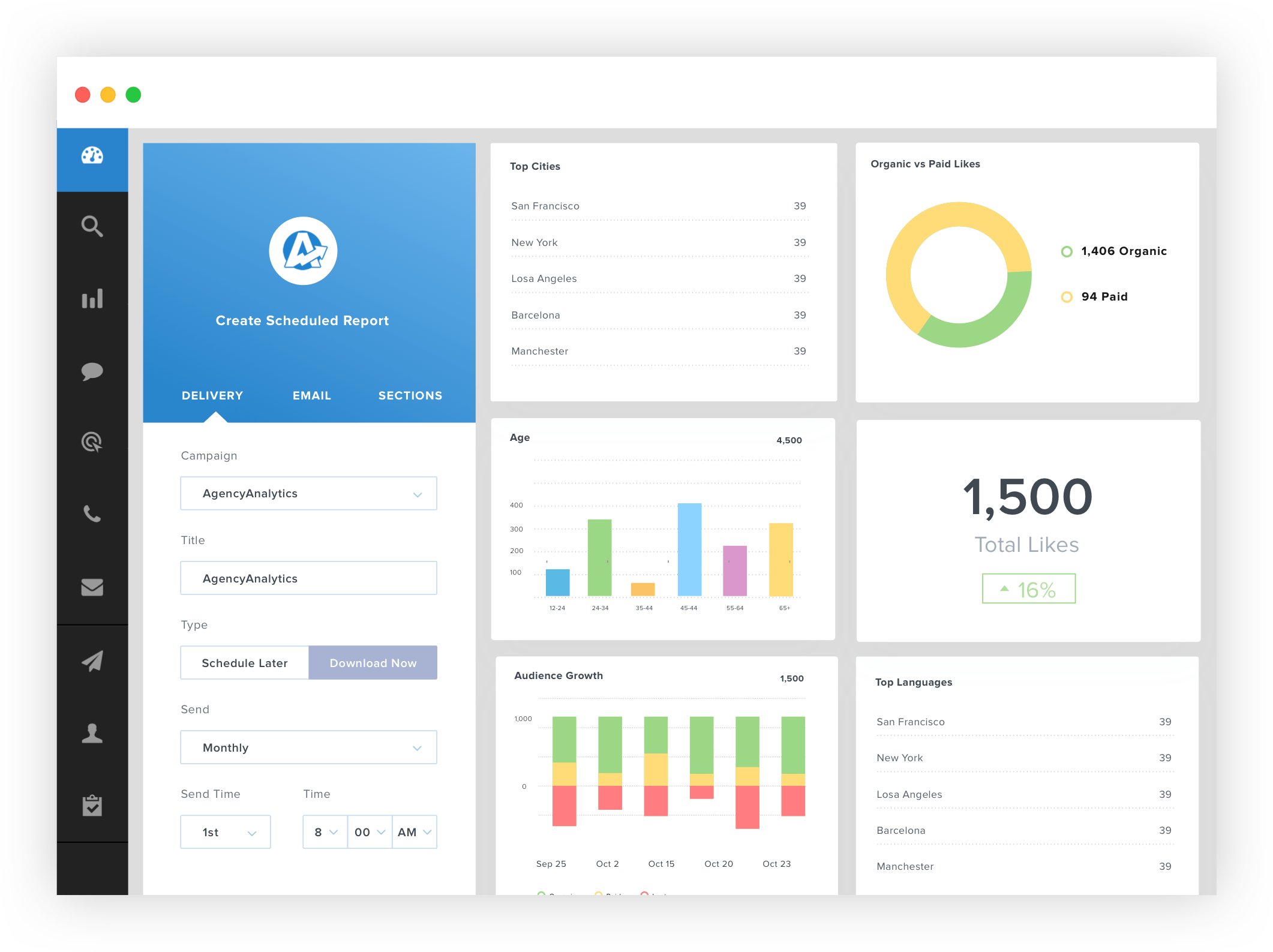 White Labeled CallSource Reporting For Agencies
Brand our platform as your own: Use your logo, colors, and URL for all reports and dashboards. Tell clients we're your agency's own in-house tool (we can keep a secret!). Image is everything, and our white labeling suite ensures clients remember your name when seeing your achievements.
Feature-Packed Tools To Scale Your Agency
Say goodbye to wasted time, manual data exports, and disengaged clients. Level-up with our agency tools, automation, client messaging, templates, and unlimited reports and users. Get your reporting, marketing, and SEO work into a single holistic platform built specifically for online agencies.
Connect the CallSource integration in seconds to streamline your client reporting.
Everything Your Agency Needs
Try AgencyAnalytics risk-free for 14 days. No credit card required.