Programmatic campaigns and marketing analytics are birds of a feather, so our newest integration comes as no surprise: introducing the new StackAdapt integration for AgencyAnalytics. 
Digital marketing agencies use StackAdapt to reach audiences across an optimal mix of digital placements by delivering targeted ads for their clients. Purchase ads across different sites and let StackAdapt's machine learning protocols help identify the best mix of creatives and platforms to deliver the best results. 
But StackAdapt is just one tool in your agency's arsenal. Gathering data for client reports adds an extra layer of complexity and takes away valuable optimization time. Now, your programmatic campaign stats are no longer siloed. The StackAdapt integration in AgencyAnalytics' powerful reporting platform connects all your important marketing metrics together with unified dashboards and client reports that show the whole picture of your marketing activities. 
The StackAdapt integration allows agencies to pull all their clients' relevant StackAdapt data into one place. Use it to: 
Leverage native, display, video, and audio to reach potential customers across mobile, desktop, tablet, and connected TVs

Drill into performance data with multi-channel targeting and tracking

See the Conversion Journey including first-click device, last-click device, and attribution for each conversion

View device breakdown

Create insightful reports that highlight the value of your agency

And more.
Why You Need the StackAdapt Integration
While StackAdapt has a dedicated reporting platform that allows agencies to analyze campaign performance metrics, it is limited to a singular viewpoint: StackAdapts campaigns. 
By combining StackAdapt data with all of your agency's other marketing programs, AgencyAnalytics brings StackAdapt data into focus alongside 75+ other integrations like Google Ads, Facebook Ads, and Google Analytics. 
Paid ads, SEO, social media, and various analytics data come together in one place so agencies spend more time analyzing the data and discovering new growth opportunities rather than managing client reporting data from yet another platform.
Did you know? StackAdapt specializes in these key verticals: B2B, Finance, Government, Healthcare, Retail, Travel, and Sensitive/Regulated. These tend to be harder to target and are important for your Enterprise-level clients.
Build reports that show a detailed picture of the overall value you deliver to you clients with the help of AgencyAnalytics.
Agency Use Case Examples
1. Lead Generation Campaign Reporting 
With StackAdapt's granular targeting capabilities, your agency gets right down to the interest groups and detailed demographics. The page-context AI tool has delivered better CPA for lead-gen campaigns when compared to other targeting criteria. 
All of this data showcases early growth and potential for continued optimization. But now comes the monthly client reporting process, which takes time away from the campaign strategy. 
Thanks to the StackAdapt integration, all of the critical campaign, creative, and placement metrics are automatically added to AgencyAnalytics' intuitive dashboard and client reporting platform to analyze data and report on it. And fast. 
2. Improving Video Campaigns on Tight Budget 
Sometimes your clients give you a relatively low budget for media spending. Your agency needs to make sure it's creating high-quality content, with less $ to do A/B testing on new ideas. 
Luckily, StackAdapt doesn't have a minimum spend. Agencies can develop HTML5, video, and other ad assets using their existing source materials. By tracking impressions, clicks, and conversions, agencies use campaign metrics to optimize their video campaigns. StackAdapt's video metrics show important engagement metrics for video ads, including:
Video Started

Video Played to 25%

Video Played to 50%

Video Played to 75%

Video Played to 95%

Cost Per Completed View (CPCV)
The StackAdapt integration for AgencyAnalytics helps visualize this real-time data and present it in different formats. This allows agencies to create custom reports that are geared to their clients' campaign–and business–objectives.
A Walk Through the StackAdapt Dashboard 
Toggle between dashboard sections and obtain a comprehensive summary report of your clients' marketing automation campaigns. 
The data is organized by:
Campaign Groups,

Campaigns,

Creatives,

Supply Sources, and

Devices.
Now let's take a closer look at each tab in your StackAdapt dashboard.  
1. Campaign Groups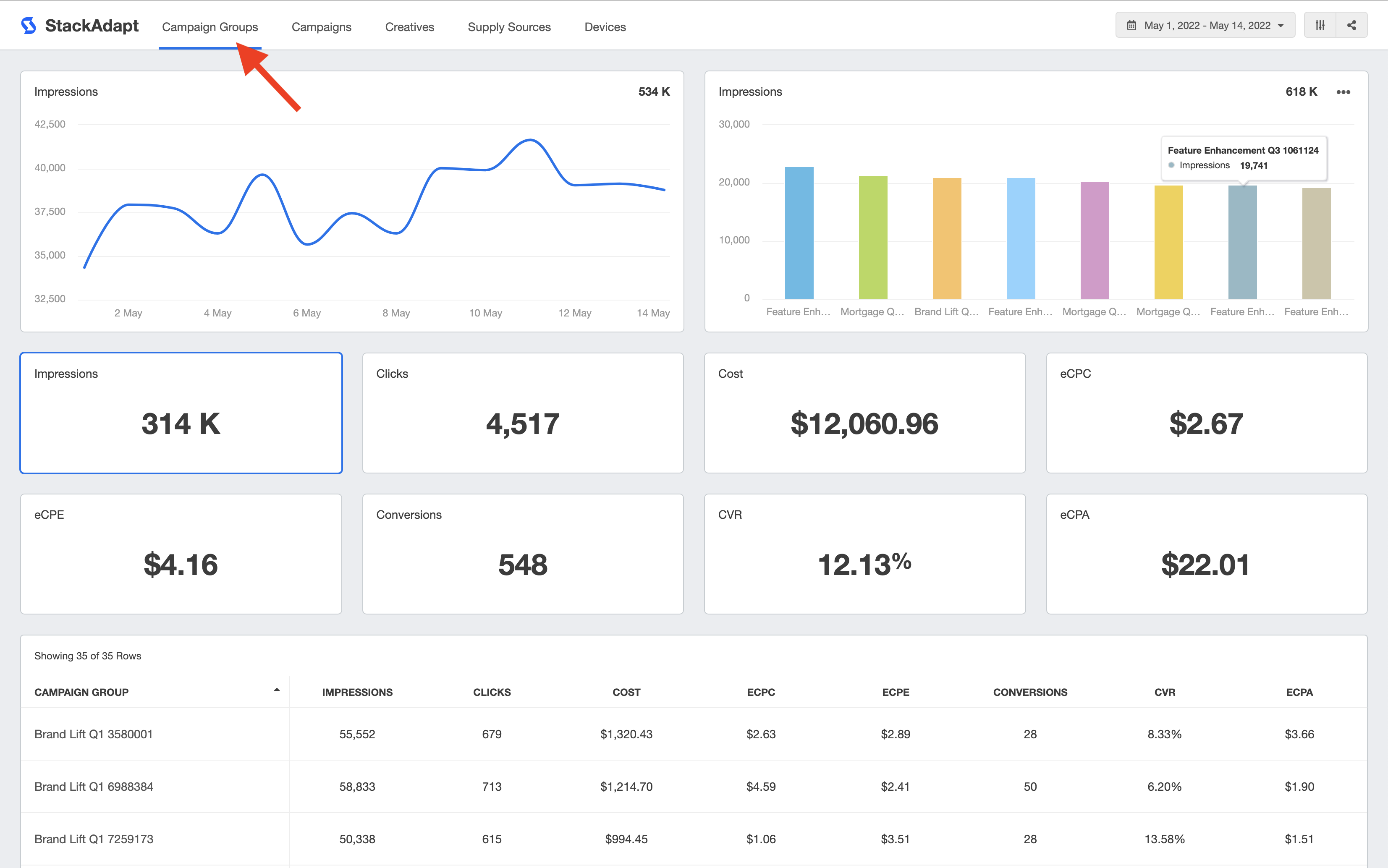 The Campaign Groups tab organizes campaigns into their groups similar to what you'd find in StackAdapt, allowing for a more bird's eye view of campaign performance. Track key metrics such as Impressions, Clicks, Conversion Rates, and more for each campaign group.
2. Campaigns
See how each Campaign is performing, broken down by Native or Display type. Evaluate the eCPA (effective cost per acquisition), conversion rates, and more for each campaign. 
Use this tab to: 
Track and analyze every campaign you are running for clients

See which campaigns drive the most clicks, impressions, and conversions

Monitor spending to ensure the campaign stays on budget

Ensure your campaigns are tracking towards your agency's client KPIs & goals
3. Creatives
Track your best-performing ads right here and get more granular and see how each ad creative is performing. Which ones are driving more engagement? Which ones are driving more conversions? The Creatives tab shows you granular details on Impressions, Clicks, Cost, Conversion Rates, and more.
4. Supply Sources
View how each supply source is performing for your agency's ad placements. Compare various types of display ads from Yahoo, to Google Ad Manager, Microsoft, and more. 
5. Devices
The Devices Tab gives breaks down views by Mobile, Tablet, and Desktop. Track any changes in user behavior and better adjust creative styles for the more prominent devices.
How To Add the StackAdapt Integration
Step 1. Navigate to the campaign you'd like to connect to the StackAdapt integration.
Step 2. Click on Integrations from the menu bar, and select StackAdapt from the list of integrations. (You will first be prompted to connect a new account–this requires entering your client's StackAdapt credentials.)
Step 3. Enter the login credentials and associate the Advertiser (aka your client) to your AgencyAnalytics campaign. 
Now the integration is complete and your client's StackAdapt metrics will be imported and displayed within the dashboard! 
Use additional data and filters to dig even further into the campaign performance data including engagement rates, video completion rates, view-through conversions, and more. 
All-in-One StackAdapt Reporting for Agencies  
Your clients likely aren't using StackAdapt alone. Reflect your clients' overall marketing performance with comprehensive client reports that cover all the bases and showcase everything your agency is doing to your client's business forward.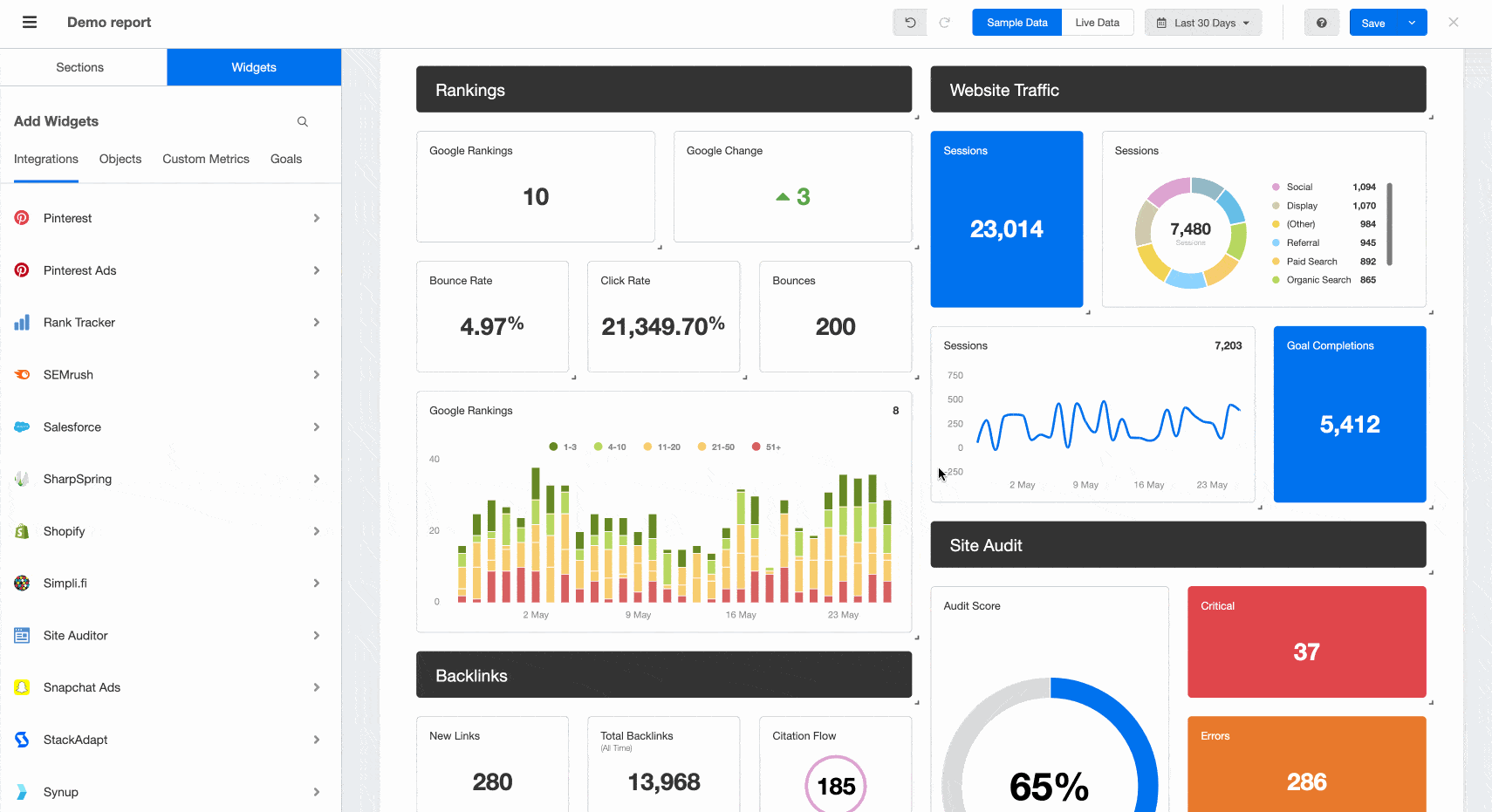 Building custom reports is easy. Combine your StackAdapt dashboard view with over 75 other integrations. Simply drag-and-drop widgets to present key marketing metrics and place your successes front and center. Add your agency's logo and brand colors and you'll give your clients a fully personalized, white-labeled experience. 
Another great way to save time? Put your reporting on autopilot so you can even forget that next deadline.
The StackAdapt integration is available on all AgencyAnalytics plans. New to AgencyAnalytics? Start with your free 14-day trial and pump out those reports in no time.
Written by
Melody Sinclair-Brooks
Melody is a marketing manager, writer, and startup consultant with a background in behavioural neuroscience. Through a data-driven approach and a passion for product-led strategies, she helps businesses achieve growth in today's competitive digital landscape.
Read more posts by Melody Sinclair-Brooks ›
Try AgencyAnalytics risk-free for 14 days. No credit card required.