As a marketing agency, you're always wondering how to stay ahead of the game. Marketing is an ever-changing beast, and with many moving parts, it's hard to pinpoint just one direction and have it executed every time. Data keeps moving from fragments into wholeness at each reporting cycle, giving us trends. 
Marketers and agency owners push metrics into machines and tell a story that will further influence behavior… only to change again. Marketing constantly adapts to switches in consumer behavior and technological advancements. It is indeed a fast-evolving occupation that requires stamina and calculated creativity launched at the right timing.  
To be a marketer means to be both analytical and creative, to be resilient to change, and to have highly specialized knowledge that can branch off into different specializations. Some say marketing is magic. Others say it's just a lot of hard work. Test and retest, you've heard them say. But is there a way we can predict the future by looking at recent trends? 
With each new year comes retrospective trends reports, full of predictions and data-based speculations. What are the top marketing trends to expect in 2022? 
Hint: It's all about the customers.
Marketing trends that will take over 2022 will involve: 
1. Customer Centricity Will Determine Whether a Company is Thriving 
Marketing always begins with a question about the consumer. Who are you? What do you care about? As an agency, you need to ensure it is an ongoing conversation that continues well after the first sale. With so many options on the market, consumers are valuing a positive experience more than ever. In fact, an American Express study found that 86% of customers are willing to pay more for a better experience. 
Customer experience is everything. Consumers will be the ambassadors of your clients' brands, sharing on social media, or just by word of mouth. And they'll come back for more. As long as there is consistency, friendliness, and a human touch. 
Did you know that 61% of customers tend to leave a brand they love after just one bad experience and are 90% more likely to spend more than planned if their shopping experience is highly personalized? (Source)
That doesn't leave much room for error. Especially when the consumers rate companies give a 10/10 customer experience score remain loyal for up to 6 years, not to mention they spend more 
How can a marketing agency ensure a positive CX for their agency's clients when they usually aren't even the ones speaking directly to the customers in question? The challenge and inherent solution are to use technology to give the illusion of connection with a seamless end-to-end experience. Where human touch ends, AI can begin to fill the gaps and vice versa. AI ensures continuous, on-demand customer service. This gives your clients data on their customers' needs and more leeway in response time. 
According to Hubspot's recent survey, nearly half of the companies surveyed already used AI in the form of Live Chatbots. 
The customer journey map is a great place to start. By summarizing key interactions consumers have with your client's brand, you can help your clients align with the touchpoints and employ a marketing strategy to improve the relationship consumers have with the brand.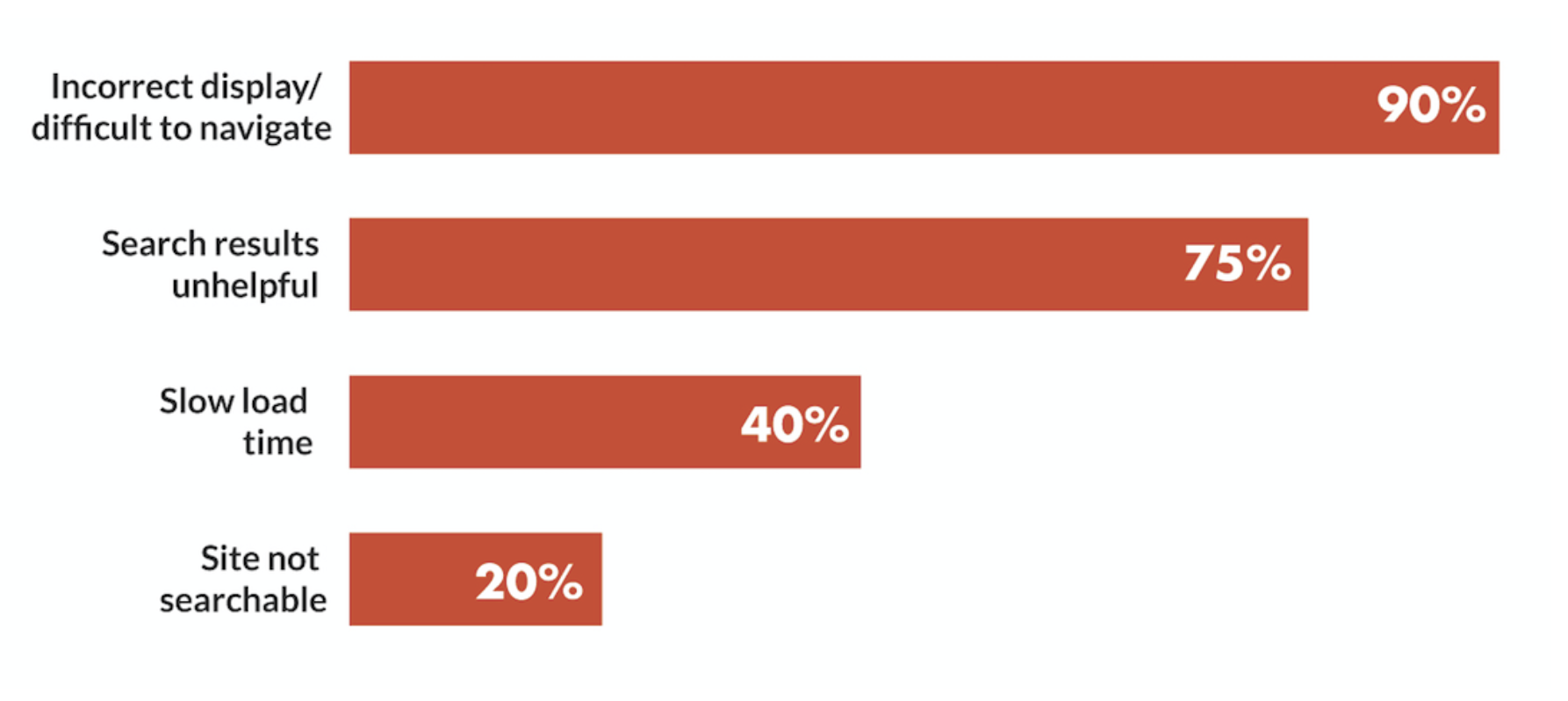 As a marketing agency, you'll know by stats such as session time whether there is a clear issue with your client's website. 
Read more: The Ultimate Guide to Getting Started with Google Analytics
If your agency hasn't done this already, start by measuring the Voice of the Customer (VoC). VoC is important when creating any marketing campaign for your clients, and is key to ensuring your clients are speaking the customer's language. 
Stats you can report to your clients about the success of your customer experience campaigns are:
Organic traffic: are your clients getting more organic referrals to their website?

Lower costs to customer acquisition
Read more: 15 Critical SEO Metrics You Need to Track
Okay. So you need to understand your clients' consumers to offer an excellent CX. And to do this, you need some more information about them. But how much of their data is considered too much? 
According to a recent survey by Deloitte, 53% of consumers said that active device listening is creepy. There is clearly a delicate balance between helping consumers and just being plain invasive when it comes to their data. 
As you can see, brand relationships are highly rated for consumers, whereas geo-tracking recommendations and active listening enter the realm of creepy. Marketers need to foster trust while creating customer value by designing their data-driven customer experiences with care. 
One alternative way of getting geographically close to consumers without giving them the heebie-jeebies is through in-house talent. 
The global pandemic has evidently changed the state of marketing this year, and its effects are here to stay.
According to Deloitte's 2022 global marketing trends report, 63% of college-educated employees are working remotely. That's good news for marketing agencies, as they have a greater talent pool to fill in skills gaps and get closer to their clients geographically to bring in more diverse and culturally-aligned messaging. 
2. Hybrid Experiences Will Offer Greater Personalization of Products 
Every year, more and more marketing channels are being added to your clients' list. Creating excellent experiences for your clients' consumers becomes more complex because it involves analyzing consumer data from various sources. 
It's becoming less and less possible to manually compile, analyze, and report all these metrics manually. Agencies need to have all their clients' marketing metrics under one strong umbrella to weather the storm of changing trends.  
Apart from your clients' omnichannel investments that affect their bottom line -- PWC found that the number of companies investing in the omnichannel experience has jumped from 20% to more than 80%. Indeed, marketing is becoming a more hybrid experience than ever.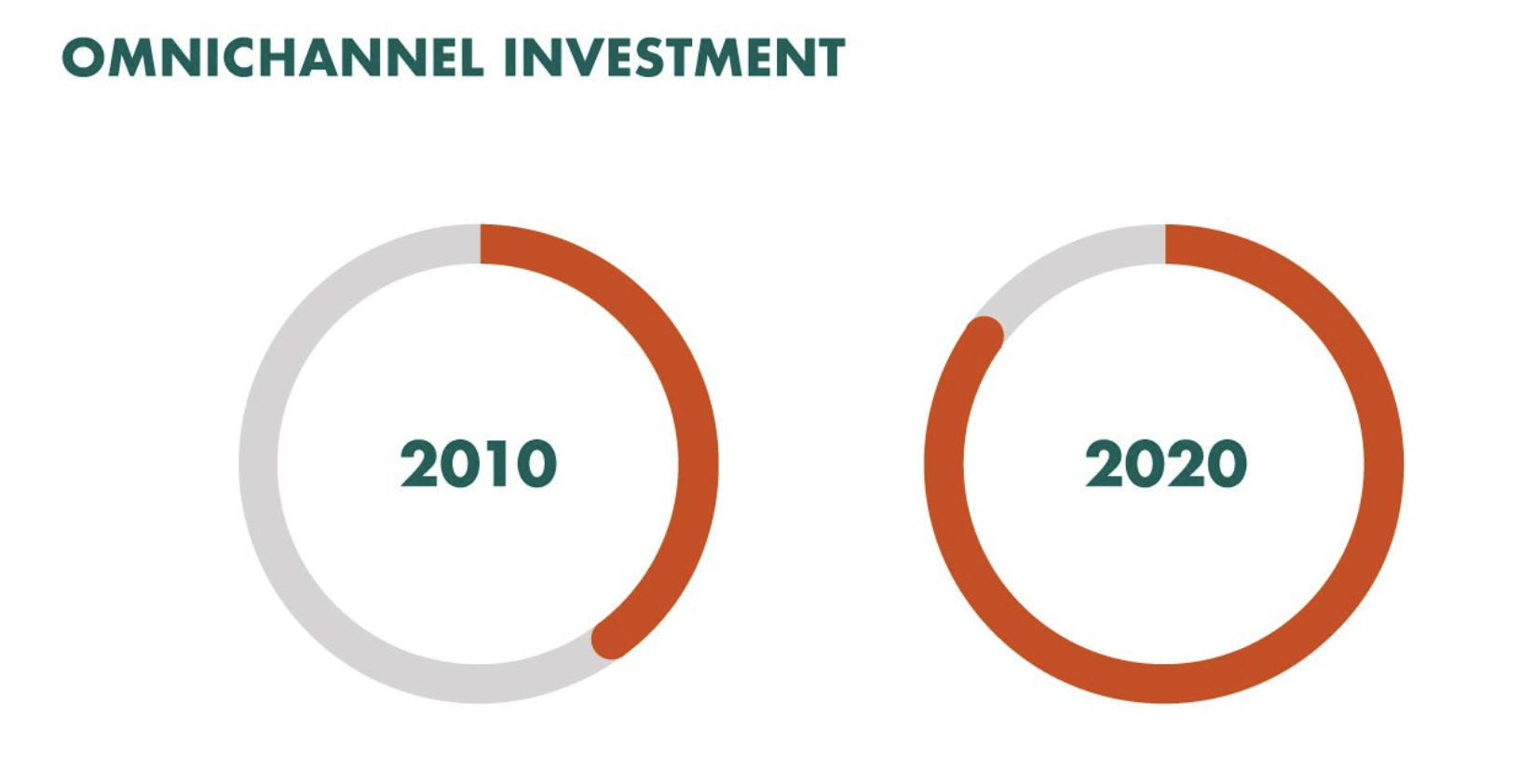 Technology has become so intertwined with our lives, and marketing needs to reflect that. Switching between in-person and online experiences, and from different channels to apps at the swipe of a thumb must be seamlessly integrated with a coherent marketing message that is personalized to the user. It not only allows greater personalization for consumers but also feeds into the enhanced customer experience mentioned above. 
Based on a global survey of 11,500 consumers, Deloitte found that younger generations tend to make purchases on new and emerging channels such as social media, voice assistants, and even virtual reality headsets. 
So with new marketing channels added every year, how can you get all your clients' customer data under one roof to better understand the entire customer journey?
AgencyAnalytics' cloud-based data platform is trusted by over 4,500 marketing agencies to capture data from multiple digital channels and better communicate marketing results with agency clients. 
From tracking phone calls, to social media activity, to website visits and more, your agency needs to track the customer journey with reliable metrics. And fast.  
Especially since there is a shift in using fewer third-party cookies... 
Data privacy is a hot topic now. With tighter privacy restrictions, third-party cookies are gradually disappearing. Marketing agencies must now use alternative data strategies to effectively target and engage with their clients' audiences. And that begins by tracking the right metrics and not missing out on any of your clients' leads. 
3. Storytelling with Better Content Visualization
Most consumers are visual learners, which is why it's no surprise that mega-companies like Google are investing in visual search technologies. This is where marketing can get creative, and use new highly visual channels like TikTok to create powerful visual ads for their clients.
It's no secret that people are visual learners. And with more and more content entering the web each second, your agency needs to make its clients' message stand out.
Hubspot's 2021 marketing report indicates that media uploads increased 80% year-over-year, and reached a high of 103,603 video uploads on April 22nd, at the peak of the pandemic and video uploads remained 88% higher than pre-pandemic. People crave connection. 
According to Wistia's 2021 State of Video report, most videos are less than 1 minute long. Hello, TikTok. But even long-form video in the 30-60 minute range experienced growth: 140% in 2020 compared to 2019. 
How long should business videos be? According to Vidyard's 2021 report, more than half of viewers will watch a video until the end if it's under 60s. As seen by the graph below, viewer dropoff unsurprisingly decreases as video length increases-- but not as much as you might think. 
There is still 24% engagement in videos that are 20 minutes or longer. So if you're dealing with an already engaged audience, longer video lengths like webinars can still be an option for your clients if they're dealing with a B2B audience. 
However, the sweet spot seems to be between 45 seconds and 2 minutes for most consumers.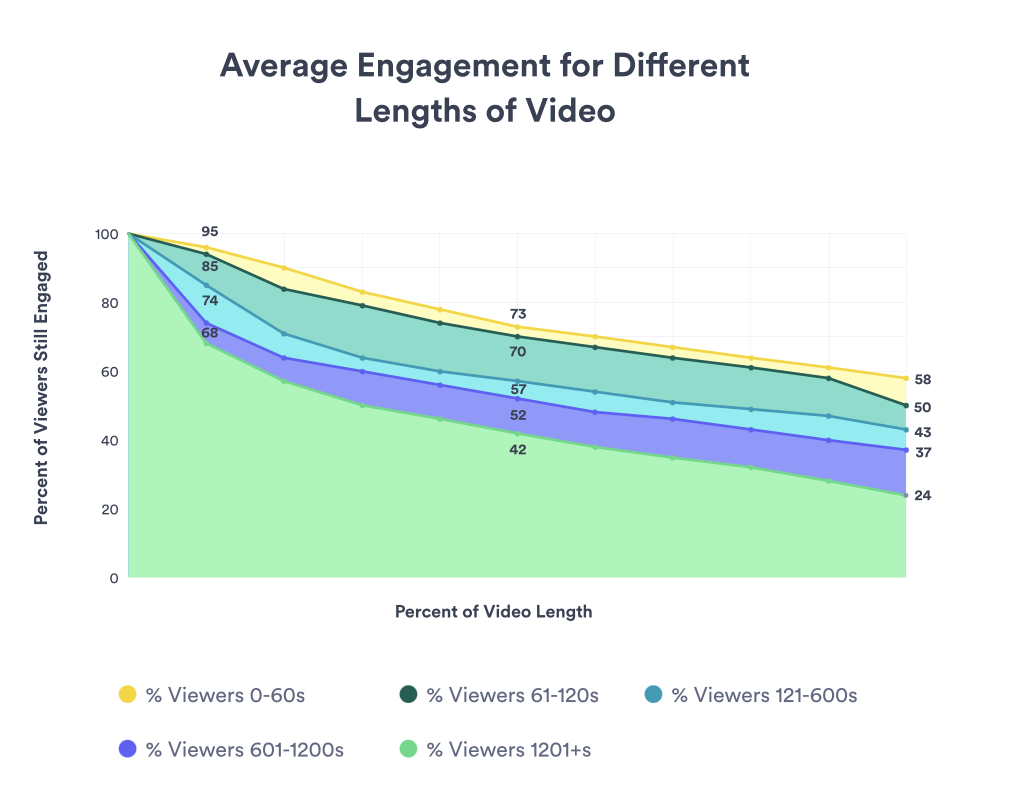 Here are some interesting stats according to Yans Media's video marketing statistics for 2021:
95% of consumers believe a video should be less than two minutes long

90% of people will stay longer on a page if there's a video on it

1 in 3 viewers will stick around to watch branded content videos to the end  
Digital Agency Network also agrees about the added value of video to a business: landing page conversions can go up to 80% -- but just like a call-to-action button, video needs to have some conversion rate optimization strategies too, like:
Optimizing video placement -- better towards the top according to Unbounce

Optimizing video type

Adding clickable links

Using marketing automation to track the metrics 
Read more: AgencyAnalytics Vimeo Reporting Integration
Sprout Social also created a spreadsheet on the best times to post on social media in 2021. Hint: it varies between platforms. 
So. What to do in 2022? Use video content that will educate and drive real results for your clients-- it's not just about inspiring and entertaining anymore. There's enough of that going around already.
Also, have your clients tried going Live? Many channels have started popping up showing real-time interactions with brands and people. People crave connection and brand transparency. Live is just that. It's unfiltered. Honest. And unlike many other things, leaves room for human error in an effort at building a connection. 
In Summary:
1. Customer Experience is Key
In-person and AI customer experiences are equally important. 

Use AI to deliver a seamless end-to-end experience by meeting customers where they are at. 

Use consumer data to enhance their experience, but not too much that it's creepy. Rely on meticulously tracking metrics to gather insights with first-party data

Take advantage of remote working: new talent strategies can get your clients closer to their consumers 
2. Ensure Hybrid Experiences Enhance and Personalize the Customer Experience
Omnichannel marketing is here to stay

Gather all your clients' metrics under one roof and automate marketing reporting to stay on top of the data
3. Visual Storytelling to Speak to the Customer
Lean into the video trend 
Here's to hoping these emerging marketing trends to expect in 2022 help bring some clarity to your agency this New Year and drive success to your clients.
Written by
Melody Sinclair-Brooks
Melody Sinclair-Brooks brings nearly a decade of experience in marketing in the tech industry. Specializing in B2B messaging for startups and SaaS, she crafts campaigns that cut through the noise, leveraging customer insights and multichannel strategies for tangible growth.
Read more posts by Melody Sinclair-Brooks ›
Try AgencyAnalytics risk-free for 14 days. No credit card required.