Google Analytics 4 Reporting
Move over Universal Analytics! Automatically create customizable Google Analytics 4 dashboards with your clients' real-time data. Flip them into sleek, send-ready reports your clients will love. Include metrics from other key marketing platforms alongside your Google Analytics data for the most comprehensive marketing reporting.
Clear Data Visualization
Simplify complex information and spot deeper Google Analytics 4 data trends with clear, colorful graphical visualizations
Segment Channels
Examine Google Analytics 4 data by channel, determine what's driving traffic, events, and conversions
Understand Your Audience
Analyze users and sessions by location, language, age, device, and more with demographic insights
Display Conversion Tracking
Impress clients with professional dashboards and reports that accentuate their events, conversions, and revenue
All Your Data at Your Fingertips
Customizable Google Analytics 4 Reporting
Automatically connect your clients' Google Analytics 4 data streams to a single platform for streamlined monitoring and management. Easily collect and curate live and historical data across more than 75 channels to create custom dashboards and reports that present the full marketing picture.
Explore All Available Google Analytics 4 Metrics
Add any of these metrics to your client reports and marketing dashboards with ease
Active Users

Average Purchase Revenue

Average Purchase Revenue Per Paying User

Average Revenue Per User

Bounce Rate

Conversions

Date

Ecommerce Purchases

Engaged Sessions

Engagement Rate

Event Count

Event Count Per User

Event Value

Events Per Session

First Time Purchase Conversion Rate

Item Revenue

Items Viewed

New Users

Publisher Ad Clicks

Publisher Ad Impressions

Purchase Revenue

Purchaser Conversion Rate

Screen Page Views

Session Conversion Rate

Sessions

Sessions Per User

Total Revenue

Total Users

Transactions

User Engagement Duration

User Engagement Duration Per Session

User Engagement Duration Per User
Manage Your Entire Customer Funnel
Events & Conversion Tracking
Clients care about results. Arrange your reports to emphasize event tracking, conversions, and revenue using the drag & drop report builder. Enhance client reports further with campaign-based eCommerce, PPC, SEO, and other data streams to fully demonstrate your agency's value and ROI.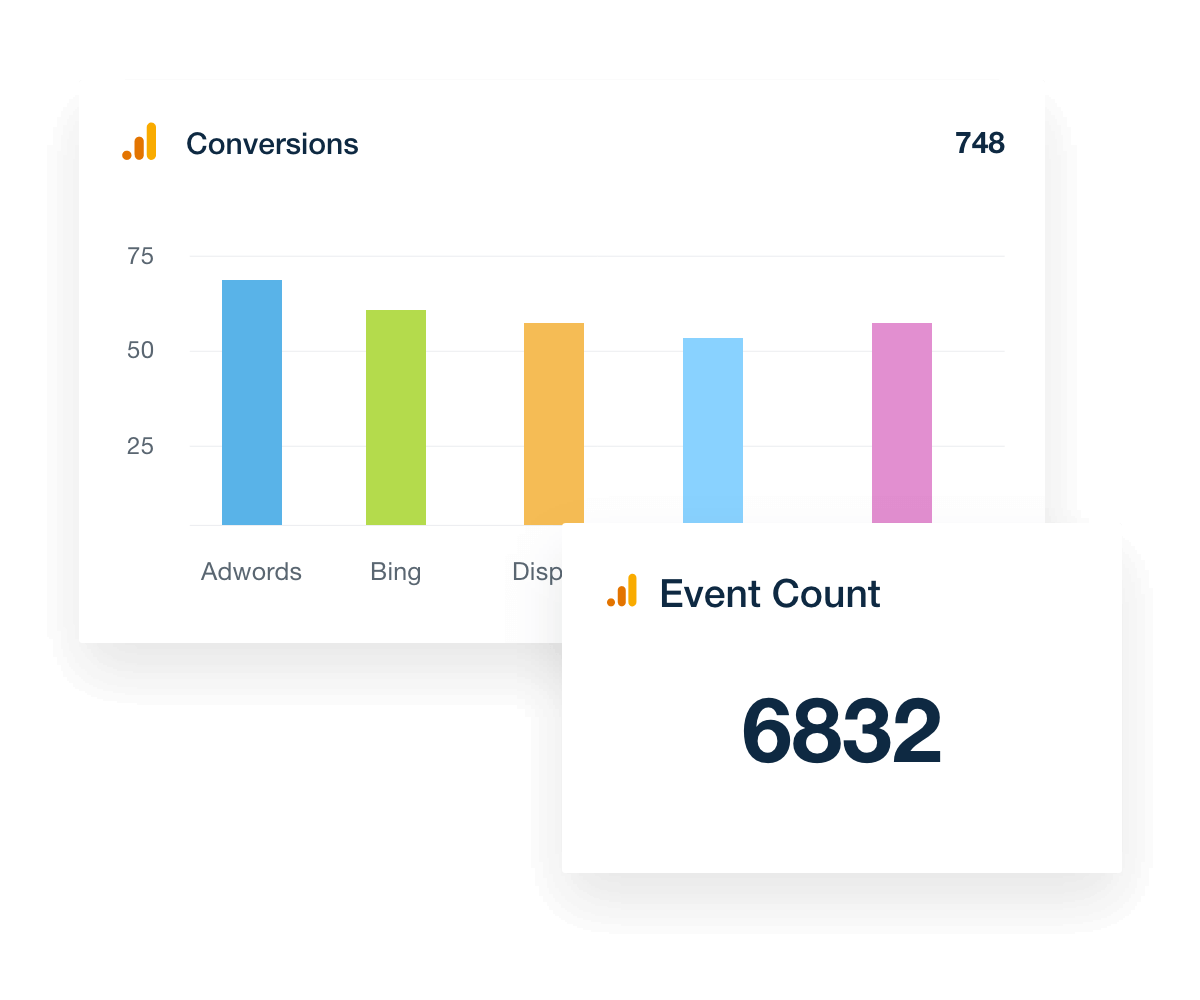 Organic, PPC, Email, Social, Display, and More
Key Analytics for Every Traffic Channel
Use the pre-built template or leverage the drag & drop editor to create a curated, big-picture view of the granular data flowing from their Google Analytics account. Add widgets to your client's Google Analytics 4 dashboard that clearly demonstrate the value you're generating from SEO, PPC, email campaigns, social channels, and more.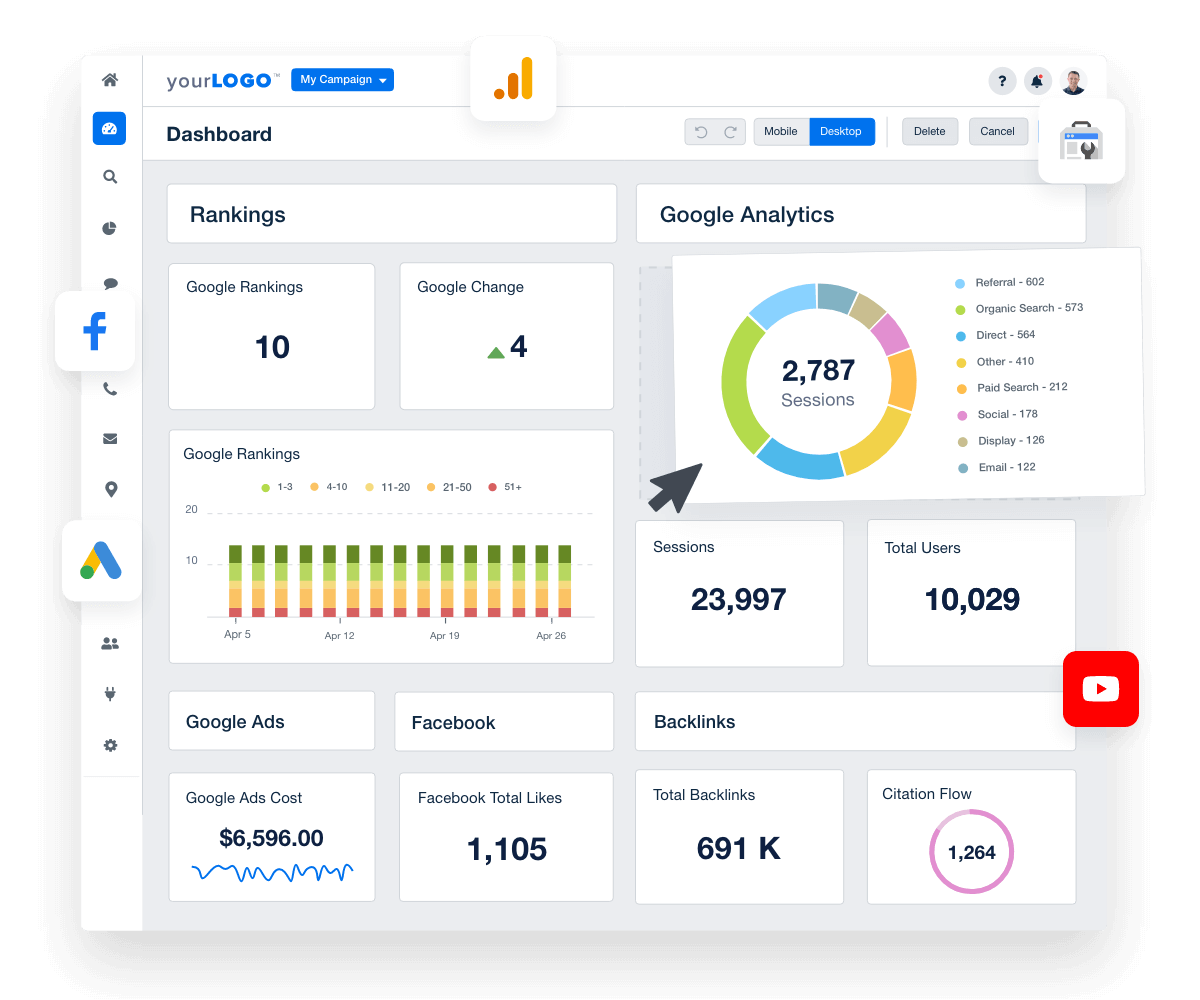 Optimize Pages Based On Events & Conversions
Page-Level Performance Data
Filter and review pages by performance metrics like user engagement, events, and conversions. Identify top-performing pages and take note of low-performing pages for optimization and re-writes.
Location, Language, Age, Devices
Visitor demographics can offer some surprising insights. Notice a high bounce rate for your client's iPhone users? Their site might be in need of some reformatting for that device's display. Audience age skewing in a new direction? Boost engagement by tweaking site messaging accordingly.
Full Control of Your Branding
Customized White Labeled Client Reporting
Highlight your clients' success within a professionally branded platform. Deliver color and logo-customized dashboards and automated marketing reports that convey a polished look and feel across every touchpoint. Host client dashboards on your agency's custom domain and create multiple white label profiles for different client-facing brands.
All-In-One Agency Reporting Tool
Complete Agency Management
Manage your agency's clients and staff with one easy-to-use platform. Create custom logins for your agency's staff and clients, and provide granular user-access and permission levels. Assign tasks and track workflows for each client campaign to streamline your team's performance. Schedule regular client reports and streamline communication by integrating with your existing messaging tools.
AgencyAnalytics has exactly what I need in terms of cost-effectiveness, ease of use, white label reporting & competitive features.
Flagstone Search Marketing
Connect the Google Analytics 4 integration in seconds to streamline your client reporting.
Everything Your Agency Needs
Try AgencyAnalytics risk-free for 14 days. No credit card required.