Google Analytics 4 (GA4) Reporting
Seamlessly integrate with GA4 data to create custom reports and dashboards filled with your clients' real-time data. Track key web analytics metrics automatically and transform them into sleek, client-ready reports. Include metrics from 75+ other marketing platforms to provide comprehensive Google Analytics reports that capture the full picture of your clients' performance.
Clear Data Visualization
Enhance standard reports by simplifying complex information into a clear line chart, bar graph, and more
Segment Channels
Examine GA4 data by channel, determine what's driving traffic, events, and conversions
Understand Your Audience
Analyze users and sessions by location, language, age, device categories, and more with demographic insights
Display Conversion Tracking
Impress clients with professional dashboards and reports that accentuate their events, conversions, and revenue
CREATE NEW REPORTS IN MINUTES
Customizable GA4 Reporting
Experience the power of streamlined GA4 monitoring and management for your agency. Automatically connect your clients' Google Analytics 4 data streams for realtime reports and data collection across more than 75 channels.
With a dynamic reporting interface, customize reports with live and historical data that provide a comprehensive view of your clients' key metrics and your agency's marketing efforts. Access all your clients' key GA4 metrics when you need to create a new report.
Explore All Available Google Analytics 4 Metrics
Add any of these GA4 metrics to your client reports and marketing dashboards with ease
Active 1day Users

Active 28day Users

Active 7day Users

Active Users

Add To Carts

Average Purchase Revenue

Average Purchase Revenue Per Paying User

Average Purchase Revenue Per User

Average Revenue Per User

Average Session Duration

Bounce Rate

Cart To View Rate

Checkouts

Conversions

Crash Affected Users

Crash Free Users Rate

Date

Dau Per Mau

Dau Per Wau

Ecommerce Purchases

Engaged Sessions

Engagement Rate

Event Count

Event Count Per User

Event Value

Events Per Session

Field Status

First Time Purchase Conversion Rate

First Time Purchasers

First Time Purchasers Per New User

Item List Click Events

Item List Click Through Rate

Item List View Events

Item Promotion Click Through Rate

Item Revenue

Item View Events

Items Added To Cart

Items Checked Out

Items Clicked In List

Items Clicked In Promotion

Items Purchased

Items Viewed

Items Viewed In List

Items Viewed In Promotion

New Users

Promotion Clicks

Promotion Views

Publisher Ad Clicks

Publisher Ad Impressions

Purchase Revenue

Purchase To View Rate

Purchaser Conversion Rate

Screen Page Views

Screen Page Views Per Session

Screen Page Views Per User

Scrolled Users

Session Conversion Rate

Sessions

Sessions Per User

Shipping Amount

Tax Amount

Total Purchasers

Total Revenue

Total Users

Transactions

Transactions Per Purchaser

User Conversion Rate

User Engagement Duration

User Engagement Duration Per Session

User Engagement Duration Per User

Wau Per Mau
MANAGE THE ENTIRE CUSTOMER FUNNEL
GA4 Events & Conversion Tracking
Elevate your agency's standard reports to deliver the results your clients care about. Arrange your GA4 reports to emphasize event tracking, conversions, and revenue across the customer journey. Use the intuitive drag & drop report builder to customize your multichannel funnel reports and enhance them with data from various streams such as eCommerce, PPC, SEO, and more to fully demonstrate your agency's value and ROI.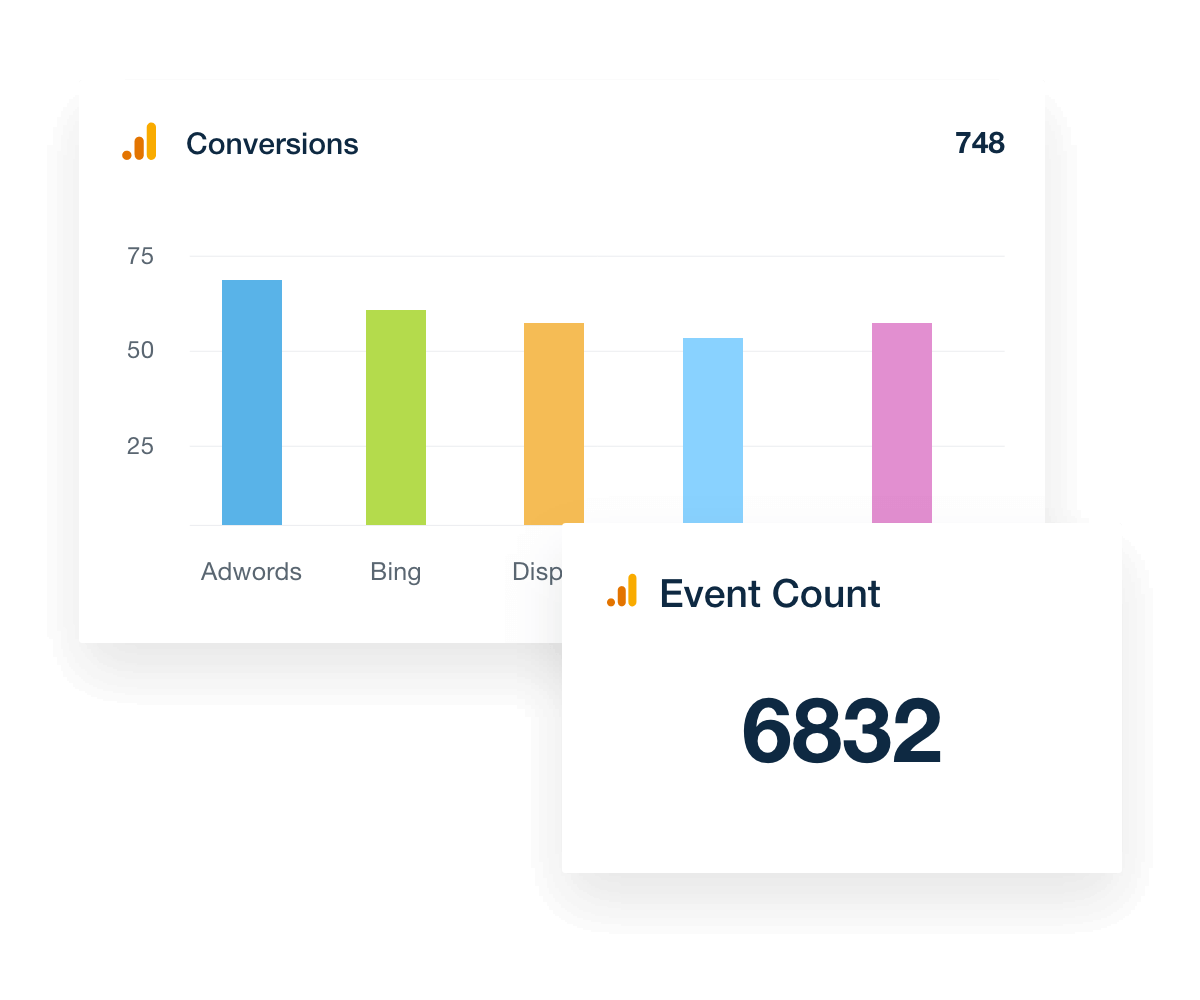 Organic, PPC, Email, Social, Display, and More
Key Analytics for Every Traffic Channel
Whether you're using the pre-built GA4 reporting template or creating your own with the drag & drop editor, create a clear flow of data from your clients' Google Analytics accounts. Add widgets to a Google Analytics 4 dashboard to clearly demonstrate traffic acquisition, engagement rate, and conversions for each marketing channel. Use the acquisition report to highlight the value your agency is generating from SEO, PPC, email campaigns, social channels, and more.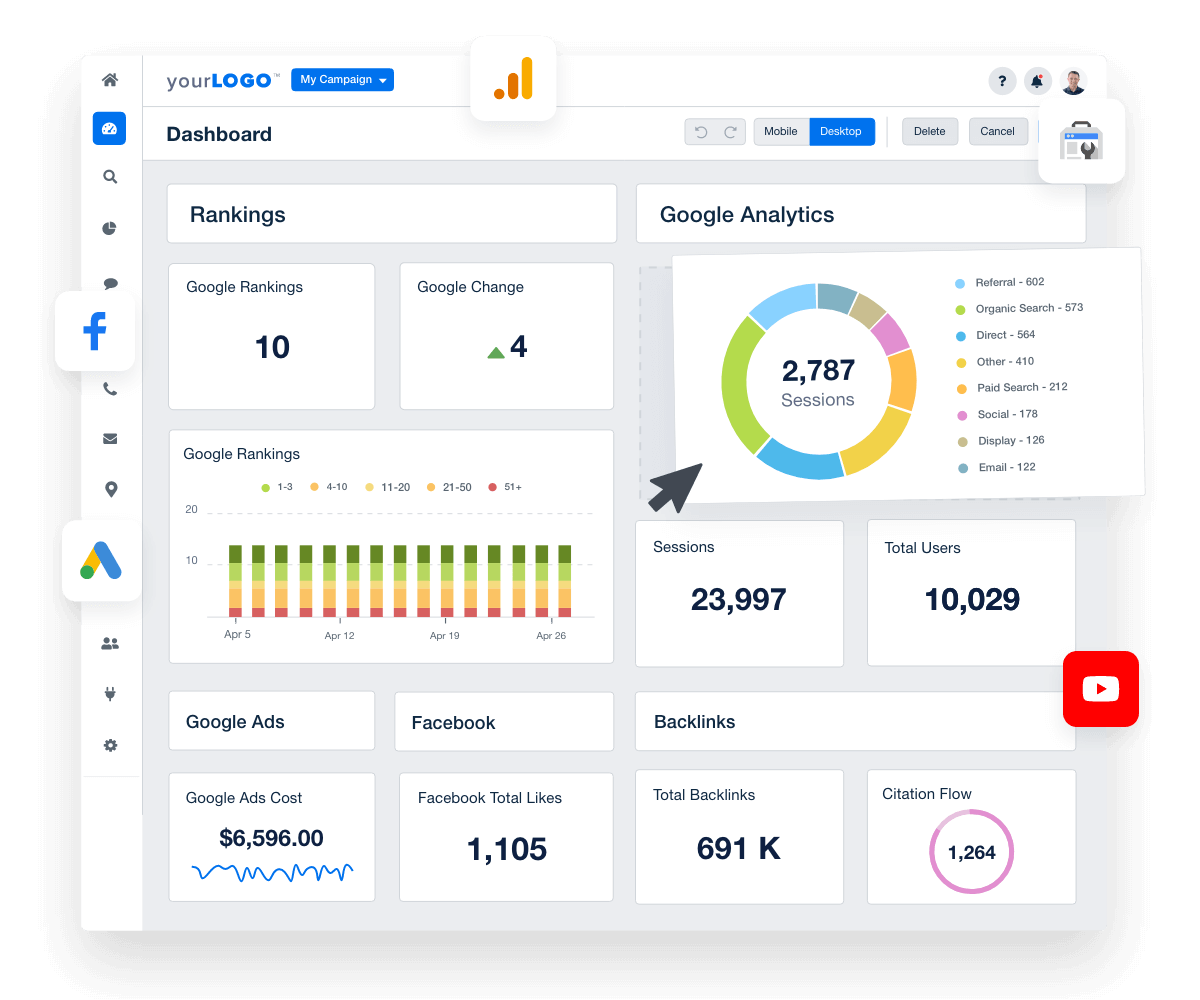 Optimize Pages Based On Events & Conversions
Page-Level Performance Data
Filter and review pages by GA4 performance metrics like user engagement, events, and conversions. Identify top-performing pages and take note of low-performing pages for optimization and re-writes. Drill into all pages, landing pages, content groups, and more. Use the landing pages report to identify the engagement rate, total users, conversions, and purchases to segment landing page data by top marketing objectives.
Location, Language, Age, Devices
Leverage GA4 Audience Data
Visitor demographics offer some surprising insights. Notice a high bounce rate for your client's iPhone users? Their site might be in need of some reformatting for that device's display. Is audience age skewing in a new direction? Boost engagement by tweaking site messaging accordingly. Leverage GA4's audience data to optimize your clients' websites and marketing strategies. 
Creating, generating, and sharing reports has never been easier, and our clients love the fact they can follow our activity and their stats in real time. Everything is simplified, accessible, and beautifully presented.
Claire Aldridge
/ Digital Marketing Specialist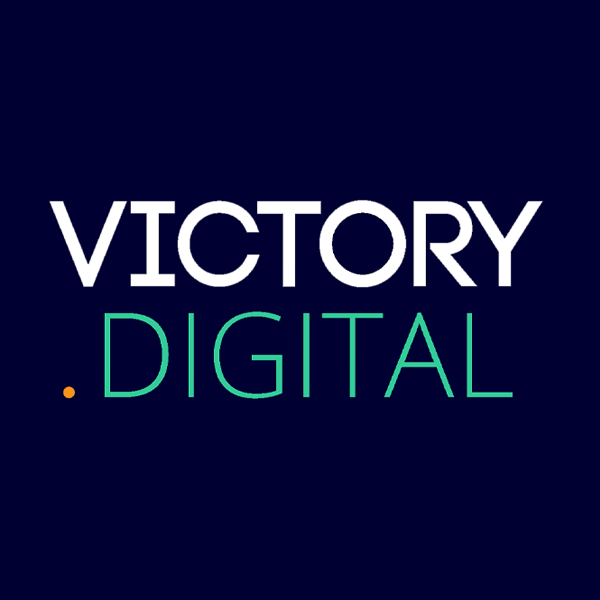 Connect the Google Analytics 4 integration in seconds to streamline your client reporting.
Full Control of Your Branding
Customized White Labeled Client Reporting
Highlight your clients' success within a professionally branded platform. Deliver color and logo-customized dashboards and automated marketing reports that convey a polished look and feel across every touchpoint. Host client dashboards on your agency's custom domain and create multiple white label profiles for different client-facing brands.
SAY GOODBYE TO CLIENT REPORTING STRESS
Automated Report Scheduling & Approval
Creating a custom report in GA4 (previously Universal Analytics) is time-consuming, not to mention confusing for your clients. Easily flip powerful GA4 dashboards into beautiful reports in minutes. These reports populate automatically with all of your clients' marketing data for a specified date range. 
Use the report scheduling feature to create automated marketing reports that are sent on a customized schedule. On select plans, get notified before each report is sent out for your final approval and to add expert commentary. The GA4 integration makes creating custom reports easy!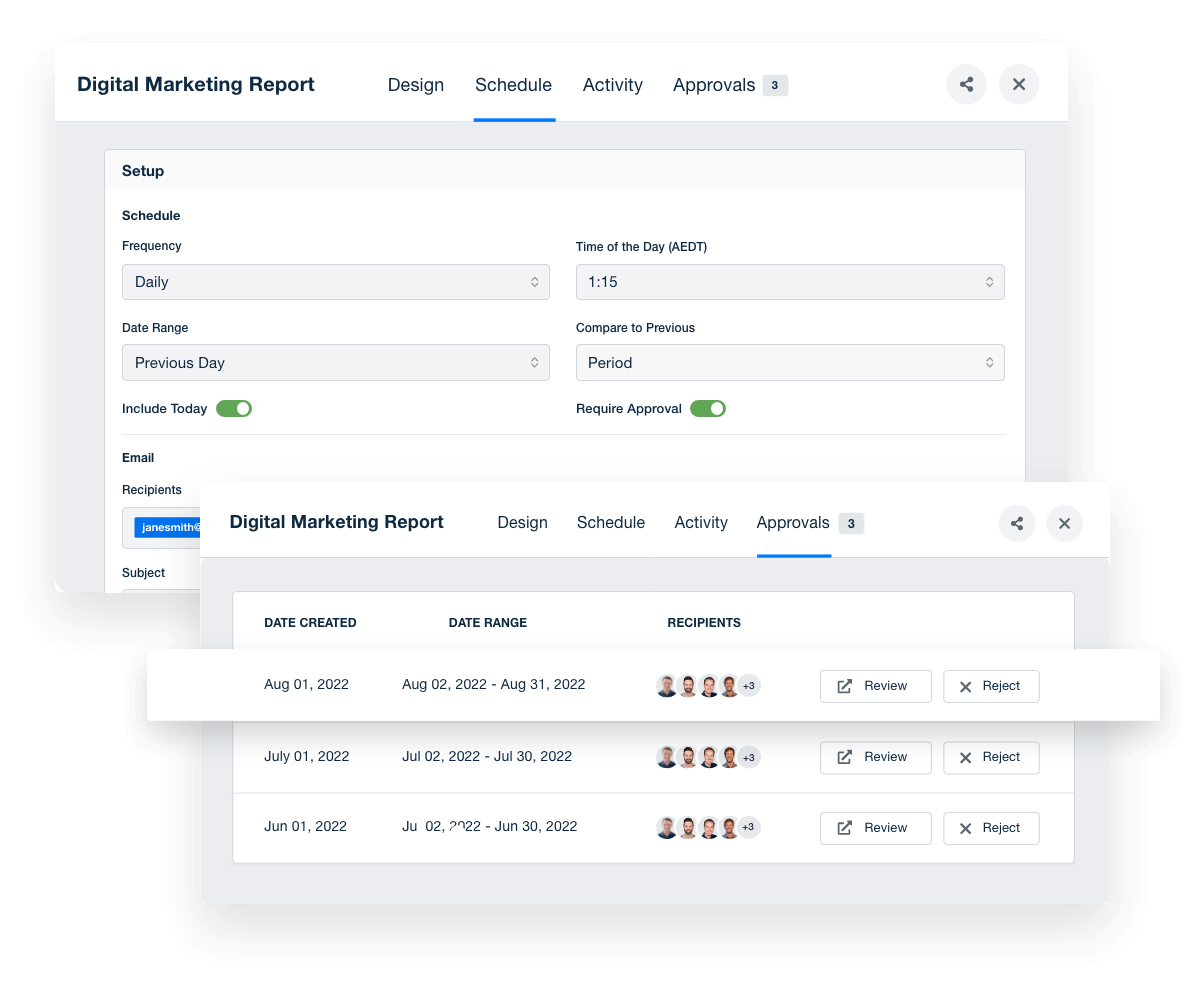 CONNECT THE DOTS BETWEEN GA4 and 75+ INTEGRATIONS
All Your Client's Marketing Data in One Platform
Your clients use more than just one channel to grow their businesses. Bring all their important key performance indicators into AgencyAnalytics' powerful reporting platform. Easily gain insights on landing page, lead form performance, and user acquisition metrics in one place.
Collecting data is easy! Combine GA4 metrics with marketing analytics from 75+ platforms. Create new reports in minutes, including website traffic, Google Ads, SEO analytics, social media, call tracking, and more.
Use custom dashboards and reports using the drag-and-drop editor or use the predefined reports available in the free template library.
A Customizable GA4 Reporting Solution
Build GA4 Reports & Dashboards Your Way
With a range of customization options, including dashboard widgets, custom metrics, and a drag-and-drop report builder, you have everything you need to customize client reports to show off the impact of your agency's marketing expertise.
Create better, faster GA4 reports featuring your own branding and impress clients with a suite of reporting tools designed for marketing agencies.
SET GOALS AND HIT PERFORMANCE TARGETS
Show Clients You're Hitting Their Marketing Goals
Universal Analytics is out! Showcase your marketing strategy success at a glance with the Goals widget in a report section. The visual progress bar highlights exactly how your marketing efforts are trending against key objectives.
Break down your monthly performance targets into day-to-day action items and keep your team on track. Apply annotations and goals to any metric and show clients exactly how you're helping them progress towards their performance targets.
Use custom comments to include your expert insights in your acquisition reports and help your clients' businesses succeed.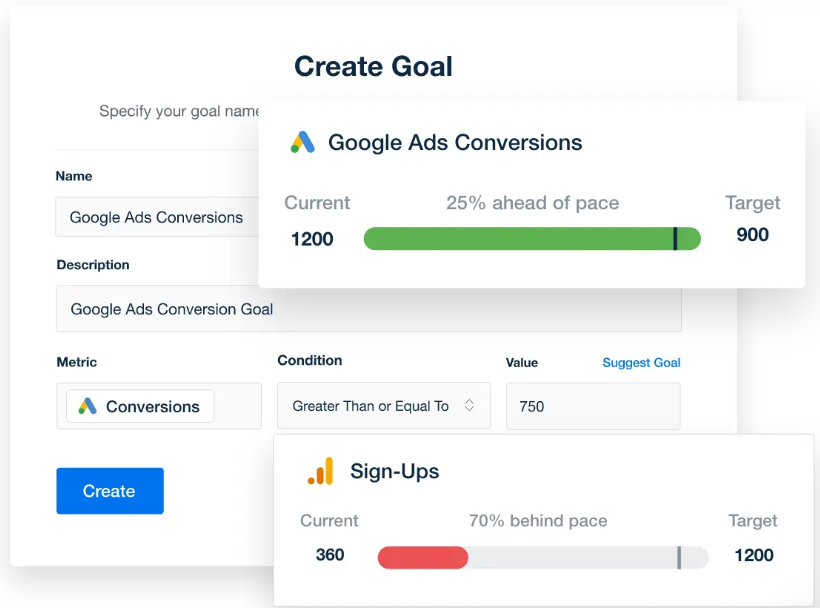 All-In-One Agency Reporting Tool
Complete Agency Management
Manage your agency's clients and staff with one easy-to-use platform. Create custom logins for your agency's staff and clients, and provide granular user-access and permission levels. Assign tasks and track workflows for each client campaign to streamline your team's performance. Schedule regular client reports and streamline communication by integrating with your existing messaging tools.
AGENCY SUCCESS IS OUR TOP PRIORITY
Customer Support is Available 24/5
With a dedicated and knowledgeable customer support team, access the assistance you need to get the most out of the platform whenever you need it.
Available 24/5, the live chat support response times are typically under 3 minutes, ensuring you're never kept waiting. But speed isn't our only virtue–we pride ourselves on the outstanding quality of our service, reflected in our customer satisfaction ratings consistently soaring above 95%.
SIMPLIFIED CUSTOM REPORTING
Report Smarter, Not Harder
Go beyond generic GA4 reports by automatically including the most critical marketing metrics in a professional white label marketing dashboard. Use it as a realtime report or freeform report to easily make collecting data easy.
Customize each dashboard or report template and then clone them to streamline client onboarding, helping your agency grow even faster.
Use cross-campaign reporting to pull in key analytics from multiple marketing channels and give clients a complete picture of their digital marketing success. 
Discover the White Label Reporting Tool Trusted by 6,500+ Marketing Agencies
AgencyAnalytics is the best analytics tool I've found for agencies. It has exactly what I need in terms of cost-effectiveness, ease of use, white label reporting & competitive features.
Flagstone Search Marketing
Everything Your Agency Needs
Try AgencyAnalytics risk-free for 14 days. No credit card required.