This article is meant to help you avoid unrealistic expectations your clients may have when it comes to SEO. It is important to stay real with your clients and let them know what they can expect from you and your work.
Despite being an integral part of every successful website ranking for over a decade now, to most, SEO has remained somewhat of a mystery—particularly to those with little or no knowledge of digital marketing.
One reason why SEO has not gained that "I-am-curious-to-know-more-about-this" popularity outside of digital marketing is that it is not quite as measurable in a traditional sense. Also, it doesn't stem from conventional educational methods and takes much more than a single course or webinar to acquire and understand.
SEO is also much more long-term investment and, in the short-term, may not be as visible as traditional marketing formats (TVC, OOH, etc.). This can often make clients less inclined to invest time and money in something they can't see the result from instantly.
Staying Real with SEO
With little understanding of the skills involved comes many client-enforced, unrealistic expectations about the effect of SEO on their business. That is why SEO specialists need to start thinking differently about how they pitch their work to others—especially facing the often-vertiginous changes in the SEO field we've witnessed in recent years. If you aren't upfront about these realities, the risk of creating bogus and misleading expectations is imminent, eventually leading to client disappointment and a bad reputation.
If you are in SEO and looking to build long-lasting, effective relationships with your clients, deliver results, and avoid disappointment, here are a few tips explaining how to set expectations that will lead to client excitement rather than a let-down.
1. Talk about the relevance of SEO
To get your client to understand the importance of SEO and why they should include it in their business strategy, they first need to understand what SEO will do for their business. 
Start by reminding them that, today, people go to Google to explore almost everything, from the nearest shops and new restaurants to medical symptoms. In that sense, if they want to be at an immediate reach to their clients, they should have an online presence linked to the keywords their business is searched for.
Let your clients know that organic search is often the primary source of website traffic and that their online visibility depends heavily on how high they rank on Google. Once you explain and demonstrate the value of your SEO craft to your clients and let them in on how they can profit from it, you'll both have less misapprehension about what's expected in the long run.
However, it is essential not to forget that, while you are the SEO expert, they are the expert on their business. Your client's input during regular collaborations is a crucial component of their subsequent success in search engine marketing. 
2. Don't make SEO too abstract for them
Every client is different, as is their level of understanding and interest in digital marketing. In talking to them about SEO, try to cater to their level of understanding. 
Include one or more of the following steps:
Before going all Neil Patel on your client, learn how much they know about SEO and digital marketing

Determine their learning style

Ask them if they want to learn more about the process

Break down the meaning of SEO, what it does, and why it's relevant

Help them understand the difference between on-page and off-page SEO

Find an analogy that has meaning for them and link it to what you do

Explain from the get-go what they can expect; include a weighted scoring decision matrix and a realistic timeframe
Experts sometimes find it challenging to simplify complex and pertinent SEO terms to clients, but you don't have to. While you may continuously get enthusiastic about everything Google Trends API-related, your client doesn't need to share the same enthusiasm (or knowledge). In fact, the extent of their SEO insight often doesn't need to go any further than understanding how that same Google search data will bring them more business.
3. Communicate possible risks
Things go wrong in business all the time, and it's important to include risk factors and potential failures in your initial SEO discussion with the client. 
To put all of the risks in one place and make it as straightforward as possible to the client, communicate the following:
Explain what out-of-plan factors may disrupt the initial plan and process

Different risk levels, their power of influence, and how they may disturb the client's final result
As an experienced SEO expert, you already know what usually happens on a project, so you probably know the best solutions, too. Let your client know they are in safe hands by describing how you plan to approach the issues should they arise.
This way, you demonstrate both your understanding of the process and industry peculiarities, as well as your high level of expertise and problem-solving abiliities.
4. Be open about your limitations
If there's something you can't provide, it is entirely okay to disclose that initially. In fact, being a jack-of-all-trades has rarely ever worked well for anyone, so rather than risking damaging the final quality of the product, make sure the client is aware of your limitations. 
Pay attention to your client's vision of the final result and give your honest feedback on whether it's possible or not. The project's limitations should also be discussed at the very beginning and eventually appear on paper.
5. Talk about goals and expectations
Your customer's expectations in terms of SEO are an integral part of a successful collaboration. Creating an easy and transparent decision-making process with your client will create a favorable climate of cooperation and take the pressure off from both sides. 
Both parties must be perfectly clear on the:
Goals

Scope of work

Schedule

Workflow

Deliverables
When these are clearly communicated from the start, your client SEO report ties in with monthly deliverables, and you've got proof of how hard you are working for your clients behind the scenes. 
6. Share client reports
Most clients don't know that there is so much more planning and strategizing to SEO than meets the eye. Share your SEO reports with them during the course of planning to keep them in the loop and show them how much work you do. 
A great way to keep them conversant is by:
Reporting in calls

Sending emails with stats

Delivering custom reports that highlight the most important SEO KPIs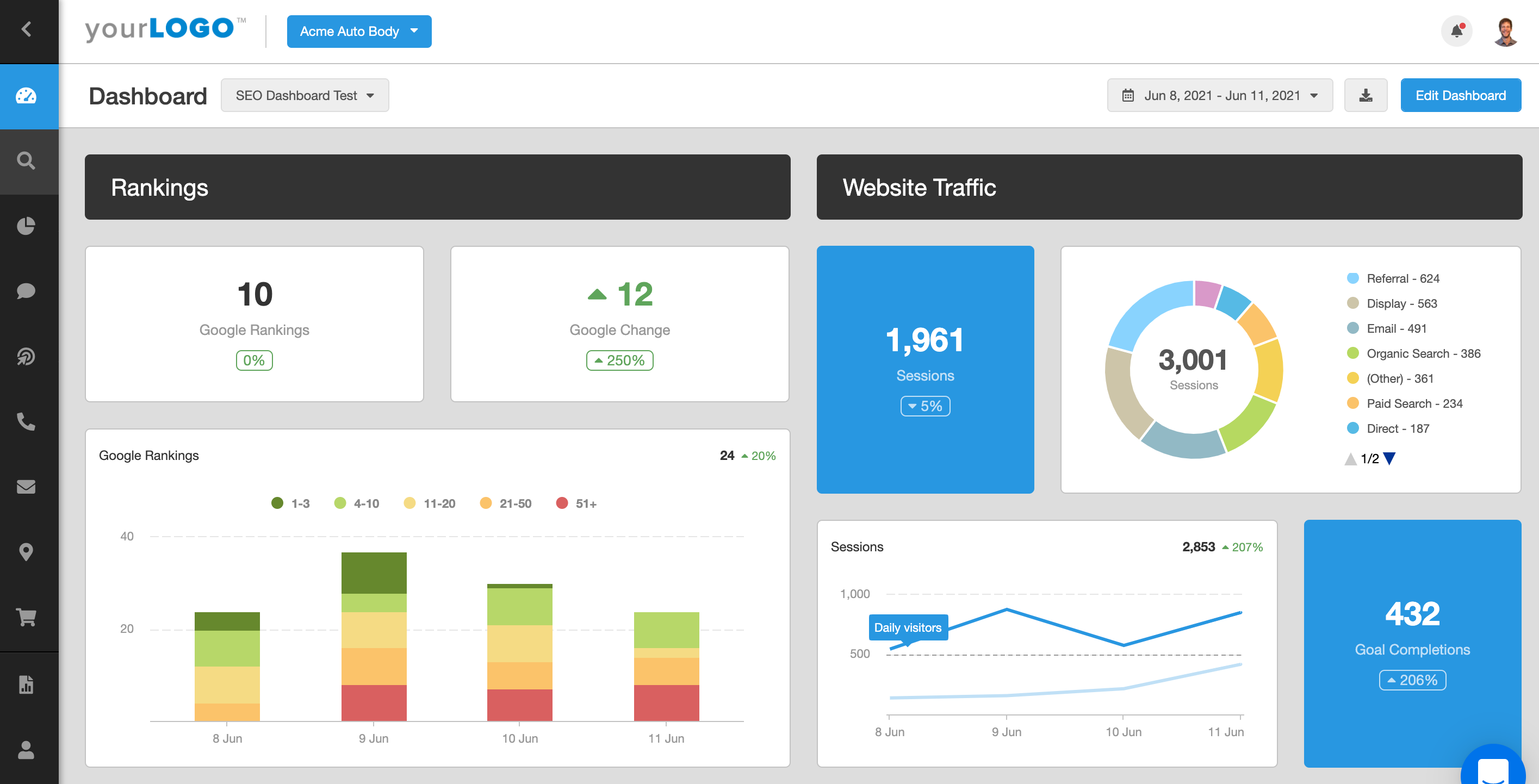 Source: AgencyAnalytics SEO Dashboard
7. Let your client choose the way they'll learn
Everyone learns differently, and to achieve the best results with your client, determine (or ask) which of the four primary learning styles—visual, auditory, reading/writing, and kinaesthetic—are they most comfortable with, and go with that one.
While some clients will want to work with the help of a diagram, chart, or a simple drawing, others will want to have discussions in person or over the phone. 
There will be those who will need you to demonstrate the concept (these are physical learners) on a computer or use an analogy. And, then, there will also be those who'll instead learn a thing or two by themselves, then come to you for additional explanations. Be prepared for any of these situations and, most importantly, be patient with your client—especially when their learning style differs from your own.
It never hurts to start your "tutoring sessions" by explaining some basics like:
What SEO is an acronym of, and what it stands for

How search engine optimization helps rank websites higher on a page

How domain authority gives search engine's a method to rank their importance
Extra tip
After you have already set up a collaboration with your client and the results have started showing, introduce more SEO-beneficial aspects into the mix. Talk to your client about the benefits of blogging, omnichannel marketing, running regular SEO checkups, potentially creating another website, and so on. Don't mislead your client into thinking SEO is ever done—because you know it never is. 
Over the long run, active SEO marketing will bring them more business and a successful client collaboration for you.
Subscribe to the AgencyAnalytics Newsletter
Receive Agency Growth Tips, Delivered to Your Inbox
Final thoughts
The checklist above is all about having good communication and transparency, both of which should take you far when working with serious clients—whether it's day-to-day updates or signing contracts. Good luck!
Nick Chernets is the Founder and CEO of DataForSEO, the leading provider of marketing data. Just as much as he is passionate about data analysis and SEO — Nick also enjoys sharing his experience from the business side of the industry.
Try AgencyAnalytics risk-free for 14 days. No credit card required.