How 6 Agencies Use Marketing Tools to Boost Productivity, Reduce Churn, and Land Clients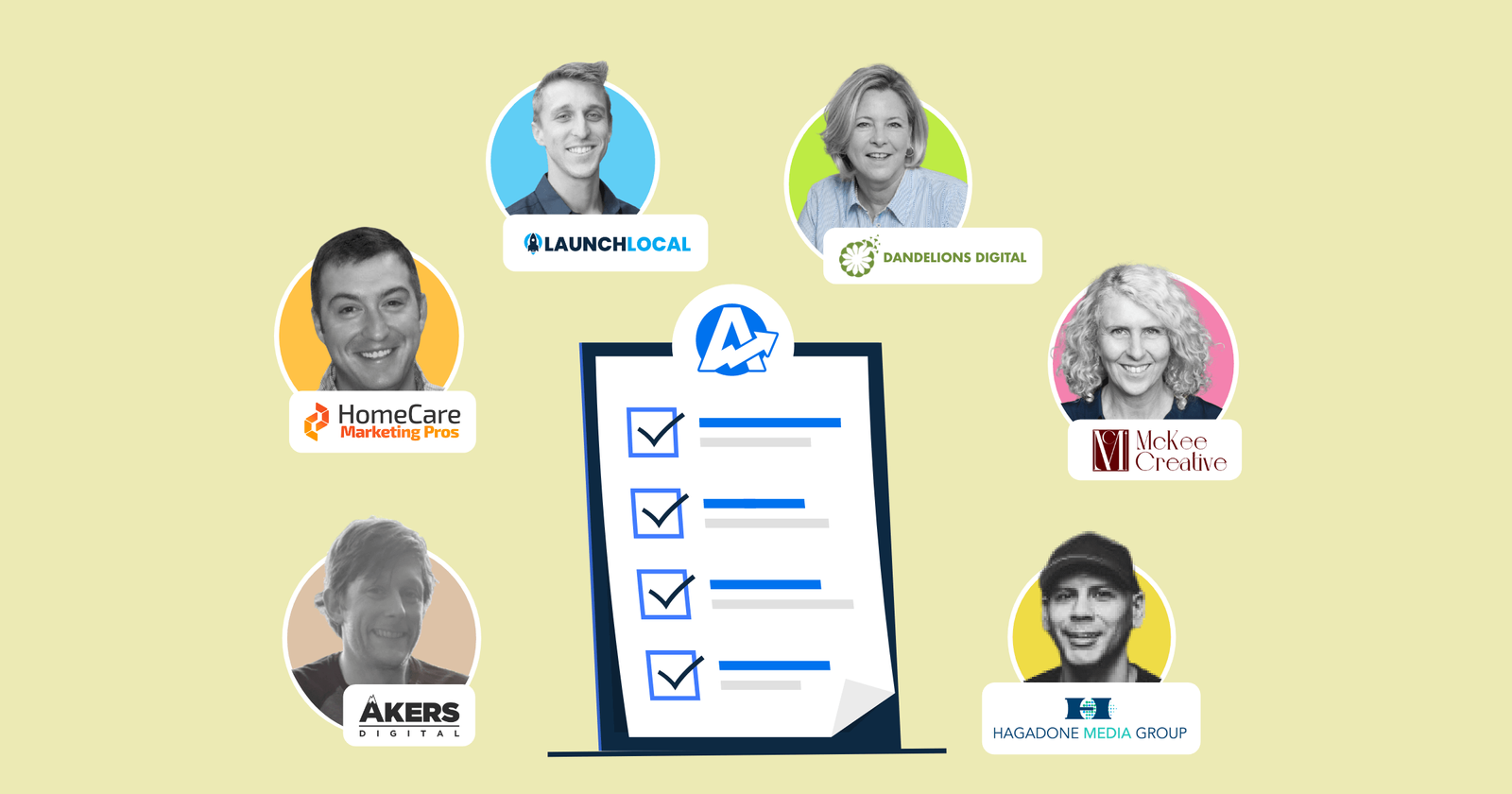 It costs five times more to attract a new customer than to keep an existing one. So why are only 30% of agencies putting in as much effort into customer retention as they do with customer acquisition? 
We noticed that the key to a successful agency is just that: they don't risk losing clients by keeping things status quo. They continuously work to improve their clients' experience. But they don't do it alone. 
With just a little effort, every agency can improve the services they provide to their clients. The secret is to maximize the capabilities they already have on hand. 
Enter digital marketing dashboards and reports. You're likely well-acquainted with these tools to scale your agency, but are you using these marketing tools to their fullest potential to better retain your clients?
We checked in with 6 marketing agencies to learn how they use digital marketing dashboards and reports differently to help their agency boost productivity and reduce churn: 
1. Digital Marketing Dashboards to Inform, Update, and Educate Clients 
Marketing dashboards are most commonly used within agencies for instant access to all their clients' metrics. But they're not just useful for the marketing department: other teams need to know what's going on too. Effectively relaying knowledge internally eliminates the unnecessary back-and-forth across departments, and better aligns with your clients' business goals. Clients too appreciate it when live dashboards are shared with them–provided you guide them through the dashboards.
Declan Clifford, Founder & CEO We use periodic reports to send monthly campaign updates but we also use the live dashboards to run through live Zoom meetings with our clients and explain the data.
Jo McKee, Founder Live [data] is excellent for my own reference as the team leader and on client calls. Scheduled [reports] are a fabulous backup for clients, especially if they are long-term clients who don't need to meet with us often.
Brian Loper, Digital Production Manager We send out monthly or weekly reports for most of our digital campaigns, such as Google Search, Display, Youtube, Facebook, LinkedIn, and Simplifi. Our internal sales teams, along with a few clients, use the dashboard function to chart KPIs. This establishes a true comfort zone with sales and clients, letting them know the digital team is working hard for their continued success.
Jason Chagnon, CEOWe conduct monthly and quarterly reviews and Coaching Calls with our clients. Our clients are senior home care agencies. We send reports to our clients but we also share our screen on Zoom to show them their dashboard.
Successful agencies know how to present their clients' marketing stats and when. They don't overwhelm their clients with too much information in their scheduled reports. When they choose to present dashboards, they do so during meetings and live calls when they can walk clients through their key metrics. 
💡Tip: Continue sending your clients periodic reports on a monthly basis, while giving them access to live marketing dashboards with their own login so they can review the data on their own schedule. This provides transparency and shows clients the true value of your services. 
2. Supercharge Internal Agency Collaboration and Goal-Alignment
Each agency relies on different marketing tools. The idea is to choose what's right for your needs and areas of expertise. Take a look at the different tools agencies swear by. The methods may be different, but the end goal is always to streamline their efforts, and keep every team member on the same page. After all, nobody wants to go over budget or miss a deadline.
Declan Clifford, Founder & CEO We rely heavily on the ability to report combined ad spend across multiple platforms (with our markup) so as not to exceed our allotted spend for any given time period. Crucial!
Tim Akers, OwnerScheduled reports are a huge internal collaboration tool for us. We use the OKR system for setting goals and having reports sent out weekly makes sure we are all on the same page with clients' successes.
Brian Loper, Digital Production Manager The automated reporting, by far, is the AgencyAnalytics feature we depend on the most. The sales team receives the reports on the first day of each month, without fail, and then can review the data before moving to meet with each client. Any details the sales rep needs clarified can be easily discussed before the client's involvement. Having the agency margin incorporated into the reporting allows for a client-facing report without any confusion.
Marketing efforts have to be aligned with sales objectives to truly impact a business' bottom line. Tools that clearly communicate what's going on in the marketing side of things helps bring other key players up to speed. Quickly automating your marketing reports is crucial to saving you time, so you can focus on action items during your follow-up meetings. 
3. Improve Your Agency's Marketing Productivity
Calculating return on ad spend (ROAS) across multiple channels for many clients can be painstakingly long – unless you have the right tools at hand. Other aspects that typically take up a lot of an agency's time? SEO, call tracking, and marketing reporting. To name a few. Luckily, there are tools that reduce time switching between platforms and automatically gather all the stats for you. Having visual dashboards also allows non-marketing teams to intuitively understand what's going on in the marketing side of things so they can step in to close leads. 
Tim Akers, Owner The combined [custom] metrics have been a huge help for us. Being able to combine conversion value across ad channels to measure a multi-platform ROAS is huge.
Declan Clifford, Founder & CEO Site audits and ranking reports inform us where and what we need to focus on next.
Brian Loper, Digital Production Manager Utilizing the dashboards allows the sales team to track progress without needing to send request after request for ongoing questions. This helps with education and explanations and helps focus on what is important.
Linda Rooney, Founder & CEO The monthly reports have made our lives much easier. It is so easy to modify a report, add a section or widget, and send it every month to a distribution list. We previously spent so much time on these monthly reports.
Jo McKee, Founder AgencyAnalytics has replaced a full day's work each week. This is an outstanding value.
Jason Chagnon, CEO Call tracking and form tracking data to show ROI.
As you can see, all 6 of the agencies highlight totally different benefits from the very same digital marketing tools. Think about your agency's areas of need in terms of productivity, and fill those gaps today with an all-in-one marketing solution. 
4. Get Creative to Reduce Churn and Improve Customer Relationships 
When building trust with clients, communication is key. The agencies we spoke with use their agency dashboards to allow complex metrics to be presented to clients in an intuitive way, making them participants in their own success. Customers being made aware of good ROI with your services will keep them loyal to you.
Declan Clifford, Founder & CEO AgencyAnalytics has helped us automate monthly reporting, explain & show the value of our services and made it easy for clients to understand the data we show them. We consistently get told we're the most communicative agency our clients have ever worked with and we owe a lot of that to AgencyAnalytics!
Brian Loper, Digital Production Manager When clients view themselves as partners in the process, they take some ownership of the success and are more responsive to the needs of the campaigns. Clients are interactive, not just detached judges who need to be convinced. They can view and interpret the data directly. AgencyAnalytics is an integral part of that process.
Jason Chagnon, CEOTools from AgencyAnalytics help us to teach our clients what to pay attention to and what matters. Cut through the noise to show real tangible results and data.
Jo McKee, FounderThe great visual layout really helps on client calls, in building trust and respect for the professional level of our campaigns.
Declan Clifford, Founder & CEOLive dashboards containing custom metrics and embedded into our CRM have been a total gamechanger towards customer retention!
Brian Loper, Digital Production Manager Simply setting up proper KPI data tracking makes retaining clients MUCH easier. The client is not relying on the management team to show how the health of the campaigns is doing, they can see clearly for themselves.
Agencies use custom metrics to create and track marketing metrics specifically designed for their clients' needs. Customized white labeled reports and dashboards allow agencies to present their clients' data with a visual appeal that spells consistency and professionality.
Read more: Using Custom Metrics for Deeper Insights
5. Land and Expand Your Customer Base
Potential clients are wary of paying for services if your agency cannot guarantee results. A little initial research goes a long way, for example, including sample dashboards in their pitches helps agencies land new clients.
Jason Chagnon, CEO We showcase other client dashboards to show how we bring them clarity and peace of mind by being totally transparent with results.
Jo McKee, Founder Showcasing other client dashboards has helped us secure new clients.
Linda Rooney, Founder & CEOWe did just land a client by submitting a pre-sales site audit.
Declan Clifford, Founder & CEO We do showcase our dashboards and I'd say it has definitely shown our clients we value transparency and communication.
Brian Loper, Digital Production Manager The ability to have clients plugged directly into ongoing campaigns helps show transparency and demonstrate confidence in our tactics and skills to deliver great results.
Tim Akers, Owner We have set up sample dashboards and reports for clients and they are included in all of our pitches.
Read more: Here's What to Include in a Winning SEO Proposal to land more clients 
Take Advantage of All the Features In Live Digital Marketing Dashboards and Reports 
The key difference between marketing dashboards and reports is in the amount of information you choose to present, to whom, and when. Marketing reports tend to be more concise, client-oriented, and time-bound. Dashboards are more detailed and used internally among your marketing team. 
Reports help automate the whole process and essentially eliminate the need for deadlines within your marketing team – clients receive accurate information in a beautiful layout, without fail. 
What makes these dashboarding and reporting features an agency favourite is the time-saving and clear communication aspects that help retain existing clients and win new business with less effort.
The feature your agency chooses to leverage most in these marketing tools depends on your needs and client base. If you haven't already, find out more about how you can surpass your clients' goals and optimize your agency's potential with a free 14-day trial. 
More about the people behind the trail-blazing agencies that we spoke to:
Tim Akers, OwnerAkers Digital is a digital marketing agency that specializes in paid media, SEO, email marketing, and Shopify management for Outdoor Industry brands. Tim Akers founded Akers Digital in 2015 which now has offices in Park City, UT & Bend, OR.
Linda Rooney, Founder & CEOLinda Rooney started in marketing with a 3D CAD system & 3D Printer reseller and moved into nonprofit and government work later in her career. Realizing that nonprofits and municipalities often don't have the time or resources to commit to an inbound marketing plan, Linda founded DandeLions Digital as a "one-stop shop" for municipal and nonprofit organizations who seek to engage constituents and provide them with timely and relevant content on a consistent basis.
Declan Clifford, Founder & CEODeclan is the Founder & CEO at LaunchLocal, a digital marketing agency specializing in helping local businesses with all facets of online marketing from web design and SEO to PPC and reputation management. He founded LaunchLocal because he knows that when it comes to growing a business, you need more than just a website. By combining a results-driven digital marketing strategy with software solutions, our clients receive personalized service and bottom-line results so they can focus on what matters most: running their business!
Brian Loper, Digital Production Manager Brian is the Digital Production Manager at Hagadone Media. Hagadone Media is a full-service digital marketing agency that is part of Hagadone Corporation, a diversified multi-million dollar corporation HQ'd in Coeur d'Alene, Idaho with holdings in hospitality, golf, restaurants, real estate, marine, aviation, media/publishing, digital marketing, photography, videography, and a full-service advertising agency.
Jason Chagnon, CEOJason is the CEO of Home Care Marketing. They specialize in the senior home care and home healthcare industry. They help them with recruitment marketing to recruit caregivers and staff and we help them get new clients so they can help seniors and their families. All through digital marketing and marketing automation.
Jo McKee, Founder McKee Creative recognized two years ago that there was a huge need for an agency that would create full systems for small-to-mid-sized businesses, addressing both organic and paid growth, at an affordable price. Their system creates a flywheel for seriously good revenue growth (think over 6 x in just three months!).
Written by
Melody Sinclair-Brooks
Melody Sinclair-Brooks brings nearly a decade of experience in marketing in the tech industry. Specializing in B2B messaging for startups and SaaS, she crafts campaigns that cut through the noise, leveraging customer insights and multichannel strategies for tangible growth.
Read more posts by Melody Sinclair-Brooks ›
Try AgencyAnalytics risk-free for 14 days. No credit card required.