When clicks lead to bounces rather than conversions, it's a red flag for clients. This is a common struggle that agencies face all the time. High bounce rates prevent strong click-through rates, leaving clients questioning the value of their campaigns. 
Your agency recognizes it's not enough to simply funnel traffic to a page. The real win is engaging an audience in a way that turns a quick click into a real connection, and eventually, a solid conversion.
After your team dedicates countless hours to optimizing landing pages, running A/B testing, creating targeted content, and improving user experience, you need a way to communicate these efforts and data-driven results to your clients. 
Enter a well-crafted Unbounce report. This report should clearly display the landing page's progression from underperformance to achieving great results. This article shows your agency how to prove the success of your landing page strategies in an Unbounce analytics report. 
Let's get started.
What Is Unbounce? 
Unbounce is a tool that specializes in creating landing pages that convert. The platform has drag-and-drop features, making it easy to create, edit, and optimize landing pages. Marketing agencies use Unbounce to run A/B tests to see which version of a client's webpage is more effective in turning visitors into customers. The platform lets you create customized landing pages for different campaigns, including adjusting layouts, images, and text for personalized experiences based on user behavior. 
Unbounce also has analytical tools to help manage and communicate client expectations effectively. For example, it measures metrics like conversion rates and visitor behavior, then pinpoints what's working well and what needs improvement. Plus, a cloning tool helps roll out new pages quickly. Unbounce is one of many useful web analytics tools for marketing agencies to deliver landing page services and key results to their clients. 
What Can You Track in Unbounce? 
Unbounce helps your agency keep an eye on several metrics to execute data-driven marketing strategies for your clients' landing pages. Here are some of the top Unbounce analytics available: 
Visitor Count and Conversion Rates
The platform offers these two metrics that almost every client is interested in. They showcase how many users visit their site and who is taking action, like completing a form or clicking a call-to-action (CTA) button.
Real-Time Conversion Data
Unbounce helps your team make on-the-go decisions for a client's campaign. Whether it's tweaking the copy, changing images, or adjusting the targeting, having real-time data available enables you to be agile with your marketing strategies.  
Form Submissions
Unbounce tracks more granular insights within. For example, seeing which fields are being completed and which ones might be tripping people up and causing them to leave the page. 
User Behavior
Tracking user behavior insights in the platform, like button clicks, video views, or how far someone scrolls down the page. Combining these metrics helps your agency make data-driven decisions to optimize a client's landing page for better results.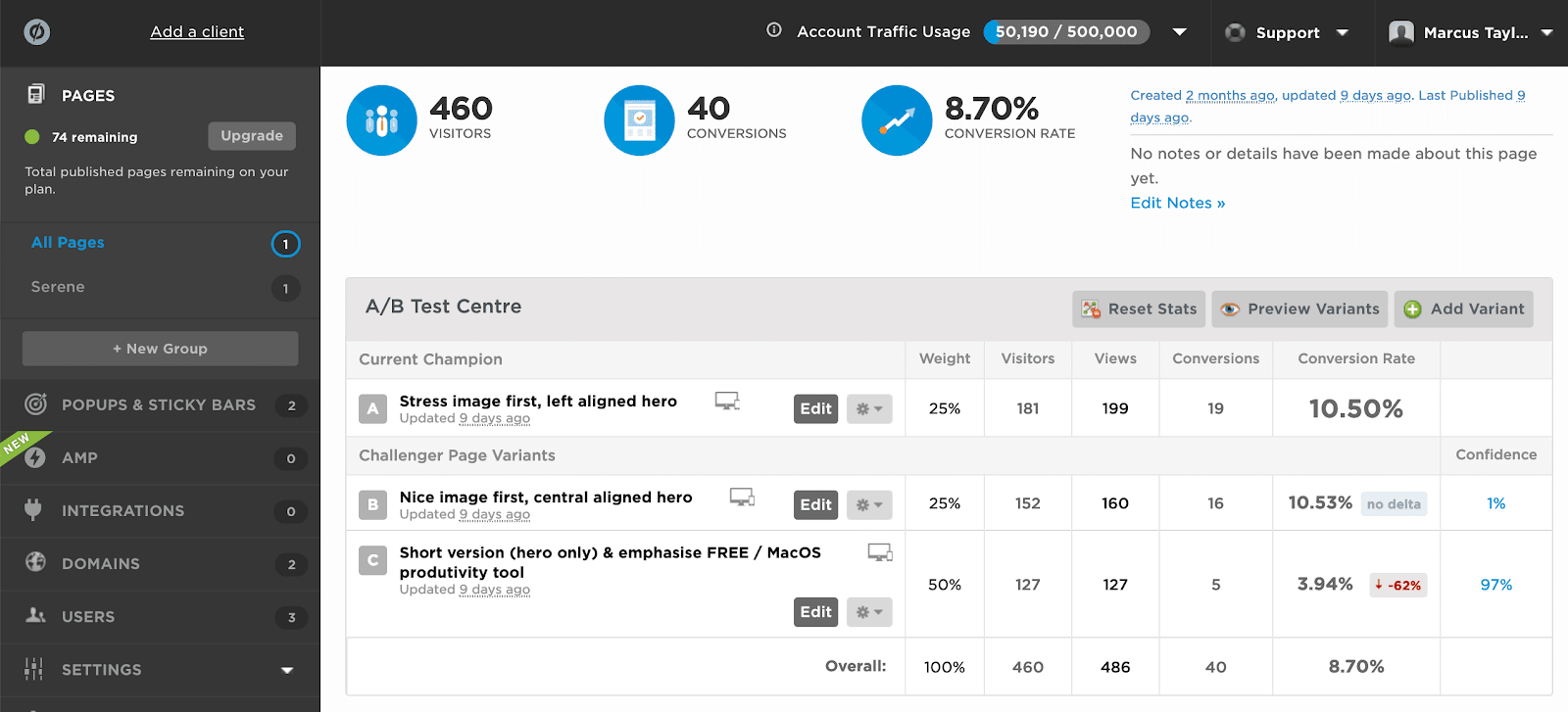 Adding Depth With Google Analytics
Aside from the metrics Unbounce offers, the platform also connects with Google Analytics for a more in-depth view of landing page metrics. 
By connecting Google Analytics and Unbounce, you gain a comprehensive view of your client's specific campaign metrics alongside general site metrics. This makes it easier to gauge the effectiveness of their marketing metrics as a whole and the overall ROI of the campaign. 
For example, where Unbounce helps your agency optimize landing pages, pop-ups, banner variations, and other A/B tests, Google Analytics has a range of website reports from basic to complex to help analyze website performance. 
Explorations in GA4 provide advanced reporting insights to help your agency segment data even further, like diving deeper into audiences, performing ad hoc queries, and exporting the data to use in other tools. 
Unbounce Analytics vs. Google Analytics
You've probably found yourself wading through the depths of your clients' landing page metrics and asking, "Why are my Unbounce Analytics different from my Google Analytics?"
It's important to understand how Unbounce and Google Analytics track page stats. Both platforms use a JavaScript program when a page is loading. So, if a searcher has an ad blocker installed on their browser, this could be skewing the results. 
Read More: Check out this Guide to Google Analytics to learn how to create easy-to-understand reports with your clients' GA data. 
Another important difference is that Unbounce integrates with Project Honeypot, which filters IP addresses as malicious. Whereas Google uses a bot detection algorithm to flag IP addresses that Unbounce may not. 
Further, both platforms measure conversion rates differently. Google Analytics measures eCommerce conversion rate by transactions / sessions and Unbounce uses transactions / users.  
If you're experiencing some discrepancies in your clients' Unbounce and Google Analytics metrics, don't panic. It's completely normal for different tracking methods to have slight variations in numbers due to how they track or measure particular metrics. 
The 10 Most Important Unbounce Metrics to Track
With so many landing page metrics available at your fingertips, your agency needs to know which ones to report on–without overwhelming your clients with too much data. 
We've compiled a list of the most important Unbounce metrics to track in your client reports: 
| | |
| --- | --- |
| 1. Date Created | Including this in your Unbounce report helps clients understand how long the landing page has been live and accumulating data. It gives a starting point to better interpret other marketing KPIs like conversions and visitor count from Google Analytics.  |
| 2. Date Last Published  | This date tells you when the client's landing page was last updated. It's crucial for tracking changes and understanding how they impact performance.  |
| 3. Page Status | Whether a page is live, paused, or in draft mode is important information to communicate in your Unbounce reports. This status lets your clients know if the landing page is actively collecting data and if it's contributing to campaign goals. |
| 4. Link To Page | Providing the actual URL of the landing page makes it easy for clients to visit and review the page themselves. It ensures transparency and gives clients the opportunity to give feedback or request changes. It's also crucial for troubleshooting any issues or discrepancies that may arise. |
| 5. Visitor Count  | This metric shows how many people have visited your client's landing page. A high visitor count is often a good sign that your agency's traffic generation efforts are working. Clients will want to know this to assess the reach of their campaigns and decide if further optimizations are needed. |
| 6. Visits | Similar to Visitor Count, this tracks the number of individual sessions on a landing page. It reveals if people are coming back to the page multiple times, which may indicate strong interest but possible barriers to conversion. It's a valuable metric for gauging user engagement. |
| 7. Clicks | Monitoring the number of clicks on page elements like buttons, links, or CTAs gives insight into your client's customer behavior. It helps identify what's catching their attention and what's being ignored. |
| 8. Leads from Form Submissions | The number of forms submitted is tied to lead generation or sales goals. It gives a clear picture of how well the landing page is driving specific actions, which is super important for clients looking to measure ROI or capture leads. |
| 9. Conversions  | This is the core metric that most clients will focus on, as it directly relates to ROI and campaign success. The number of conversions tells you how many visitors took the desired action on your client's landing page (form submission, CTA, booking appointments, etc.).  |
| 10. Conversion Rate  | Clients and agencies both rely on this metric to measure the quality and quantity of the traffic. This percentage shows how many visitors converted compared to the total number of visitors. It's a great indicator of the page's effectiveness and typically the first metric to look at when considering how to optimize your client's Unbounce pages.  |
Turning Data Into Actions 
The key to a successful Unbounce campaign is not just about collecting data from Google Analytics but also interpreting Unbounce landing page data in ways that prompt actionable strategies. This is your agency's opportunity to translate surface-level metrics into detailed insights about how and why these metrics matter. 
1. Using Data To Refine Landing Page Strategies
If you notice your client's website getting a high number of clicks but a low conversion rate in Google Analytics, it's time to reconsider their CTA placement or the copy they're using. Enter A/B testing. Create two different versions of the landing page with varied CTA placements or wording, and let the data show which performs better. 
If form submissions are low, experiment with shorter forms or more compelling incentives for completing them. Metrics serve as a diagnostic tool, pointing out areas for optimization to experiment with and refine over time.
 2. Importance of Identifying Trends Over Time
Tracking metrics over extended periods gives you insights into performance trends. Are conversion rates generally improving, staying stagnant, or declining? Is visitor count affected by seasonal trends, or is there a consistent increase that indicates growing interest? By examining data over multiple weeks or months, your team makes informed decisions on whether to scale a campaign, pause it, or tweak it for better performance. 
3. Developing a Plan for Future Campaigns
If you find that a specific channel is consistently driving high-quality traffic to your client's landing page, you'll want to allocate more resources to that platform in upcoming campaigns, like their paid search ads, for example. On the other hand, underperforming channels might need to be re-evaluated. Metrics like conversion rates, visitor count, and form submissions serve as benchmarks that guide your goal-setting and resource allocation for future campaigns.
4. Communicating Results to Clients
Compiling data in an Unbounce report is one thing, but communicating it in a clear, visually appealing way is another. With customizable Unbounce reports and dashboards, AgencyAnalytics helps you show clients how their campaigns are performing and what steps your team is making for improvement.
AgencyAnalytics empowers your team to automate your reports, keeping your clients in the loop without spending hours manually compiling data. The Unbounce integration connects raw data and actionable insights, making it easier to communicate how your agency is impacting a client's bottom line.
See why ​​6,500 customers trust AgencyAnalytics as their client reporting solution. Start your free 14-day trial today. 
How to Create Client Reports With the AgencyAnalytics Unbounce Integration 
AgencyAnalytics gives your agency the opportunity to present granular Unbounce metrics and also a general overview. This helps you tailor Unbounce reports to the exact preferences of each client, with the click of a button. 
Build marketing dashboards that filter by published or unpublished Unbounce pages and highlight the performance metrics that bring your agency's value to the spotlight. Show the details of a client's leads, including email addresses, phone numbers, and messages. 
Tracking data is a vital part of our business, and the accuracy of data is a must. AgencyAnalytics brings all our tracking accounts into one place, streamlining our internal work processes.
Paint a picture of your agency's entire marketing efforts in a report that showcases Unbounce data alongside over 75 marketing platform integrations, including Google Analytics, Google Ads, and more. Keep an eye on your client's PPC or SEO traffic alongside their Unbounce metrics in a fraction of the time.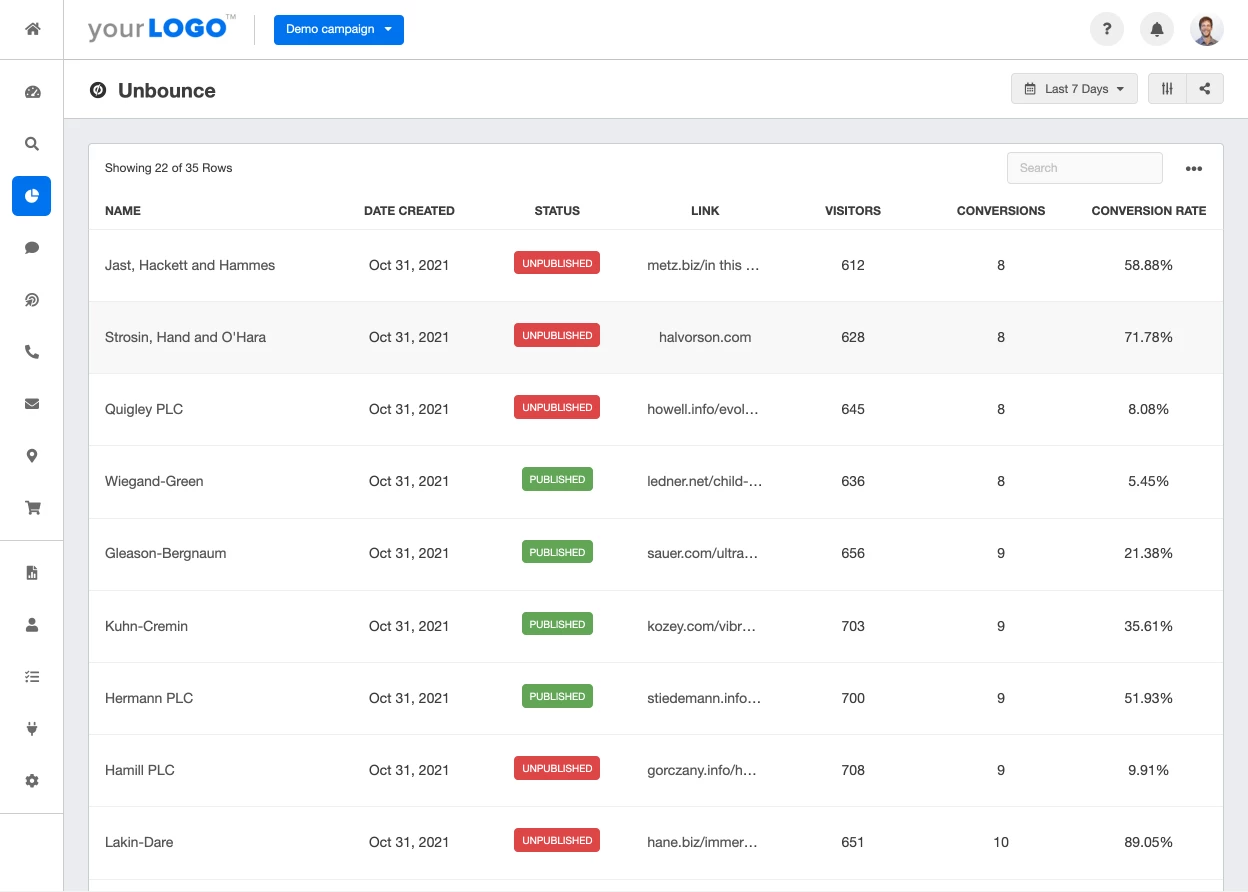 Sign up for your 14-day free trial to keep your clients up-to-date on all of their Unbounce leads and conversions in one platform. 
If you're already an AgencyAnalytics user and don't know where to start, follow this helpful how-to guide to connect the Unbounce integration. And, of course, our world-class customer support is always a message away.  
Summary & Key Takeaways 
By monitoring a mix of Unbounce metrics like conversion rates, visitor count, and form submissions, your agency delivers a nuanced understanding of how each landing page contributes to your client's larger business goals. Unbounce reporting is not just about gathering data but also about going beyond the numbers to communicate actionable insights. This is what directly impacts the client's bottom line and sets your agency apart from competitors. 
AgencyAnalytics streamlines the entire reporting process, making it easier to communicate your agency's value and align your strategies with the client's expectations. Continue to monitor their Unbounce performance over time while giving clients 24/7 access to a live dashboard to enhance trust and transparency. 
Connect the Unbounce integration in seconds to start streamlining your client reporting. Get started with your free 14-day AgencyAnalytics trial.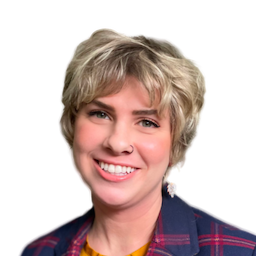 Richelle Peace is a joyful writer with a degree in Journalism. She loves writing web content, blogs, and social media posts. Whatever the topic, she's fascinated by learning and sharing.
Read more posts by Richelle Peace ›
Try AgencyAnalytics risk-free for 14 days. No credit card required.