We've all been there before: you think you've set up the perfect campaign for your client only to realize a few days later that it's not performing as you expected.
Where do you begin looking? You pull up your handy web analytics tool and start searching for answers. 
But how should you use web analytics to dive further into your clients' data? This article covers popular web analytics tools your agency should use and ways to help your clients stand out from their competitors.
What Is Web Analytics?
Your agency is probably already tracking some kind of web analytics through Google Analytics or maybe another analytics tool. So you know how important it is to monitor web activity like page views, conversion rates, and other web-based analytics. 
"Clients want to see the end goal–what's converting, what's working, and where there is consistent growth. If something is not working, we want to understand why and make recommendations to fix it. It's really important to understand the data and what's behind it. Not only will clients ask for context, but it will also make you a better marketer the more you understand the data."

- Valerie Jennings, CEO of Jennings Social Media & MarTech.
But how do site analytics go beyond those standard metrics? 
It's all about being strategic with your data analysis to create a plan that gives essential insights and makes your online marketing that much more effective for your clients. 
Web analytics tools work by helping agencies build more informed and impactful marketing campaigns and strategies to scale your client's business.
Here are some common examples of how web analytics help inform a marketing agency's strategy:
| Things To Look Out For | Possible Solutions |
| --- | --- |
| The page bounce rate is higher than average. | Look at the page and see if it captures the target's attention within the first few seconds. Also, review CTAs and linked content to determine if the next logical step in a user's journey is clearly articulated on the page.  |
| The landing page conversion rate is lower than average. | It may be time to rewrite the content to make sure that it speaks to the target audience's needs. And, of course, make sure CTAs are clearly visible throughout the page.  |
| A high-converting blog post has significantly dropped in traffic levels. | If the drop is from organic traffic, it could be because Google likes fresh, relevant content. Check your keyword rank tracker tools to see if the post is outdated or if the competition has "Skyscraped" the article and is now ranking above your client in SERPs. |
| The majority of users are using mobile devices.  | Keeping track of the devices that website visitors are using gives your agency the opportunity to focus on creating an optimized experience. |
| Traffic sources are down | Check your analytics platform to identify if a link is broken somewhere in their paid strategy. Maybe you could recommend a Google Business Profile audit to revamp their organic strategy.  |
| High traffic but low conversions | Look into your client's website traffic analytics. They could be getting millions of pageviews but no conversions. Is a CTA button be broken somewhere? Maybe their website has a long loading time, or their UI/UX needs revamping.  |
What Are the Differences Between Web Analytics and Marketing Analytics?
Even experienced marketers sometimes get these two concepts mixed up. These terms are not the same thing and shouldn't be used interchangeably. Here's why: 
Web analytics measure metrics like page load times, page views per visit, and time on site. But to make the best use of your clients' web analytics, you'll need to go well beyond measuring and focus on analyzing the user behavior to set strategic goals.
Although marketing analytics involves tracking, reviewing, and reporting data that measures web activity, it's all about how this data is used to assist with customer relationship management, like attracting and retaining customers.
An effective web analytics process involves the following steps. 
Step One: Setting Goals 
This is where you'll want to have a conversion with your client to determine what they're trying to achieve with their website and digital advertising. What are their objectives and the key results required to meet their business goals? Are they trying to increase sales or create more brand awareness? This will help your team identify the right digital marketing analytics to focus on for the client's growth (and their detailed reports).
Step Two: Collecting Data
This step involves collecting and storing data. Businesses collect data directly from a website or from web analytics platforms like Google Analytics. Determine what, if anything, has been put in place for your clients up until this point. 
Step Three: Processing Data 
Next, process the collected data into actionable information. This is a critical step toward your agency's end goal of data-driven marketing.
Step Four: Identifying Key Performance Indicators (KPIs) 
In web analytics, a KPI is a quantifiable measure to monitor and analyze a website visitor's behavior. For example, bounce rate, time spent on a landing page, etc. KPIs can be top-level, such as total business revenue, or broken down by a differentiator like the marketing channel, including:
Step Five: Developing a Strategy 
After understanding your clients' KPIs, your agency then creates a marketing strategy. This involves implementing any actionable insights learned to formulate informed strategies that align with their big-picture goals. 
Step Six: Experimenting and Testing 
Using web analytics tools help you make informed decisions about your client's online strategy, but you'll still need to experiment and test different solutions for them. For example, A/B testing is a great way to understand how an audience responds to different content to learn what performs best. 
Marketing analytics measures specific metrics like ads spend, website traffic, leads, sales, and any trackable conversion events (on and off their website) that might influence whether or not a prospect becomes a lead and a lead becomes a customer.
Basically, marketing analytics tools help marketers understand the effectiveness of their marketing and not just the effectiveness of their client's website. Although marketing analytics often includes web analytics, it also includes other data sources like email, social media, and offline events such as call tracking or foot traffic. 
Data contained in these analytics lead to actionable insights that guide future decisions for your client's spending, strategy, and execution. For example, if you see zero responses on LinkedIn or another channel, your agency can pivot and direct that budget towards a different channel.
In a nutshell, once your agency's web analytics tool captures and stores your client's data, it is then available through dashboards and comprehensive reports. You might resolve this through simple spreadsheets or more advanced analytics software. A more broad analytics report is a document that can be shared with your client's larger organization, like sales or executive management teams. 
Aligning Web Analytics to Goals and KPIs
It's one thing to report your client's data with a web analytics dashboard, but what your agency does with that data is what matters. 
We recommend aligning the data you find with your clients' goals so you're not just reporting data for the sake of reporting data. This is why creating a web analytics strategy is so important. It showcases your agency's value and helps your clients reach their long-term goals. 
For example, if your client wants their customers to visit their website and then convert by filling out a certain form on their website, you know what advanced analytics to focus on: CTA metrics.  
Use your web analytics tool to discover how their customers interact with their website and identify what CTAs are being clicked to see which offers are the most successful. Also, monitor things like at which point users are clicking on a CTA and what point in the customer journey is causing them to possibly bounce.
"Set your KPIs and report on them. Understand the objective of each account and report on the numbers that matter to your clients. Reporting is necessary to scale your company and set the tone for client-agency relationships."

- Jamie Contreras, CEO of Optemyz.
By putting these metrics in place with your web analytics tool, you should be able to break down which CTAs are the most popular on the site, which page a user is most likely to interact with each type of offer, and ultimately inform your clients' overall business KPIs. 
Why Should Your Agency Use a Web Analytics Tool?
Web analytics is the best measurement tool for evaluating marketing campaign effectiveness. It enables your agency to automatically track key site performance metrics like UTM tracking, bounce rates, conversion rates, monthly unique visitors, and more. They go more in-depth compared to your average backend website stats.
However, some common issues with web analytics, in general, are that it can be overwhelming to keep track of so many metrics–and the data may not always be an accurate reflection of campaign performance. That's why having a good web analytics tool makes all the difference. 
First, you'll want to decide what metrics matter most to your clients. For example: 
User Metrics To Track

Behavior Metrics To Track

Acquisition Metrics To Track

Web Conversion Metrics To Track

Total sessions/users

Behavior Metrics To Track

Most visited pages

Acquisition Metrics To Track

Organic search traffic

Web Conversion Metrics To Track

Google Analytics goal tracking

Page views

Behavior Metrics To Track

Average session duration (dwell time)

Acquisition Metrics To Track

Direct traffic

Web Conversion Metrics To Track

Landing page views

Average pages per session

Behavior Metrics To Track

Bounce rate

Acquisition Metrics To Track

Social network traffic

Web Conversion Metrics To Track

Lead captures 

Percentage of new sessions

Behavior Metrics To Track

Exit pages

Acquisition Metrics To Track

Referral traffic 

Web Conversion Metrics To Track

eCommerce transactions
Familiarizing yourself with web analytics tools is crucial for your agency to fully understand how a client's website is performing. At the end of the day, you want to know if it's driving meaningful traffic to their business and then actually converting from that website's traffic. 
By analyzing the website data from the metrics and KPIs in the above chart, you'll be able to funnel your efforts into a clear marketing strategy. (Tip: Add them to your SEM reporting tool to automate the data-retrieval process for every client!)
For example, if your client is experiencing low organic traffic, maybe you need to focus on an improved SEO strategy to combat the issue. 
"Getting an accurate representation of what is going on with a campaign is not only helpful to marketers doing the work, but it is also empowering to the client. It is our goal to help our clients understand their reports and the website data it is collecting so that they can make the best decisions for their business."

- Ariene Malicdem, Digital Media Account Director, Connections Marketing.
Why Is Google Analytics the Most Widely Used Tool?
Over the years, Google Analytics gained popularity among marketers because it combined simplicity and advanced features for curious site owners and professional agencies alike. And if you're looking to stay ahead of the curve with Google Analytics' updates, check out our complete guide, What Is Google Analytics 4, where we unpack best practices and more. 
And of course–it's a free web analytics tool. Let's not forget that. 
Ultimately, Google Analytics provides your agency with important information, numbers, and statistics to help maximize their website's performance. Figuring out which Google Analytics metrics to keep track of quickly becomes overwhelming, but that doesn't mean there aren't any benefits to this analytics platform:
Fast web insights and access to custom reports

Tools for predictive analysis and reporting

Customizable dimensions and metrics

Easy to integrate with other tools 

Free to use
So, should you just use Google Analytics instead of one of the hundreds of web analytics tools out there? 
There are always going to be drawbacks with analytics platforms, and Google Analytics is no exception. Some of their downfalls include: 
Accuracy: for many reasons, Google cannot tack everything that happens on a website, so numbers shown on reports should be considered close approximates. 

Missing information: many people will opt-out of Google Analytics, block cookies and/or switch off JavaScript, which is how Google tracks its visitors' behavior. 

Not all-inclusive: Although Google Analytics tracks overall website activity, it doesn't get as granular as some SEO analytics tools. For example, Google Analytics does not offer heat mapping or SEO audits.

Some tracking needs setting up: Once installed on a client's website, Google Analytics automatically tracks standard web pages but not things like file downloads and clicks through external links or to open email programs. These need to be set up with a code inserted into the webpage. Some agencies use Google Tag Manager to do this, but it's a tool that needs additional setup and training. 
But what if you decide to go with an alternative web analytics tool? Does removing Google Analytics hurt search engine ranking? 
The short answer is no. Google does not punish or penalize a website for not using Google Analytics. No search engine does. 
And this is because it's a tool that measures ROI and helps you to better understand your client's customers. And if that doesn't convince you, Matt Cutts, former head of Google's Webspam team answered the question in a video from 2010. 
There are many reasons to consider using other web analytics software, like easier customization (dashboards, tracking, data, etc.) and more user-friendly interfaces on the market. We recommend trying a few to see what works best for your specific clients. 
Plus, other than the impact on website resources and site speed, there is nothing stopping your agency from employing multiple web analytics tools to get all that data you need.
How To Choose a Web Analytics Tool
Before considering which web analytics tool to choose, consider why, where, when, and how to use the tool. Clearly define your client's needs before you begin reviewing tools,  interviewing vendors, and starting trials. 
Connectivity: the tool must be easy to integrate. Is the client connecting this data with other systems like a CRM? 

Legal requirements: the tool you choose should have a policy stating they respect the legislation regarding data collection, the nature of the data collected, data protection, etc. Ultimately, they should provide information on the type of data you can collect. 

Real-time analysis: a tool's capability to process data in real-time may be an important criterion for your clients. 

Support: how responsive is this provider? You should always pay attention to the level of support (availability, responsiveness, and expertise) should you have a question. This is especially important if this web analytics tool is integral to your agency. 

Present and future costs: the web analytics software you choose to purchase may be modular with different features available at different costs. 

Features: don't be fooled by all the shiny bells and whistles! Any company with a serious product will have a wide range of features to offer. When making your decision, think about the objectives to be reached and the variables and metrics that are essential to your client's campaigns. Can they provide you with the results that you expect? 

Impact on site speed: Some tools take a heavier toll on your client's page speed than others. And in today's mobile-first indexing world, page speed is an important consideration. Test your client's website speed before and after implementing a new tracking tool to understand the impact.
What Are the Best Web Analytics Tools Every Marketer Should Know?
With the web analytics market expected to hit $9.11 billion by 2025, it's no surprise that there is a whole range of tools out there. But what are the best web analytics tools every marketer should know? The tool you choose depends on which analytics are the most important to your clients.
For example, Crazy Egg is popular among UX designers. With it, track cursor movement and log the areas where users are clicking. Designers use this information to optimize web pages to achieve maximum engagement. 
On the other hand, if your agency specializes in eCommerce websites, you might want to try an analytics tool like Matomo or Mixpanel to track website traffic and user behavior in real time.   
We've compiled a list of free and paid web analytics tools to help you meet your clients' needs and scale their businesses: 
Google Analytics (GA) is a free analytics tool that helps your agency monitor and track how many visitors come to a client's website, helping your agency make the necessary improvements to boost client revenue year after year. Check out our guide to Google Analytics if you have a specific question about this free web analytics tool.
Benefits: 
Shows user insights in detail

Analyze content and product performances 

Demographic details of website visitors is beneficial for improving websites accordingly 

Integrates seamlessly with AgencyAnalytics
Pricing Options:
This is a free website analytics tool.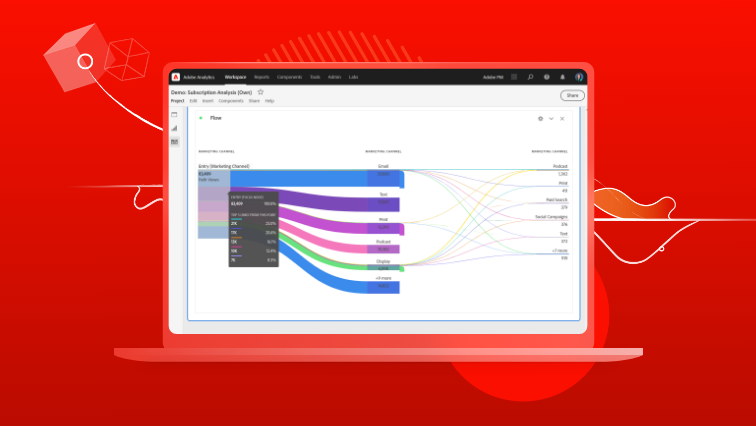 Adobe Analytics is a great Google Analytics alternative. This analytics tool is typically used by larger organizations that need more complex tracking than Google Analytics offers. Adobe Analytics is known to be a very powerful tool but–as such–requires a lot of setup to manage and report on results.   
Benefits: 
Track campaign details and optimize clients' websites 

Customizable if you want to focus on specific data

Provides flexibility in the integration process 
Pricing Options:
Contact sales for pricing details. 
AgencyAnalytics doesn't replace other web analytics tools, but–instead–brings the data from over 75 other platforms together into one unifying interface with access to real time analytics.
Benefits: 
Pricing Options: 
Flexible payment options start at $12/month per client campaign (minimum of 5 campaigns).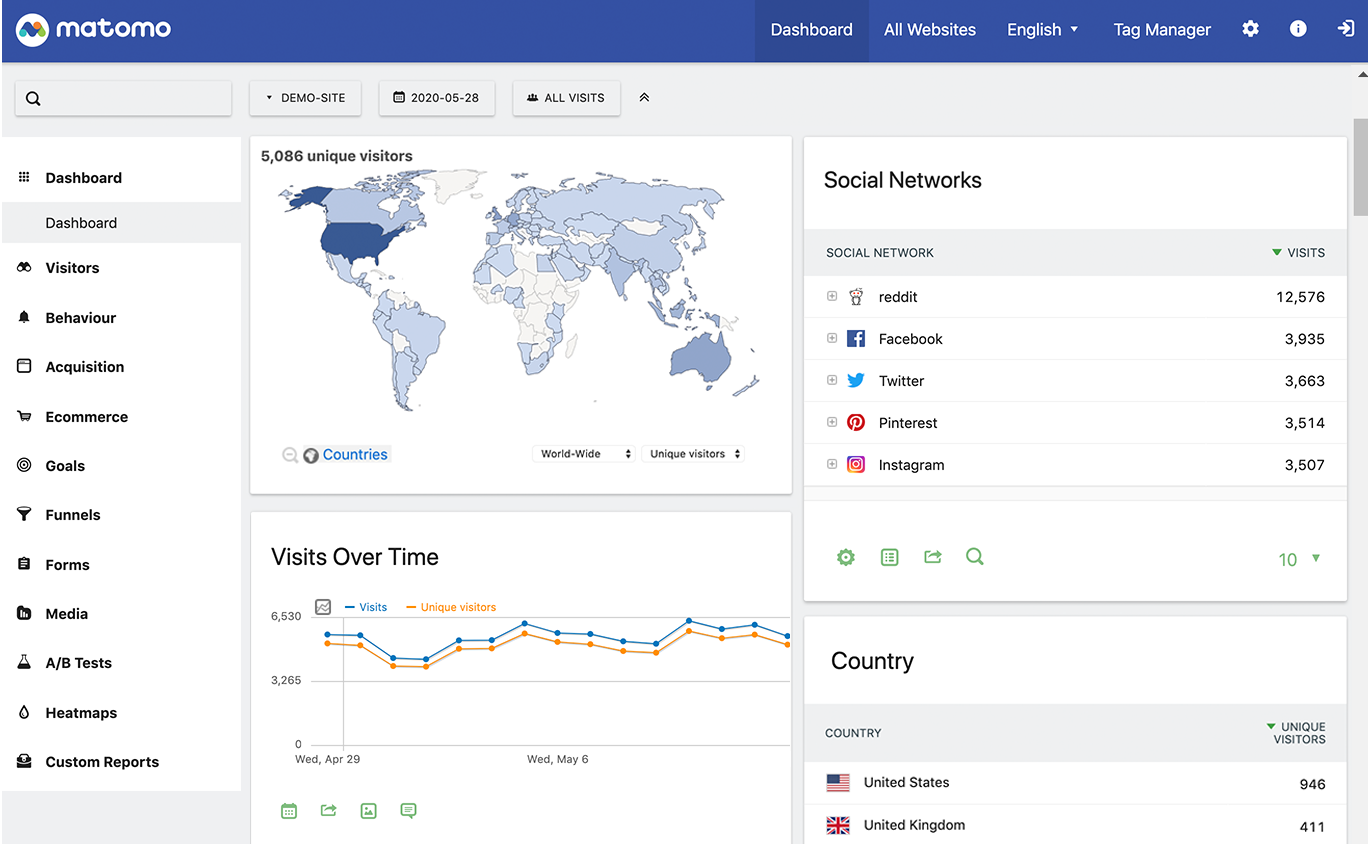 This very useful tool is great for measuring a website's traffic and user behavioral data. It is an open-source solution that allows you to host on your own server or WordPress installation, giving you more flexibility. 
Benefits: 
Values privacy protection 

Offers 100% data ownership to its users

Cloud on-premise hosting options give flexibility 

Shows real-time updates and activity 
Pricing Options:
A free plan is available with limited access. Plans start from $19/month.
Semrush is a great website analytics tool that offers valuable insights to identify relevant, high-traffic keywords. It also helps your agency improve your clients' search engine rankings and reap the benefits of SEO efforts. Plus, Semrush gives your agency site analytics about not only your clients but also their competitors. This is super helpful for comparing paid and organic strategies. 
Benefits: 
Track traffic from multiple websites, including competitors 

Reveal users' interests and brand preferences 

Track your subdomain's metrics 

Direct integration with AgencyAnalytics
Pricing Options:
Free plan available with limited access. Three paid plans are available starting at $119.95/month.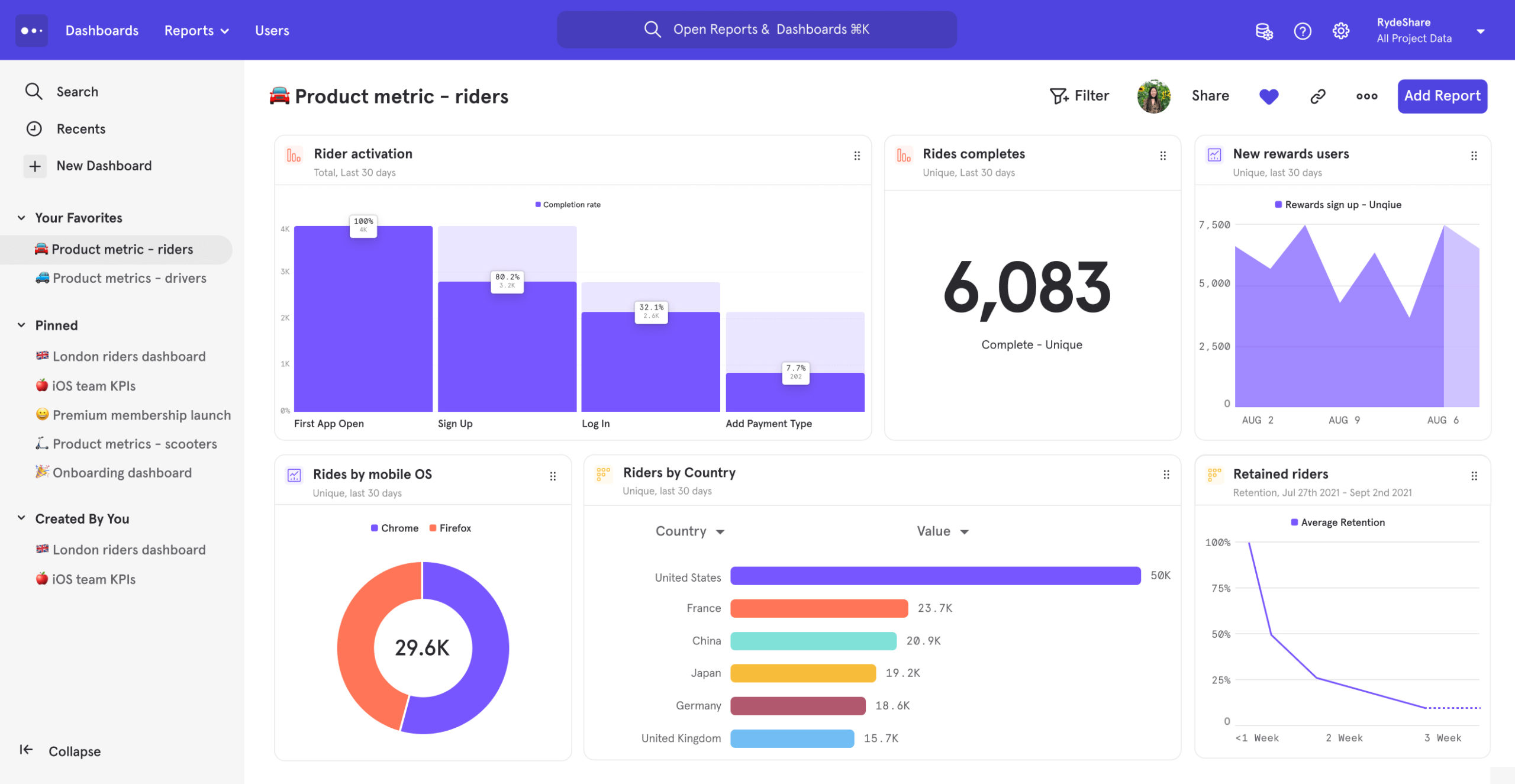 This website analytics tool is an advanced product and business analytics platform that tracks customer behavior and KPIs across websites and mobile apps. Unlike traffic analytics tools, Mixpanel helps SaaS and website owners get real-time data insights on user interactions with particular products. 
Benefits: 
Works for in-app purchases and microtransactions 

Tracks user behavior

Customizable dashboard options 
Pricing Options:
Free plan available with limited access. Paid plans start at $25/month.
Heap is one of many great analytics tools on the market that tracks data sources like emails, clicks, and transactions on web, and mobile, and analyzes the overall data of the customer journey. This is a great no-code tool that tracks every action taken by your client's customers. 
Benefits: 
Provides real-time data with in-depth information

Easy to set up and use with a simple UI 

Measure your A/B test effectiveness on your clients' website visitors' experience 
Pricing Options:
A completely free plan is available with limited access. For pricing of other plans, you must contact their sales team.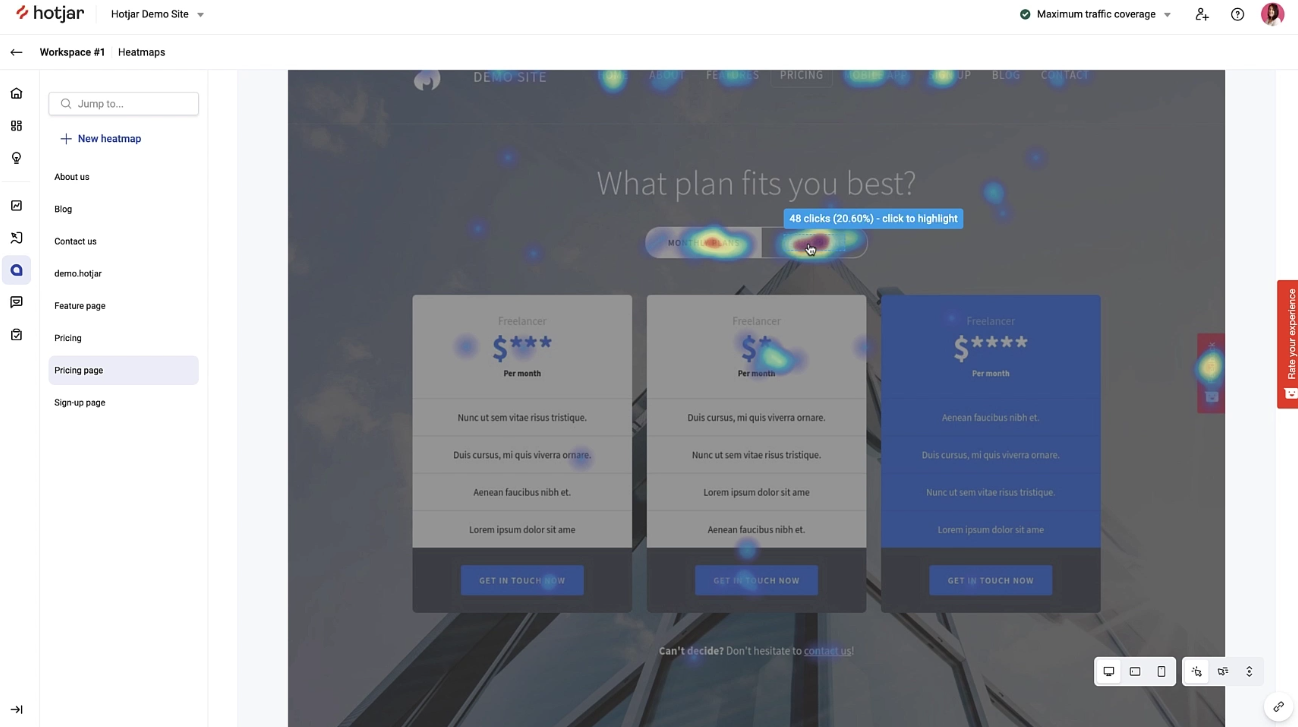 Hotjar web analytics tools help you understand why users take certain actions on your client's websites and gets customer feedback through tools like heatmaps, session recordings, and surveys, enabling you to provide a wealth of information to your clients.
Benefits: 
See where your clients' website visitors click, scroll, and move

Analyze the effects of your content and CTA phrases. 

Multi-level device support

Reporting feature is detailed with session replays and data segmentation features
Pricing Options:
Hotjar is a free website analytics tool with limited access to some features. Paid plans start from $31/month.
Benefits: 
Gain insights into specific user behavior, like whether or not people return after using your clients' products or services.

Detailed customer retention reports, including trend reports that make suggestions on which action to take 

Provides real-time reporting
Pricing Options:
There is a free version with limited features. The Startup plan starts at $349/month.
HubSpot is an all-in-one customer lifecycle analytics tool. This popular tool is ideal for measuring web traffic, managing leads, email automation, and conversion rate optimization. HubSpot has a lot of functionality, from landing page creation to social media mention tracking. 
Benefits: 
It's an "all-in-one" tool that makes it easy to check progress and pull data between marketing channels. 

Has a wealth of SEO tools to track keywords, improve site rankings, and suggestions on how to create SEO-friendly content  

Track traffic sources, conversion rates, page views, set goals, and more 

Built-in integration with AgencyAnalytics
Pricing Options: 
Plans start at $45/month.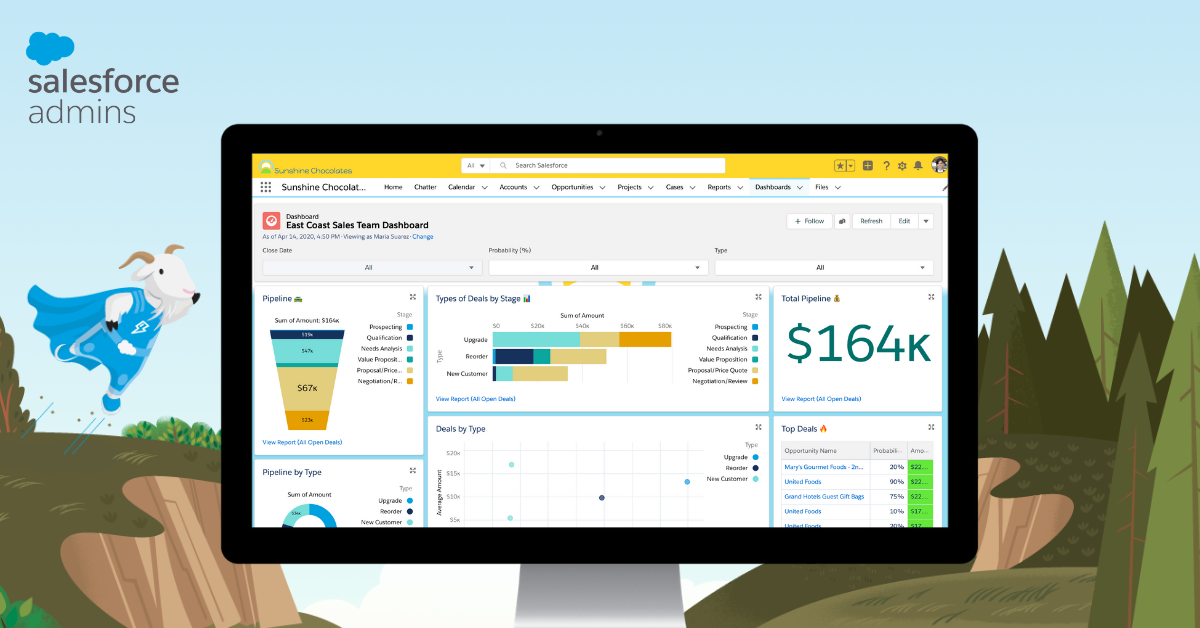 Salesforce Analytics helps both beginners and experienced professionals understand web analytics. Use their website analytics tool to optimize website experiences and customer journeys across multiple channels and integrate Salesforce Marketing Cloud to personalize customer email journeys.  
Benefits: 
All-in-one CRM tool similar to HubSpot

Real-time insights 

Ability to customize and automate processes 

Quickly import all of your client's key Salesforce metrics with the AgencyAnalytics integration
Pricing Options:
CRM analytics (formerly Tableau and Einstein Analytics) pricing starts at $75/month.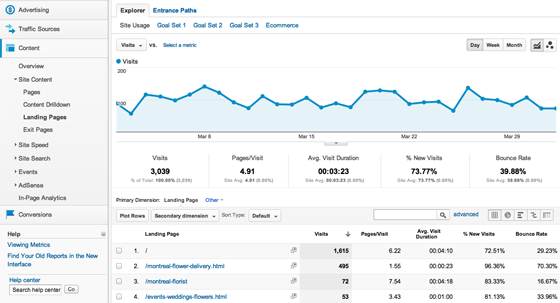 The Unbounce website analytics tool focuses on conversions. Create, publish, and measure campaigns without any coding by using this conversion platform. 
Benefits:
Landing page and conversion marketing platform to increase campaign performance 

Capable of sending leads and data from Unbounce to other software your team uses

They have best-practice template guides for landing pages, popups, and sticky bars–all without HTML knowledge. 
Pricing Options:
A free trial is available, and monthly paid plans range from $90 to $575.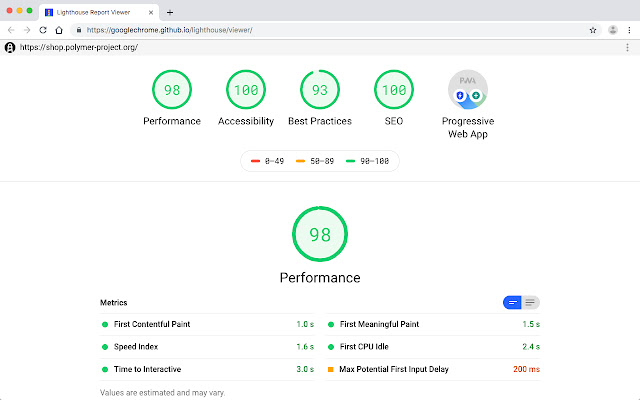 This open-source, automated (and free) website analytics tool measures the quality and speed of web pages. Google Lighthouse audits performance, accessibility, and search engine optimization of web pages. 
Benefits:
Lighthouse is versatile. The easiest way to use it is with the Chrome extension, which is great for non-developer audiences. 

Provides metrics and actionable reports regarding specific DOM elements, CSS selectors, and infrastructure setup

Delivers insights on load time and what device visitors are using 

The AgencyAnalytics integration makes reporting a breeze
Pricing Options:
Completely free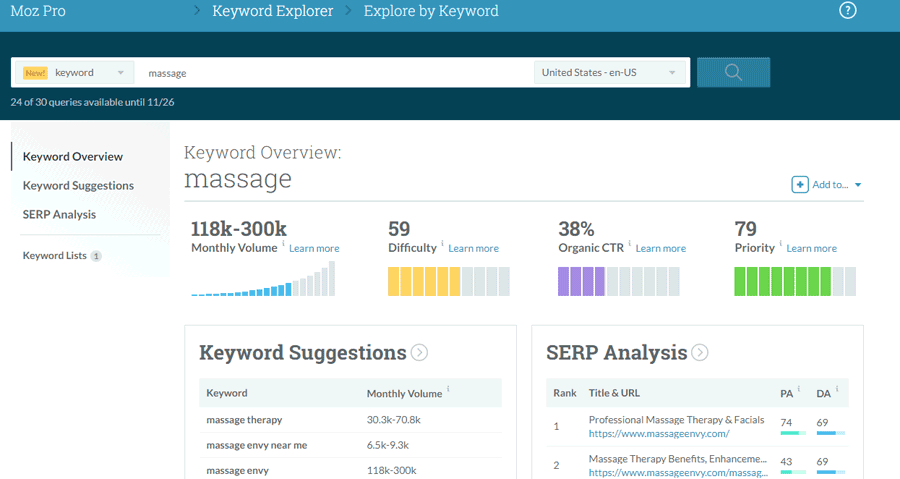 Moz Pro is a great all-in-one SEO solution for smaller agencies. The website analytics tool covers everything from technical SEO to link building. 
Benefits:
Keyword explorer shows how popular a specific search query is, how difficult it will be to rank for that query, and other related queries to consider 

Link explorer tracks new links and brand mentions to help understand your client's website ranking performance

Offers its own site crawler that highlights technical issues like code errors, missing title tags, and faulty redirects 

It only takes a few clicks to integrate with AgencyAnalytics
Pricing Options:
30-day free trial available. The Standard pricing option starts at $99/month.
This search engine optimization tool helps grow your clients' search traffic. It's mainly used to analyze a website's link profile, keyword rankings, and SEO health. 
Benefits:
Identify keywords across Google, Bing, Youtube, and Yahoo

Check website content and identify which blogs are shared the most 

Access to competitor analysis tools, including insights on backlinks of competitors, identify broken links, perform site audits, and more

Pull Ahrefs data into AgencyAnalytics automatically via the integration
Pricing Options:
Ahref's Lite plan starts at $99/month.
This free tool from Google helps your agency measure clients' website Search traffic and performance and troubleshoot their presence in Google search results. Basically, it helps you understand and improve how Google sees your client's website. 
Benefits:
Easily monitor (and in some cases) resolve server errors, site load issues, and security issues like hacking and malware 

Ensure any site maintenance or adjustments your agency makes happen smoothly with respect to search performance 

Track the number of website pages that appear in Google's search results and monitor URLs that you don't want to be indexed 

Combine GSC data with other campaign metrics via the AgencyAnalytics integration
Pricing Options: 
Completely free
This free plug-in API solution gives webmasters an overview of insights, notifications, messages, alerts, and other marketing-related information to improve your client's page rankings on Bing search results. Bing Webmaster Tools is for the Bing search engine, similar to Google Search Console (which was once known as Google Webmaster Tools) for Google Search. Create a Bing Webmaster Tools dashboard to help your clients visualize and understand their website's performance.
Benefits:
SEO tools help you analyze backlinks, manage keywords, and more

SEO reports reveal any errors found across the entire website and shows total pages containing errors 

On-demand site audit tool crawls your client's site and checks for common technical SEO issues 

AgencyAnalytics integration is available
Pricing Options:
Free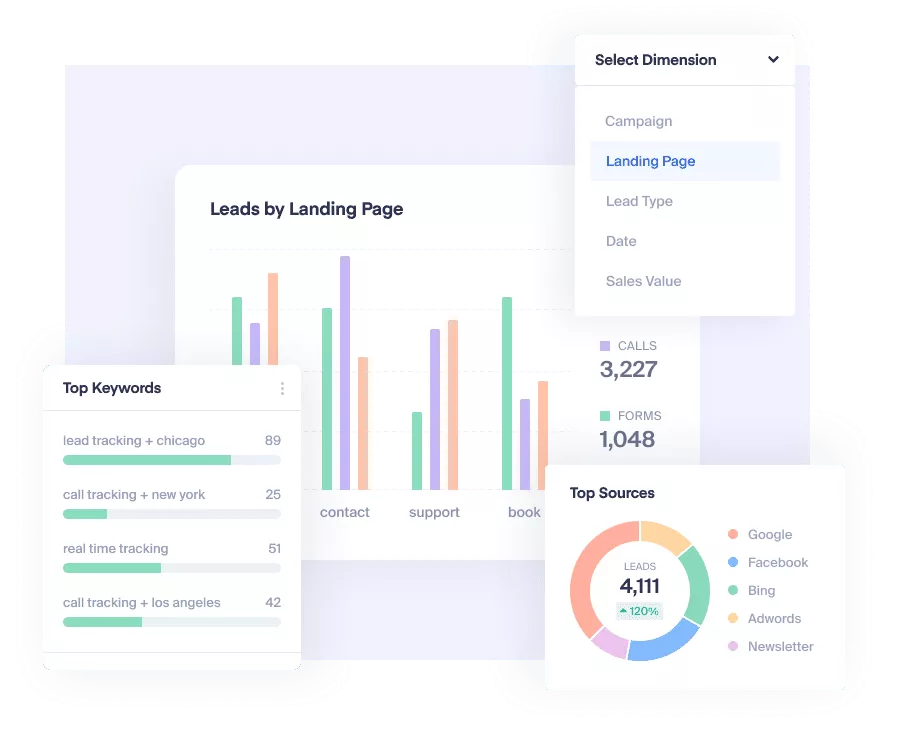 This lead tracking and reporting software captures more than just conversions. Use their analytics and insights to help with keyword research and pull data to uncover what marketing channels are delivering the best leads. 
Benefits:
Real-time reporting 

The moment a lead is received, the data trigger can send webhook data to your client's CRM

Offers call tracking analytics, eCommerce, and qualified lead solutions  

Also has a direct integration into AgencyAnalytics
Pricing Options:
14-day free trial. Plus Plan starts at $30/month. Track calls, forms, chat, and eCommerce with this tool.
This tracking and attribution system combines print tracking and AI compared to other website analytics tools. Track traffic and sales ads more accurately, including things that Google and Facebook miss (or over-report).
 Benefits:
See the customer journey–every click and purchase your client's customers make is tracked and easy to view 

Tracks customers by 10 data points and combines them for accurate tracking 

Their Google Chrome app shows tracking right inside Google and Facebook ads dashboards 
Pricing Options:
Paid plans start at $199/month.
SegMetrics is an attribution and business intelligence platform that helps you determine where your clients' leads are coming from, and how well different funnels convert to paying customers. 
Benefits:
Visibility into lead source attribution, engagement touchpoints, customer purchase value, and recurring lifetime value

Offers a website's key metrics, campaign management, site analytics, data visualization, and keyword tracking 

Reporting for customer journeys, team dashboards that can be customized, tools to boost subscriber retention
Pricing Options:
The Starter plan is $175/month.
As the name suggests, this great tool from Google helps you quickly and easily test the speed of a webpage. Entering a URL and clicking "analyze" will quickly get you a detailed report of what's slowing down that particular page.
Benefits:
Mobile/desktop page load speed analysis 

Site speed optimization allows you to compare loading times against Google's benchmarks

Shows exact figures on page load times and offers advice on increasing page speeds 
Pricing Options:
Free!
Known for content, commerce, and optimization with their Digital Experience Platform. They provide A/B testing, website personalization, feature toggle capabilities, and web content management. 
Benefits:
Great for eCommerce websites 

Experiment with JavaScript before the rest of the page or experiment runs 

Test entire page redesigns 

Integrate with heatmaps to visualize users preferred browsing and shopping behavior 
Pricing Options:
Free version is available with limited access. For pricing of other plans, you must contact their sales team.
Track how your client's website visitors are interacting with their content with Crazy Egg. This is one of the best website analytics tools for tracking cursor movement because it logs the areas where users click. Use this information to optimize web pages to achieve maximum engagement. 
Benefits:
Great eye-tracking tools such as heat maps, scroll maps, session recordings, and more

Helps with conversion rate optimization, usability testing, and increase website subscriptions

Growth marketing tools help build a better user experience 
Pricing Options: 
Plans start at $24/month. All plans are billed annually.
Ultimately, it's s good idea to do your research and find the best website analytics tools available to address your clients' specific needs.
What Traditional Web Analytics Data Won't Tell You
The best website analytics tools are great at telling your agency the "what" but not always the "why" behind customer behavior. If you see engagement and traffic drop, you'll be able to identify and address an issue. But you'll simply be making an educated guess as to why this problem is occurring. Maybe a link is broken, or a button isn't working properly. 
So how can agencies solve this problem? 
For one, combining data from multiple tools will help illustrate the reasons for specific user behavior. For example, if you see a high bounce rate or low conversion from a particular page in Google Analytics, use a heat mapping tool to observe the behavior on that page. That often provides actionable insights into what people are looking for on that page, and whether or not they find it.
Data blending is another solution for complex problems. Data blending is a combination of multiple sources to create a single, new dataset, which can be presented visually in a dashboard, making it easier to process and analyze. 
Blending data from multiple sources gives your agency a deeper view and reveals valuable insights. 
For example, understanding how bounce rate and conversion metrics correlate to increases in specific campaign activities (such as Facebook ads) could point to a particular campaign, driving less qualified traffic.
How To Provide Analytics Reporting for Your Client
At the end of the day, anyone can look up their web traffic analytics. But your agency should showcase the value it brings to your clients by providing data storytelling and data visualization. 
Achieve this by using one of the best website analytics tools to empower your clients to make informed business decisions that keep them ahead of their competition. There are plenty of options out there, so try to find the analytics platform that serves your clients' needs.
"Client reporting allows you to track progress and ensure that their investment is paying off. Without client reporting, it would be difficult to know whether a campaign is successful or not. By providing regular detailed reports, businesses can see that their agencies are working hard to deliver results. This transparency is crucial for building long-term relationships. It should not be overlooked by businesses or agencies."

- Guy Hudson, Founder of Bespoke Marketing Plans.
With AgencyAnayltics, markup your client reports with annotations and set goals that tell a story with your client's data and add insightful context.
Agency Tip: Adding context to your data with annotations and goals gives you the opportunity to personalize each marketing report with your expert insights and recommendations. Annotations and goals also provide a level of transparency between your clients and you to differentiate you from the competition. 
Plus, your agency can now create custom metrics within the AgencyAnalyitcs platform. Just take any existing metrics, plug them into a formula that you've created, and come up with your own brand-new custom metric. Plus, turn your clients' basic site analytics into actionable talking points to deliver more value. 
Present crucial web analytics data to your clients visually with our web analytics report template. Or, browse a variety of pre-made marketing report templates for all your client reporting needs, including SEO, PPC, email marketing, and more. 
Sign up for your free 14-day trial today and give your clients access to real time data they need to make informed business decisions.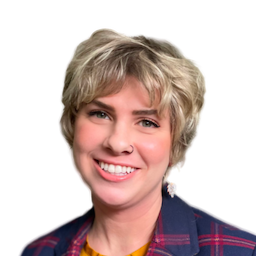 Richelle Peace is a joyful writer with a degree in Journalism. She loves writing web content, blogs, and social media posts. Whatever the topic, she's fascinated by learning and sharing.
Read more posts by Richelle Peace ›
Try AgencyAnalytics risk-free for 14 days. No credit card required.