You asked for it… We delivered! We've just rolled out TWO brand new dashboard integrations: Mailchimp and Campaign Monitor.
These new integrations make it even easier for you to create reports for ALL of your most important digital marketing stats, including email marketing reports! And as always, you have the option of allowing your clients to login to your [white labeled dashboard](white labeled dashboard) to view their LIVE data.
Email marketing is now a crucial part of any digital marketing strategy; right up there with SEO reporting and Google Analytics data. These new integrations allow you to pull quick, actionable insights for both your own and your customers' email marketing campaigns.
Let's take a quick tour of the new Mailchimp and Campaign Monitor integrations.
You'll find both new integrations right alongside the existing integrations, in the left-hand side navigation, inside of any individual campaign. Just click either one to get started.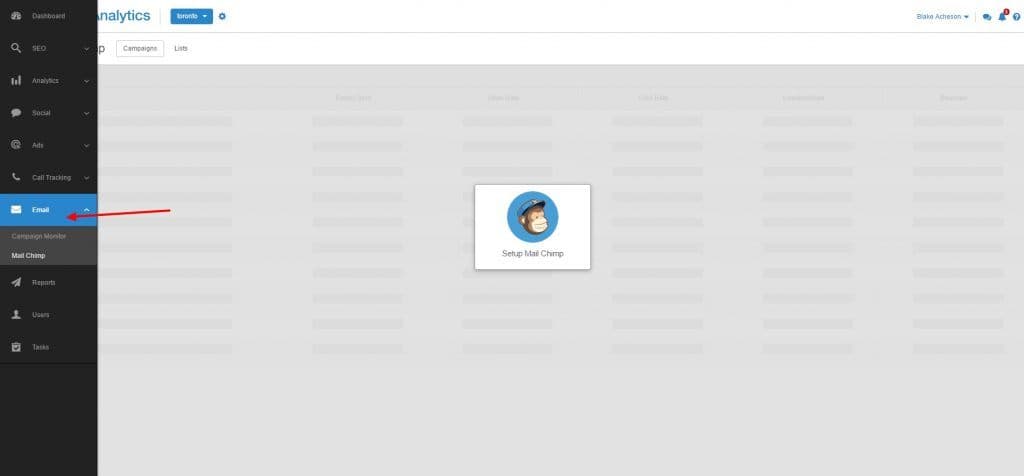 Mailchimp
In the "Campaigns" tab, you'll see an intuitive table layout comparing all of your Mailchimp campaigns side-by-side, with an array of useful metrics, including # of total emails sent, open rate, click rate, % unsubscribed, and % bounced.
Click on any individual campaign for a gorgeous graphical layout that includes all of the metrics from the main campaign page, as well as open rates and clicks by date, an activity breakdown, a location comparison, and more. Scroll down for a complete breakdown of status and open count for each individual email address including in the campaign:
Click over to the "List" tab, and you'll find a layout with the most important metrics for your Mailchimp lists, including rating, # of subscribers, open rate, and click rate.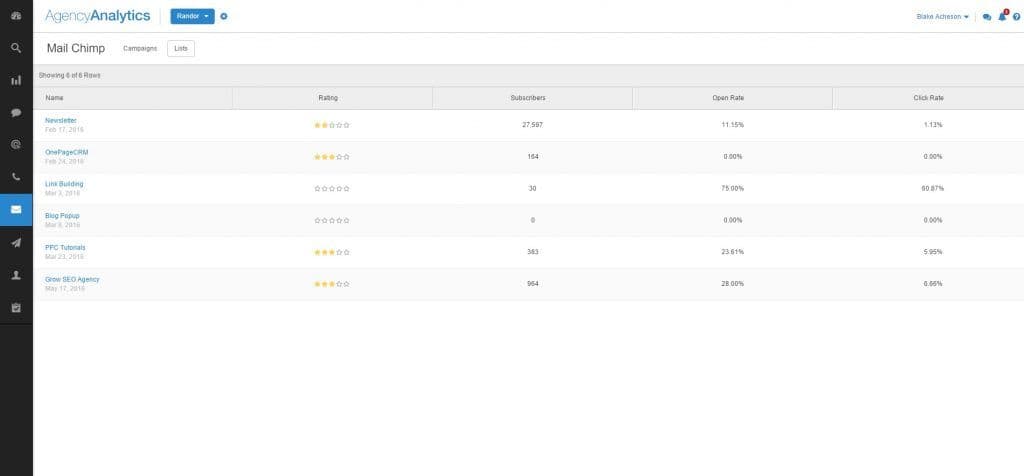 And, you guessed it, if you click any individual "List", you'll find a beautiful graphical layout similar to the individual "Campaign" display. The great thing about the List graphical display is that it gives you insight into your List's "Opens", "Clicks" and "Audience Growth" performance over time. Scroll down, and you'll find granular data on each individual subscriber on the list, including signup date, country, member quality rating, status, open rate %, and click rate %. You can also sort list subscribers by "Status" to filter your view of the data.
Campaign Monitor
In the Campaign Monitor "Campaigns" tab, you'll find a slightly different layout, which helps to keep things visually interesting. Campaigns are organized into cards, each of which gives you an overview showing when it was sent, as well as the number of recipients.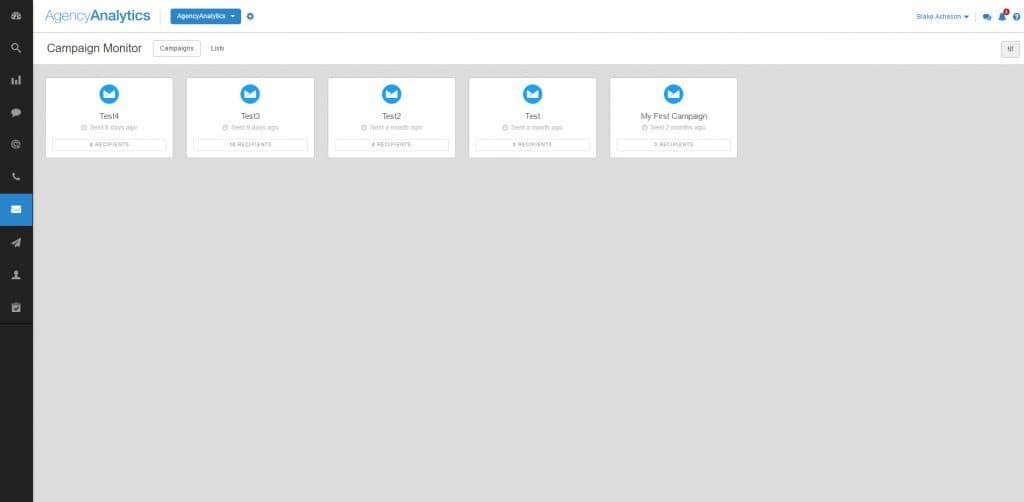 Click any "campaign card" to see an intuitive graphical display of the most important statistics for that individual campaign. You'll find a graphical, color display of the "Status" and "Email Client" metrics, along with an easy-to-interpret-at-a-glance breakdown of the # of recipients, open rate, # of clicks, % unsubscribed, % spam complaints, and # of shares.
Back up to the root of the Campaign Monitor dashboard, and you'll find a "list of lists" for this account, in card format.
As usual, click any individual list card for a graphical break down of metrics and stats for that list. Metrics include # of active/deleted/unsubbed subscribers, as well as a graphical color display breaking the list down by # of subscribers by status for the periods of Today, This Month, and This Year.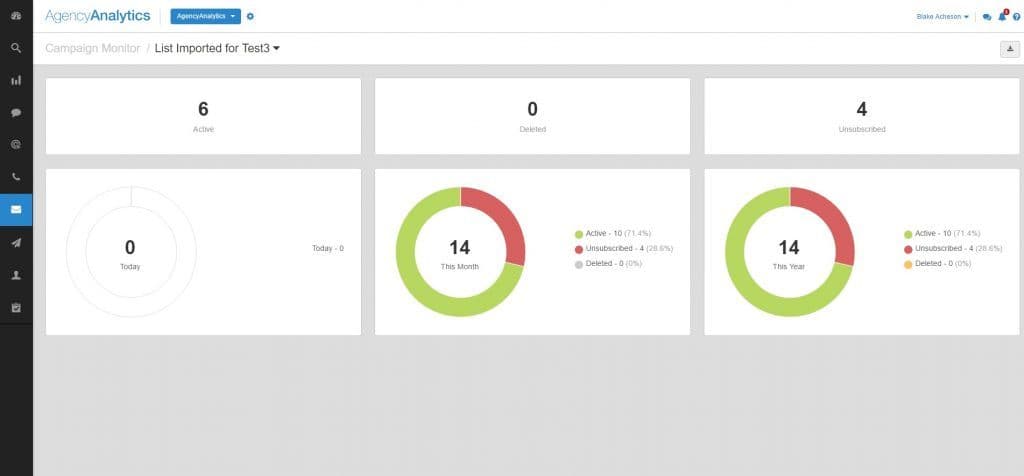 And of course, as always, you can add the new Email marketing data to your scheduled PDF reports with just a couple of clicks. Just navigate to the report editor, and click Add –> Email –> then choose your sub-module and options.
And of course, for those of you who white label your dashboards, we're offering the ability to choose at a granular level EXACTLY what Email Marketing data your client users will have access to. (Click here for some nice overviews on User Management. Information on white labeling can be found here.)
We hope that you're as stoked as we are about the new Email Marketing features! Lots of new features coming down the pike in the coming weeks and months so stay tuned. Don't hesitate to check out our roadmap to get a sense for what we're working on and what we're getting ready to roll out.
Questions or feedback about the new Mailchimp and Campaign Monitor reporting integrations? Drop a comment below, or feel free to reach out to our support team!
Trever Clark is a Digital and Social Media Strategist. Passionate about: SaaS onboarding, customer success, and home-distilling artisanal whiskies like a true Grand Rapids hipster.
Read more posts by Trever Clark ›
Try AgencyAnalytics risk-free for 14 days. No credit card required.