It's a tale as old as time: the push and pull between agencies and their clients over results and budget. Agencies know how to deliver for their clients, but it doesn't happen for free. And more often than not, clients are trying to squeeze the best results from the cheapest budget–with unrealistic expectations about how monstrously low the price "should" be. 
If your agency manages any kind of PPC campaign, then it's time to lift the curse on  the dreaded "increasing your digital ad budget" conversation. Neither you nor the client need to be labeled "the villain" in this fable. Consider these tips a "magic spell" of sorts–the best way to ensure the conversation is successful. 
The First Thing To Ask Before Raising the PPC Budget
Before you even think about having a conversation with your clients, it's important to get aligned internally as to why the client should increase their digital ad spend.
There are plenty of valid reasons that an agency may recommend a price change, either for all of its clients or for one client in particular. It's important for your client-facing staff to understand the specific reasons so that they can navigate questions and pushback appropriately.
It may be an agency-related reason, such as:
Or, it may be an account-based reason, such as:
The client's PPC campaigns are consistently running over budget

Evidence suggests the campaign will have more success with a bigger budget

The client's competitors are putting more dollars behind their PPC ads and it shows
It's important that leadership and client-facing staff are all clear about the real reason prices are going up; it can prevent uncomfortable situations, such as clients getting mixed messages from different members of staff, or getting vague, uncertain answers that raise alarm bells. The key here is to provide clarity and consistency in your messaging to maintain trust with your clients. Because when it comes to promising better outcomes for more money, trust is key. 
Agency Tip: Aligning internally is a vital step in your due diligence. You want to be able to tell your clients honestly that there is no alternative but to raise prices, and that you carefully evaluated all other options first. Doing this work is essential.
Now that you're all on the same page about the strategic reasons to increase PPC ad spend, it's time to prepare for an effective conversation with your clients. Because the better your agency staff get at having this conversation, the more PPC clients you'll be able to land.
Remind Your Clients of the Value of PPC 
Before you go too deep into the conversation with your clients about why they should increase their PPC spend, you may need to remind them of the value of PPC altogether. You can skip this part if your clients are very experienced with digital marketing and have already bought in to the value of PPC as part of their strategy. 
Quickly and easily report your agency's PPC ROI using the PPC Reporting Dashboard. Try AgencyAnalytics free for 14-days. 
But if you think talking about price increases is going to trigger an existential crisis where the client questions the need for PPC at all, start with this quick refresher.
PPC is practically a fairytale option for businesses looking for control over their spend and the audiences they reach. PPC is a flexible, trackable, customizable advertising method that generates comparatively quick results and an average 2:1 ROI according to Google. Unlike other forms of digital marketing, PPC is highly measurable–and therefore optimizable. The level of control with PPC is much higher than traditional paid advertising techniques, such as TV commercials or radio and newspaper ads. 
But the very nature of PPC being measurable, controllable, and optimizable means that increasing spend is inevitable. It makes sense to boost ad spend for the areas and demographics that are generating results, and reduce spend on the targeting criteria that are not performing well.
If necessary, remind your clients that other forms of digital marketing do not allow for the precision control over the target audience that can be achieved with PPC. You may want to highlight how your PPC strategy is honing in on your client's ideal:
Demographics, such as age, gender, and language

Global, regional, or hyper local location data

Interests, hobbies

Jobs, careers, professional affiliations, employment

Shopping habits

Browsing, listening, and/or viewing history

Group membership

Education and income levels

Milestones and life events

Political and personal affiliations and memberships
Keep the sermon about the value of PPC as short as possible, but be sure your client understands the merits of this marketing strategy for their business before you go any further.
Let the Marketing Data Be the Hero of This Story
Now that your clients are bought to PPC as an appropriate tactic for their business, it's time to demonstrate that your recommendation to raise ad spend is the right way forward. Data always speaks louder than words–and it should take center stage as the hero of this story. Do not–we repeat, DO NOT–go into this conversation without integrating as many data sources as possible, thoroughly evaluating that data, and preparing a detailed but digestible summary for your client. 
Agency Tip: As you prepare your report, make sure that all this heavy lifting can be used again and again for future conversations with this client, as well as for all your clients; use a tool that offers report templates so that you aren't reinventing the wheel each and every time.
The data part of your conversation should employ a trident approach:
Start with a review of past and current campaigns

Warn of lost ground, particularly to competitors

Explain what they stand to gain with ambitious but realistic projections
Let's go into more details:
Start with a review of past and current campaigns. You can use the following metrics or a pre-built PPC report template to show your client where their PPC campaigns have been succeeding and where there's room for growth.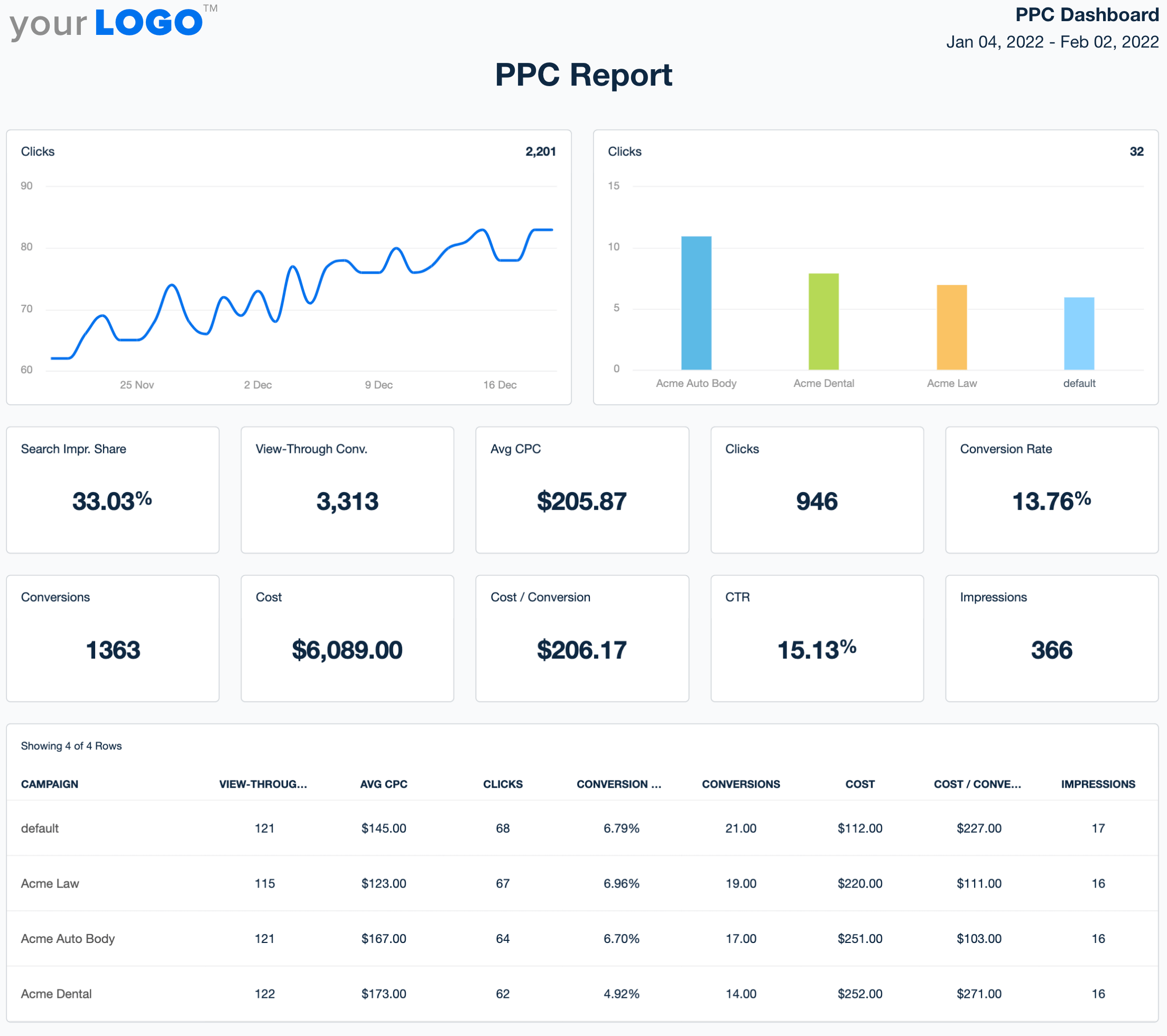 Impressions

Clicks and clickthrough rate 

Conversion rate

Average CPC

Return on Ad Spend (ROAS)
We leverage campaign data identifying opportunities and monitoring return on investment. Once we have collected enough data, we set a target Return on Ad Spend (ROAS) and adjust this accordingly. With this approach there is no limit to a PPC budget as long as the target ROAS can be maintained.

Tim Husband, Co-founder, Blue Flamingo Solutions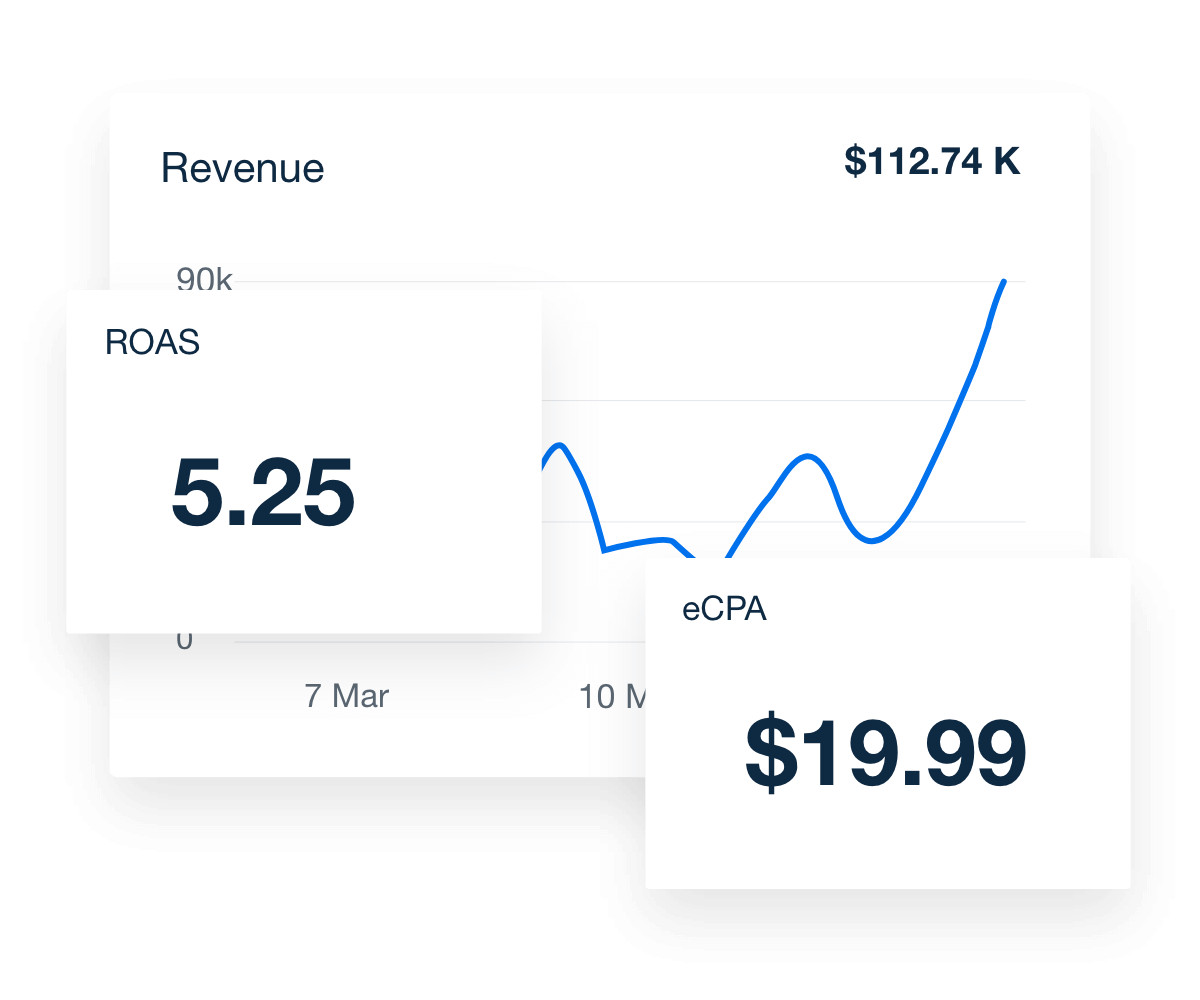 Now it's time to transition to where your client is losing ground to their PPC competitors–that is, where this (lower) budget is letting them down. You can leverage the following metrics to tell that story:
Impression shares lost due to budget

Percent of days the campaign hits the daily spend limit

Full days paused during the billing cycle

Percent of unqualified or low-value visitors or leads

How their competitors are budgeting for PPC and where they're succeeding

How current budget is too small for effective testing
We might spot something that a client's competitor is doing, such as advertising on a new platform or targeting specific keywords or audiences, that we believe our client should also be capitalizing on in order to compete and earn more share of market. It's always important to demonstrate to the client the potential upside and downside of increasing budgets, to justify your stance and help them make an informed decision.

Greg Miles, Founder of Bumbl
Use this free PPC competitor analysis template to gather all the data you need to paint the full picture for your clients.
Download our free PPC competitor analysis template and read the full blog post here. 
Finally, you've come to the clincher part of the conversation: showing your client the potential for success with a PPC budget increase. (Here's a step-by-step on how to create a killer PPC proposal, with a template.) If possible, we suggest you set up a three-tier budget recommendation that evaluates the projected results with an upper, lower, and mid-range spend. This will give your clients options, which may help them to embrace increasing their PPC budget. 
Throughout this conversation, you've worked hard to shore up the trust between you and your client–don't shake their faith now with promises you can't keep or with vanity metrics that won't benefit the client in the long haul. Project ambitious but realistic goals that align with your client's priorities. This may be improved conversion rates, better-qualified leads, evidence that results will increase with scale or even new channels that open up with increased spend.
Always keep the client's goals in mind when preparing your proposal! If your client's goal is leads, be sure to mention how your proposed changes will generate more leads. I often see people create generic proposals that mention their agencies preferred metrics, and not the clients. 

Joseph Blossman Jr., Morris Marketing Group
Tips To Communicate a PPC Price Increase
Many of us–perhaps, in particular, some less seasoned members of your staff–can feel like asking for an increase in ad spend means that we have somehow "failed"; that we could have created more success with the existing budget if only we were better at our jobs. 
But the truth is, you have to spend money to make money. In order to maximize the value of PPC, you have to increase the spend to hone in on the targeting factors that are working. Imagining that you can wave a wand and produce a short, easy or cheap route to "win" at PPC is a fantasy. You're a marketing agency, not a fairy godmother. 
So be clear, concise, and confident on the call; you've got nothing to apologize for. And follow these final few tips.
| DO | DON'T |
| --- | --- |
| Book a meeting expressly to discuss increasing PPC ad spend. | Tack this topic onto a different meeting, where you may be short on time or where your client may feel blindsided. |
| Get right to the point and state plainly what you hope to achieve. | Beat around the bush or lead them to believe they can kick this can down the road. |
| Remind them that PPC success is an iterative process, and you'll be watching their results actively, ready to step in to maximize the use of these new funds. | Let them worry that their PPC campaign is a "set it and forget it" item that's low on your priority list. |
Agency Tip: You can leave your clients with a sense of empowerment by walking them through their real-time, white labeled dashboards, letting them know exactly which numbers they should look at, and what they can infer from what they see. Some of your clients might take an interest in checking in regularly–others may never do so. Either way, all of them will appreciate the transparency of that dashboard. 
How To Overcome Client Objections To Increasing PPC Budgets
The point of this article is–hopefully–that you won't face too many client objections if you present your recommendations well from the outset. If you have made your client aware of the importance of PPC, provided clear, understandable data, and presented a few different options, then you have done the job right the first time. 
Now it's time to let your client take this information away and reflect. You've made a persuasive pitch; strong-arming them now will only damage the trust you have worked so hard to nurture.
It's always the client's decision to make as there are so many factors that can influence budgets that are outside of our view, such as cashflow or other investment priorities the client may have. So we always present the case for increasing budgets to the client and offer what we would recommend, and why. Our clients trust us as experts so always value our suggestions, but we ultimately leave the decision with them.

Greg Miles, Bumbl
Increasing PPC Ad Spend, Increasing Your Value to Clients
We started this article saying this issue was a tale as old as time. And it is–far beyond agency-client relationships. The irony is that your clients are businesses themselves–they know what it's like to hear customers' unrealistic expectations of prices for their goods or services. From plumbers to lawyers, fancy bakeries to math tutors, software engineers to landscape designers–customers are always asking: "I want what you're offering, but can I get it for less?" 
Much like your clients expect their customers to recognize the quality and value of their offerings, by having this conversation with your clients the right way, you can help them recognize the quality and value of what you're proposing. 
So, if your staff gear up for the dreaded "PPC budget" meeting like they're off to fight a fire-breathing dragon, equip them with the tools they need to tame the beast: data, data, and more data. Confidence comes with making recommendations that are data-driven. Your clients might not be over the moon to pay more, but they will be confident that it is the right way forward.
Elyse Gagné develops branding and content strategies that unite businesses with their customers. A podcast junkie, you'll find her learning about the latest technologies and brand storytelling techniques while she gardens or hikes.
Try AgencyAnalytics risk-free for 14 days. No credit card required.