Google Local Services Ads (aka GLSA or simply LSA) are all about putting customers in touch with local businesses. Google touts Local Services Ads as a better way for businesses to generate relevant, high-quality leads with more conversions than your typical pay-per-click (PPC) ad campaign.
Agencies love that Local Services Ads are one of the most effective ways to springboard clients to the top of Google's first page without spending hours agonizing over keywords. Since its launch in 2015, Google Local Services Ads have gone international, expanding to more countries, industries, and business categories than ever.
In this article, we'll look at the benefits of Local Services Ads and how they can improve your clients' campaigns. We'll also explore some of the most important metrics for measuring ad performance.
How Local Services Ads Work
Here's how GLSA works. Let's say you're in the middle of a sweltering summer heat wave when suddenly, your air conditioner dies on you. What's the first thing you do–probably grab your phone and Google something like "air conditioner repair," right?
By searching for "air conditioner repair," you just told Google you have transactional intent, which is the best kind of intent for your clients since it means you're ready to make a transaction (like spending money, booking a service, etc.).
Google combines this knowledge of your transactional search intent knowing your location to serve you ads for local businesses, which appear at the very top of your search engine results page (SERP).
If you're wondering how your search engine like Google already knows your location, it's because it's got a wealth of information on you (such as your GPS or IP address). In fact, Google can usually tell where you are even if you're using Incognito Mode because it isn't as anonymous as you might think (or hope).
Even in Incognito Mode, you've got a digital fingerprint that contains information such as your operating system, browser, browser version, time zone, and preferred language. You can see your browser fingerprint at www.amiunique.org
So if you were in Tampa, Florida, your search results for "air conditioner repair" might look something like this: 
See those ads at the very top, underneath the heading "Repair AC - Over 50 providers nearby"? 
Those are Local Services Ads. Notice any commonalities among the top three? Such as high star ratings, the Google Guaranteed badge, and service areas that match your hypothetical location? 
What Service Categories Are Eligible for GLSA?
The coverage will vary depending on your location, but here's a list of service categories available in the US just to give you an idea. From acupuncturists to animal rescue, flooring services to funeral homes–there's a high chance your clients' industry qualifies for GLSA.  
There are even sub-sectors in some categories, such as real estate lawyers, IP lawyers, labor lawyers, etc. While the list of GLSA service categories in the US is quite long, keep in mind that other countries don't have as many options (yet). 
Getting Verified for Local Services Ads
To participate in Locals Services Ads, businesses need to undergo a screening and verification process. This process depends on your client's location and service category. It includes things like "background, business registration, insurance, license checks, and minimum review requirements," according to Google.
Going through the process will get you Google Guaranteed or Google Screened, which appears next to a green check, which is like the Google version of Twitter's blue check. 
What's the Difference Between Google Screened and Google Guaranteed?
One key difference between Google Guaranteed vs. Google Screened is that Google Guaranteed is used more often by home service providers like plumbing, locksmiths, and HVAC, while Google Screened is more common among professional service firms such as lawyers, accountants, and real estate.
The other major difference is that ads with the Google Guaranteed badge are backed by Google, meaning that if something goes awry with a job booked through LSAs, Google may refund the customer up to a maximum of $2,000 (which is also the lifetime coverage cap). Although a Google Screened business has also been through a screening process by Google, these services are not backed by the Google Guarantee.
Benefits of Local Services Ads
LSAs are focused on lead generation, but they're different from your typical Google Ads. Here are some of the biggest benefits of Local Services Ads:
Appear at the top of Google: The dream goal of agencies, marketers, and clients.

Pay-per-lead: Clients only pay when they get a legitimate booking request.

Control the budget: Set spend levels based on your client's budget and adjust as needed.

Reach local customers with high transactional intent: It's easy for customers to find and contact your clients directly.

Builds trust: Getting "Google Guaranteed" or "Google Screened" tells customers that your clients are verified and reputable.

Manage bookings and availability: Accept and review bookings to create a schedule that works for your clients.

Available 24/7: Receive notifications for new leads and respond ASAP through the mobile app (English only).
Please note that some of these benefits are available only in the US and/or Canada. Check this Local Services Help page for more information on managing leads and jobs. To see if Local Services Ads are available in your country and what business categories are available, click here.
10 Critical Metrics for Reporting GLSA
Here are a few of the most important Google Local Services ads metrics you should keep in mind when reporting on GLSA performance:
1. Number of Charged Leads
This is the number of leads your client received that they were charged for. Agencies should monitor the number of charged leads over time and track how it changes to identify trends and uncover new insights to drive strategy.
2. Total Amount Charged for Leads
This is pretty straightforward. This metric shows you how much your client paid in total for the leads generated from the Local Services Ads for a given period.
3. Number of Bookings 
Much like it's important to track the number of charged leads, it's important to track the number of bookings you get from those leads. Look for trends, insights, and opportunities.
4. Booking Rate
The booking rate is the success rate or conversion rate you get from dividing the number of bookings by the number of charged leads.
5. ROAS (Return on Ad Spend)
We highly recommend monitoring your ROAS when you start using Local Services Ads, especially if you're more used to more traditional PPC pricing.
Local Services Ads are a significant change from Google Ads and its PPC model because instead of spending $1-2 per click, you can pay anywhere from $5-150 per lead with LSA. On average, Google charges between $20-30 per lead. 
Calculating ROAS on Local Services Ads
To calculate return on ad spend, simply divide the revenue generated from the leads by the total amount charged for the leads. The nice thing about GLSA is that the CPL model makes calculating ROAS even easier than with CPC or CPM models.
For example, let's say your client received six leads and booked three jobs worth a total of $600 through Local Services Ads, and Google charged $20 per lead. This gives you:
ROAS = $600 / ($20 x 6 leads) = 5x
What Is a Good Return on Ad Spend for Google Local Services Ads?
The average ROAS for Google Ads as a whole is around 2x. 
Properly optimized, LSAs tend to deliver a lower cost per lead than Google Search, so the ideal target would be anywhere above a 3x ROAS. 
Of course, this will vary greatly based on the industry and the amount of time your agency has dedicated to optimizing the campaign. 
6. Response Rate
Don't underestimate the importance of the response rate. Once a customer reaches out, your clients need to respond fast, regardless of whether your agency handles it or your clients do it themselves. 
But we're not the only ones encouraging a speedy response! Google even says, "if you regularly fail to answer calls or respond to messages, your ad ranking may be affected."
If your clients are unable to provide 24/7 availability, don't worry. You can set their LSAs to run only during business hours when your client can promptly respond. Another option is implementing automated messages but be warned that responses can sometimes be robotic and out of context.
7. Lead Quality
Agencies should keep track of lead quality by monitoring whether a lead was converted or not. We recommend closing the successful leads and archiving the ones that didn't pan out to make Google's algorithms more effective at targeting the right people for your clients.
You can also look at the call duration to help gauge the lead quality. Typically, the longer the call, the more qualified the lead.
8. Review Score 
Consumers are increasingly relying on online reviews before making decisions. In a recent survey, 77% said they "always" or "regularly" read reviews when browsing for local businesses. And only 3% said they would consider using a business with an average rating below 3 stars. 
9. Number of Reviews
The more reviews your clients have, the better it is. That's why it's so important to get local reviews, especially on Google! Most consumers are smart enough to realize that it is far easier to generate three or four 5-star reviews than it is to generate hundreds of them. Taken with your client's review score, the number of reviews can vastly improve your ad rankings.
10. CPL (Cost per Lead)
Monitoring cost per lead allows you and your clients to set sales goals, calculate expected ROI, and plan advertising budgets. If the number stays consistent and doesn't change too much, then it's probably all good. If you start noticing changes, especially if that cost starts to creep up, it might be a sign that Google updated your client's business category, or maybe your Local Services Ads are losing their effectiveness.
The cost per lead for LSAs also depends on the location and business category, but either way, you'll want to make sure the leads being generated for your clients are worth paying for—which ties back into ROAS. 
Automating Your Local Services Ads Reporting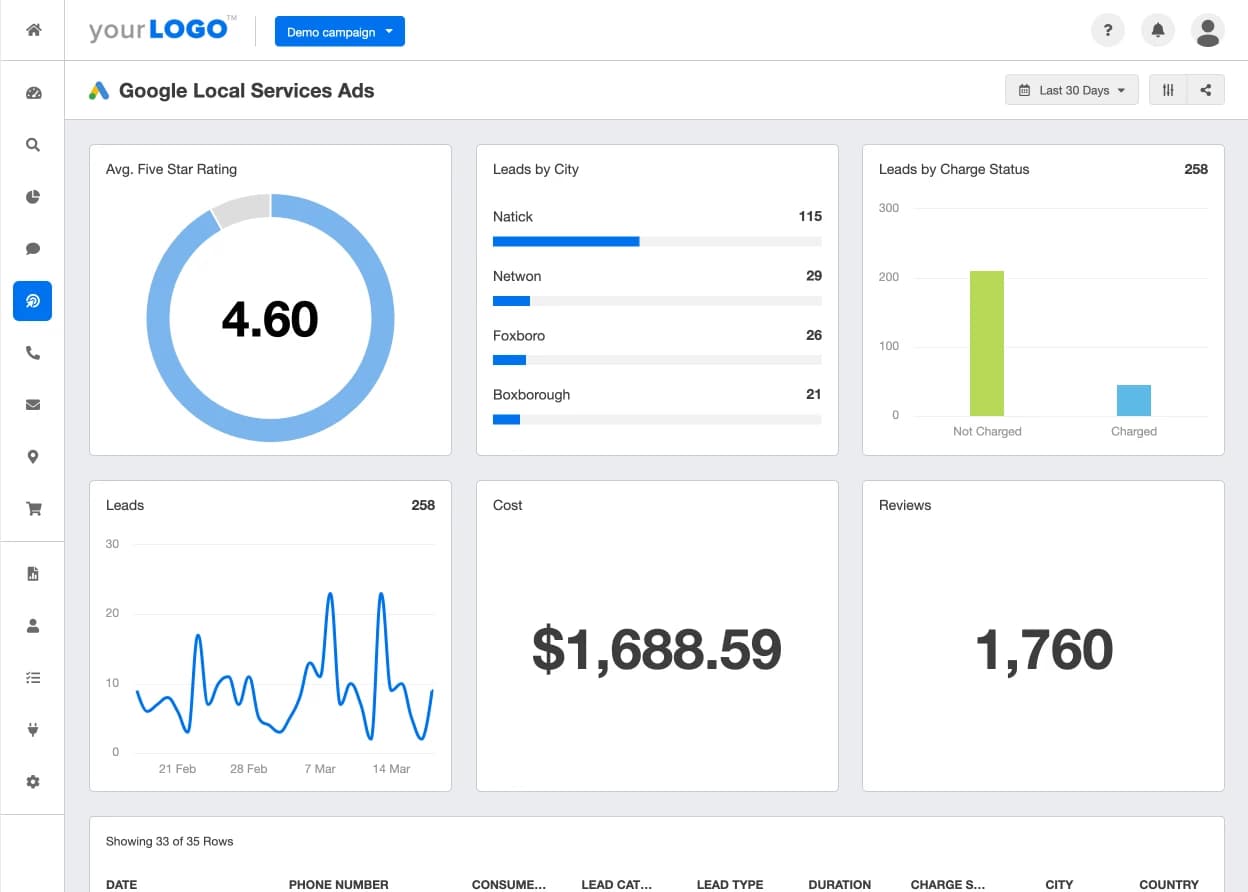 While Google provides its own reporting tools for Local Services Ads, there are easier, less time-consuming ways to visualize all that data while impressing your clients at the same time. This GLSA reporting tool from AgencyAnalytics has an intuitive interface that allows agencies to easily create a dedicated GLSA report or live dashboard in minutes for client meetings, featuring many of the same GLSA metrics we just talked about. 
The GLSA dashboard also allows for real-time monitoring of lead costs so agencies can optimize their clients' campaigns and budgets on the fly. Don't stop there. Build a PPC dashboard for your clients to present their GLSA campaign data alongside their other marketing channels to show the full picture of your marketing efforts in a breeze.
Michael is a Vancouver-based writer with over a decades' experience in digital marketing. He specializes in distilling complex topics into relatable and engaging content.
Read more posts by Michael Okada ›
Try AgencyAnalytics risk-free for 14 days. No credit card required.