Client Reporting Best Practices for Marketing Agencies: Impress Clients & Increase Retention
After you've landed a new client to your marketing agency, gone through your onboarding workflow, and have started working on their campaigns. From here on, it's common that the majority of your agency-client communication will occur in the form of periodic client reporting.
Some strategies to grow a marketing agency such as social media marketing, PPC, or any other form of lead generation get the majority of the attention when it comes to scaling an agency. However, client reporting (when done right) has a significant impact on your bottom line.
The impact of this often-overlooked growth strategy is twofold: reducing churn and offering upselling opportunities.
In a way, client reporting is a form of customer success as it gives you a chance to provide insights, offer recommendations, and clearly demonstrate the value of your services to clients. As research from HubSpot highlights:
Growing companies prioritize customer success more than stagnating ones and that increasing retention by 5% actually increases profits anywhere from 25% to 95%.
As we'll discuss below, there's a lot that goes into an effective client report to demonstrate all the hard work you've been doing behind the scenes. With the right tools, however, the process of client reporting can and should be largely automated—to save time, while still providing a level of personalization that clients are looking for.
In short, client reporting is an essential part of running a successful agency. Get it right, and you'll retain clients over the long run and have more referrals than you know what to do with. On the flip side, without a proper client reporting strategy, clients will constantly be asking you what you're working on, when they can expect results, and more often than not, churn from your agency.
To avoid that latter scenario and provide clients with the best end-to-end customer experience, we're going to discuss the most important client reporting best practices in this guide. 
Although we consider ourselves experts in this field, we leaned on the experience of several marketing professionals and agency owners to get their tips and insights on how they've managed to provide clients the most professional reporting experience possible. In particular, we'll discuss:
Why Client Reporting is So Essential for Agencies

Client Reporting Best Practices for Marketing Agencies
Why Client Reporting is So Essential for Agencies
We mentioned that client reporting is crucial to growing an agency as it can reduce churn and offer upsells. Let's briefly review in more detail, the key reasons why reporting is so important for scaling a marketing agency the right way. As discussed in our guide on How to Demonstrate the Value of Your Services, client reporting is critical for several reasons, including:
Consistent reporting schedules provide a framework for regular communication: If you've ever purchased a service before and then had radio-silence from the service provider, you know that even if they are working hard on your campaigns, it doesn't always feel that way. Establishing a clear channel for periodic and consistent client reporting allows you to set expectations and avoid these awkward misunderstandings with clients altogether.

Reporting gives you a chance to educate the client: As we'll discuss in more detail below, not all clients have the marketing or tech-savvy that you do, which is why they came to your agency in the first place. Although you don't need to provide a marketing lesson in each report, your periodic client reports are a great place to educate them on the work you've been doing and the results you've seen so far. For example, with custom comments inside your dashboards and reports allow you to add some extra context to the data, which can go a long way towards informing clients on the value of your services.
Client reporting keeps both parties accountable: Another important reason that reporting is so essential to success is it keeps both you and the client accountable and aligned on objectives. Since many marketing campaigns can require input from the client, reporting provides you an opportunity to clearly outline exactly what you need from their side to drive success through the upcoming reporting period.

Client reporting provides an upselling opportunity: Finally, while you don't want to turn your reports into a sales pitch, client reports are a great place to present new opportunities to your clients. For example, this could mean showing them where their competitors rank in organic search rankings and the potential traffic they could see with some content marketing and SEO services. Similar to the idea of educating clients in your reports, conversations around relevant marketing metrics can be the perfect place to highlight the costs and benefits of pursuing alternative marketing strategies.
Now that we've solidified the reasons why client reporting is so essential to growing and managing a successful agency, let's get into the best practices.
Client Reporting Best Practices for Marketing Agencies
Below are 9 client reporting best practices and tips from marketing professionals and agency owners around the world.
1. Set Clear Expectations from the Onset
A key part of any good client onboarding workflow is making sure that clients know exactly what they're going to get from your agency along with a timeline on when they'll get it. 
Client reporting is no different and the frequency and format of your client reports should be clear from the onset of your working relationship. As Aseem Kishore, the Founder Help Desk Geek suggests, directly quoting your clients is an effective way to acknowledge the client's expectations;:
One of the best ways to market products and communicate with clients effectively is to make sure you acknowledge their exact expectations when you start to present your solution or project. A highly effective method of efficient client reporting is by directly quoting what was expected of you and following up with your strategy going forward in each report.
2. Identify the Metrics & KPIs Your Clients Care About
In addition to setting clear expectations, another key part of the onboarding process is to make sure you understand what metrics your clients actually care about. It may take a discussion or two to get to the bottom of this, as clients can often say they care about a certain metric — for example, to grow their social media followers — but in reality, it's the number of phone calls to their business that they really care about. 
As Daniel Lee, Founder of the digital agency Strategyst highlights:
The most important elements for effective client reporting are reporting the metrics the client actually cares about, visualising that data in a way that makes the information easy to understand and compare to prior performance, and communicating any important actions as a result of the data. Make sure that you speak with your client and you have both agreed on a set of KPIs that are most important to your clients' business. Before even sending the first report, you can provide your client with a draft or sample report so that they can sign off on what is reported and how the data is displayed. This way you can ensure there isn't any disappointment when you deliver your reporting. 
3. Provide Consistent Client Communication
Even after you've determined the metrics and KPIs your clients care about most, if you're not communicating these on a consistent basis to clients, they'll be left wondering what you're actually doing and what they're paying you for. The frequency that you provide updates to clients will vary, but more often than not, providing brief updates more frequently can go a long way with clients. As Harriet Chan, the ​​co-founder and marketing director of CocoFinder suggests:
Clients will easily fall for the idea that they are not getting value for their investment if there is a poor communication protocol. To stay in a client's good books and even attract more business via referrals, communicate consistently depending on the project's tenure. If doing a one-month project, weekly communication is highly recommended.
4. Communicate Changes in Terms of How They Benefit Clients 
Another key communication lesson in client reporting is to frame your proposed changes in the context of how it will benefit the client. While these changes may seem obvious to you, for example if you're proposing a change that will increase site speed, make sure to frame the change in the context of how it will ultimately benefit the company's overall goals. As Aaron Traub, owner of HVAC Marketing Engine suggests:
When communicating with clients, it's most effective to present new information or ideas in terms of how it affects the client. For example, when recommending they add a new page to their website for keyword targeting, we propose the idea in terms of how it benefits the client. How will the page increase search traffic? How will it benefit the overall company goals? Why do we recommend the new page? Framing the communication with the client's needs in mind allows us to be prepared for what the client might ask or need before we approach them.
5. Use Data Visualization to Simplify Your Reporting 
The next crucial part of reporting is to make sure you use data visualization that makes the report as easy to understand as possible. Nobody wants to have to try and analyze a spreadsheet full of raw data, so using tools that easily transform your data into intuitive insights can go a long way. As Sarah Mawji from Sevans PR and Digital Strategy writes, visuals are one of the most important aspects of effective client reporting:
Clients want to easily glance at a report, absorb the information, quickly flag items for questioning and if needed, pass on this information to execs or other relevant parties fast. Visuals are effective and efficient. The opportunity cost is low too as an agency representative you will not have to spend time summarizing and interpreting a lengthy report - using a reporting software that does for you instead will be extremely rewarding in the end. Invest in a reporting system that offers a sophisticated selection of visuals, you won't regret it. 
Example of a Social Media Dashboard in AgencyAnalytics
6. Customize Your Marketing Reports
Another key element of effective client reporting is to customize each report based on the clients needs. One way to easily customize your reports is by providing custom comments that explain the significance of each metric or visual. Similarly, another way to customize your reports is to add annotations and goals to your date-based charts. Sarah Mawji, mentioned above, agrees and suggests setting up a discovery call to establish how you'll customize each report early on in the agency-client relationship:
It's extremely important to get a good grasp on what metrics and dimensions (qualitative and quantitative) are going to be useful and beneficial for your client. Reporting must be a tailored component of your service offering. The best way to manage varying reporting demands and requests is to set a Reporting Discovery Call early on in the relationship. You can revisit after the first reporting period and maybe bi-annually after that. 
7. Tailor Each Report To Your Audience
In the same vein as customizing each report, another client reporting best practice is to tailor your reports to a specific audience. For example, if you're dealing with clients that have no marketing knowledge, including overly technical terms such as Trust Flow & Citation Flow in your SEO reports would not make much sense. As Paula Glynn the Director of Search Marketing at Pixelstorm suggest, having a simplified report for less technical clients is often recommended:
Make sure your presentation is tailored specifically for each audience, mainly when dealing with CEOs or senior marketers who need a less complex report; we have a simplified presentation deck for these clients. For clients who know a lot about space, we provide a more detailed analysis of the results. 
8. Keep it Simple and Avoid Overly-Technical Terms
In line with the idea of tailoring each report to your audience is to not overwhelm clients with reports that are too long or too overly technical. To that end, another client reporting best practice is to select your top 5-10 KPIs that you will focus on. If necessary, also consider adding a brief explanation of individual marketing terms to ensure clients can fully understand the report. As Paula Glynn suggests:
Emphasize key metrics that matter most to your clients and their business objectives—we try to focus on five to seven performance indicators, but not more than nine at the absolute maximum—and keep it to those numbers. Also, don't assume clients know what every term means—or that they've even read your entire report. Every report should have a brief, one-paragraph summary at the top, which states the campaign's goal, how you specifically addressed this, and highlights key takeaways from the specific campaign period.
Sean O'Neal, the President at marketing communications company Onclusive echos the same idea of avoiding overly technical terms and keeping things simple: 
Not all of your clients are well-versed in everything, therefore you should not use irrelevant technical terms as much as possible. Keep it a simple and easy read. It should be direct and to the point as you shouldn't waste your clients' time absorbing information that is not relevant to them. Keep them short, clear, and well-written. 
9. Be Transparent in With Your Progress
Finally, client reporting is all about building transparency with your clients on exactly what you're working on, the progress you've seen so far, and your targets going forward. One way we've made this process of building transparency with clients easier is with the Goals features, which allow you to showcase your progress towards a specific objective in a simple, intuitive visual. As highlighted in our guide to Goal Tracking for Agencies:
Designed to help you convey the success of your campaign at a glance, Goals are applied to any marketing metric or across multiple campaigns to show clients how they're progressing towards their desired outcomes. Goals break down your monthly performance targets into everyday action items to keep your team on track.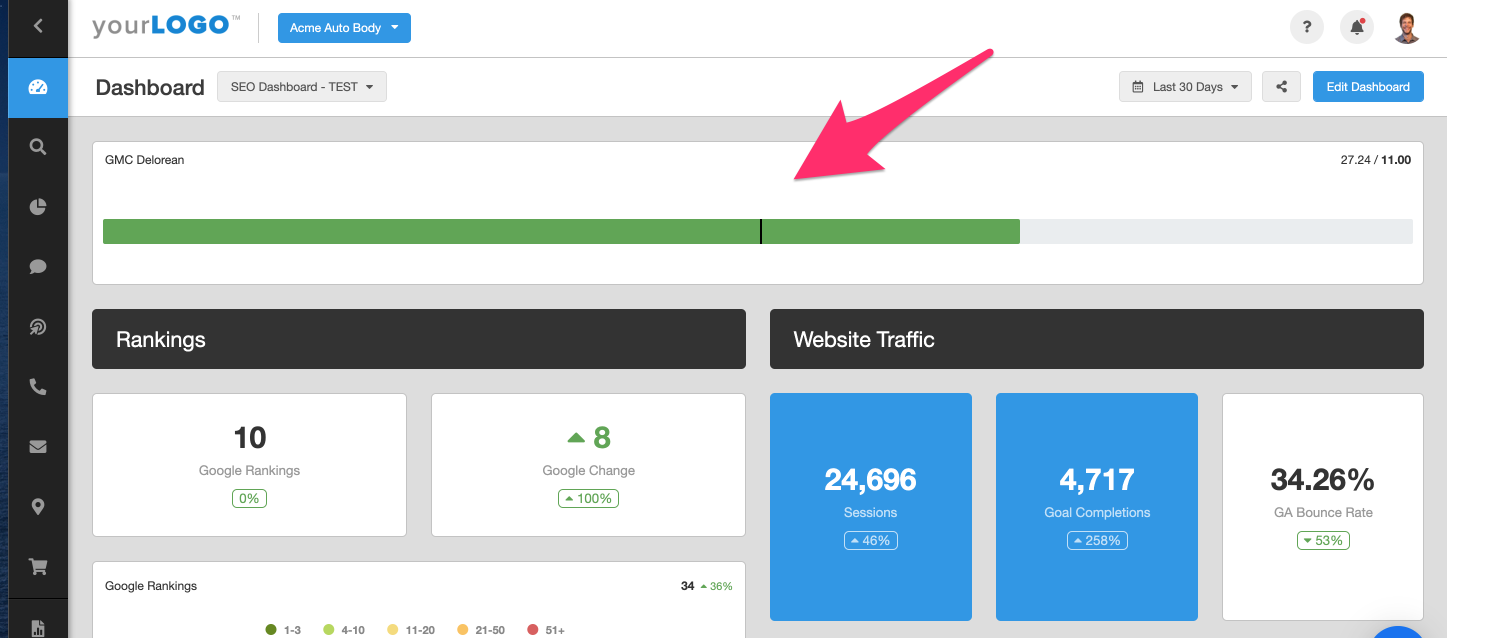 Saskia Ketz, CEO of the brand creator and graphic design platform Mojomox echoes this idea that transparency is a key part of reporting: 
One way to improve communication is by having a reporting process in place that's transparent and easy for clients. When all of your activities are visible, they can see you're working on their projects and getting results while delivering exactly what was promised.
Summary: Client Reporting Best Practices
As we've discussed, client reporting is a crucial part of running an agency that provides you the opportunity to scale by both reducing churn and presenting opportunities for upselling your services. While the frequency and format of each client report may change, the best practices mentioned above will help you avoid misunderstandings between the clients and provide the best customer experience possible. 
Many of the key themes come down to providing consistent communication and personalizing each report to match your target audience. To do so, a final best practice is to use automated reporting software to ensure you're always sending reports to clients at your agreed-upon frequency. In addition, with the right client reporting platform, you can provide a high-level of personalization without sacrificing time or scalability.
Elevate your report designs with our updated Report Cover Pages. Splash on some vibrant background hues, images, and fine-tune the title box widget for that perfect color, alignment, and see-through vibe.
If you're ready to start automating your client reports, you can sign up for a 14-day free trial here.
Use our marketing dashboards to create fully customized reports for your clients. Once you customize the template, live metrics will populate automatically.
Create a fully transparent, personalized approach with your clients, and save countless hours each month with automated reporting.
Read Next: 15 Marketing Dashboards To Help Your Marketing Agency Scale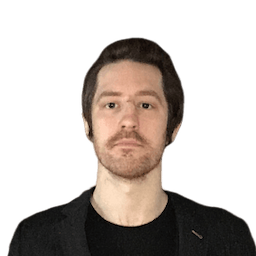 Peter Foy is a content marketer with a focus on SaaS companies. Based in Toronto, when he's not writing he's usually studying data science and machine learning.
Read more posts by Peter Foy ›
Try AgencyAnalytics risk-free for 14 days. No credit card required.