White label SEO audit tool for marketing agencies. Quickly identify and resolve on-site SEO issues. Improve rankings, search visibility, and user experience. Create beautiful, automated SEO reports your clients will love, in minutes.
Improve Rankings
Identify and resolve technical SEO issues and watch rankings climb
Prioritize Issues
Save time by focusing on the most critical issues and site errors first
Schedule Audits
Never miss a site problem with recurring site audits
Share Reports
Share reports detailing how you improved your client's SEO
Comprehensive technical SEO audits
Find and Resolve Site Issues
Automatically crawl multiple client sites at once to find and resolve over 40 types of on-page technical SEO issues. Quickly locate and correct issues like duplicate content or titles, missing meta tags, broken images, bad sitemaps, server errors, and more.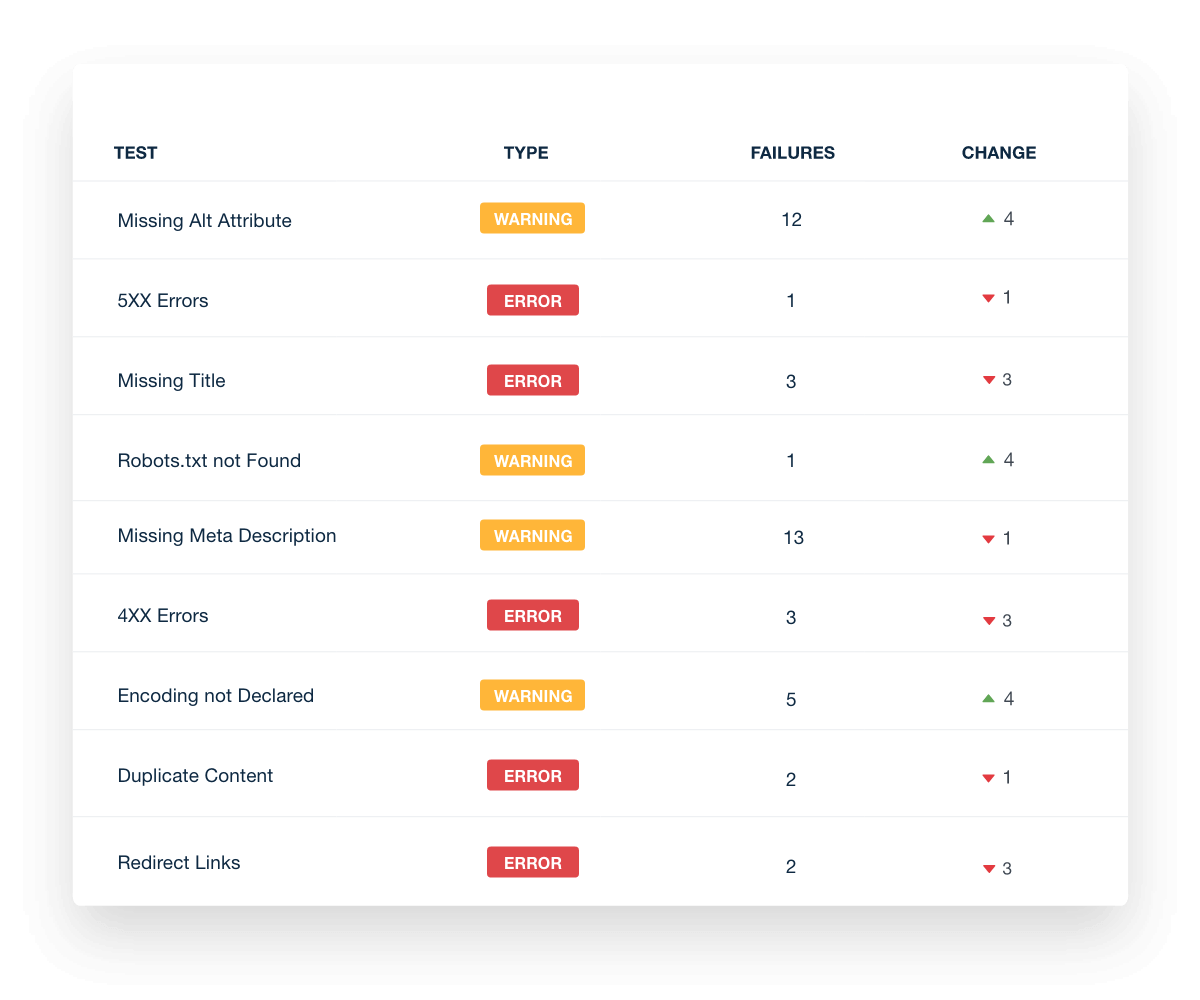 Continuous On-Page SEO Improvement
Monitor for Issues and Opportunities
Don't risk your client's SEO rankings. Schedule weekly or monthly site audits to detect site issues and optimization opportunities as they arise. White-label SEO audit reports let your clients know that you're keeping constant tabs on their website's SEO health. 
Issues categorized in order of severity
As a busy marketer, your time is valuable. Our site auditor automatically categorizes and prioritizes technical SEO issues in order of severity. Save time by tackling the most critical items first, and provide your clients with huge SEO gains right out of the gate.
FIX SLOW PAGE LOADS, BROKEN LINKS & MORE
Automated Site Health Scans
Run automated scans on a weekly or monthly basis to detect embarrassing SEO and usability issues before site visitors see them. Scan for broken links, missing images, slow page load times, HTTPS issues, and much more.
Powerful Historical Comparisons
Highlight Your Improvements
Easily report on all of your team's on-site improvements. Compare your current site audit results against any previous audit. Use page and site-level scores with other intuitive visuals to clearly highlight your team's work in a way that makes sense to your clients.
Understand Your Websites Like Never Before
Built For SEO Optimization
See each page's internal link structure (including in-links and out-links) and full-page depth information to ensure key pages are easy to find. Measure load times, text to HTML ratios, word count, page size, and more. Our auditor helps you improve every single webpage to maximize your client's SEO.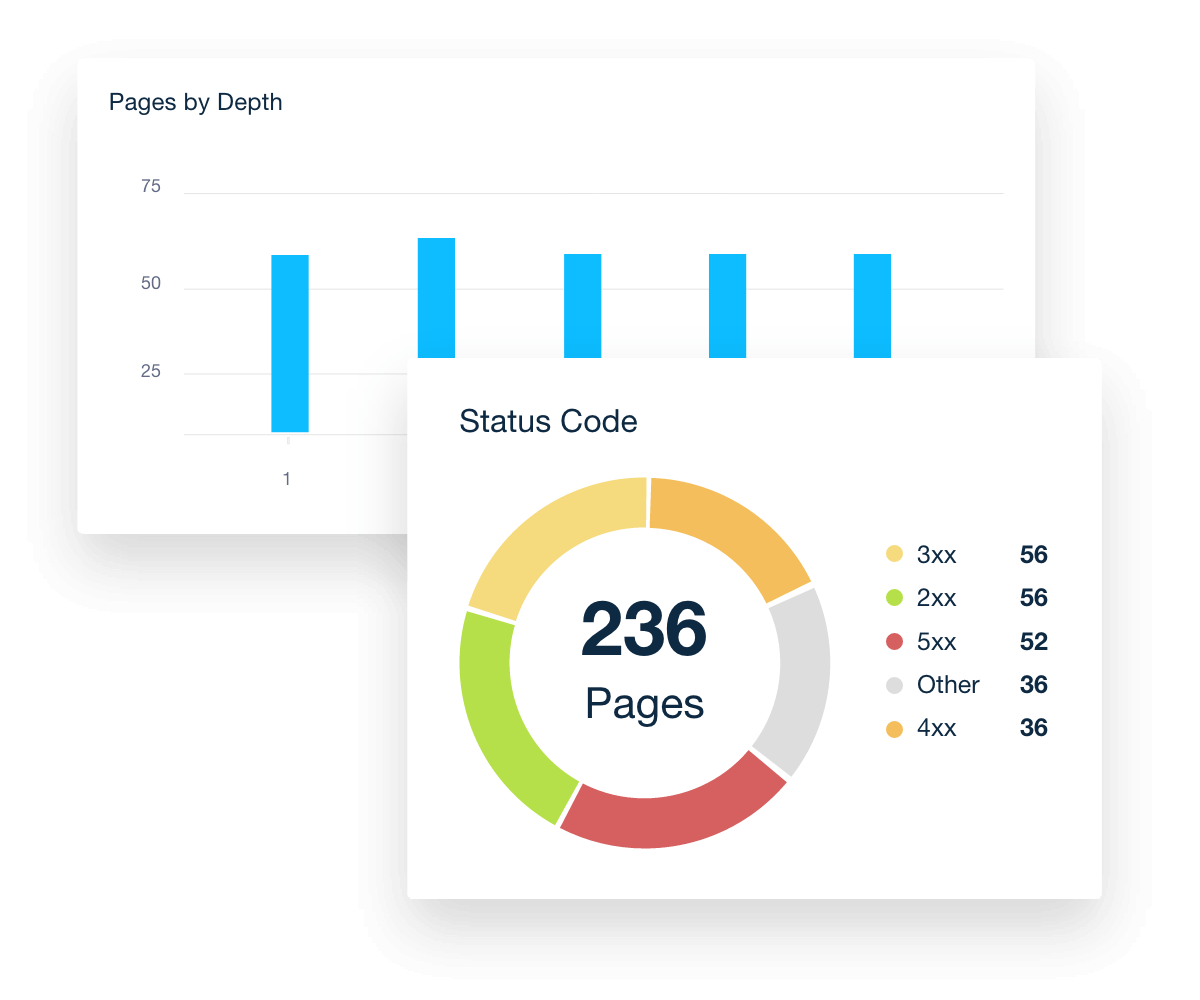 WHITE LABELED PDF REPORTS FOR YOUR CLIENTS
Beautiful, professional SEO reports with your agency's logo and branding. Designed and crafted for simplicity and ease of use. Automatically schedule reports to be emailed to your customers or web development team, or see live SEO data at any time.
Impress Clients with Real-Time Results
White Labeled Site Audit Dashboard
Most clients are business owners with hectic schedules: They need to see results instantly. Impress clients with their own custom site audit dashboards, showing real-time results 24/7. Best of all, white label their dashboard with YOUR agency branding, and access a full suite of additional SEO tools!
Connect the Site Audit Tool integration in seconds to streamline your client reporting.
Everything Your Agency Needs
Try AgencyAnalytics risk-free for 14 days. No credit card required.