Google Analytics data can be invaluable for marketers and business owners; however, the sheer volume of information can also be overwhelming to read and interpret.
If you're not sure where to start with Google Analytics for yourself or your client reporting, focus on just the following six critical metrics. They'll give you an accurate picture of how you're doing -- and you won't get bogged down in all the less significant details.
1. New vs. Returning Visitors
How many of your visitors are brand-new to your site, and how many have visited at least once before? Find out by going to Audience > Behavior > New vs. Returning.
Pay attention to whether your total number of new visitors is increasing. If so, it means you're doing a good job of marketing your site and bringing in fresh prospects regularly. But if your number of new visitors is holding steady, or even decreasing, it's a sign that something about your marketing isn't working as it should.
New and returning users tend to behave differently, so keep this in mind as you look at your other metrics. For instance, new users are more likely to bounce, so if you have a spike in first-time visitors, a sudden increase in your bounce rate doesn't necessarily signal a problem. Or if you have a lot of returning visitors, but few conversions, you might want to pay special attention to your exit pages to see what's preventing people from making a purchase.
2. Traffic Sources
You can see where your traffic is coming from by going to Acquisition > All Traffic > Channels. Here you'll find a breakdown of how much of your traffic is direct and how much comes from other sources, like paid search versus organic search, referrals, and social media.
Keeping tabs on your traffic sources gives you an idea of how well your SEO, link-building, and direct marketing strategies are working. It can also suggest which areas you might need to strengthen. For instance, if you get a lot of visitors from organic search but very little referral traffic, you might decide to step up your link-building strategy.
Or perhaps you run PPC campaigns on multiple platforms: Google Ads and Facebook Ads. Although the Google ads platform provides a lot of in-depth metrics, as does Facebook, seeing all traffic sources in one place will help you know which networks are your best performers.
Likewise, if you do lots of social media marketing, Google Analytics breaks down the specifics of that traffic for you. To see which social networks send you the most traffic, go to Acquisition > Social > Network Referrals. To see which of your pages are shared on social media most frequently, go to Acquisition > Social > Landing Pages.
Read More: 17 Facebook Metrics to Track for Success
3. Landing Pages
Studying your top landing pages can reveal a gold mine of information - especially for SEO analytics on top pages. Navigate to this report by going to Behavior > Site Content > Landing Pages (the landing pages are blocked out for privacy reasons, but on your Analytics account you will see URLs!):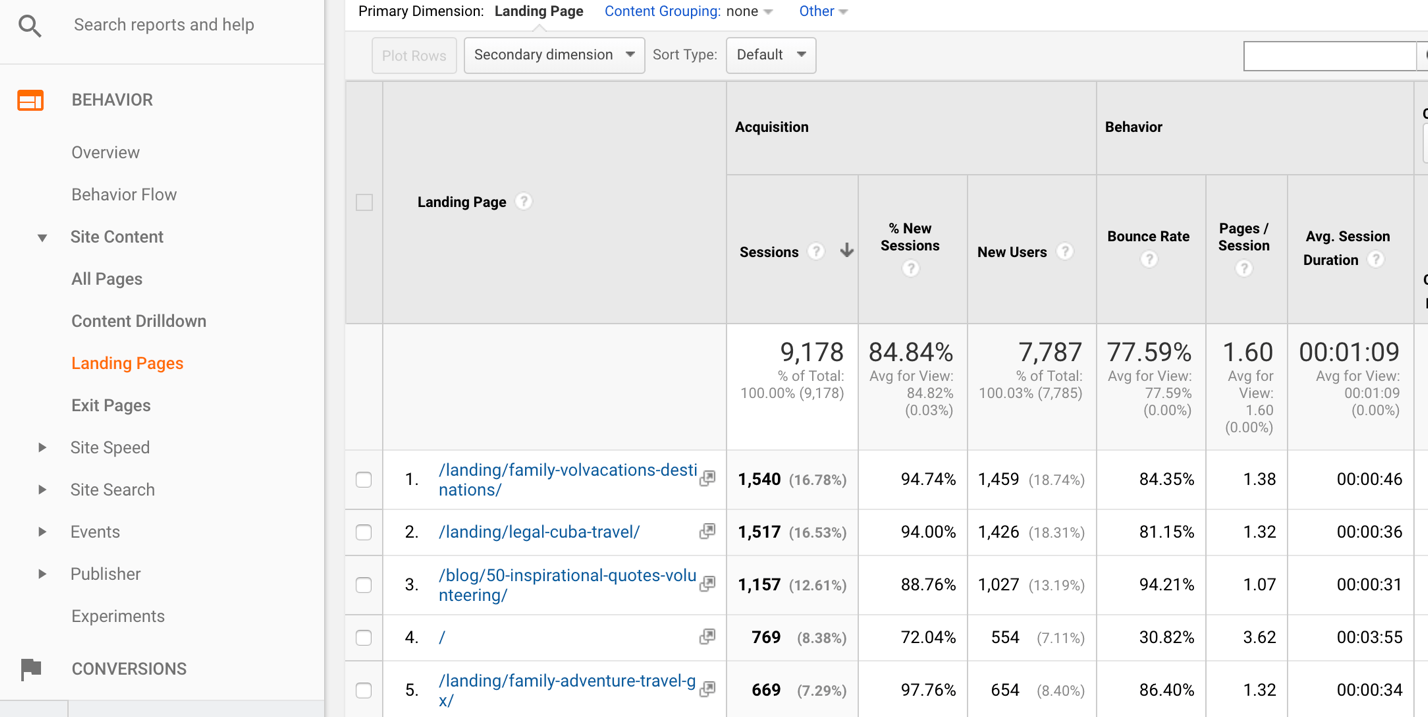 Looking at your top landing pages can tell you:
Where people are entering your site.

Which of your pages are doing best in SERPs.

Which of your pages have the most links around the web.

Which pages you should focus on optimizing for new visitors.

Which pages aren't currently performing well in search engines.
4. Bounce Rate
Your bounce rate might not be the most fun metric to study, but it's important to understand which pages people are bouncing from and why. To see bounces for all your pages at once, go to Behavior > All Pages.
Your bounce rate is closely linked to the health of your landing pages. A high bounce rate indicates one of two things:
You need better content on your landing pages. For instance, maybe you don't have enough information about your product or service, or maybe your landing pages lack a strong call to action.

You need to rethink your SEO strategy to bring in higher-quality traffic.
How many bounces are too many? In general, it's a bad sign if your bounce rate is consistently above 70%. This indicates that visitors aren't finding what they're looking for on your site. At the same time, don't sweat a few bounces -- they're inevitable, even for the best sites. Aim for a bounce rate between 30% and 50%.
5. Exit Pages
An exit page is the page a visitor was on when they left your site. Unlike a bounce, an exit indicates that the visitor viewed more than one page before they clicked away. Tracking your exit pages helps you understand a typical visitor's journey through your site. It's also a useful way to identify problems that could be preventing people from converting.
View your top exit pages by going to Behavior > Site Content > Exit Pages.
Which of your pages do people leave from most frequently? Are they leaving before or after conversion? If visitors frequently abandon a full shopping cart or click away from an informational page about your product or service, it signals that something on your site is making these would-be customers hesitate or change their minds about converting.
6. Conversions
It's easy to get wrapped up in all the different metrics and graphs that Google Analytics lays out for you. But at the end of the day, the metric that matters most is conversions. It's fun to see lots of visitors and pageviews, but conversions indicate whether your site is actually working the way it's supposed to or not.
If you haven't already done so, you'll need to set up your goals to enable conversion tracking in Google Analytics. Once you do, you'll be able to view this metric by going to Conversions > Goals > Overview. If you find that your actual conversions aren't in line with the goals you've set, studying the other metrics listed in this article -- and adjusting your strategy towards each of them -- can help you identify and fix the problem.
Below is an example of what this might look like in Analytics. In the example below, some of the goals include online booking success, downloading an event guide, and more are broken down using Google's data visualization tools:
If you're a beginner and need help understanding what goals to include and how to setup goals (for example, the landing pages you'll want to use and how to set them up), consider taking this comprehensive course here.
The Takeaway
Google Analytics can be a complex tool to use and understand, especially while you're still learning all of its ins and outs. But you don't have to be an analytics expert to start gleaning useful insights from Google Analytics.
Each of these metrics is found in our Google Analytics Dashboard or added to your client PDF reports. Access these alongside 30+ other integrations in a single reporting platform.
Just start by focusing on these easy-to-understand metrics. Before you know it, reading and understanding them will be second nature, and you'll be making better data-driven decisions for your business.
For additional reading and metrics you should follow, check out our article specifically SEO Metrics You Should Follow.
Joe started his career as a developer and since has created many internet businesses. He has now moved on to the position of CEO and has enjoyed all the challenges it has brought.
Read more posts by Joe Kindness ›
Try AgencyAnalytics risk-free for 14 days. No credit card required.