Imagine being a client receiving two SEO reports. The first is a professionally white labeled SEO report with clear results and confident branding. The second is a spreadsheet with a lot of important-looking numbers and graphs.
Which do you think would have more authority? Which do you think would be easier for you to understand, even if the data was essentially the same?
This article will look at the best ways to leverage white-labeled SEO reporting software for your agency. 
This article covers:
What Is White Label Reporting–And How Does It Help Growing Agencies?
White label reporting is the process of creating reports that are in line with your agency's brand. White label reporting software enables you to create completely customized reports with your choice of logo, brand colors, and URL, to look like it was built in-house. 
Agencies with a growing client base need white label reporting to create client reports that are consistent and professional.
With white labeled marketing dashboards and reports that are set up with their brand logo and colors, not only is the branding automated but so is the data-retrieval process–which takes a lot of time and effort to gather from multiple sources each time.
Presenting a professional brand should always be at the forefront of an agency's processes, but commonly used reporting platforms such as Google Data Studio (now Looker Studio) or Google Sheets don't make white labeling easy. That's where white labeling reporting software comes into play. 
The nature of white labeling is simple: a branded experience for your clients with little button-pushing on your end, allowing for:
Consistent branding

Scalable personalization, and

A better client experience.
With white label reporting software, quickly and easily create custom, branded reports and templates to significantly reduce the amount of time your agency spends collecting, collating, and presenting marketing metrics to clients.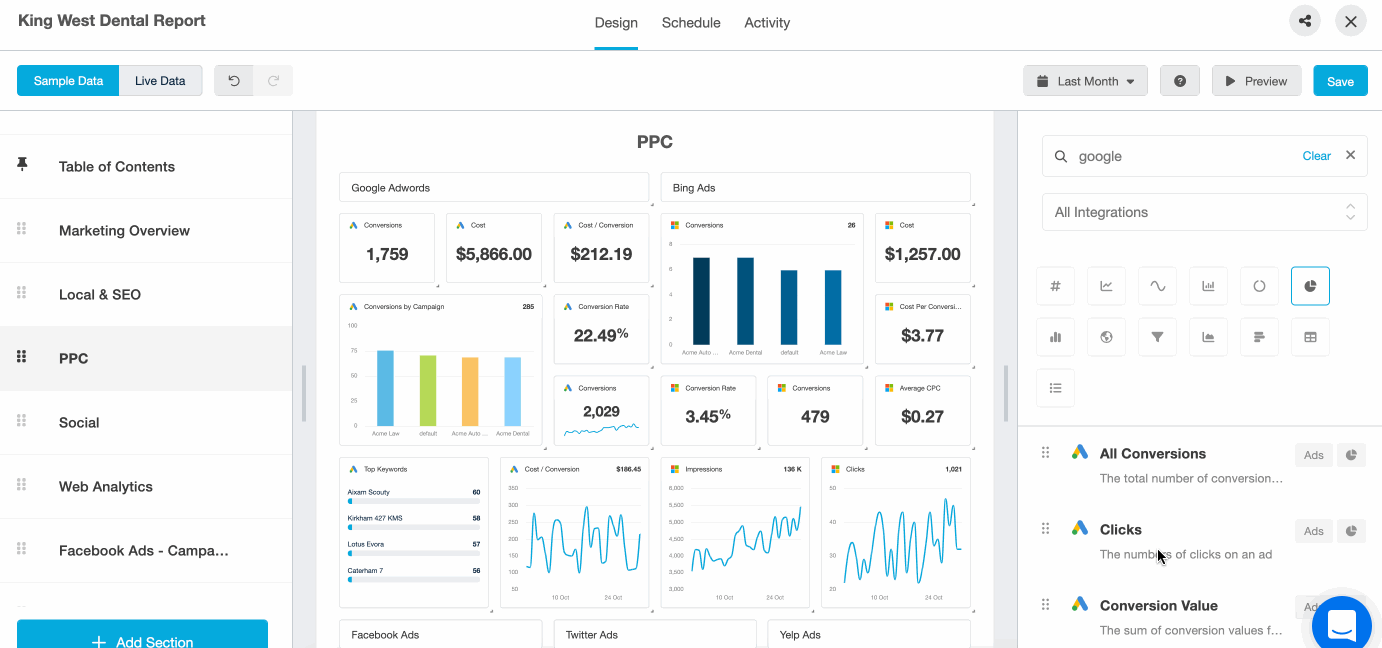 Save time with automated white labeled reporting. Each report is seamlessly branded to connect your agency's results with its name. Try AgencyAnalytics Free for 14 days!
Why Use White Label Reports for Your Clients?
One of the biggest challenges is reaching new clients to showcase our work and expertise in a way that differentiates us from the thousands of digital marketing firms out there, many of which are just a guy with a laptop. Clients are so inundated with calls and emails from our industry, it's hard for our clients to know who they can trust.

- Lane Rizzardini, Co-Owner of Marion Relationship Marketing  
There's no doubt that marketing is a competitive field. When promoting your digital agency, having to differentiate yourself online from competitors continually and in new and innovative ways can be time-consuming–without the right tools. 
Agencies need to garner trust and convey authority–especially when there are lots of self-proclaimed "experts" out there claiming to solve all their clients' problems without any data backing up their claims.
White labeling is integral to an agency's branding as it clearly connects the winning results you're bringing to your clients with your services. By incorporating your agency's branding for your clients to see alongside their marketing metrics, you emphasize the value your agency is bringing to the table. 
And this does wonders for client retention.
6 Benefits of White Label Reporting for Agencies 
Let's look at how white labeling your client reports benefits your marketing agency. 
1. Brand Recall
After your initial client discovery meetings, client reports are probably the #1 way you'll be communicating regularly with your clients. Including your brand identity front and center on your dashboards and reports reiterates the importance of your agency's services–and why your clients should keep coming back to you. 
2. Personalized Client Experience 
No matter how many clients you have, they expect a personalized experience. You can easily create this by:
Including your logo, or your clients' logo & brand colors

Creating visually appealing reports that take advantage of annotations and personalized commentary to hone in on your key results 

Hosting dashboard on your own custom domain 

Send reports from your agency's email 
3. Scalability 
Saving time on client reporting means your agency spends more time on billable tasks. When your agency's templates automatically include your pre-set branding, you save time from having to manually brand and update any new report or dashboard you create. 
White labeled client reports are completely scalable, as every one of your clients' marketing metrics get updated in real time. All you have to do is select your ideal date range and flip it into a report–in minutes.
4. Integration to 3rd Party Platforms
To house all your data in one place, you'll need a client reporting platform that connects to as many of your clients' marketing platforms as possible. 
From Google Analytics to Shopify, Twitter, Facebook, and a host of other SEO, PPC, and Call Tracking tools–AgencyAnalytics integrates with over 75 platforms–and adds new integrations each month.
5. Data Visualization 
Last but not least, your clients need to understand what they're looking at in the first place. Your reports should visualize the data as much as possible so your clients can easily understand the results. Even white label your charts and graphs with the colors of your choice for a more aesthetically pleasing experience. 
6. Differentiating Your Services
Let's say your large agency operates under more than one brand. You'll need to present one brand to some clients and a different one to others. Use multiple white label profiles for different agency brands or divisions to create a separate profile for each client. 
What To Look For in White Label Reporting Software 
Before choosing the right white label software for your agency, ensure it has the following features: 
The option to add a client's logo and/or your agency's logo–different logos for different reports 

The ability to apply custom brand colors throughout the platform, including on client-facing dashboards and reports

The flexibility to choose where to add your custom colors (including charts, graphs, titles, and text)

Custom email domains

Custom dashboard domains

Custom report domains 

Easy access to Customer Support 

Multiple white label profiles for different agency brands or divisions

The ability to create different white label profiles for each client
AgencyAnalytics' White Labeling: Key Features
AgencyAnalytics' white labeled client reporting platform has two main features to save you time and create quality reports. 
First, you have client data taken from your choice of 75+ platforms and combined into a unified view of your client's marketing campaigns. Second, you tie your agency's brand to the success you're delivering in your client reporting. 
AgencyAnalytics is built for agencies, offering complete white label customizations you need to put your best foot forward. 
This white labeling reporting software gives you everything you'll need to call the platform your own. From adding your branding to every dashboard and report–and even hosting dashboards on custom domains on select plans–your agency creates a seamlessly branded experience for your clients. 
The white label looks like my company designed the platform!

- Charles Montgomery, Strategy Consultant at Northwest eSource
Find out how to add your white labeling to your AgencyAnalytics platform here.  
Even if you're just getting started with AgencyAnalytics, one of the first recommended steps is to add your agency's white labeling. From Day one, make the platform your own by:  
Uploading your agency's logo and the icon (favicon) for web browsers

Selecting your user interface colors 

Choosing a custom URL 
Once you apply your brand logo and colors at the account level (on the Freelancer plan) and the campaign level (on Agency and Enterprise plans), they automatically apply to your dashboards and reports. 
Taking these few simple steps can make a huge difference to the impact of your client reports. For one, having customized reports gives your agency a more professional appearance. And two, your agency is seen as more expert and trustworthy when you provide clients with detailed reports that show you understand their business.
Here's a summary of what's included in each plan.
| White Label Feature | Freelancer Plan | Agency Plan | Enterprise Plan |
| --- | --- | --- | --- |
| Custom logo | ✅ | ✅ | ✅ |
| Custom brand colors | ✅ | ✅ | ✅ |
| Access to the branded mobile app | ✅ | ✅ | ✅ |
| Custom subdomain | ✅  | ✅ | ✅ |
| Custom domain  | ❌ | ✅ | ✅ |
| Multiple white label profiles (separate logos & color schemes) | ❌  | ✅ | ✅ |
| Custom email domains | ❌  | ✅ | ✅ |
*Custom subdomains are available on all Freelancer Plans. i.e. yoursite . clientseoreport . com. Custom subdomains or custom domains (preferred by growing agencies) are available on the Agency Plans and Enterprise Plans. i.e. reports . yoursite . com 
While the standard white labeling options are available to all AgencyAnalytics users, some premium white labeling features are available on the higher tiers. Find the right plan for your agency.
The following section will highlight what's included in each AgencyAnalytics pricing plan and answer some most common questions.
White Label Reporting FAQs Answered
Before committing to a new white label reporting tool, agencies often wonder just how much is customizable. The following FAQs will help answer some important questions right off the bat. 
Can I white label each campaign differently?
Absolutely. On our Agency and Enterprise plans, multi-brand agencies can upload multiple logos and configure separate color schemes for each campaign. This is great for larger agencies that operate under more than one brand. 
Want a different brand for your social media agency versus your SEO agency? You can do that. Have offices in cities across the country? You can customize each campaign to match that local brand! 
Want to incorporate your client's logo into your white labeled reports? Either add their logo to their dashboards, or create a combined logo showcasing both your agency and your client and upload that to clearly demonstrate how you're working together to drive success. More on this later! 
The campaign-level branding automatically applies to your reports, custom dashboards, and widgets. However, you can also specify your branding at the dashboard level if you choose. 
For campaign-specific and account-wide white labeling, upload a different logo for each and use hex codes or a slider to select your exact color for the reporting platform.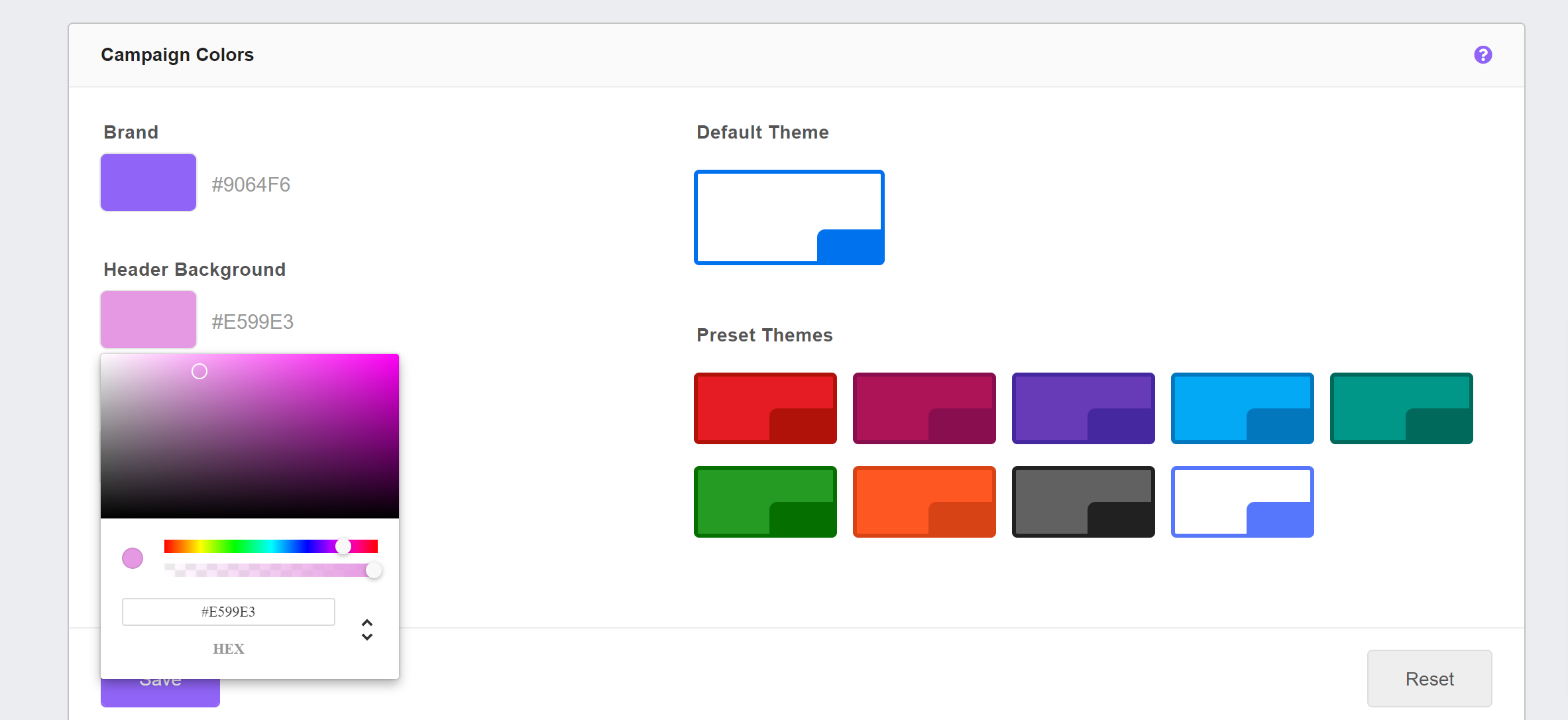 These colors will be applied throughout your account. As you see, this purple is now seen on the buttons and links on the custom dashboard window.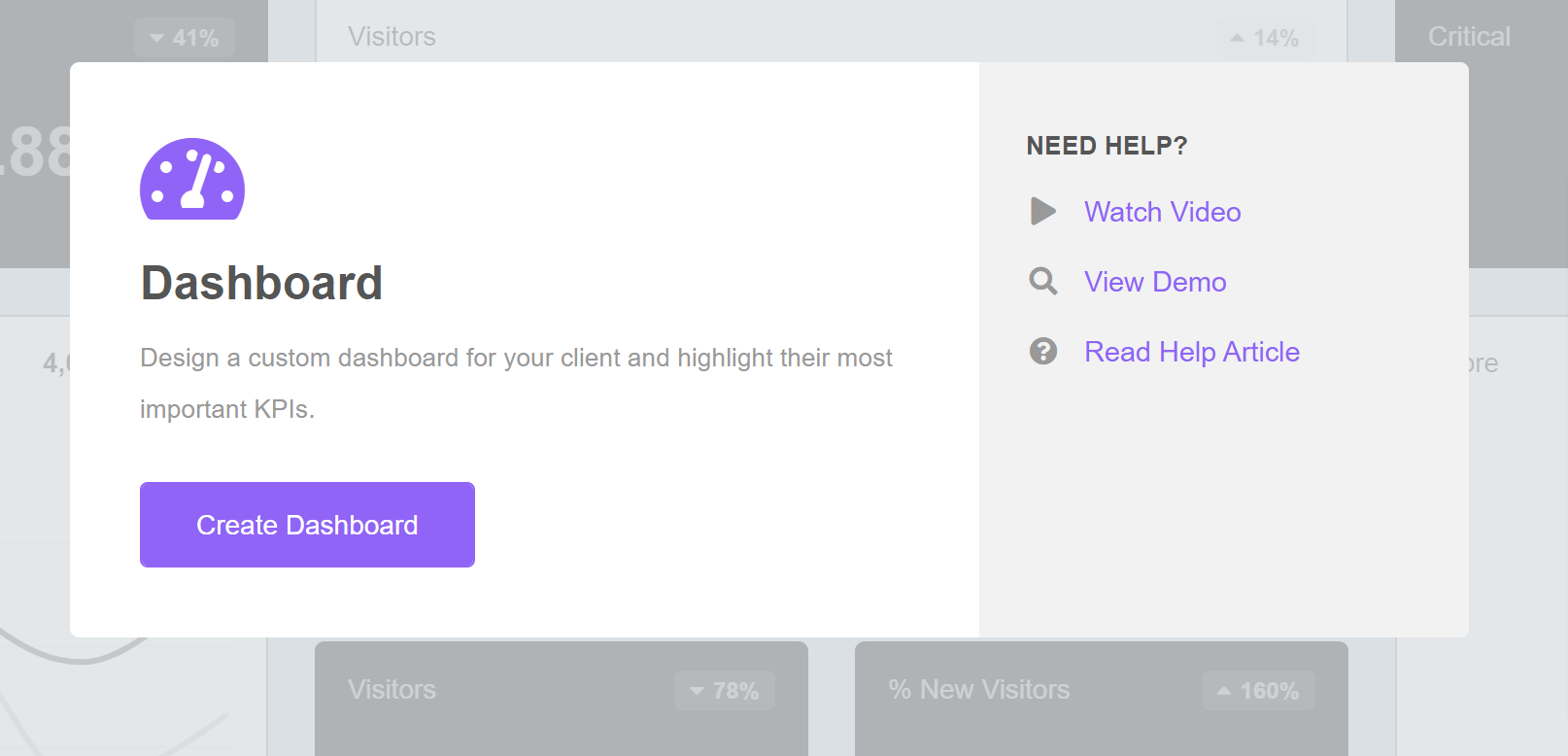 You guys have created an amazing product and you really believe in customer service. The simplicity of setup and white labeling of this product is bar none the best thing I have seen since 2007 for client reporting. We use it for three of our companies.

- Dave Conklin, CEO at Conklin Media 
Can I host dashboards on a custom domain?
On the Freelancer plan, set a custom subdomain that reflects your marketing agency, such as  'youragency.agencyanalytics.app'
On the Agency and Enterprise plans, host each of your clients' white label dashboards on a domain of your choice. 
Replace 'youragency.agencyanalytics.app' with a domain you create for each client. For instance, use 'clients.youragency.com' and make it look like a part of your agency's website. 
You can even embed your dashboards on your website.
It takes a bit of effort to set up the hosting records, but the professional and seamless experience is well worth it! 
Can I send reports directly from my agency's email address?
On the Agency and Enterprise plans, you can! Change the 'Sent From' field to the email address of your agency. Turn the classic 'noreply@clientseoreport.com' to 'yourname@youragency.com' with your custom name and domain. 
Can I create a custom login page?
Yes! By using AgencyAnalytics' API, create your own custom login page on your agency's website. This allows you to:
Connect to your existing website's CRM software

Style your login area to match your exact design specifications

Change the way your clients log in and which page they land on
Find out more about how to create your own custom login page here. 
I'm not sure what our Hex codes are. Can AgencyAnalytics detect that?
If you don't have the color code of your agency or client's brand, use the color picker to find the exact match. 
Find out more about how to customize dashboard colors here. 
Do you have a mobile-friendly app?
Yes! Deliver uninterrupted white labeled analytics for your more hands-on clients. Provide them with user access to client-facing dashboards so they can impress their stakeholders and gain actionable insights on the go. 
Find out how to set up your mobile app here.
Can I co-brand the dashboard with my client's logo and my agency logo? 
On the Agency and Enterprise plans, and with the help of an image editor, you can merge both logos into an aesthetically pleasing design. The multiple white label profile feature allows you to co-brand dashboards and reports with each client company. Find out more.
Have more questions about white labeling? View all White Labeling help docs here. 
Now that we've explored the white labeling features on each plan type, let's see them in action.
Use Cases: White Labeled Reports, Tools, and Dashboards
White labeling your reporting tool is an ideal way to reinforce your agency's brand. Afterall,  your clients will be looking at your marketing reports closely and regularly. 
White labeled dashboards give an everyday view of your clients' metrics, whereas white labeled reports provide authority and accountability for performance over a specific period.
When white labeling reports and dashboards, it's up to you whether you'd like to put your agency's branding, your client's branding, or a combination of both. 
Play around with the white label tools and features and configure them in your account's settings.
Let's dive in!
White Label Marketing Dashboards
Configuring your brand colors is easy–both at the dashboard and campaign level, the steps are the same. Choose the exact hex color that matches your agency's color palette and select your primary, secondary, and accent colors.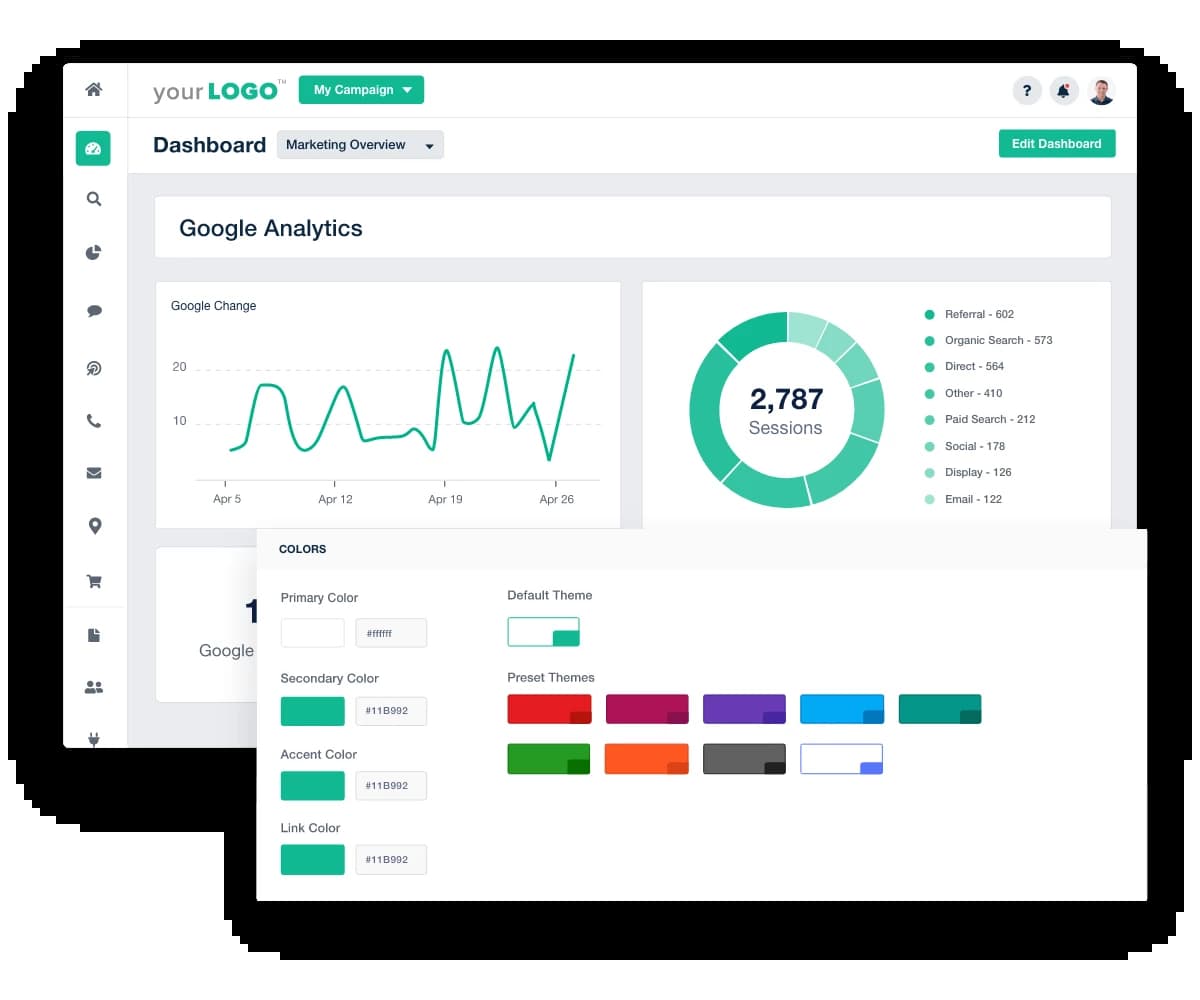 The primary color is usually going to be your brand color. It is used for buttons, bars, and lines in charts, links in tables, and the active menu

The secondary color is for your header backgrounds

The accent color is used for header links and campaign pull-down menus 
With white labeled dashboards, easily change the color of individual widgets right at the dashboard level.
Below is an example of a white labeled dashboard with the following customizations:
Purple brand color (Primary color) 

Pink header background and citation flow widget (Secondary color) 

Purple header links and pull-down menus (Accent color) 
Once you set up your main colors at the campaign or account level, they carry through all your dashboards unless you customize them individually. Some colors will remain consistent, such as the Red, Yellow, Green widgets on the SEO Site Audit tool. But the rest of the colors will adjust to match your agency branding. 
Go another step and host your white labeled dashboards on a custom domain or subdomain with the white label URL function.
White Labeled Reports
A fully white labeled experience wouldn't be complete without a branded client report. The white label settings you select at the campaign level also carry through to your client reports.
If you opt to set your reporting on autopilot with automated reporting and want your reports sent out from a custom email, you can! On Agency plans and Enterprise plans, customize your report emails for a fully personalized experience. 
White Label SEO Audit Tools
Imagine you're trying to win a new client and you're preparing an SEO proposal. Go to that next level and white label your full suite of SEO Audit tools by adding white labeling to the SEO proposal template to match your prospect's–or your agency's–brand. 
I can't recommend AgencyAnalytics enough. The platform is easy to use and simple to set up. AgencyAnalytics has provided a robust portal for our major marketing analytics to share with our clients. I love that we can white label the dashboard to create a branded experience for our clients.

- Michael Anderson, CoFounder at Wonderist Agency
The white label rank tracker tool is also a great way to show off your agency's skills, automate your reports, and keep clients up to date–and on-brand–in a scalable way.
Check out the full suite of white label SEO tools and get those quick wins for your clients in no time. New to AgencyAnalytics? Try it free for 14 days!  
Agency Tip: White labeled SEO audits are an excellent customer acquisition tool, as you can quickly, easily, and professionally highlight the areas where the potential client could benefit from your services. 
Summary
Want to give your clients the best agency experience that'll differentiate you from your competitors? White label your dashboards and reports. It's a simple yet powerful solution as you grow your agency. 
If you aren't white labeling your marketing dashboards and client reports yet, you're missing out on a powerful branding tool that makes your agency stand out. Try AgencyAnalytics Free for 14-days! 
Written by
Melody Sinclair-Brooks
Melody is a marketing manager, writer, and startup consultant with a background in behavioural neuroscience. Through a data-driven approach and a passion for product-led strategies, she helps businesses achieve growth in today's competitive digital landscape.
Read more posts by Melody Sinclair-Brooks ›
Try AgencyAnalytics risk-free for 14 days. No credit card required.