More than a billion people use Google Maps every month. They use it to get around, but more often than ever, they use it to search for businesses they want to interact with. Talk about high intent!
If you want your client's local businesses to rank higher and get more leads, you know you need to look into their Google Business Profile Insights. But which GBP insights should your agency pay attention to in order to drive client success?
We've compiled a list of the top 7 Google Business Profile metrics that help you optimize your clients' campaigns to grow in their local market. 
Get the Free Google Business Profile Checklist
Keep these useful tips, insights, and ideas handy whenever you need them.
This article explores:
Why GBP Is a Critical Part of Any Local Marketing Plan
If your agency works with any local business clients, you know how important their GBP listing is. It not only displays their vital company information (like their name, address, phone number, website, etc.) but also makes it easy for customers to contact, visit, or find directions to their business. 
"Google Business Profile has quickly become of the most important SEO ranking factors on Google. That means, the better your business profile, the more likely your company was to appear ahead of competitors in local searches." - Ryan Burch, Managing Partner, Tobie Group
Because Google's business listing is often the first place a potential customer will see your client's business, there any many benefits your customer can reap from having a fully optimized GBP: 
Become a Part of Google's Local Pack
Local Pack listings are the first things searchers see on the SERP. As your agency knows, this is the ideal spot for local exposure because placement in the Local Pack has the potential to boost your client's local rankings. Users tend to trust the first listings that appear and do not spend time scrolling down the page or even click on the second results page.
"The free Google Business listings in the "map 3 pack" is currently the most prominent feature at the top of the Google search results. Combined with those golden customer reviews, it's an extremely important part of local visibility." - Kira Krostag, CEO/Founder of Site Smart Marketing.
Improve Your Client's Digital Exposure 
Your client's GBP listing has the potential to be viewed and utilized by a large number of people. So, the higher your client is on the SERP, the more likely they are to attract new customers. A fully filled-out GBP listing makes it simple for your clients to promote their products and services to make it easier for potential customers to locate and contact them.
"Google Business Profiles are not just important, they're absolutely a must. If your business category has any competitors in your city or service area, showing in the map packs in the search engine results is key to earning new leads and clients. Claiming and maintaining a well-set-up GBP is the first step to making that happen." - Ross Taylor, President of Alameda Internet Marketing
When a customer searches for a local business using their mobile device, their intent is typically higher. You can bet that they'll be more likely to visit your client's business, especially if they're looking for a phone number or address, resulting in more sales. Plus, you won't have to guess where the sales are coming from since Google Insights provides an understanding of where new leads and sales traffic originates.
Google Business Profile insights show you how searchers are seeing your clients listing on Search and Maps and then what action they take after discovering it. The Insights tab in their GBP dashboard show consumer engagement statistics such as clicks to their website, clicks to call, and clicks for directions. Google Business Profile also allows you to see where those calls are coming from and if your client is answering them.
"Local businesses that rely on foot traffic: think about your average florist or marijuana dispensary. They don't really want the phones ringing off the hook. They want people to type in "best florist in Portland" or "dispensary near me" For these businesses, "direction requests" is the most important metric." - Joey Randazzo, Owner of Portland SEO Growth Partners
The valuable content from your client's GBP listing plays a part in their larger local SEO efforts. When utilized effectively, their GBP may help improve search results, drive website traffic, generate leads and income, while also providing important insights into their client base.
What Are Google Business Profile Insights? 
Google Business Profile (GBP) Insights show you how customers are finding a business. They reveal all the data you need to know about a client's local search performance– from the number of views their listing has received, to how searchers are finding them.
In a nutshell, GBP Insights is how customers use Google Search and Maps to find a listing and what action they take once they find it, like clicking on directions, for example. 
It's important to note that Google Business Profile Insights are different from Search Console and Google Analytics. 
Google Business Profile Insights vs. Google Analytics: What's the Difference? 
Google Business Profile Insights and Google Analytics are both important tools that help measure different metrics. Each impacts your clients' overall local marketing goals differently. 
Google Analytics shows traffic and activity that happens on a website. Meanwhile, Google My Business Insights shows traffic and activity on a GBP listing.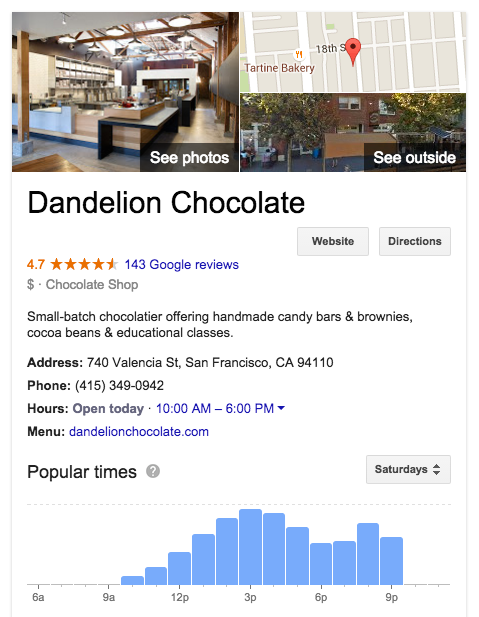 Let's dig into the use cases a bit further. 
Why Are Google Business Profile Analytics Helpful? 
Google designed GBP to be like the first page of your client's website. This is where their customers can quickly get all the business information they need to take quick action. And if they're seeking more information, they'll visit the website. 
"Google Business Profile listings are a content goldmine for sharing everything from photos to news and even testimonials. They also provide the rare opportunity to share key messages even before customers reach your website." - Valerie Jennings, CEO of Jennings Social Media & MarTech (JSMM).
So why are Google Business Profile Analytics helpful? 
While Google Analytics (and the soon-to-be-standard Google Analytics 4) helps you understand how well your client's content marketing efforts are doing, it also gives you a sense of how many warm leads are finding your client's site. These warm leads may be visiting the site for more information, but are not necessarily ready to take action or make a commitment yet. 
On the other hand, GBP Insights shows you how many hot leads have found your client's website through their GBP listing on the SERP. Even if the potential customer clicks on the website link from the local listing, the key difference is that they're more likely to be at the end of the final stages of the sales funnel. 
Consider this scenario. 
A customer is looking for a lawyer and did a quick search on Google. They found some websites and clicked around looking for some top-level information. They're still in the research phase of determining what kind of lawyer they actually need. 
Eventually, they have more of a sense of what they need and type in a query with a specific keyword, using high-intent keywords such as divorce lawyer or divorce lawyer in Chicago. They find your client's GBP listing, they're ready to commit and click the website directly from the listing. The customer is more informed and more likely to fill out the contact form versus when they were just doing their initial search. 
What Insights Does a Google Report Provide? 
Google is currently in the process of transitioning from Insights to Business Profile Reporting. This is important because your agency will be able to see even more data to optimize your clients' GBP listings. Along with more metrics, new reports and functionality will be added.  
Currently, Google Reports provide the following metrics: 
Number of profile interactions

How people discovered your client's business (platform and device) 

Search terms their listing appeared for 

Calls made to their business from their Business Profile 

Bookings made from their Business Profile 

Website clicks made from their Business Profile 

The number of views their Business Profile photos have received 

The total number of photos their GBP listing has compared to similar business types 

The number of food orders received (if applicable) 

The number of product reviews 

How many views their posts have received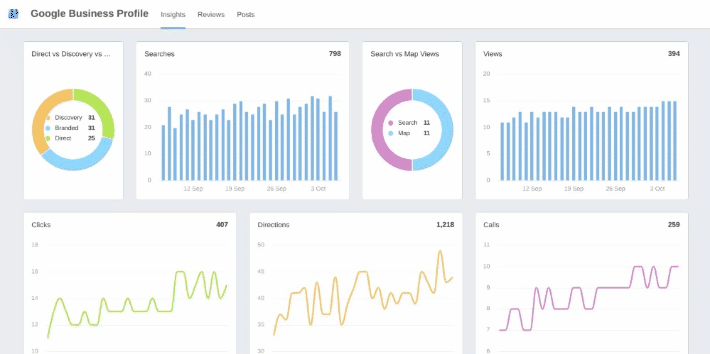 Whether you're looking to provide insights into your client's customer behavior, compare historical search data or monitor broad changes in your client's target market, AgencyAnalytics makes it easy. Compile a wealth of Google Business Profile insights for your clients to showcase the value your agency brings. 
Google Business Profile Metrics You Need to Know
Of course, there is a variety of data available from your clients' GBP listings that help inform your marketing strategies. And things can get complicated quickly as you try to manage their other local marketing service like SEO for multiple locations.
Top 6 GBP Metrics to Include
To keep things simple, here are the top GBP metrics you should be looking at. Be sure to monitor these on a monthly and annual basis to gauge the effectiveness of your client's local search presence. 
1. Webpage Views and Traffic
Keep track of your client's website views and any traffic that is coming from their GBP. This could be an opportunity to test out UTM tracking. For example, adding a simple snippet code to the end of a URL tracks up to 5 UTM parameters: source, medium, campaign, term, and content. These all give you a clearer insight into your client's marketing performance. 
"Next to a business's website, the GMB profile is the next most valuable piece of digital real estate." - Robert Messinger, Director of SEO at Dentalfone.  
2. Customer Actions
Monitor every action a customer is taking, including website clicks, directions, and calls. This shows you exactly what customers are doing once they land on your client's GBP.    
If the majority are clicking on their website, they may be looking for more information. Is there something you could add to their GBP that would answer those questions? 
3. Direct, Discovery & Branded Searches 
Include specific types of searches in your client's GBP reports. This shows them exactly who searched for their business and how they got there. Did they specifically type in the business name? Or did they search for a brand that's related to your client's business? These insights are helpful when understanding how a searcher lands on their GBP listing.  
4. Maps & Searches 
Are your client's customers viewing their business on Google Maps or Google Search? It's useful to create comparison charts or a bar graph to visually show clients where their listings are gaining the most traffic.
"I use Google Maps to get to places I already know how to get to. Why? Because I don't want to miss my turn if I happen to not be paying attention." - Trevor Shirk, CEO, and Founder of Terrayn. 
This traffic data reveals key insights on where to dedicate a paid budget when the time is right. If their customers are typing in "law firm near me," you may consider advertising on Google Maps to attract nearby customers. If they are searching "divorce lawyer," you know to put their ad spend towards Google Search ads instead. 
5. Business Ratings & Reviews 
Reviews are a key way to build trust and credibility online. Google's star ratings and detailed reviews help potential customers decide which businesses to visit and what products to buy. 
This metric gives you insights on whether your client needs to run a campaign that encourages existing customers to leave a review or maybe create a strategy to respond to positive and negative reviews. 
Keep clients up-to-date on their company's online reputation with detailed review reports that automatically integrate data from GBP and other rating and review platforms. 
6. Call Tracking
Google Business Profile listings essentially act as an online directory. And if potential customers want to phone a business, they're going to click to call. 
Setting up call tracking software for your client's businesses gives you access to valuable data. For example, the types of calls that are being received, if the calls are coming from qualified leads, etc. 
"For our clients, it's almost 100% focused on the number of calls we're able to generate. Our clients stick with us as long as we're able to generate leads via phone calls, so we pay close attention to that." - Ryan Burch, Managing Partner at Tobie Group.
Set up a call tracking dashboard to analyze call sources, and contact details, and share key tracking methods with your clients. 
Agency Tip: Compile all of your GBP metrics, alongside other local marketing results, into a local marketing report to help analyze the data while keeping your clients informed of the valuable work you're doing. 
7. Post Activity
Take note of what types of content are resonating with customers. Keep track of specific metrics such as views and clicks. 
If you want access to even more traffic (conversions, time on site, etc.), record your GBP posts in Google Analytics or Google Search Console. 
Monitoring GBP post activity informs you of future decisions regarding your client's business updates, what type of photos to use, choosing what offers to highlight, and more. 
Bonus Metric to Track: Google Local Service Ads 
Google Local Service Ads metrics are a paid promotion and not technically part of the core GBP. However, you cannot run local search ads without a complete GBP. GLSA metrics are important to track because you want to be able to make informed decisions when working with your clients' budgets.
Use a Google Local Service Ads reporting tool to get full visibility into your client's ad spend and marketing performance. Automatically pull in GSLA data such as PPL metrics, reputation management, and more, to help your clients visualize all of your hard work. 
What You Should Be Reporting
Your client reports should include key data points that help you get to the pre-determined KPIs you and your client decided on. For example, if they requested that they want to get more reviews, then you would want to be tracking reviews each month and establish ways to achieve this goal. Or, perhaps, they have a set of core SEO KPIs that need tracking, such as search impressions, search clicks, and keyword rankings. Then, month over month, you would be able to clearly see what is working to get more reviews and what isn't. 
"The Google Business Metric our agency cares the most about is reviews as this can also help with website SEO as well as brand trust. Reviews come from real customers of yours and give the best insight to Google (plus potential new customers) if you're the right fit and are going to give the best service for them." - Layne Sparks, Head of SEO at Kiwi Website Design.
Here are three main areas you want to include in your reports:
Key Google Business Profile metrics 

How those metrics relate to your client's KPIs 

What your agency can do to meet those goals 
Put all your clients' local metrics into one streamlined report. Use this exact Local SEO Report template! Try it free for 14 days. 
What is the Difference Between Branded and Direct Searches? 
It's important to distinguish the difference between branded and direct searches in order to optimize your client's local search optimization strategy more clearly. 
Direct searches are when your client's customers type in the exact business name or address in their search query. 
Branded searches are when your client's customers find their listing by searching for a brand related to your client's business.
We recommend creating and optimizing their third party brand assets to dominate as many results for their direct search results as possible. And, collect all of their branded search queries and create the optimization strategy to rank high (while also appearing in the local three pack).
It's a good idea to perform a regular Google Business Profile audit to ensure everything looks up-to-date as Google evolves over time. 
Agency Tip: Does your client qualify for Google Local Service Ads? They are a great way to gain hyper-specific leads to their business, as they only appear to potential customers who are looking for their services in the vicinity. Plus, they'll be eligible to become a Google Guaranteed business which helps them build their online reputation, gain trust, and more.
GBP Metrics You Should Probably Ignore (According to Experts)
Depending on the type of business your client has, there may be some circumstances to ignore certain GBP metrics. We've asked seven agencies which are the least important metrics available from a Google Business Profile, and here's what they had to say: 
"Users who viewed your profile" is a muddy metric that can cause confusion due to how a "user" is actually counted." - Kira Krostag, CEO & Founder of Site Smart Marketing 

"Most businesses care about clicks, calls, and direction requests. They don't care about how many times they've been 'viewed.'" - Joey Randazzo, Owner of Portland SEO Growth Partners

"They all have value, but the amount of views of your images is probably the least meaningful." - Ross Taylor, President of Alameda Internet Marketing
Valerie Jennings, CEO of Jennings Social Media & MarTech, also suggests that an agency should not rely solely on GBP call tracking. "Google Business Profile will track the number of calls to your business from your profile. However, we find it valuable to also use a call tracking tool with a customized number to better identify qualified leads." -
Expert Tips to Optimize GBP Success
We've compiled a list of helpful tips to consider when optimizing your clients' GBP listings to promote better search visibility on relevant queries by motivated customers. 
1. Follow the Rules
There are specific things to consider when it comes to your client's GBP, for example, if they sell products or services internationally and, therefore, should not be aiming to create a local presence through their GBP. 
"It could be advised that businesses without a storefront need not utilize a Google Business Profile. However, the SEO benefit to draw customers to your website, preview content, and share visual images and graphics makes it an option worth considering." - Valerie Jennings, CEO of Jennings Social Media & MarTech.
In fact, in some circumstances, your client's business could be going against Google's policies and may be flagged for "gaming the system." You want to ensure your client meets Google's GBP listing guidelines now more than ever to avoid having Google suspend their profile.
2. Make Use of Every Feature Possible 
Go beyond the average business information and fill out as many options as possible for your local business clients. 
"Add as many images/videos to the listing as possible. Also, write weekly Posts. We optimize our client's profiles in the most comprehensive, legitimate way possible. Google is providing the platform - use it!" - Joey Randazzo, CEO of Portland SEO Growth Partners. 
"We post twice per week and utilize each feature that Google makes available, especially products and services with links to specific service pages." Robert Messinger, Director of SEO, Dentalfone.
3. In-Depth Tracking
If you're spending all this time optimizing and filling out your clients' GBP listings, you'll want to analyze the data after to see what's working and what isn't. Adding UTM tags to your client's GBP can isolate and measure GBP performance over time in Google Analytics and Google Search Console. This allows you to measure GBP keyword ranks over time (in Search Console) and assess the impact it's having on your client's overall conversions (in Google Analytics). 
"Ensure you add UTM codes to your homepage URL for more accurate tracking in Google Analytics and GA4." - Ross Taylor, President of Alameda Internet Marketing.
4. Get Visual 
Although Google isn't as visual as social media platforms, searchers still use photos to confirm if a business is real, genuine, or cares about updating their online presence. Be sure to add images to your client's GBP listing of the outside of their business, services, merchandise, etc. 
"We load the profile up with relevant photos that are taken by the business owner with the geotags intact. We ask for photos to be sent monthly. Adding and updating photos over time is important." - Kira Krostag, CEO & Founder of Site Smart Marketing.
 5. Set Up a Google Reviews Strategy 
Whether your clients can participate in this initiative or not, they should have some process set up that asks their customers to review them after they've interacted with their business. If they cannot ask in person for whatever reason, you could recommend setting up an automated service that sends out an email inviting them to review, take a survey, etc. 
"We educate our clients on how important it is to focus on getting detailed reviews on their GBP. Reviewers who mention specific products or services can drive tons of business as the text they write in their review actually counts towards Google's knowledge graph about each company. Reviews matter." -  Kira Krostag, CEO & Founder of Site Smart Marketing. 
"Include keywords in your answers so Google knows what this review was for. E.g, 'Thanks for using our tree removal services in Auckland.' This will help Google know you are getting reviews about tree removal services in Auckland and show you more in this area for this service. - Layne Sparks, Head of SEO, Kiwi Website Design.
How To Track GBP Traffic in Google Analytics
By tracking your client's GBP traffic in Google Analytics, you can implement UTM parameters to segment the traffic even further. This helps differentiate paid versus organic traffic.
Ross Taylor, President of Alameda Internet Marketing says their agency adds UTM codes to their client's homepage URLs for more accurate tracking in GA and GA4. The team then displays the results visually to help their clients better understand. 
"Any graph that goes in "up" direction is a win to our clients! The fact that you can now see in the GBP dashboard where calls came from and how long they last are also very interesting to clients." - Ross Taylor, Alameda Internet Marketing.
First, you want to add your client's Google Business Profile URL on the URL builder form. Be sure to name the campaign so you can easily keep track of it. 
Next, you need to finish filling out the rest of the form. Some suggested parameters to include: 
?medium=organic

?source=gbp

?campaign=local
Then, after everything is properly filled out, you'll be given a URL to use on your client's GBP listing. Once it's implemented on their listing, you'll now be able to track the traffic from users who came from their GBP listing to their website. 
Bring your client's GA4 data into white labeled Google Analytics dashboards and automatically update their metrics in real-time with AgencyAnalytics. 
How To Combine GBP, GA, and Call Tracking for Your Clients
Your clients don't have time to read individual reports. Combine their GBP, GA, and call tracking metrics in one, clean dashboard that they can access at any time–if you want them to.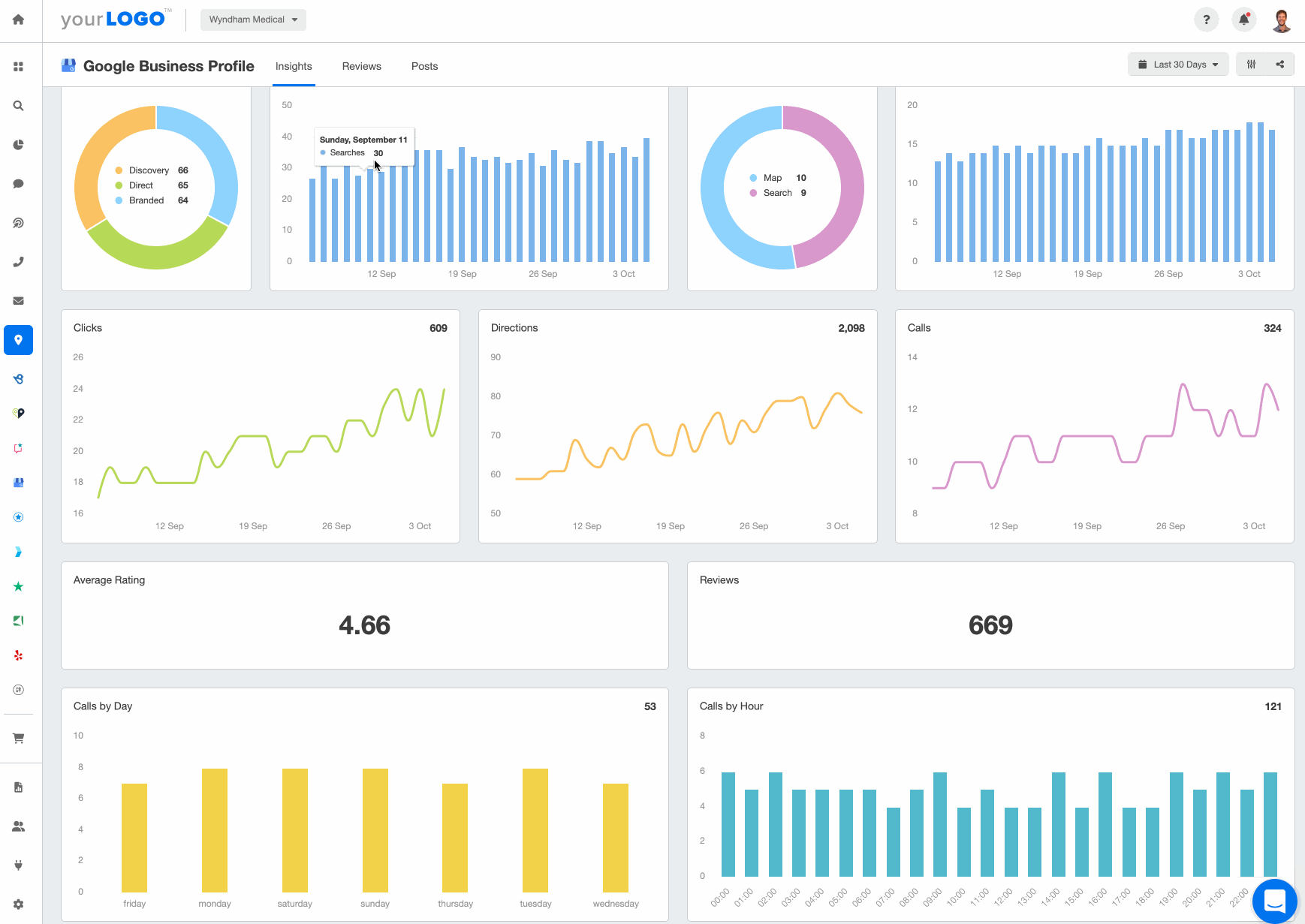 Summary & Key Takeaways
It's important to track key Google Business Profile metrics for your clients with a local presence if you want to improve their traffic and SERP positions. 
After all, 'near me' or 'close by' type searches have grown more than 900% over the past three years. And who doesn't want their clients to rank higher? 
Keep track of all your client's GBP metrics with automated Google Business Profile reports from AgencyAnalytics.  Get access to valuable insights while streamlining your GBP reporting processes. Start your free 14-day trial today!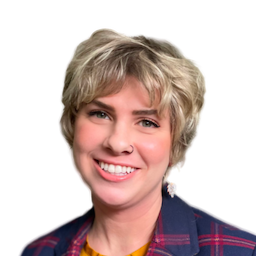 Richelle Peace is a joyful writer with a degree in Journalism. She loves writing web content, blogs, and social media posts. Whatever the topic, she's fascinated by learning and sharing.
Read more posts by Richelle Peace ›
Try AgencyAnalytics risk-free for 14 days. No credit card required.