As a marketing agency, your clients rely on social media to boost visibility and reach their business goals. But to truly understand the impact of their efforts, you need a comprehensive social media tracker. 
Reach and engagement are the lifelines of your clients' social media campaigns, and a social media tracker can provide more than just basic insights or surface-level numbers. By monitoring historical trends and collating useful data, you demonstrate real value to your clients and avoid relying on second guesses or outdated reporting procedures.
So stick around to see how to make informed decisions and improve your clients' social media performance–in a scalable way: 
Boosting ROI with Social Media Tracking: A Case Study
Let's say your local jewelry store client wants to increase engagement on their social media platforms to boost brand awareness and drive sales.
Your agency gave the store owner access to a custom social media dashboard so they could track key engagement metrics such as likes, comments, and shares and identify which types of content resonated most with their audience. This helped them create better content for you to optimize and post.  
Your agency also uses this information to develop a more targeted social media strategy that includes visually appealing content and specific calls to action. As a result, your clients' engagement rates increased by 30% over six months, and they saw a 20% increase in website traffic from social media.
By using a social media tracking tool to monitor engagement metrics and identify opportunities for improvement, your agency becomes an invaluable partner for its clients, developing more targeted and effective social media strategies.
A Breakdown of 3 Key Social Media Metrics
How will you measure the traction and impact of your clients' social media campaigns? Remember this triage: reach, impressions, and engagement. 
It's especially important if you want your agency to stand out from the crowd or scale social media services. After all, what's your value proposition beyond just "This social media post got 1,000 likes!" 
I think any metric taken in isolation is a vanity metric. To really understand performance, you need a range of metrics, and they need to be analyzed together. Taking the time to explain reports and the metrics contained helps clients focus on the right things. 

Paul Morris, Managing Director of Superb Digital
To understand this better, let's define each of these social media metrics. 
1. Reach
You've probably come across "Reach" on the backend of your clients' social media platforms (like Facebook and Instagram , for example). 
But what exactly does social media reach refer to? This term refers to the number of unique users seeing your clients' social media content.
So in instances where the same user sees your clients' content more than once (e.g., retargeting ads), it's not accounted for in this metric. 
Social media reach is also a good measure of:
The effectiveness of your clients' targeting strategies (e.g., sponsored posts or a big organic promotion)

Whether you're producing relevant content (e.g., using the right keywords or hashtags to reach the right demographic) 

Brand awareness (especially if your client's reach is being seen by the intended target audience) 
Keep in mind that reach doesn't account for any brand interactions, so don't use this metric as a North Star metric of social media performance. 
In addition to measuring the number of unique users who have seen a social media post, track the sources of reach, such as organic vs. paid to understand the effectiveness of your social media marketing campaigns and make informed decisions about where to allocate their marketing budget and efforts.
Track reach over time to identify trends in your clients' audience reach and target new demographics or interests.
Use AgencyAnalytics to zoom in and out of date easily ranges to identify trends. Try it free for 14 days! 
2. Impressions
Impressions refer to the number of times your clients' content has shown up on user interfaces. Here's the catch–it doesn't necessarily mean those users looked at their content. For example, your client's social media post may have popped up on a user's LinkedIn page. However, it doesn't necessarily mean they paid any attention to it. And if this post showed up more than once for that same user, it's also added to the overall impression count.
Some may argue that impressions are all fluff, but it boils down to what your clients define as success. For example, local businesses may heavily rely on social media visibility to attract in-person customers (even if it takes more than a few content displays to get there). 
Impressions, visits to websites, calls, and driving directions are the most important positive metrics to get a broader viewpoint of whether business growth is happening in your local community.

Kira Krostag, CEO and Founder of Site Smart Marketing
While impressions may not always result in direct engagement, they are still a valuable metric to track. Tracking impressions helps agencies understand how visible their client's brand is on social media and make informed decisions about where and when to post. 
For example, if you see high impressions but low engagement on a certain Instagram post, you may want to reconsider the timing or format of their content to capture their audience's attention better.
Agency Tip: While there's no 100% guarantee, explore the best social media posting times to increase impressions and boost brand visibility.
What's the Difference Between Reach and Impressions?
Reach and impressions are pretty similar. So what's the real difference between them, then? To help you distinguish between the two, remember that:
Reach accounts for unique users that have seen your clients' content

Impressions focuses on the number of times an ad or piece of content was displayed, including if it was shown to the same user multiple times)
For this reason, social media impressions are always higher than reach. 
3. Engagement
High reach and impression rates may be enough for some of your clients (depending on their unique goals).
When looking at social media metrics, it's important to prioritize them based on the KPIs that are important to your client. For example, a newly launched local restaurant may be looking for impressions and reach for awareness purposes. Always take a look at your clients' goals and what's needed to move the needle forward. 

JC Polonia, Founder of Digitality Marketing
But what if your clients want users to take action and move further down the social media funnel? That's where engagement metrics come in. 
These social media metrics track user interaction on a more granular level. In turn, this gives more detailed insight into the impact of your clients' social media campaigns.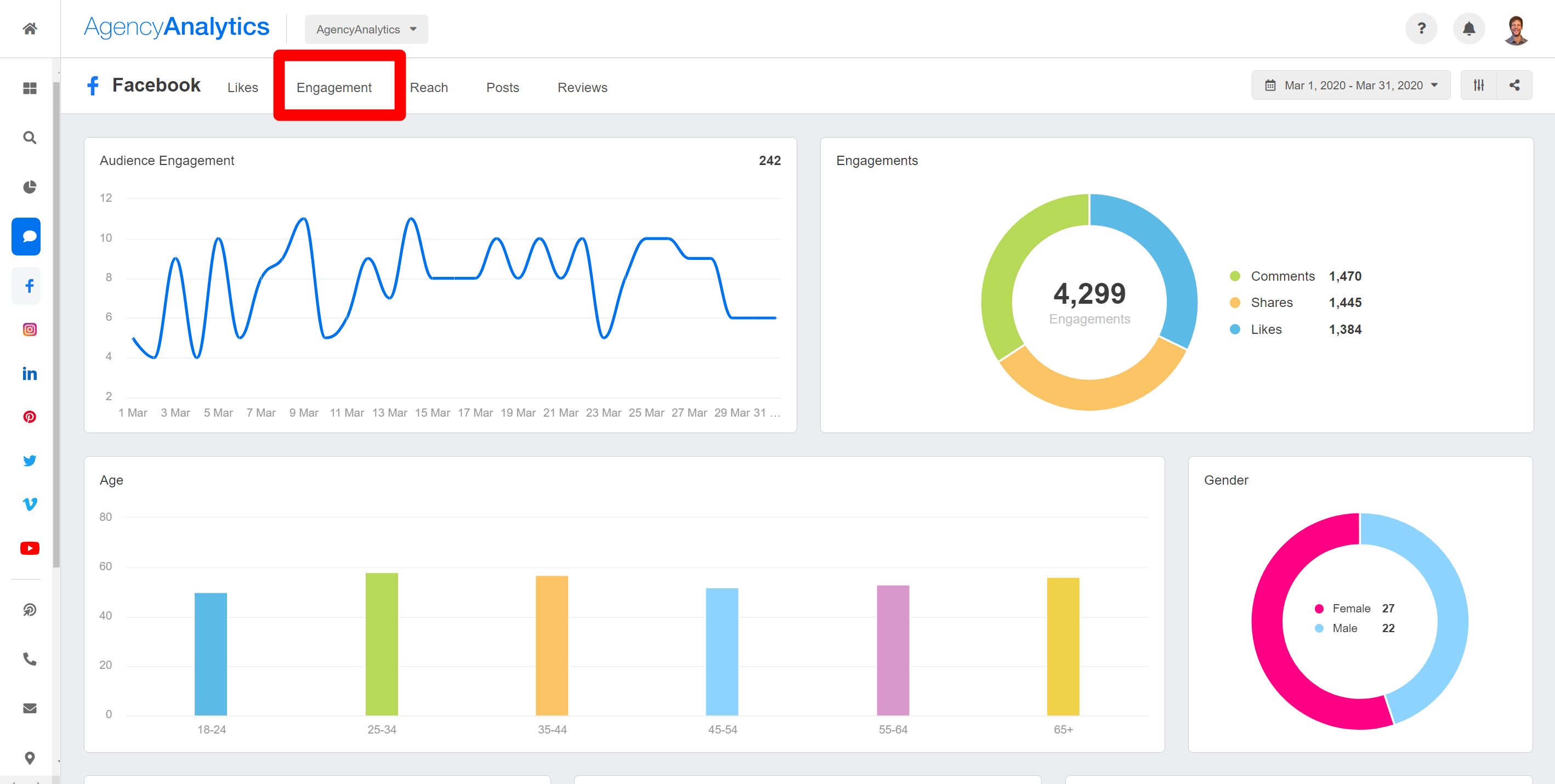 Social media engagement KPIs come in different forms, including: 
Shares

Comments 

Likes

Poll responses (e.g., on Instagram stories)

Clickthrough rates (e.g., clicking on a website link or a CTA like "Download App Now") 
And as more users interact with your clients' content, it may be displayed on their networks. In turn, this leads to more brand visibility and growth.
Engagement is the metric that we look at the most. If we are reaching and interacting with people, that typically hits the goal for our customers.

Patrice Valentine, President of ProFusion Web Solutions
It's important to track not only likes, comments, and shares but also more specific engagement metrics like click-through rates and conversion rates to gain a more comprehensive understanding of your client's social media performance.
By doing so, you'll see how social media drives traffic and conversions on your client's website and use this information to make informed decisions about where to focus your social media efforts.
Agency Tip: To ensure your clients' marketing efforts get maximum engagement, optimize social media image sizes. After all, it won't make sense to expect users to follow through on CTAs if they can't see your clients' social media posts correctly.
How To Choose the Right Social Media Tracker
Knowing those key social media metrics are one thing, but how will you actually monitor them? It's a no-brainer–use the right social media tracker.
Not sure where to begin? Here's what your agency should look for in a social media tracker.
1. Compatibility With Various Social Media Platforms
The last thing you want is to invest in a social media tracker that doesn't meet your agency's needs. 
If you manage clients that use a range of social media platforms, you'll need a social media tracker that successfully consolidates those insights in one place. 
For example, a platform like Looker Studio may work well for a bit (especially in the early phases where you have a limited number of clients). But as your agency scales, you'll likely encounter serious limitations, like a lack of marketing integrations. That's why investing in the right infrastructure from the get-go is important. It'll help you to meet those demands while also providing your clients with the value they deserve.
There's no shortage of social media integrations on AgencyAnalytics. Easily populate reports and dashboards with insights from over 75 marketing platforms–sign up for a free 14-day trial today.
2. Agency-Specific Reporting and Analytics Features
Many social media trackers are out there, but they aren't all built specifically for agencies like you.
To avoid any potential hiccups or limitations, be sure your chosen social media tracker has features like: 
White label features that put your agency's brand forward

Automated data collection from all your clients' marketing platforms that automatically stay up to date

Custom metrics to create reports that specifically track your clients' goals

Annotations and goals to add more context and track social media goal progress

A range of data visualizations that makes social media insights easier to understand

Pre-built dashboard and reporting templates (e.g., a digital marketing dashboard)

Embedabble content to incorporate a video overview explaining their results

Snapshots of their actual social media posts alongside their marketing metrics so clients can easily match performance to creative

Client login profiles that give your clients 24/7 on-demand access to their social media metrics
Add context to your clients' social media metrics and visually showcase their data. Access a range of time-saving reporting features built specifically for agencies–try it on AgencyAnalytics with a free 14-day trial.
3. Easy Customization
Even if you're running social media campaigns for multiple clients, they'll all have unique goals. 
For example, one client may be focused on boosting sales through social commerce. Alternatively, another client could be solely interested in boosting their web analytics (like organic traffic and time per session). And so, a standard social media report won't work in all cases. That's why you must ensure that your chosen social media tracker includes customization capabilities.
Agencies need an intuitive editor when it comes to client reporting. What you need is a drag and drop report builder to easily customize your live marketing dashboards and reports–in minutes.  
Don't settle for ordinary, standard client reporting. Go the extra mile by reporting on customized social media insights–try it on AgencyAnalytics with a free 14-day trial. 
8 Popular Social Media Tracker Tools
As a marketing agency, you know how important it is to fine-tune your clients' social media presence and performance. That's where dedicated social media trackers come in handy. With these nifty tools, your agency monitors multiple social media platforms, all in real time. 
This means you're always in the loop with your clients' target audience, keeping track of marketing campaigns, and spotting trends and opportunities as they pop up. 
Wondering what some of the most popular social media trackers look like? Let's take a look at a few examples. 
1. Sprout Social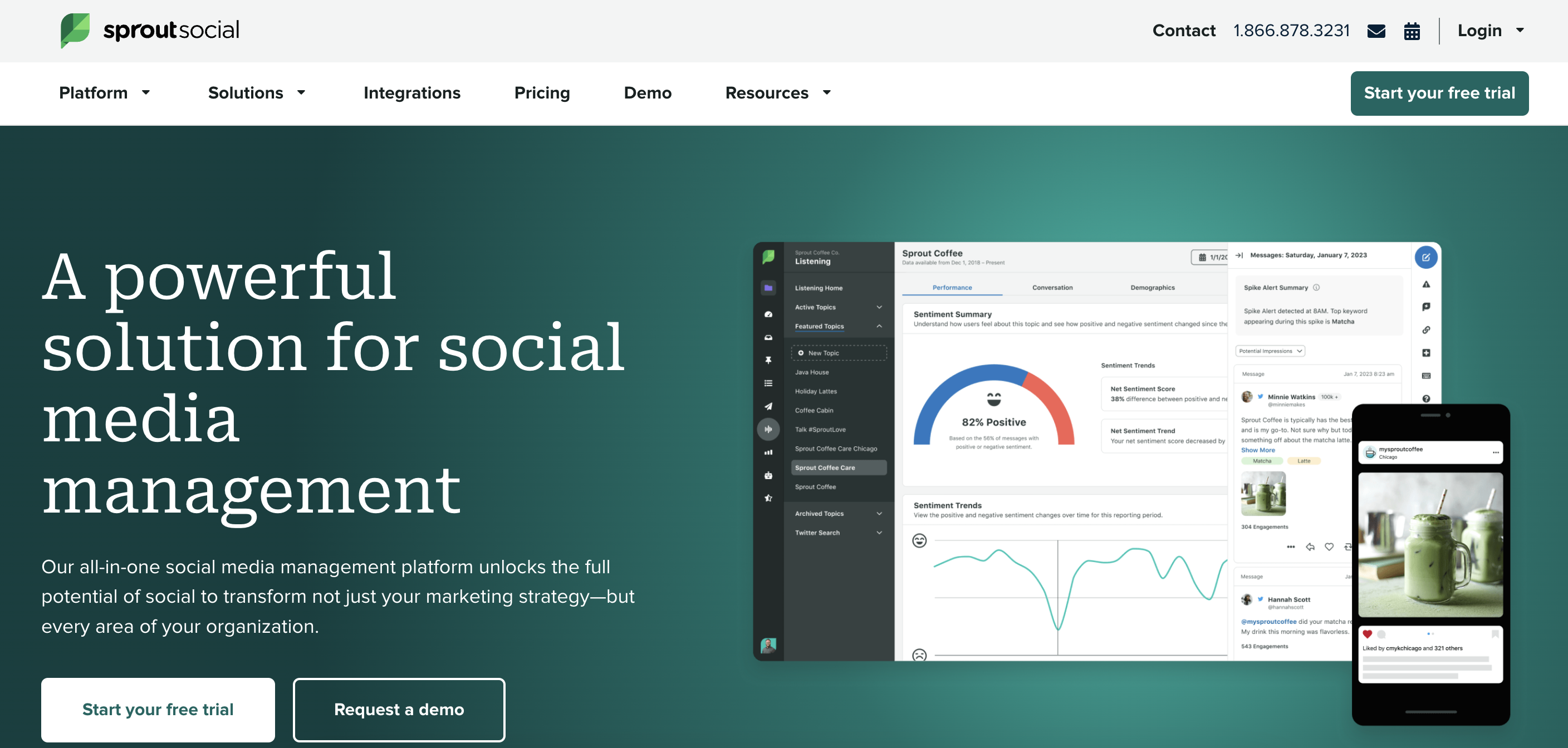 Your agency may already be familiar with Sprout Social–a highly used platform that includes social media scheduling, publishing, and social listening (i.e., monitoring competitors). They also have a unique feature called "Virality Score" that helps users understand how likely their content is to be shared on social media. 
Their most widely used tools include:
Social media scheduling, monitoring and listening

A unified social inbox for managing social media messages

CRM features for tracking customer interactions and conversations

Asset management for organizing and sharing content and brand assets

Mobile app for on-the-go social media management
2. Hootsuite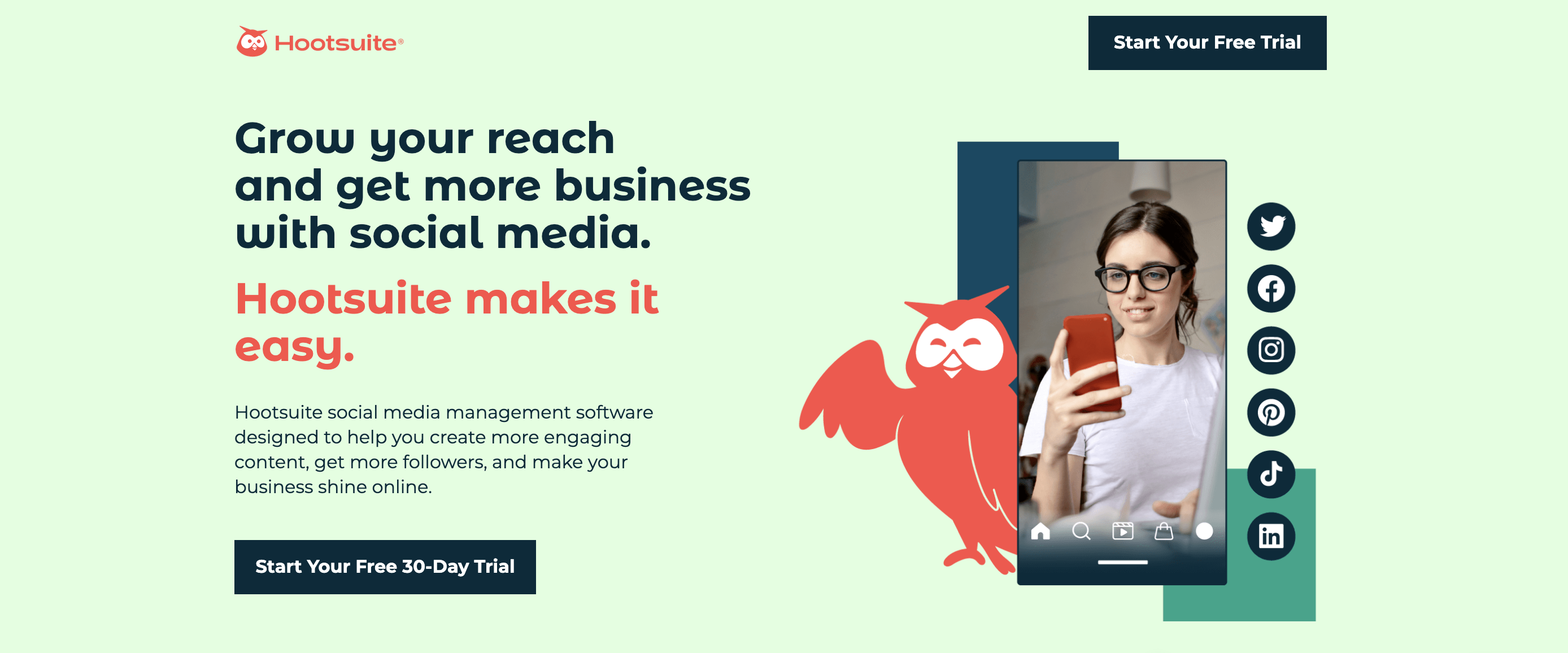 Another well-known social media tracker is Hootsuite, which comes in handy for social media management (including scheduling posts and team collaboration). Hootsuite is a better fit for agencies that need advanced social listening and monitoring features and have the resources to fully utilize its capabilities.
Their most widely used tools include:
Social media management dashboard

Content library to store, organize, and publish social media content, as well as a feature for finding and curating content from other sources

Analytics and reporting features to important metrics across all social media platforms

Team collaboration tools, including content approval workflows and shared calendars

Tools for tracking brand mentions, keywords, and trends on social media, as well as sentiment analysis and competitor analysis
4. Brandwatch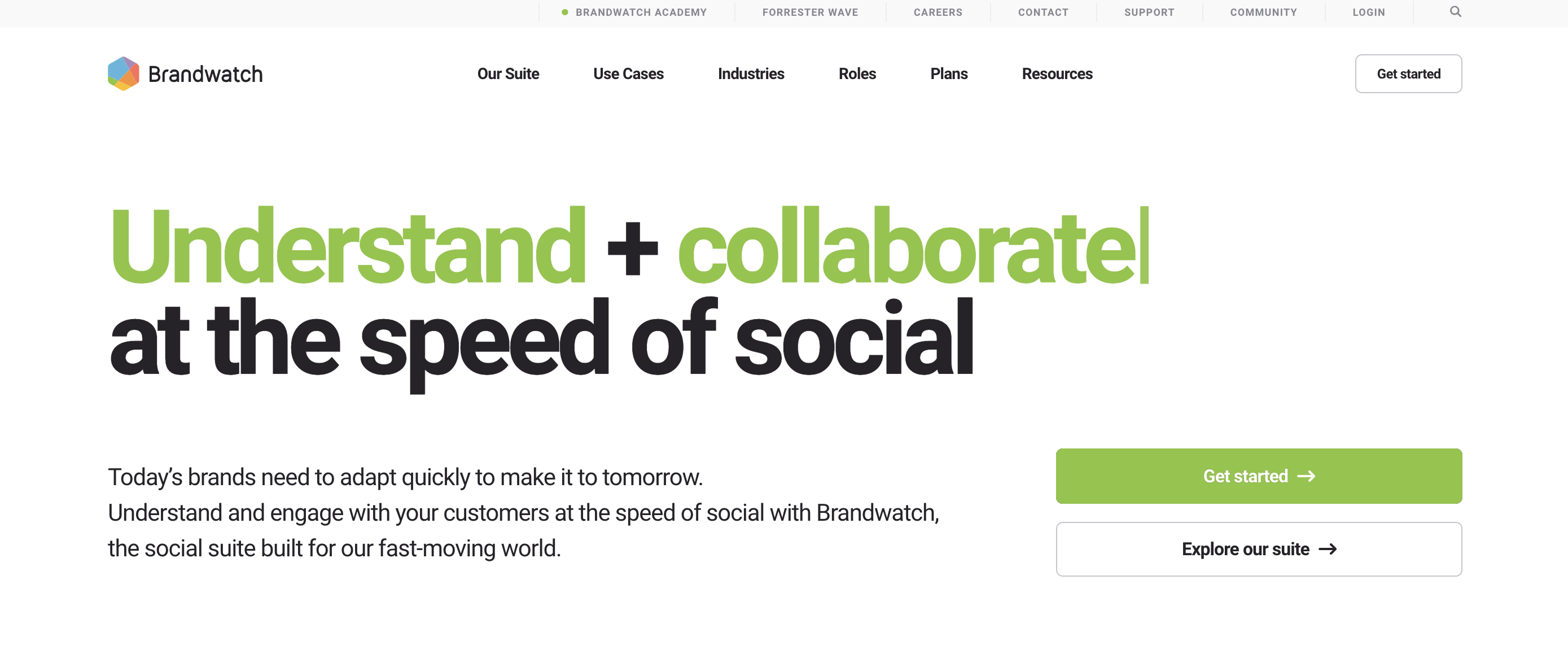 This tool offers social media monitoring and social media analytics features that allow businesses to track their brand reputation, monitor social media conversations, and identify emerging trends. They also offer AI-powered sentiment analysis, image recognition, and crisis management tools. 
Their most widely used tools include:
Social listening and monitoring to track brand mentions, competitors, and industry trends in real-time

Audience insights and demographic data 

Influencer identification and analysis to find relevant influencers for influencer marketing campaigns

Image and video recognition technology to analyze visual content and brand logos in social media posts and monitor brand sentiment

Crisis management features to quickly identify and respond to negative social media conversations or mentions
5. Mention
Mention allows agencies to track their clients' brand mentions, monitor competitors, and analyze social media performance. It also offers sentiment analysis and influencer tracking features. Plus, you can receive alerts and insights about brand mentions and industry trends as they happen to respond quickly. 
Their most widely used tools include:
Real-time media monitoring to track brand mentions, social media activity, and other online conversations

Competitor analysis helps agencies gain insights into what's working for their clients' competitors and adjust their own strategies accordingly

Influencer tracking to build relationships and create more effective influencer marketing campaigns

Scheduling social media posts across multiple platforms

Alerts to quickly respond to and mitigate any potential reputation damage
6. Agorapulse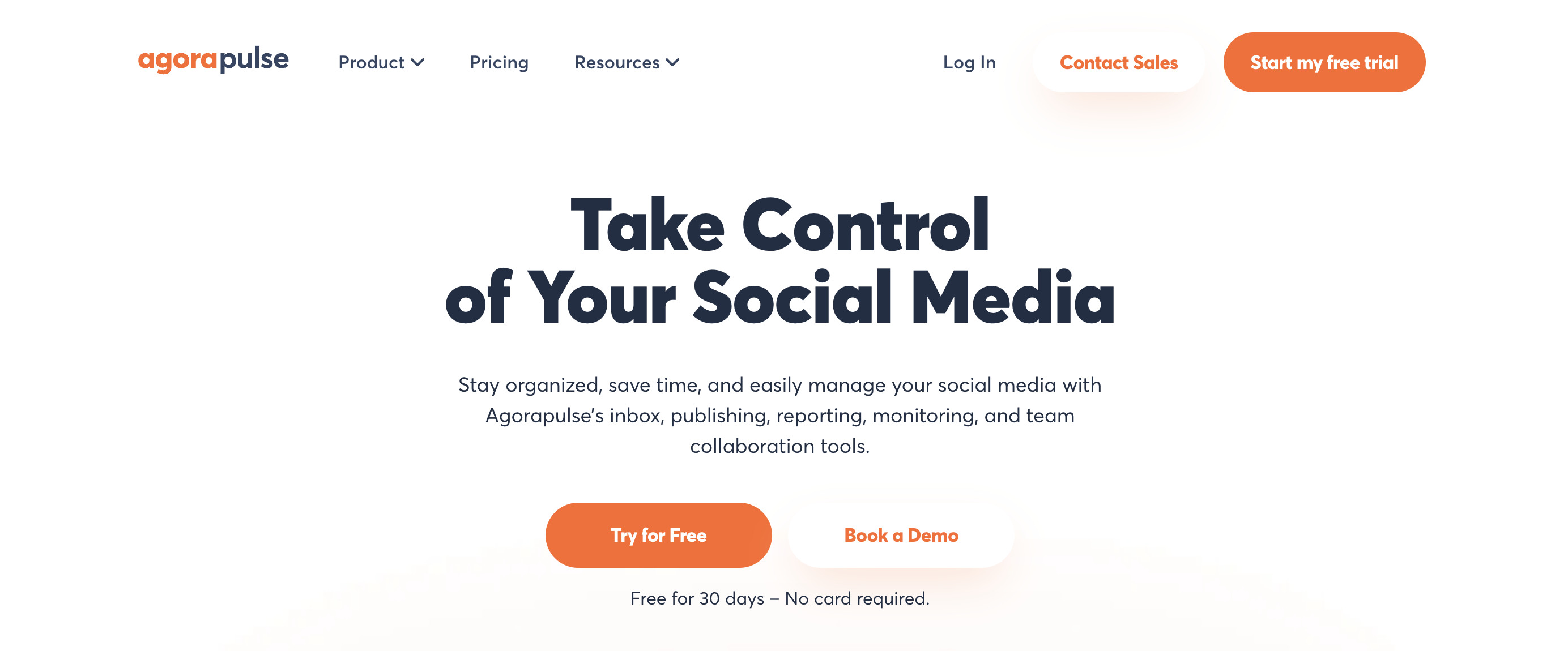 This tool offers features such as social media scheduling, content management, and analytics. It also allows you to track engagement metrics and generate reports for clients.
Their most widely used tools include:
Social media scheduling

Social media monitoring of multiple social media channels to keep track of mentions, comments, and other interactions

Analytics and reports on social media performance

Team collaboration features, such as the ability to assign tasks to team members and leave internal notes on social media posts

Ad comment management to manage comments on your Facebook and Instagram ads to respond quickly and effectively to customer inquiries and concerns
7. Iconosquare
Iconosquare specializes in Instagram and Facebook, offering post scheduling, hashtag analytics, and competitor tracking.
Their most widely used tools include:
Instagram and Facebook analytics

Influencer discovery and management

Post scheduling and publishing

Hashtag and competitor tracking

Mobile app for on-the-go social media management, making it easy for marketing agencies–and their clients–to monitor and engage with their audiences from anywhere at any time
8. Talkwalker
This is a social media listening and analytics tool that offers crisis management and influencer marketing features to monitor sentiment and trending topics. They also use artificial intelligence and machine learning to provide insights and predictions based on social media data.
Their most widely used tools include:
Social media listening to monitor social media platforms, news sites, blogs, forums, and other online sources in real-time

Influencer marketing to find and connect with influencers

Real-time alerts and notifications to quickly respond to potential crises and protect your client's reputation

Competitive intelligence that keeps tabs on your clients' competitors' social media activity and benchmarks your performance against theirs

Image and video recognition that uses AI to monitor and analyze visual content on social media and other online sources
The Caveat
While these social media trackers are useful for keeping on the pulse of things, you may encounter limitations when it comes to more customized reporting. For one, they don't include some important features agencies need for effective social media reporting (e.g., reporting templates, adding annotations, or integrations with other marketing channels such as PPC or SEO). 
Don't sweat it, though. Investing in AgencyAnalytics means having an agency-centric social media reporting tool at your fingertips (in addition to many more time-saving features) to make reporting on all of your client's digital marketing analytics a snap!
Use AgencyAnalytics To Improve Reach and Boost Engagement
You can't steer your clients to social media success if you can't report on performance. Leveraging analytics is essential for any marketing agency seeking to optimize their clients' social media presence.
By paying attention to key reach and engagement metrics, marketing agencies are better prepared to create compelling social media experiences that captivate audiences, expand brand visibility, and drive results.
1. Monitor Overall Reach
To really understand social media reach, you must go beyond just one number. Take this example from the AgencyAnalytics Facebook dashboard:
Analyze your clients' social media reach and make informed recommendations. Give your clients valuable social media insights by using AgencyAnalytics, free for 14 days.
It gives in-depth insights like: 
Total reach

A comparison of organic and paid reach

Video views

Demographic breakdowns 
By adopting this detailed approach, you'll be more equipped to pinpoint data patterns over time or even develop new ICPs (ideal customers) to target. 
Top 5 Ways To Improve Social Media Reach
Using these reports, marketing agencies take a data-driven approach to the top 5 ways to improve reach for their client's social media campaigns. 
Know Your Audience: Use the metrics to help your agency understand how well your social media campaigns reach the clients' target audience. For example, if the client is targeting females between the ages of 20-29 in the US, but the reports show that your reach is skewing to Australian men in their mid-40s, you need to adjust the content strategy. 

Post Consistently: Regularly posting keeps your clients' social media profiles fresh and engaging. If 99% of your clients reach is from paid ads, you may not post frequently enough to gain traction. Find the sweet spot between overposting and going MIA – you want to stay top-of-mind without overwhelming your audience.

Control Your CPM: The average CPM on social advertising platforms like Facebook Ads continues to climb, currently sitting around the $15.00 mark. Of course, that will vary based on the industry and the target audience, but it's important to control the CPM to maximize reach without sacrificing the quality of the targeting or the creative. 

Use Hashtags Wisely: Hashtags are a fantastic way to extend your clients' reach on platforms like Instagram and Twitter. Research to find relevant, trending hashtags that align with your clients' brand and content. Remember not to go overboard – a few well-chosen hashtags will do the trick!

Optimize Content For Each Platform: Different social media platforms have different audiences and content preferences. Make sure to tailor your clients' content for each platform, whether it's snappy tweets, eye-catching Instagram visuals, or thought-provoking LinkedIn articles.
2. Evaluate Engagement Metrics
Similarly, you'll need to report on social media engagement in a more data-driven, straightforward way. To contextualize this further, take a look at the YouTube dashboard below.
It includes vital engagement metrics such as:
Likes and dislikes (including a comparative and visual analysis)

Comments

Shares

Notable changes (percentage increases or decreases)

Historical trends over time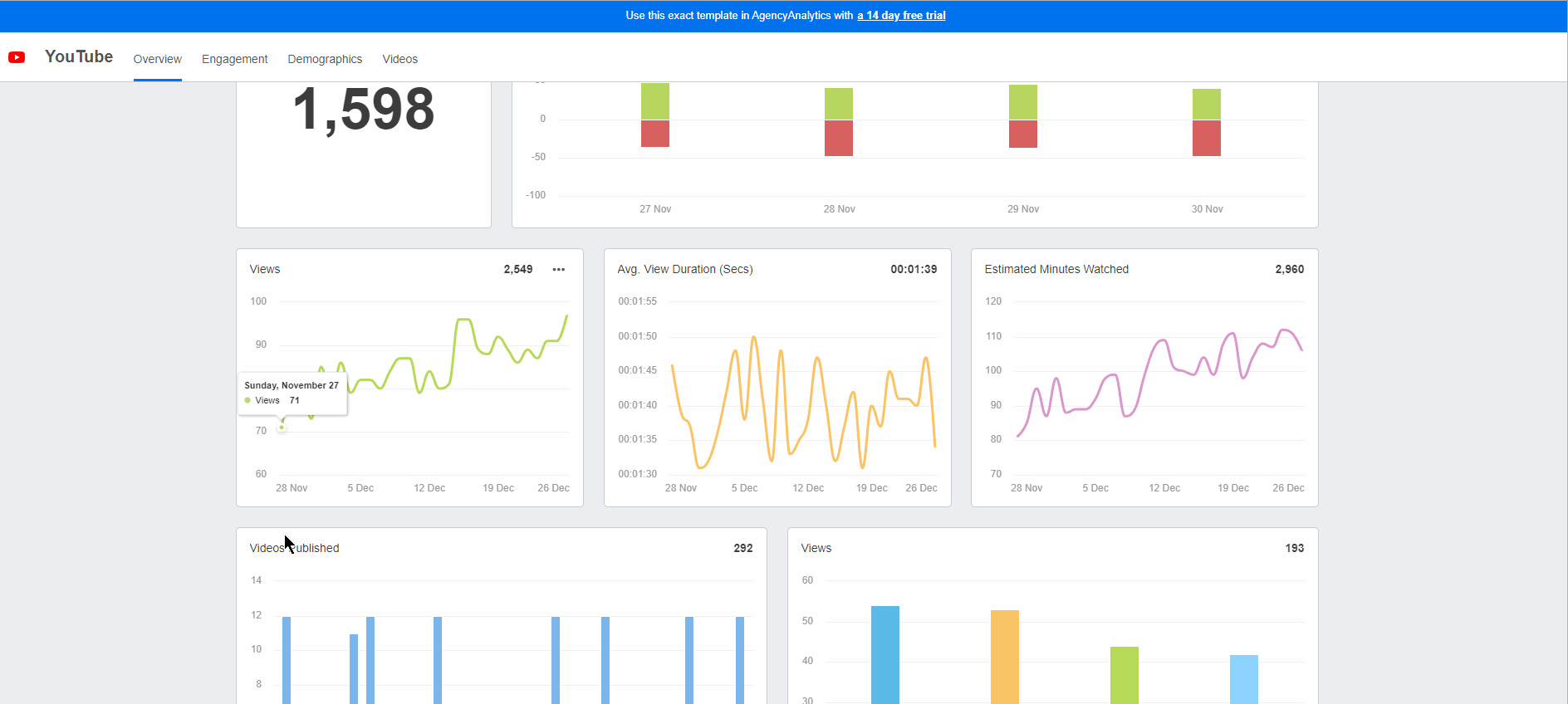 See what content resonates with your clients' target audiences most. Improve your clients' social media strategies and track their insights on AgencyAnalytics–it's free for 14 days.
Real-time social media engagement metrics are essential for optimizing engagement rates for social campaigns.
Top 5 Ways To Improve Social Media Impressions 
If you're a marketing agency on a mission to use data to improve paid and organic social media engagement rates, we've got your back. Here are the top 5 ways to make that happen (and then show off the amazing job you did in your social media reports!) 
Craft Compelling Content: Whether you are posting for clients organically or using paid placements to stop social media users in their tracks, it all starts with content that grabs attention and sparks conversation. Focus on creating high-quality, shareable content that resonates with the target audience. Mix it up with videos, images, polls, and stories to keep things interesting. Drill into the reach, impressions, and clicks for each social ad to see which are driving the most engagement across multiple platforms. 

A/B Test Your Campaigns: Don't rely on guesswork when it comes to paid ads. Test different headlines, visuals, and CTAs to see what resonates best with the target audience. Use the insights you gain to optimize your campaigns and boost engagement rates.

Use Audience Targeting: It's not what you post; it's who you reach. For both paid and organic content, get to know your clients' audience and use targeting options to reach the right people. Tailor content to different segments based on demographics, interests, and behaviors for a more personalized and engaging experience.

Encourage Interaction: In most social platforms, engagement equals additional exposure. Ask questions, run polls, or host live Q&A sessions to create a two-way conversation. The more your clients' audience interacts with the content, the higher the engagement rates will be.

Monitor and Respond: Keep an eye on comments, messages, and mentions to ensure you're part of the conversation. Responding to questions and feedback in a timely manner not only increases engagement but also helps build stronger relationships with your clients' audience.
Remember, it's all about connecting with the audience and providing valuable, relevant content.
Agency Tip: Pay attention to the content that results in the most reach and engagement over time. That way, you'll know what type of content to focus on and how to improve over time (e.g., incorporating specific hashtags or using specific CTAs). 
Scale Your Agency's Social Media Tracking &  Reporting
Social media tracking is like the compass of modern digital marketing for agencies. To keep their clients on the right track, agencies need to measure the impact of their social media campaigns and provide them with insights that steer their marketing strategies toward success. 
And picking the right social media tracker makes all the difference. 
While you may find that different trackers solve different problems, the only way to stay ahead of the competition is to provide your clients with detailed insights into their social media performance with scalable social media reporting. 
Why settle for a platform that only offers social media scheduling or publishing? Sure, that may be handy for executing social media campaigns, but your agency's needs are dynamic, and you need the right reporting infrastructure in place.
Investing in a client reporting platform like AgencyAnalytics means you'll have access to:
… and much more! 
Stay ahead of the competition and provide exceptional value to your clients. Start your free 14-day trial with AgencyAnalytics today.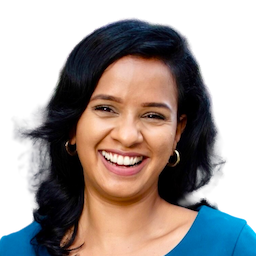 Faryal Khan is an experienced marketer and brand photographer with a passion for content creation. She creates value for brands through storytelling and captivating visuals.
Read more posts by Faryal Khan ›
Try AgencyAnalytics risk-free for 14 days. No credit card required.