As a marketing agency, your ultimate goal is to help your clients achieve success. But the way you communicate your results is just as important as the results themselves. That's where the Pyramid Principle comes in.
The Pyramid Principle flips the narrative on everything you knew about the drawn-out Introduction-to-Conclusion mindset. It structures concepts in such a way that grabs peoples' attention and guides their thinking in a way that's more persuasive and effective. It's a win-win for everyone.
In this blog post, we'll explore the key aspects of the pyramid of communication and show you how to apply them in your marketing agency to improve client acquisition and reduce churn.
We'll cover:
Let's go!
What Is the Pyramid Principle?
Originally developed by Barbara Minto in the 1970s, the Pyramid Principle is a powerful framework that can help your agency structure ideas and messaging in a logical and effective way. It uses on a top-down approach to communication, with the most important idea or conclusion at the top of the pyramid, followed by supporting ideas and details in descending order of importance.
Start with your takeaway insight and then follow up with supporting evidence. 
So instead of starting a conversation (or presentation) with data insights and building a strong stance over time, the Pyramid Principle encourages just the opposite:
1. Begin with your key message right off the bat (i.e., your agency's solution to a particular issue a client is facing or a performance summary at the top of a monthly digital marketing report).
2. Use supporting arguments to explain why the solution is needed. This section should seamlessly and logically flow from the key message. While there is no set number of supporting arguments, keep it as concise as possible so you don't overwhelm clients with too much detail.
3. Add data-driven facts or insights to solidify your position and persuade your clients to take action. 
3 Main Benefits of the Pyramid Principle for Agencies
The Pyramid Principle helps streamline both external and internal communications, saving time while building trust and authority.
Effective Client Communication
Using the Pyramid Principle provides a strong foundation for organizing supporting points. This leads to more persuasive communication of data narratives and recommendations, which come in handy for client reporting or proposals, for instance.
Organized internal communications results in clear job responsibilities and project scopes. As an agency leader, it's crucial to lead with intentional and crystal-clear communication. This leads to well-informed, purposeful, and collaborative staff that provides better services.
Applying the Pyramid Principle to campaign messaging helps agencies present their clients' value propositions and key messages like a boss. The result? Effective campaigns that speak directly to the target audience, leading to higher ROI and happier clients.
Retention! Retention! Retention! Why the Pyramid Principle Is Effective for Client Reporting
Think about your last snooze-fest meeting that dragged on for way too long than it should have. You were probably looking at the time and wondering, "When will this end?!" 
Using the Pyramid Principle saves time and energy by:
Having a clearly outlined and replicable agency process for communication. This means shorter meeting times and less time preparing presentations, reports, and dashboards

More finetuned prioritization of your clients' issues, which leads to higher efficiency and less roundabout conversations

Well-informed clients, which will lead to higher retention rates and more solid business relationships 
I believe reporting & attribution to be one of the key factors in client retention. Without relationships & communication, client retention does not exist.

–Christopher Marrano, Founder and CEO of Blue Water Marketing
Should My Agency Really Lead With the Key Message First?
Look at any digital marketing report template, and you will most often see the most important marketing metrics displayed first, followed by a report summary. And oftentimes, that overview is just skimmed over or even ignored. 
It's not surprising that some agencies take this approach. We're so trained to have a Problem-Agitate-Solution mindset that hammers the problem a few times before getting to the solution. It may even seem counterintuitive to just 'give away' recommendations without preceding explanations, but let's consider the scenario:
Imagine sending a client report that presents all the facts and eventually leads to a conclusion. In reality, no client wants to read 20 pages of data before getting to that 'ah-ha!' moment. In fact, they may not even be inclined to get to that 20th page (which somewhat defeats the purpose of your report preparation). 
At the end of the day, your clients often have limited time and attention. They want to know the ROI of your agency's marketing activities. What they don't need is a ton of data points, a merry-go-round of emails, or vanity metrics that don't mean much for their bottom line.
If your clients don't know what you're talking about or it takes forever to get to the point, it may reduce their trust in your agency's capabilities. And over time, you know what that means–agency churn. You don't want to lose clients simply because of a communication oversight! 
Exhibit A:
Let's say you've onboarded a new client and realized that their PPC strategy needs a total overhaul. Instead of leading the conversation with an overview of their Google Ads metrics:
1. Mention that you've uncovered issues and that their PPC strategy requires adjustments
2. Outline the concise, logical reasons that show why these tweaks are needed (e.g., 'Your ads aren't being seen or engaged with,' 'Ad copy isn't relevant')
3. Show the data that backs up these claims (presenting their relevant Google Ads metrics, such as quality score and click through rates) 
No need to build a top-down report from scratch. Use a pre-built PPC report template to deliver key insights and visual supporting data–try it on AgencyAnalytics, free for 14 days.
Our reports are an important tool to show value on what we've done but also the platform where we demonstrate potential opportunities for our clients.

–Ryan Hayes, CEO of Sparrow Digital
A Step-by-Step Guide: How To Use the Pyramid Principle for Client Reporting
Say you're using a proposal template to create a winning SEO proposal by highlighting website issues for prospective clients. You may even use this approach as an upselling strategy for existing clients. To get your message across in the shortest time possible, use the Pyramid Principle to structure your proposal in the following way.
1. Start With an Executive Summary
No need to beat around the bush: present your recommendations in an executive summary before getting into the data. 
As a performance-driven agency, we work to ensure we're achieving our client's goals, so a quick review & summary goes a long way for our clients. Visual aids also continue to be the main talking point. Trends, graphs, & columns are always helpful in understanding ebbs and flows within marketing campaigns.

–Christopher Marrano, Founder and CEO at Blue Water Marketing
Here's what it should look like:
As you can see, it begins by clearly outlining the key message of this proposal.
There are website weaknesses that were uncovered, and they need to be addressed. 
It's also structured in the following way:
After delivering the takeaway, the report summary lists all supporting arguments (i.e., a breakdown of applicable SEO metrics)
This is then followed by the promise of future action (touching base with the client later on)

There's an emphasis on keeping an open line of communication, giving clients the assurance that they're free to reach out if needed
Most clients are not advanced enough to truly understand the full aspects of marketing. They could be getting results but get stuck on one specific data point vs looking at the whole strategy. If they have a question, we prefer direct communication vs looking at a dashboard. It allows our account managers to really understand what they are looking for or expecting. 

–Jamie Contreras, CEO of Optemyz 
Without reading the proposal, your busy clients already know what it's about. The best part? They don't have to read all the pages to understand what's happening (if they're short on time or getting back to it later). 
2. Use Data to Back Up Your Message and Supporting Arguments
After you've set the stage, it's time to validate your stance by presenting relevant SEO analytics. To prove your points: 
Run an SEO site audit to give tangible evidence of your clients' technical website issues

Present their keyword rankings to show any areas of opportunity and how they're performing against the competition 

Provide a backlink overview that breaks down any newly acquired or broken links
To get the most out of this exercise, present your supporting arguments in order of importance. That way, your clients will know which issues are most critical and how to prioritize accordingly. 
No need to reinvent the wheel; use pre-built report templates that are already structured in an impactful way. Replicate reports with ease on AgencyAnalytics–it's free for 14 days. 
Regardless of what you're presenting, be sure to make use of data visualization. That way, your clients will grasp those numerical insights at first glance. 
As Jessica Weiss, Director of Marketing & Strategic Partnerships at One Firefly, shares, "Most clients do not want to get lost in the weeds when it comes to determining ROI for their marketing investment. AgencyAnalytics streamlines data presentation and focuses the client on what's working and what isn't quickly. Stakeholders appreciate the efficiency this brings to communication."
3. Include a Closing Summary To Emphasize Your Message
Top-tier client reporting is all about data storytelling and making sense of the numbers. After you've presented your findings, it's time to sum it up and drive your message home.
Don't get buried in the data itself–interpret the data for your clients and summarize the big-picture results. Help, educate, and drill down if needed. AgencyAnalytics is a powerful yet easy-to-use tool for reporting on an entire marketing mix for clients. It saves both the client and the agency time and helps build stronger client engagements.

–David Sardinha, VP/COO of The Marketing Machine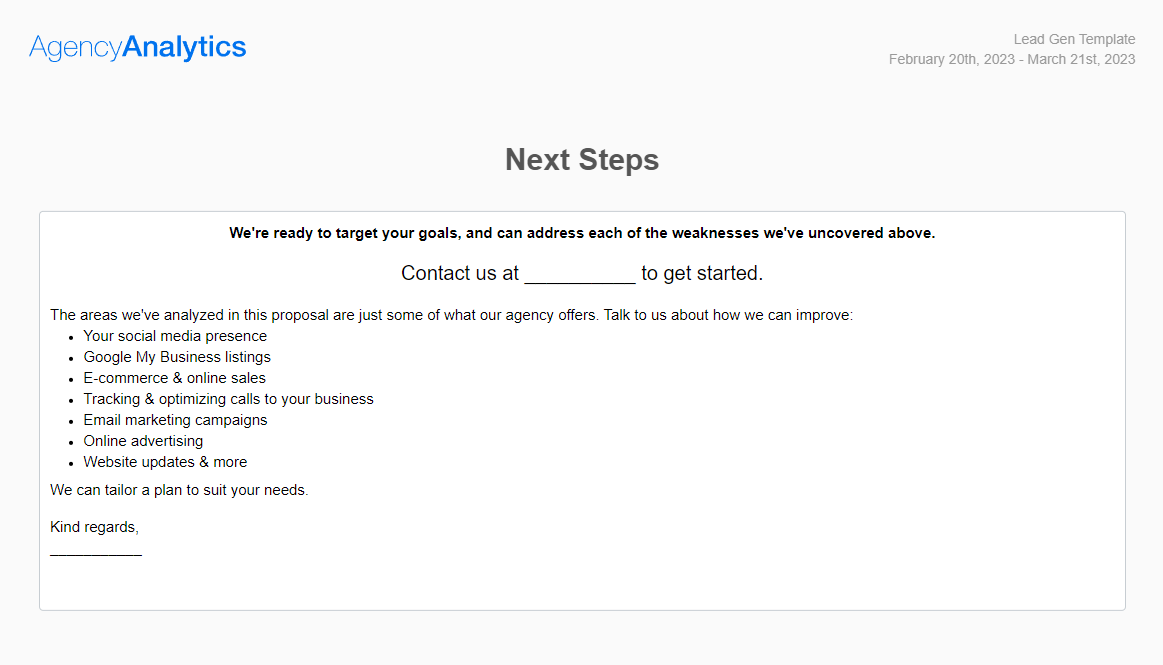 This approach reiterates your agency's value proposition and leaves your clients with clear possible next steps (in addition to a call to action). Open, concise communication is key to meeting client expectations! 
Whether you're building an SEO report, using a pre-built template, or even chatting 1:1, the Pyramid Principle is a tried and true way to get your message across impactfully. 
7 Other Ways to Apply the Pyramid Principle at Your Agency
Here are a few more use cases to apply this Pyramid Principle framework at your agency:
Develop Winning sales pitch decks: You've got one shot to capture a prospect's attention. Better make it count.

Write Proposals That Close More Leads: The art of persuasion and delivering authoritativeness is at the heart of every great proposal.

Shorten Internal Meetings: Begin by clearly stating the takeaway and end it by assigning responsibilities.

Improve Presentations: Show the key messages at the beginning to capture attention.

Create Better Content: Ensure that the content is focused and relevant.

Smoothen the Onboarding Process: Educate clients and staff on what they need to know.

Streamline Project Management: Identify critical information and prioritize tasks to ensure the project's success.
Report Top-down To Get Your Efficiency Way Up
As a marketing agency, coherent communication is vital for success. There's no longevity without it! To set the stage for client reporting best practices, think of communication as an agency process. Use the Pyramid Principle to add structure, get to the heart of the matter, and increase client satisfaction. 
Looking for a way to create top-down client reports? It doesn't have to take all day–invest in AgencyAnalytics and get access to a range of pre-built reporting templates. That way, you won't have to reinvent the wheel each time!
The best part? They're already built with effective communication in mind–all you have to do is replicate or customize them as you see fit. From white-labeling reports to granting client login access for transparency, keep your clients happy every step of the way. 
Streamline client communication and create impressive reports with ease. Cut down on manual reporting time and put billable hours back in your day–try AgencyAnalytics, free for 14 days.
Our clients appreciate transparency and consistent communication, so they know what they're getting for their money. AgencyAnalytics gives our clients clarity and confidence because of how easily we can communicate our results to them on a frequent, consistent basis. It really elevates our professionalism and keeps clients informed with minimal effort. 

–Lane Anderson, Founder & CEO of London Road Marketing
Bring clarity to your data, highlight the metrics clients care about, and showcase the value your agency brings to the table. Marketing report templates help you turn complex data into narratives that resonate.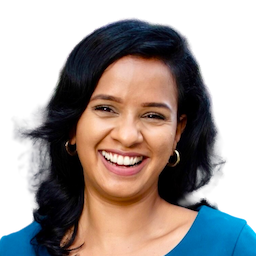 Faryal Khan is an experienced marketer and brand photographer with a passion for content creation. She creates value for brands through storytelling and captivating visuals.
Read more posts by Faryal Khan ›
Try AgencyAnalytics risk-free for 14 days. No credit card required.