Search engine results pages, or SERPs, are all pages that appear on Google, full of different results. The expression "wanting to improve our position in the SERPS" refers to the possibility of an individual page showing up at the top of a SERP for a certain search term (aka, what people type into the Google search bar). While this may be obvious to some, understanding how to analyze each SERP is still something we've found that companies are lacking.
Analysis Tactic #1: Understand the Different Listings on a SERP
As a refresher, on these SERPS you will always see organic listings, but oftentimes there will be three types of listings on a SERP: Organic, paid, and local.
Organic Listings: The results that appear for free and natural. Those are positioned thanks to SEO techniques. It usually takes a long time to build up enough SEO for businesses, and so while this is a best-case scenario, it doesn't always work right away (which is where paid comes into play).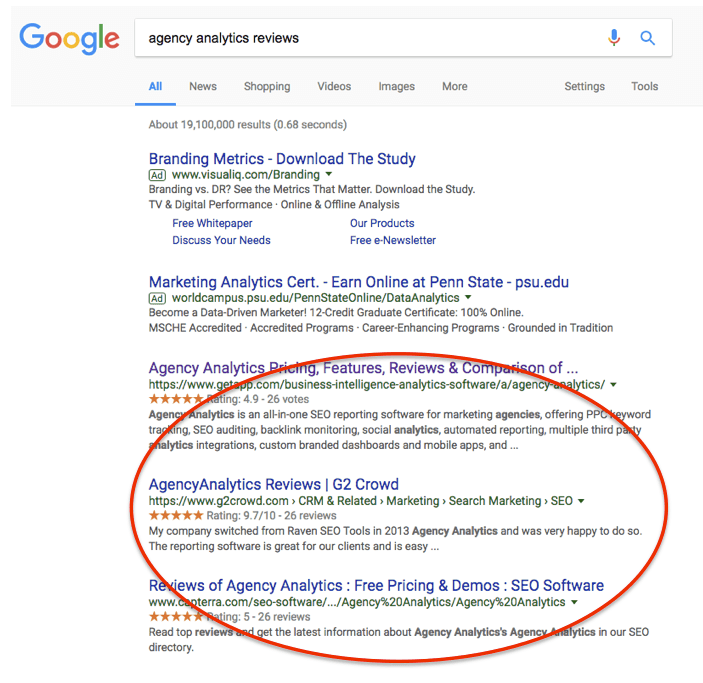 PPC Listings: Results that show up because of an AdwordsThis type of advertising levels the playing field, which means that startups and small companies can compete for the traffic that is valuable to them; thus gaining the traffic they need to move into organic search spots in the future.
Local Listings: These listings will appear if someone types in a local-focused search. For example, something like "florists near me" would generate different results based on the users location, so no one is seeing the same thing and businesses are only getting the most targeted local clicks. These are often shown in map form: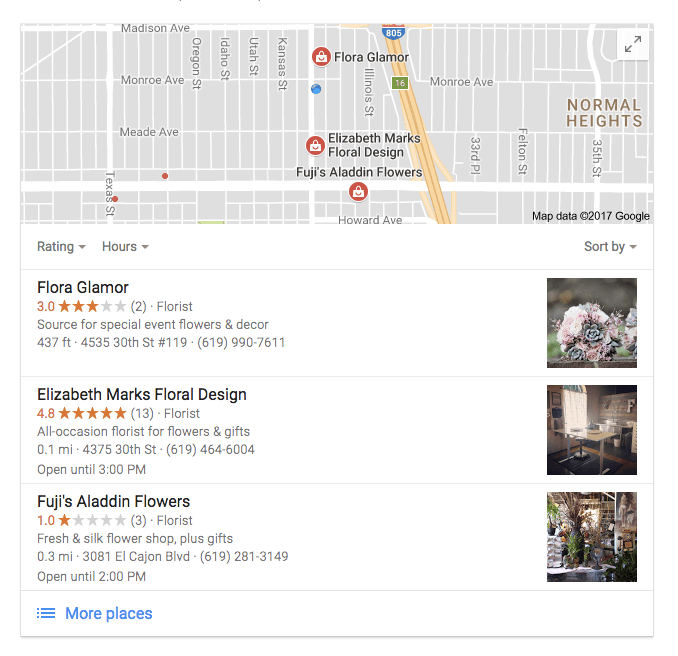 Analysis Tactic #2: Understand the Different Result Types on a SERP
In what felt like ancient times, only the classic results of text appeared with its title and description. Today we can find many other types of results in the SERPs. These different "result types" can span across all of the different "listing types" – organic, paid, and local – so it's a great way to understand your options and help your business webpage (which turns into a listing on a SERP) stand out:
Video results: Since Google bought YouTube it has integrated all the video results into the search engine. Therefore, videos can now appear instead of text results for individual searches that link directly to YouTube.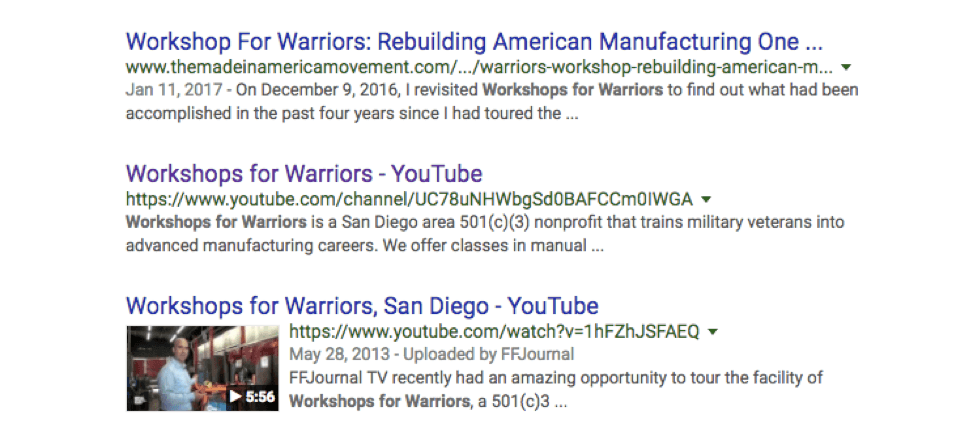 News: These results will come from different news sources. If a user searches for something newsworthy, Google will actually break out the different news results to make them easy to spot. You can learn more about getting featured in the news section here.
Social Results: These will usually appear when you type in a general business name if they are active on social media. Naturally, users who click these types of results will be taken to social media.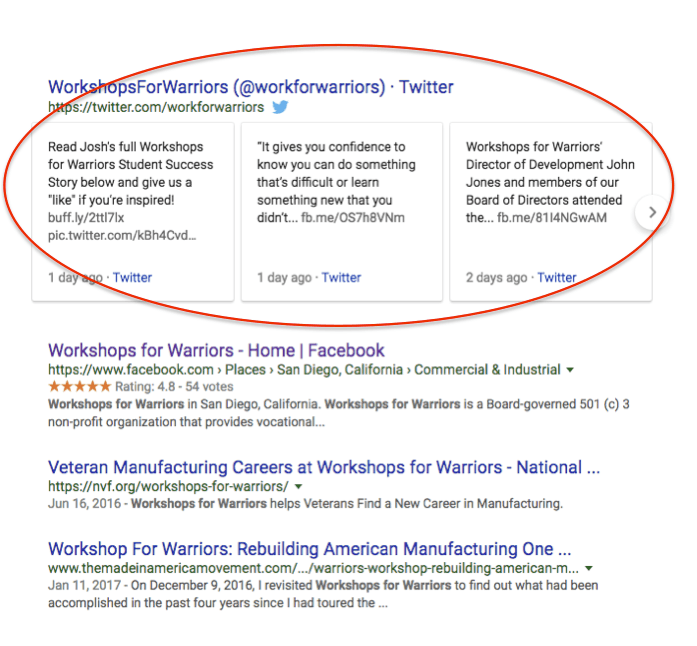 Products: Google Shopping is another store-oriented Google service. It shows different offers and products if the keyword is related to them and uses visuals to help make for easier shopping for the user.
Google+: Despite the fact that the authorship has disappeared, if you use Google+ and one of your contacts has published content that fits the word you are looking for, a Google+ results may appear: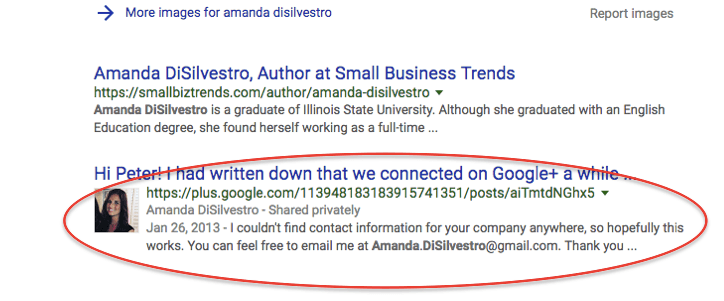 Featured Answers: When people are just looking for a quick answer, Google will actually grab from the article that they see as most relevant and put the answer right there on the SERP. Learn more about how to become a featured article here.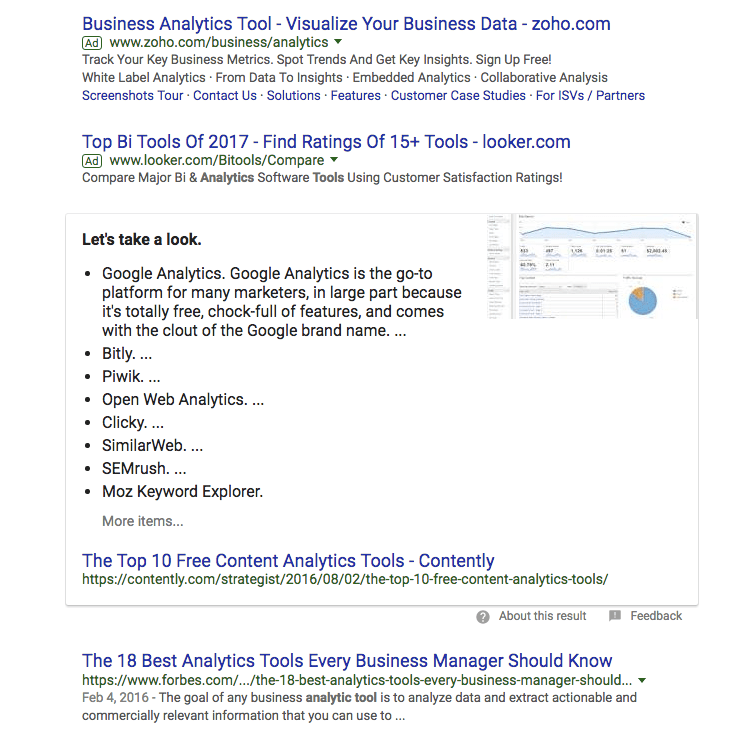 Sitelinks: These results on a SERP are again usually shown when the homepage of a website is going to be one of Google's results. It makes it easy for users to find the page they want on a website without having to visit the homepage.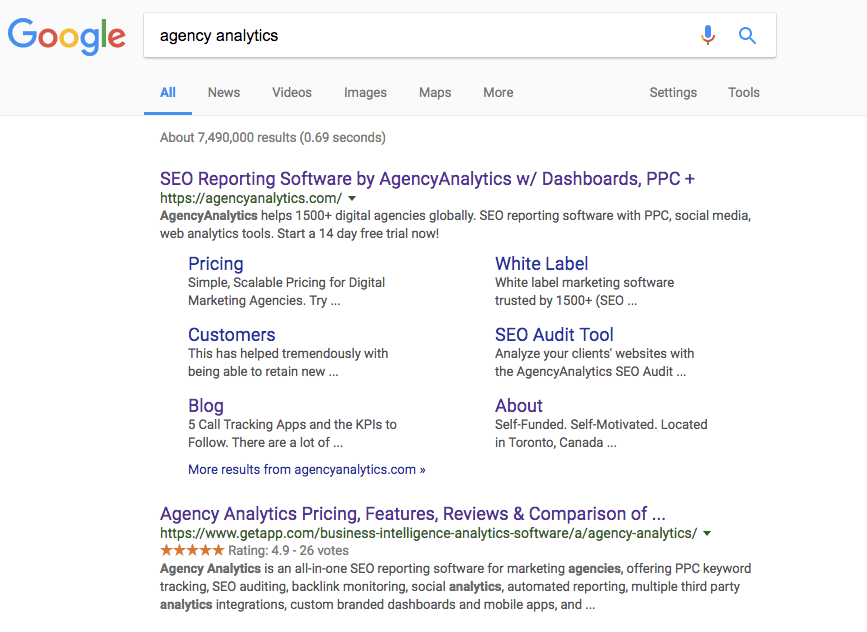 Analysis Tactic #3: Understand How to Achieve a Better Position in the SERPs
Part of being able to analyze a Google SERP is understanding what tactics companies use to position themselves and their webpages at the top. As discussed above, a lot of this has to do with SEO, AdWords, and pure location-based keywords, but there is more to consider:
Evaluate Your Current Search Ranking
Before it's possible to improve the search ranking of your site, it is essential to know what your current position in Google search results is, even if your site is new. There are several tools and resources you can use to find this information. AgencyAnalytics Rank Tracker is one of the best keyword rank tracker tools and a great place to start. That's because we focused on putting rankings all in one place to create a comprehensive keyword ranking report.
In addition, checking the overall "health" of the site is important to understand why you are in the position that you're in. This can be anything from speed of your site to internal links (or lack thereof) to poorly sized images. Analyze the health of your site with a Site Audit on AgencyAnalytics before you start optimizing anything (just look for Site Audit on the left-hand side of your screen).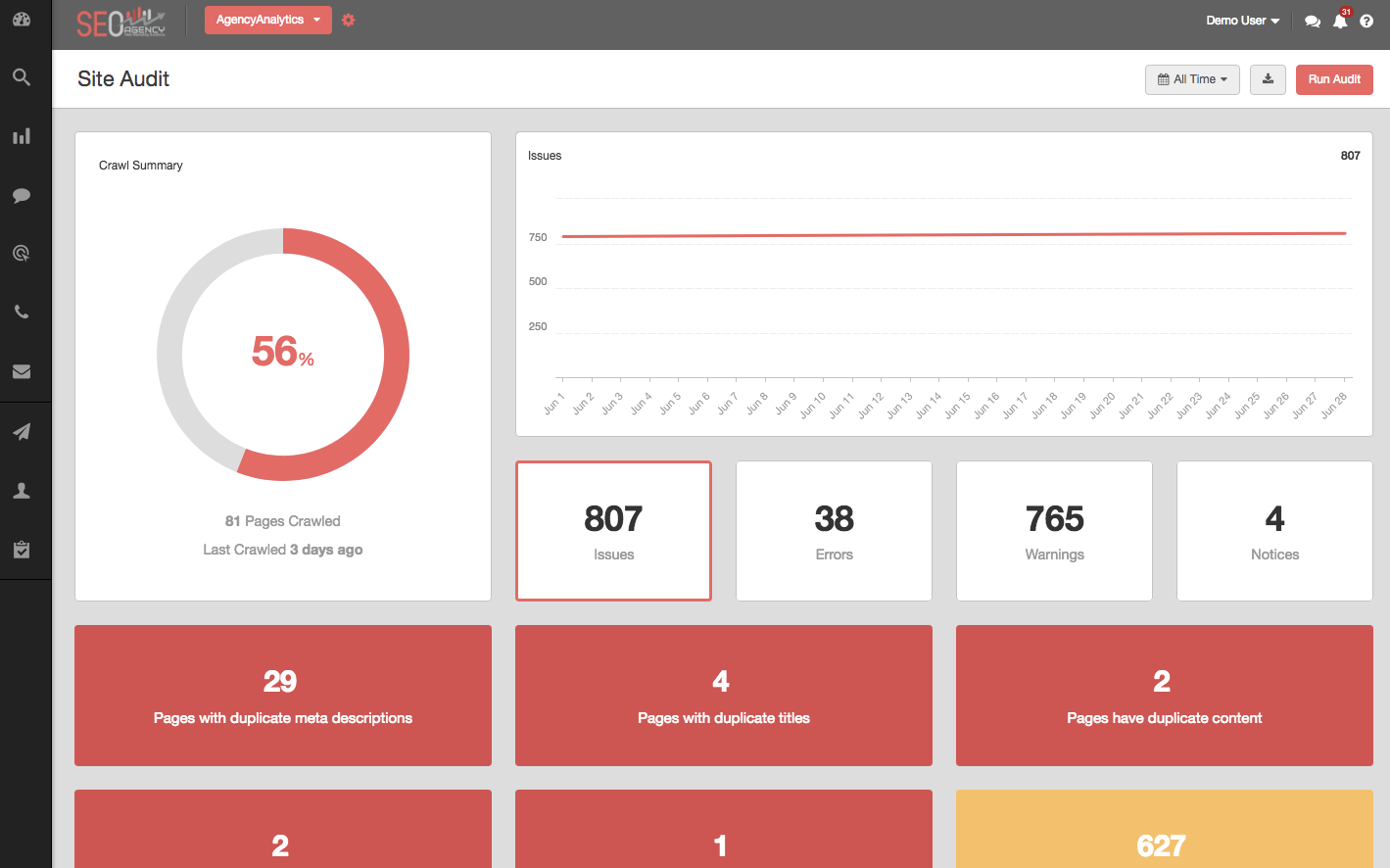 Agency Analytic also just released Google Mobile Rankings as a way to better understand where you rank on specifically a mobile device.
Keep Track of the Appropriate Indicators
Piggybacking on the last point, it's important to keep track of some key indicators of your site to find out what other factors you need to improve. These include:
Organic traffic conversions: In addition to checking your search traffic, it's helpful to pay attention to the keywords that drive traffic to your site.

Keyword Ranking for Commercial Keywords: The main mistake in keyword research is not devoting enough time to researching commercial keywords. To improve your ranking and make money, you need to understand the difference between commercial keywords and informative keywords (see next point)
Understand Informative vs. Commercial Keywords
If all of your keywords are informative, you'll generate organic traffic, but turning those visitors into buyers can be difficult. This is because visitors that are looking for informative keywords are not usually in the mood to buy. A few examples would include:
How to eliminate acne with homemade products

How to install WordPress
Conversely, people are probably looking for a solution to make a purchase if they are using keywords such as:
Best acne products

Web designers in NY
If you are in the Internet commerce industry, you will recognize that commercial keywords usually achieve a good conversion. Keywords that include the following words as prefix or suffix the rest of the keyword phrase often achieve this goal: "To buy," "Purchase," "Discount," "Coupon," "Offer," and "Shipping."
Understand Spam Links and Why They Matter
The first thing you can do to make sure there isn't anything negative going on is analyze the incoming links to your site. You can analyze your backlinks with AgencyAnalytics Backlink Monitor, and if you discover spam links that are directed towards your page, do not rush to delete the page itself. Simply remove the links by requesting a manual removal of the link.
Visit the website from which the unhealthy/non-natural links come from and contact the owner of the site. Ask the owner to delete the link (that's the best option) or add a nofollow tag to it.
The Takeaway**
While these are excellent ways to analyze a Google SERP, once you have your analysis completed the work is jut beginning. Conducting keyword research, creating quality content, building links the right way, and more will all help you to earn a top spot on the Google SERP you analyzed so much at the beginning of your search campaign. You can learn more about creating a full strategy for SERP success here.
Joe started his career as a developer and since has created many internet businesses. He has now moved on to the position of CEO and has enjoyed all the challenges it has brought.
Read more posts by Joe Kindness ›
Try AgencyAnalytics risk-free for 14 days. No credit card required.