Picture this: Your clients are thrilled as their online visibility skyrockets, their websites clinching the coveted spots on Google's first page. This isn't just wishful thinking—it's the power of strategic rank tracking.
At the heart of successful Search Engine Optimization (SEO) services lies this crucial process, and keyword ranking tools are one of the most important cogs in that particular wheel. 
Keyword rank tracking—meticulously monitoring how a website fares in search engine results pages (SERPs) for specified keyword positions over time—is more than just a technical exercise. This kind of SEO analysis provides a roadmap to an online presence that wins, and it's the definitive proof of your agency's SEO prowess.
All your clients want to get on Google's first page, or at the very least, see that they're moving up in the search engine rankings.
Whether it's done over days, weeks, months, or years, rank tracking is one of the most important SEO services that agencies can do for clients, and it's also one of the best ways for agencies to show off how much value their SEO efforts are bringing to their clients. 
In this article, we'll go over the importance of rank tracking , how it benefits SEO, and dig into:
And more. So if you want to know about the pros and cons of some of the best rank keyword rank tracking tools currently on the market, read on...
The Foundations of an SEO Keyword Ranking Tool
It's practically impossible for anyone to get useful data when running a manual search for rank tracking purposes. That's because Google (and other platforms) do their best to personalize these search results based on the person-or at least the computer-doing the search. 
While these personalized results are helpful if you're searching for information, a translation, or a pizza shop, they are not meant for agencies trying to understand how their clients' websites rank. 
Google also doesn't tell you how personalized your search results are, which only adds to the problem. While some SERPs might be almost identical across different users and locations, others can vary dramatically.
Keyword ranking is usually the most impactful and clients want to see this number continually moving up, or remaining steady in a high position.

Bec Moloney, Senior Account Manager, Redsteps Consulting
This is why so many agencies use SEO tools like rank tracking software to get around the personalization factors in order to get a better understanding of how their client's websites rank. Plus, of course, the manual task of checking the ranking for hundreds of client keywords would become quite time-consuming.
What Makes a Great Keyword Ranking Tool?
The best SEO keyword ranking trackers help you get around all those personalization factors that skew your search results and show you what the 'average searcher' would see.
Here are a few of the most common personalization factors affecting your search results: 
Geographic location

Search and browsing history

Social media data

The device being used

The date and time

The specific data center that processes the search

The language being used
Depending on how these different factors combine, the same website can rank in a different ranking position (even when using the exact same keyword!).
The keyword ranking report allows us to keep a really good pulse on our campaign's visibility in Google search.

David Friedman, Technical SEO Manager, PaperStreet Web Design
The most effective keyword ranking tools (like the AgencyAnalytics Rank Tracker) give you a clearer view of what the average user would see when searching for the exact keyword you've specified, from the location you've specified, with results in the language you've specified.
This information is extremely difficult to find by any other means since all of your search results are automatically personalized. In a way, a keyword ranking tool is like Incognito Mode on steroids.
As an SEO consultant, accurate client reporting is essential to be able to evaluate how well various SEO strategies are working. To retain my clients, I need to be able to show them that their rankings are improving over time.

Kelly Fitzgerald, Founder, Savvy Marketing Services
Personalization Factors Influence Rankings Much More Than You Think
Let's dig deeper into each of the personalization factors that could be impacting native search results.
Personalization: Location-Based Rankings
This one should be the most obvious, and it helps illustrate some of the SERP personalization that search engines do, like showing different results based on your location. So, if you search for the word "pizza" in New York City, the SERPs will show you pizza shops in New York City. Search for the same thing in L.A., and you'll see pizza shops in L.A.
Local SEO humanizes and brings local businesses closer to their target audience, in an increasingly globalized, digitalized and competitive business context.

Anthony Guilhem, President, Momentumm Digital
And it's not just about adjusting for "near me" searches. Search engines also interpret search terms differently depending on the searcher's location (and depending on other factors as well).
For example, a search for "chips" in Canada returns only one image of fries (since in Canada, 'chips' usually refers to potato chips).
However, searching for "chips" in Australia shows fries in 8 out of 12 images, because they use 'chips' in a similar way to the British (as in "Fish and Chips").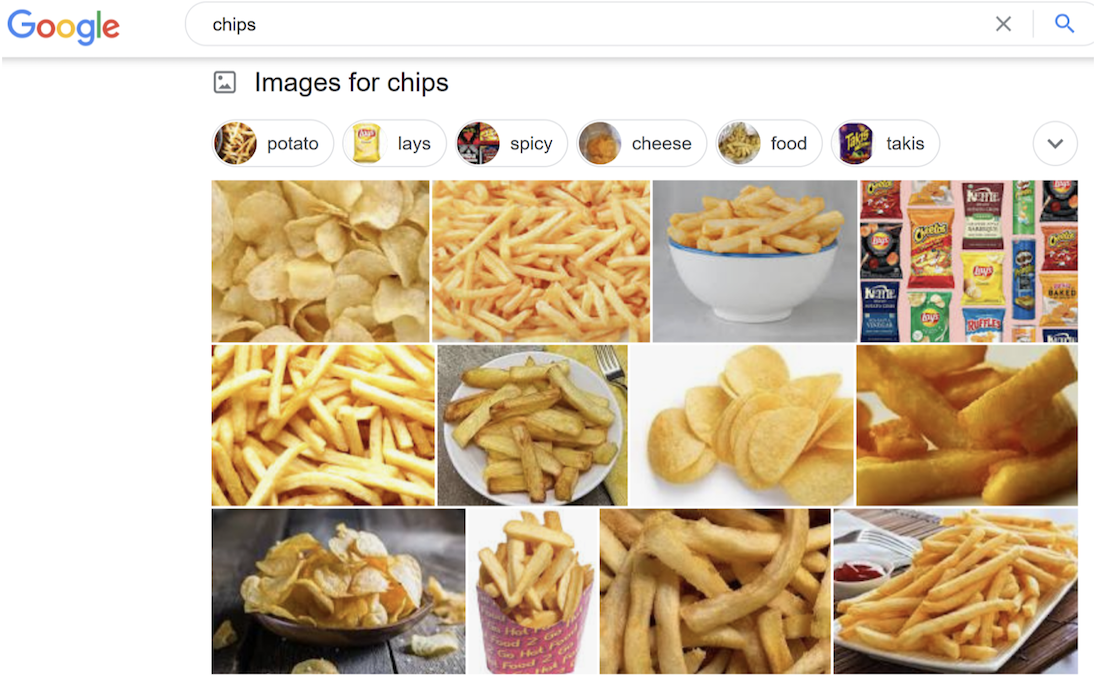 Both of these examples illustrate how Google is always trying to show you what it thinks you want to see.
Personalization: Other Key Factors
As well as your location, many other factors are used to personalize the SERPs you see. This can include your web browsing behavior, search history, social factors, language, and anything else the search engine knows about you. 
Search engines know a lot about you, especially if you're using other products/services that the search engine offers (in the case of Google, this can be services like Google Chrome, YouTube, Google Maps, Gmail, Google Calendar, Google Home, etc). 
Google is an advertising business, not a search business (in 2020 Google made $146 billion USD from advertising), and therefore they spend a lot of money and effort trying to understand exactly who they're advertising to.
All of this is used to build a personalized SERP for you. For example, if you've frequently visited a website in the past, Google will often show that website higher on the SERPs. 
If you search for "pizza", you'll likely see a small map of your exact local area at the top of the SERP (and the most relevant results in the 3-pack). If you search for "cerveza" when your computer/browser language is English, the first thing Google usually does is translate that word for you.
Often all of these things happen at the same time for a single search: You can get "cerveza" translated, plus a map of your local beer stores, plus web pages you've visited in the past, and other personalized content.
For local SEO, the aim is to make sure people nearby know about the business and ultimately purchase from them, so brand awareness, engagement, and sales are very important to these clients. To translate that into a business context, we use the following metrics - website clicks/views and calls from their Google My Business page, local search ranking/listing visibility.

Michelle van Blerck, Communications Manager, Digital Freak
Personalization: Why VPNs and Incognito Mode Don't Help
Some users will try to hide their identity from Google via a VPN and/or incognito mode. However, this does not completely block a search engine (or any other website) from identifying you. 
Although you may be able to trick Google into showing you results for the set location, your digital identity is not as hidden as you might think (due to your unique fingerprint), so all of the other personalization factors can still affect what you see.
For an example of this, check your browser fingerprint at amiunique.org. Next, check it again using a VPN or incognito mode: you'll see that there are dozens of unique variables that don't change at all.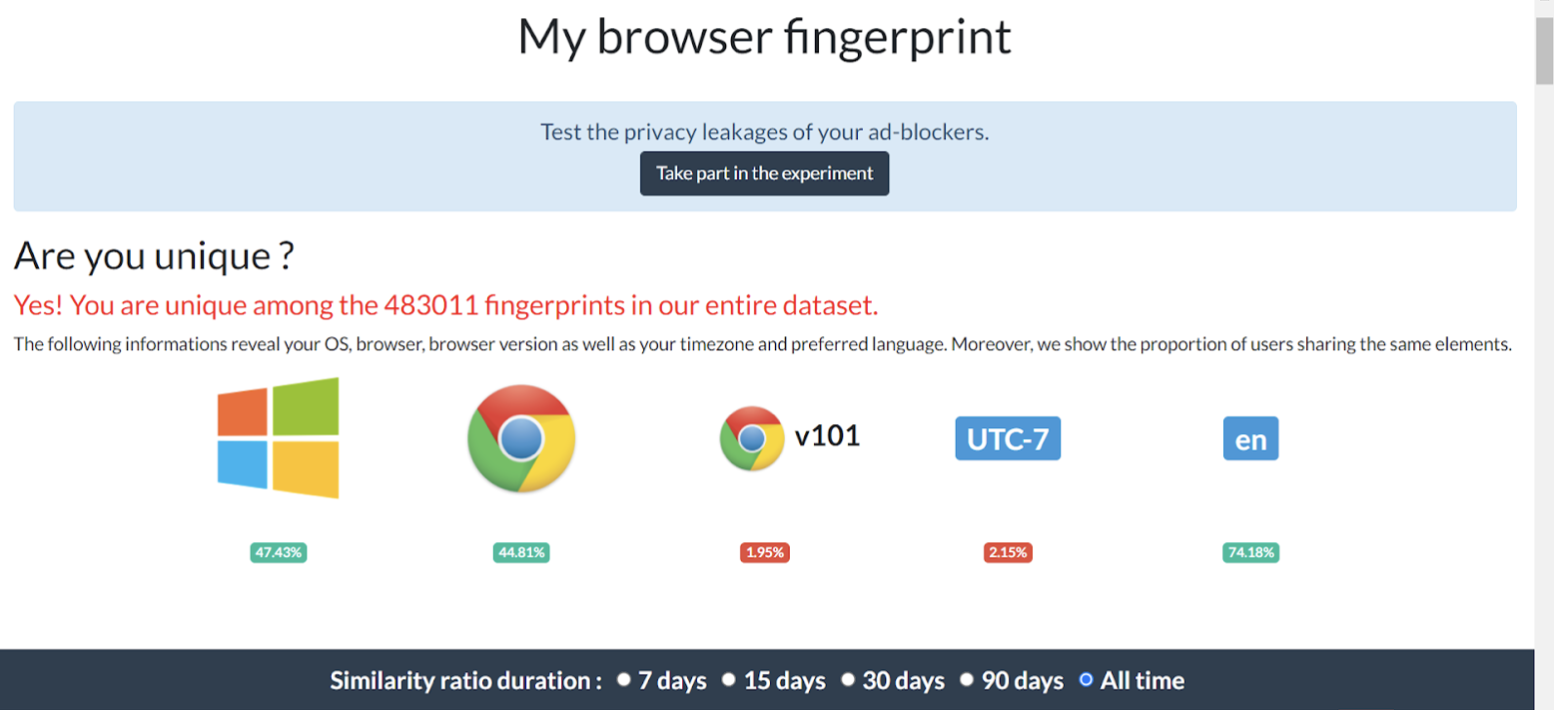 These are some of the unique variables that websites use to determine who you are, and just some of this information is enough to make an extremely educated guess. Even when using a different browser completely, many of the variables can stay the same.
So if you want search results that aren't affected by these variables, it's clear that you'll need something that goes beyond using a VPN or Incognito Mode, and that's where keyword ranking tools come in.
How to Prioritize the Keywords to Track in Your Ranking Tool
Now that we know why keyword ranking tools are used to overcome all of those different personalization factors, it's time to pick the keywords you want to track. But there are often so many to choose from, so you'll have to prioritize them.
Prioritizing keywords is a critical part of any SEO-driven content strategy and it depends on a mix of factors including:
Relevance: First and foremost, the keyword must be relevant to your clients and what they do. So think about your client's target market, and ask yourself if the keyword is something they care about and if your client can help them with it.

Search volume: How many searches does the keyword get per month? Is that volume trending up or down? 

Difficulty (or competition): How difficult is it to obtain the top-ranking position for this keyword? The more competition there is for a keyword, the more difficult it will be to rank for it. 

Click-through Rate (CTR): CTR tells you how many people actually click on a search result for the keyword
Keywords that are highly relevant to your client's businesses, with high search volume and click-through rates, and low competition, are the ones that should be prioritized.
Agency Tip: For top priority keywords, you should check the current SERP results to make sure there is at least one site in the Top 10 that your agency can bump out of the results.
Don't Forget About Search Intent
Also, when prioritizing keywords, don't forget about search intent! There are four main kinds of intent when it comes to searches: 
Informational: As the name implies, this type of search is when you're looking for data and information to learn more about a subject.

Navigational: This type of search is when the user knows exactly where they want to go. For example, if you wanted to check out if there were any deals at Best Buy, you'd simply search "Best Buy" to get to their webpage.

Commercial: Are often used by people who are ready to make a purchase, even though they may not know–yet–which specific product or service they want.

Transactional: This kind of search occurs when you intend to complete a transaction, purchase a specific product, or order from a specific company.
Knowing the intent behind the search will go a long way in ensuring your keywords are relevant and get a high CTR.
Should I Use a Free Ranking Tool?
As discussed earlier, when manually searching for a keyword (for example, running a search on google.com), your results are personalized. There's no way around this, even when using a VPN and/or Incognito Mode. 
But free keyword ranking tools can also suffer from the same problems as manual searches because many will link you to the search engine to load your results live (and when those results load in your browser, the search engine can personalize them). 
An example is the free BrightLocal rank checker: You can get results to load for a specific location, but they link you to Google to view the results, and if Google recognizes you, it will personalize the results, which defeats the purpose of using a rank tracking tool in the first place.

In addition, free keyword search ranking tools often lack the automation and other capabilities of paid ranking tools, which means they're not only more labor-intensive and time-consuming to use, but they also yield more basic results without as many actionable insights.
Despite these limitations, free ranking tools do offer some core benefits, which is why they remain popular amongst bloggers, smaller businesses and websites, and startup agencies working under tight budgets. But anyone who is truly interested in scaling will eventually need to invest in a paid SEO ranking tool. 
Overview of the Best Keyword Ranking Tools (Paid)
Now that we've gone over the frugal appeal of free keyword ranking tools, let's take a look at the pros and cons of a few of the most popular paid options, which include:
Semrush

Semrush is often touted as the All-in-One SEO tool  (they even say it front and center on their homepage), and its keyword ranking tool is a breeze to set up. From the Position Tracker section, simply enter your client's domain name and keyword and voila– it will start tracking your client's website ranking. You can also track on a per-country basis, which is very helpful if your clients operate globally.
Over time, you'll get a good idea of how your client's website is doing against the competition.
If you really want to see how your client stacks up, just follow the same steps in the Position Tracker section, except this time, enter the competition's domain name and Semrush will start tracking that, too!
A few cons of Semrush are its singular focus on data from Google at the expense of other search platforms and its lack of mobile optimization. Semrush is also a very complex platform, which can be good for an agency that lives and breathes SEO, but overwhelming for a client. 
Semrush starts at $119.95/mo for 500 keywords, and you need to be prepared to pay an extra $45 per month for every team member who needs to access the platform. 
| Pros | Cons |
| --- | --- |
| Comprehensive Keyword Tracking: Semrush provides the ability to track an extensive list of keywords and their search engine rankings on platforms. | Complex User Interface: Semrush's interface might be overwhelming for beginners or non-SEO experts. It has a steep learning curve compared to other keyword-tracking tools. |
| Competitor Analysis: Semrush offers robust competitor analysis tools, allowing you to see which keywords your competitors are ranking for and their overall SEO strategy. | Pricing: Compared to other SEO software, Semrush is on the higher end of the pricing spectrum. Semrush also charges an additional feel for each user. |
| Local SEO Tracking: Semrush allows you to track keyword rankings for specific locations, which is crucial for businesses targeting specific geographic areas. | Limited Historical Data: In its lower-tier plans, Semrush offers limited access to view historical data. For comprehensive access, you need to subscribe to more expensive plans. |
| Integration Capabilities: Semrush integrates with a few other popular marketing tools, which can streamline your marketing activities. | Disconnected Multi-Channel Reports: For agencies that manage multiple channels (e.g. SEO, Social, & PPC), it's difficult to align reporting formats from multiple tools to provide clients with a single view.  |
| Rich Reporting Features: Semrush provides extensive reporting features that are customizable and easy to understand. | Inaccuracy in Traffic Estimations: While Semrush is great for keyword tracking, some users have noted inaccuracies in its traffic estimation features. |
| Large Keyword Database: Semrush has a massive database of over 20 billion keywords. | Customer Support: Some users have reported slow response times and lackluster support from the Semrush team. |
See our complete Semrush comparison.
Moz Pro
One of the things that makes Moz stand out is that it offers two different rank tracking tools– its regular keyword ranking tool and an 'on-demand' keyword ranking. Moz's regular keyword ranking tool is comparable to both Semrush and Ahrefs, while the 'on-demand' tracker aims to show you the ranking at that particular moment in time.
Although Moz is a very robust SEO tool, it can also be too much for clients - both from a complexity and a cost standpoint, sort of like using a jackhammer to hang a picture hook. 
Moz has a lower-tier package that starts at $99/month but only includes 3 campaigns and 300 keywords. Similar to Semrush, this only includes 1 user, and the cost for any additional seats is $49/month. 
| Pros | Cons |
| --- | --- |
| User-Friendly Interface: Moz is known for its intuitive, user-friendly interface that's great for beginners and non-SEO experts. | Pricing: Moz's plans can be quite expensive, especially for small businesses or individual users, and charge an additional feel for each "seat" used on the platform. |
| Comprehensive Keyword Tracking: Moz provides robust keyword tracking capabilities, helping you monitor your website's search engine rankings. | Slower Data Refresh Rates: Moz tends to have slower data refresh rates, meaning you may not always have the most current data. |
| Excellent Learning Resources: Moz offers a wealth of learning resources, including the Moz Blog and Moz Academy, which are very useful for learning SEO. | Limited Keywords on Lower Tier Plans: The number of keywords you can track is limited in the lower-tier plans. |
| On-page Optimization Recommendations: Moz gives actionable advice for on-page search engine optimization. | Limited Data Points in Reports: Some users have reported that Moz provides fewer data points in its reports compared to other tools. |
| MozBar: Moz's SEO toolbar, MozBar, is a popular feature for quick SEO insights directly in your web browser. | Customer Support: While Moz offers email support, it does not offer phone support, which could be a disadvantage for users who prefer real-time assistance. |
| Local SEO Tracking: Moz provides robust tools for local SEO, including citation and NAP (Name, Address, Phone Number) tracking. | Limited Integrations: As of the last update, Moz has fewer integrations with third-party tools compared to some other SEO platforms. |
Want to combine your client's Moz backlink data with up to 75 other integrations? You can do so quickly and easily on the AgencyAnalytics client reporting platform. Get started for free. 
Ahrefs
Ahref's keyword ranking software functions in much the same way as Semrush (except instead of Semrush's Position Tracker, Ahrefs calls it 'Rank Tracker') where you enter a domain name and the keywords you want to track.
Ahrefs also allows you to track on a per-country basis, but it goes one step further than Semrush and allows you to track by city/town as well. That means with Ahrefs, you can track your client's websites at the local, national, and even the global level. And unlike Semrush, Ahrefs provides data from up to 10 different search engines.
If you upgrade to Ahref's Rank Tracker Pro, you can even get daily, weekly, or monthly updates on your client's search engine rankings via email.
A few cons of Ahrefs are its lack of a free trial plan and no mobile app. The user interface of Ahrefs is also much less user-friendly, especially for your less technically-included clients. 
Aherfs pricing starts at $99/month and includes up to 750 keywords in their lowest tier plan. However, this plan only accommodates a single "power user" and has multiple add-on options for different user levels ranging from $20/mo extra per seat to $50/mo extra per seat.
| Pros | Cons |
| --- | --- |
| Extensive Backlink Analysis: Ahrefs is renowned for its backlink analysis capabilities, providing comprehensive data about backlinks to any website. | Pricing: Ahrefs can be expensive, particularly if you're looking to have multiple users access the platform. |
| Comprehensive Keyword Tracking: Ahrefs provides solid keyword tracking capabilities, providing a clear view of a website's search engine rankings. | Less Intuitive Interface: While Ahrefs is a powerful keyword tracking tool, its interface can be somewhat clunky and not as user-friendly as some other SEO tools, which can make navigation and utilization a bit challenging, particularly for beginners. |
| Large Keyword Database: Ahrefs boasts a large keyword database, which is updated frequently. | Limited SERP Analysis: Some users have reported that Ahrefs' analysis of the search engine results page (SERP) is not as in-depth as it could be. |
| Competitive Analysis: Ahrefs allows you to track your competitors' SEO performance and get insights into their strategy. | Customer Support: Some users have reported slow response times and lackluster support from the Ahrefs team. |
Majestic
Similar to Semrush, Majestic's rank tracker is limited to Google data, and it also allows you to track on a per-country basis. But one thing that makes Majestic stand out is its backlink checker and link-building capabilities.
Compared to more established keyword ranking tools such as Semrush and Ahrefs, Majestic is rather limited as it is quite new–and relies on Google Search Consulte data. On the plus side, that means Majestic is one of the least expensive options on this list, making it a great option for the budget-conscious.
The entry-level Majestic product starts at $49.99/month and includes 1 user and 60 "report units" which includes keyword lists.
| Pros | Cons |
| --- | --- |
| Extensive Backlink Analysis: Majestic SEO is renowned for its comprehensive backlink data and analysis capabilities. | Limited Rank Tracking: Unlike some other tools, Majestic doesn't offer as comprehensive rank tracking tool capabilities and limits its data to Google keyword rankings. |
| Unique Metrics: Majestic SEO offers unique proprietary metrics like Trust Flow and Citation Flow that provide valuable insights into your link profile. | Lack of Additional SEO Tools: Compared to comprehensive SEO platforms, Majestic SEO is more focused on backlinks generated as part of off-page SEO efforts and lacks some additional tools such as on-page SEO analysis or local SEO tools. |
Backlink tracking is a crucial part of any successful SEO campaign. Use the built-in Backlink tracker from AgencyAnalytics to keep tabs on your client's growing website authority. 
Read More: 6 Tips to Scale Your Link Building Efforts
SE Ranking
SE Ranking is a full-stack SEO platform that provides a comprehensive rank tracking tool. It offers a wide range of features, including keyword rank tracking, website audit, competitor SEO/PPC research, and more.
SE Ranking's 'Keyword Rank Tracker' operates on a principle similar to Semrush's 'Position Tracker.' Users enter a domain and select keywords for tracking, thus enabling a comprehensive view of keyword performance.
In addition to country-level tracking, SE Ranking distinguishes itself by offering city-level tracking. This unique feature empowers users to monitor the performance of their client's websites–not just at the local and national scale but on a global level as well. Moreover, SE Ranking aggregates data from multiple platforms, providing a more holistic view of your SEO performance.
With an upgrade to SE Ranking's advanced plans, users receive regular email updates on their client's keyword rankings. This ensures that any significant changes in SEO performance won't be missed.
While SE Ranking's user interface may be somewhat challenging for those less familiar with SEO tools, it's worth noting that SE Ranking does offer a mobile app, providing users with the convenience of accessing data anytime, anywhere.
When it comes to how big a hit it will be to your agency's delivery margins, SE Ranking's pricing is competitive. Starting at $49/month, the entry-level plan accommodates an unlimited number of users and allows tracking of up to 250 keywords. For users with more extensive needs, SE Ranking offers a range of higher-tier plans with varying features and pricing.
| Pros | Cons |
| --- | --- |
| Comprehensive Rank Tracking: SE Ranking's Keyword Rank Tracker tool allows you to track keywords at the city, country, and global level. | Steep Learning Curve: The user interface of SE Ranking can be a bit complex, particularly for those less technically inclined. |
| Multiple Search Engines: SE Ranking provides data from a range of platforms, offering a more holistic view of your SEO performance. | Limited Advanced Features in Lower Plans: Some of the more advanced features are only available in higher-tier plans, which can be more expensive. |
| Regular Updates: With an upgrade to SE Ranking's advanced plans, you receive regular email updates on your client's keyword rankings. | Slower Data Refresh Rates: Some users have reported that SE Ranking has slower data refresh rates, meaning you may not always have the most current data. |
| Unlimited Users: Even the entry-level plan accommodates an unlimited number of users, making it a good option for teams. | Limited Integrations: As of the last update, SE Ranking has fewer integrations with third-party SEO tools compared to some other SEO platforms. |
See our complete SE Ranking comparison.
AgencyAnalytics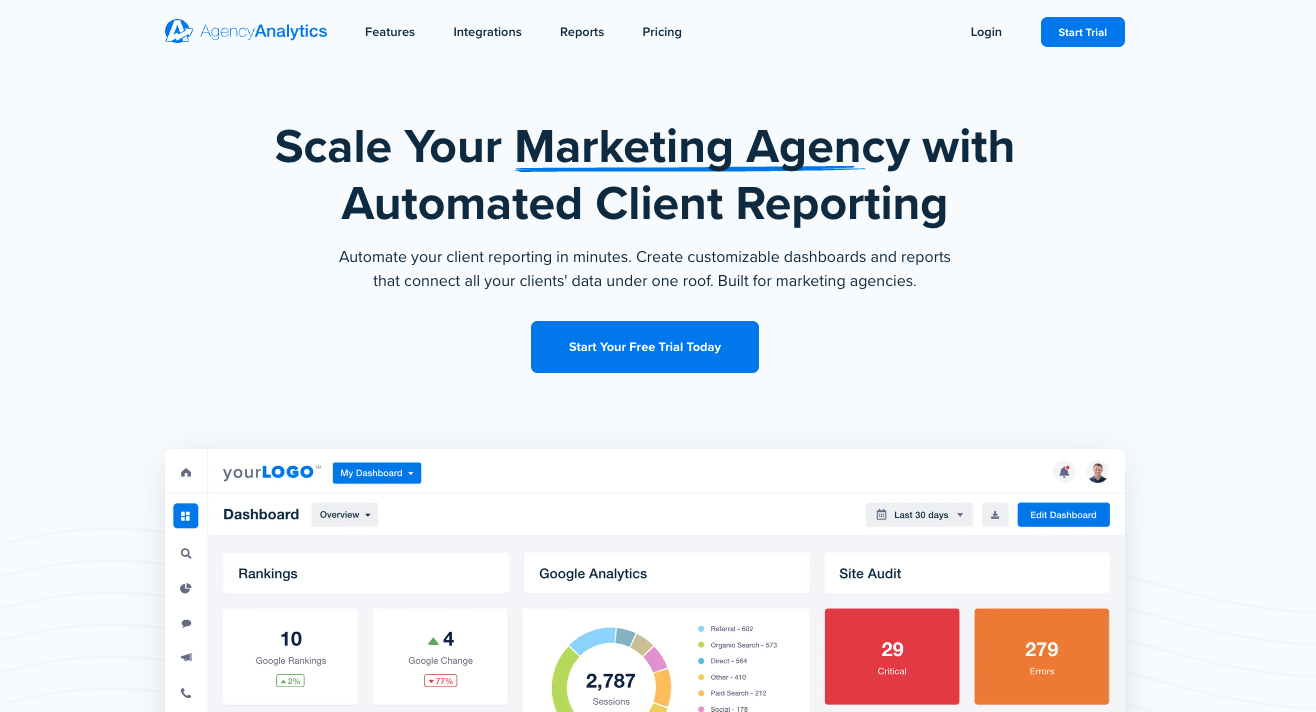 The AgencyAnalytics white labeled keyword rank tracking tool runs a real live search each time it checks keyword rankings (it does not pull keyword positions from a search engine's API), and presents these results in an easy-to-understand user interface that can be understood by agency team members and clients alike.
We found, for our clients, they needed a nice visual report to look at where they could clear see the improvements in both traffic & keyword rankings each month. AgencyAnalytics offers reports that are simple to understand that a client with zero SEO knowledge can still see how the work we have done has helped benefit their website.

Guy Hudson, Founder, Bespoke Marketing Plans
Each rank is specific to the exact keyword, location, and language that the user has selected.
The keyword rankings are obtained via proxies running the searches, which stops the personalization factors from getting in the way.
Our powerful SEO reporting tool gives you data-driven SEO ranking reports without the guesswork. Try it out for free for 14 days. 
A benefit of our keyword ranking tool is that for full transparency, we capture a snapshot of the entire SERP each time we check a keyword. This is saved at our end, allowing users to see the exact SERP the search engine delivered at the time of the rank check. We keep the most recent SERP snapshot for each keyword.
However, one of the biggest benefits of the AgencyAnalytics keyword ranking tool is how it works in tandem with over 75 other marketing platforms to bring all of your client's marketing data under one roof - and it's the only tool on this list that has that capability. 
While the other tools focus on organic search and do a fine job at it, AgencyAnalytics looks at organic search as a part of the overall marketing strategy you are running for your clients.  
This means that you can review organic keyword ranking history and then–with a few mouse clicks– compare those trends with what is happening in Google Ads, Facebook Ads, email campaigns, and so much more. 
Plus, add unlimited users to your account to give your hands-on clients access to their own dashboards. The interface is perfect for creating client dashboards and reports that are intuitive and visually appealing. 
The AgencyAnalytics Rank Tracker can be added to all AgencyAnalytics plans for $50/mo per 500 keywords. The Freelancer plan starts at $12/mo per client campaign (minimum of 5 campaigns) with 5 staff accounts. Meanwhile, the Agency and Enterprise plans offer unlimited staff accounts at no extra cost. 
| Pros | Cons |
| --- | --- |
| Comprehensive Dashboard: AgencyAnalytics offers a comprehensive, customizable dashboard that allows you to track various metrics. | Limited Historical Data: Some users have reported that AgencyAnalytics offers less historical data compared to some other SEO tools. |
| Excellent Reporting Capabilities: The platform provides automated, white-label reporting which is beneficial for agencies. | Designed for Agencies, Not Small Businesses or Individuals: While AgencyAnalytics is a powerful SEO tool, it is primarily designed for use by marketing agencies. This makes it less suitable for small businesses or individual users who may not need or be able to effectively utilize all of its features. |
| Multiple Integrations: AgencyAnalytics integrates with various digital marketing tools well beyond the SEO space, enhancing its utility as a client reporting tool.  | Lacking Keyword Research Capabilities: Compared to some other SEO tools, AgencyAnalytics is more focused on providing keyword ranking reports for clients and less focused on keyword research. |
| Additional Agency Management Features: The tool provides features specifically designed for digital agencies, such as client management and white label reporting. | Pricing: The keyword ranking tool is an add-on to the core reporting features from AgencyAnalytics and is not available as a stand-alone offering. |
| Local SEO and SERP Tracking: AgencyAnalytics offers robust local SEO tracking tools and SERP features. | No Keyword-Specific Optimization Recommendations: Beyond the SEO site audit capabilities, the platform does not provide keyword-by-keyword (or page-by-page) optimization recommendations.  |
| Customer Support: Users rave about the responsiveness of the customer support team whenever they have questions.  | Built with a Reporting Focus: While AgencyAnalytics excels in delivering comprehensive, customizable reports to demonstrate the value and results of an agency's, it does not offer as many tools focused on SEO optimization as some other platforms. |
A Quick Comparison of the Best SEO Keyword Ranking Tools
The following provides a quick review of the basics regarding the pricing for each of the top keyword ranking tools. The pricing is based on a comparison of the starting cost based on daily rank tracking on all platforms. 
| Tool | Monthly Starting Price | # of Keywords | # of Campaigns | Users |
| --- | --- | --- | --- | --- |
| Semrush | $119.95 | 500 | 5 | 1 |
| Moz | $99.00 | 300 | 3 | 1 |
| Ahrefs | $199.00* | 750 | 5 | 1 |
| Majestic | $99.99 | 300 | n/a | 1 |
| SE Ranking | 49.00 | 250 | 10 | 1 |
| AgencyAnalytics | 50.00** | 500 | Unlimited | 5+ |
*Ahrefs pricing includes the $100 add on for daily updates | **Pricing is based on the add-on fee for AgencyAnalytics customers. See complete pricing details. 
The Yin and Yang of Data: When Google Search Console Meets Keyword Ranking Tools
Now, let's address the elephant in the room: why don't Google Search Console and keyword ranking tools always see eye to eye? Well, here's the scoop:
Different Data Sources and Sampling:
Google Search Console is the ultimate authority when it comes to your website's performance in Google's organic search results. It draws its data directly from the source, providing you with insights straight from the horse's mouth. On the other hand, keyword ranking tools rely on their own algorithms and data sources, which may differ from Google's metrics.
Moreover, both tools employ sampling techniques to process the vast amount of data available. While this helps to speed up the analysis, it means that not every single data point is considered. So, you might observe variations and discrepancies between the data presented by the two tools.
Keyword Volume and Long-Tail Variations:
keyword ranking tools might face challenges when it comes to accurately track low-volume keywords or long-tail variations. Since these keywords receive less SEO traffic and have a narrower focus, their search rankings can fluctuate more, leading to inconsistencies between the keyword ranking tool's data and Google Search Console.
Additionally, Google Search Console aggregates data based on actual user queries, whereas keyword ranking tools rely on predefined keyword lists. As a result, variations in search behavior and long-tail queries can cause discrepancies between the two sources.
Algorithm Updates and Latency:
Search engines, including Google, constantly refine their algorithms to improve search results. These updates can impact keyword rankings and cause temporary shifts in ranking positions. Google Search Console provides real-time data, capturing the current state of rankings, while keyword ranking tools often experience delays in reflecting algorithm changes.
Therefore, if you notice disparities between the two tools, it's crucial to consider the timing of algorithm updates and the frequency of data updates in your keyword ranking tool.
Despite these potential differences, it's important to remember that both Google Search Console and keyword ranking tools offer valuable insights into your website's search performance. 
When it comes to SEO, knowledge is power. By harnessing the collective strength of keyword ranking tools and Google Search Console, you elevate your SEO game and make informed decisions to optimize your website's performance. Embrace the unique qualities of each tool, acknowledge the potential discrepancies, and let the dynamic synergy of these SEO superheroes guide you toward search engine success.
Automatically include Google Search Console data alongside keyword rank tracker details in a comprehensive SEO reporting suite. Try AgencyAnalytics free for 14 days. 
Why Agencies Often Use Multiple Keyword Ranking Tools
The difference you might see between a keyword ranking tool and Google Search Console can also be spotted between even the best rank trackers.
One of the biggest reasons why agencies use multiple keyword ranking tools is to fill in the limitation gaps of individual ranking tools. From our overview of the paid keyword ranking tools' pros and cons, you can see what they do best, but also their gaps and limitations, so it makes sense that some agencies would use multiple ranking tools to make up for the individual drawbacks of the specific ranking tools.
Agencies also use multiple keyword tracking tools to validate the data from different crawls and data centers. For example, by comparing Ahrefs tracking data to another tool such as SEOlium, you see the differences between tools and data centers that can cause fluctuations in ranking results. While crawling is fairly straightforward (it's the process in which search engines send out web crawlers (AKA search engine bots, AKA spiders) to find new and updated content), data centers are a bit more complicated.
What Are Data Centers?
In essence, data centers are critical to because they house the hardware that manages and maintains all of the info and data that allows them to provide their services. 
Google alone has dozens of data centers located around the world, and your SERP often depends on the particular data center that processes your search query.
How Data Centers & Algorithm Updates Influence Rankings
Search engines are endlessly updating a phenomenal amount of data.
For a search to work, the search engine needs to keep a record of every single word it finds on every single web page it indexes (Google indexes hundreds of billions of pages). In the case of Google, this amounts to over 100,000,000 gigabytes of data.
The data also needs to stay up-to-date: There are hundreds of thousands of new web pages appearing (and disappearing) each week, and, since web pages can change anytime, search engines are also constantly rescanning the pages that are already indexed.
So the 100,000,000+ gigabytes of data is constantly growing and changing.
It's impossible to transfer such large amounts of data instantly, so the data centers are always exchanging data to keep that 100,000,000+ gigabytes of information as synchronized as possible. 
That's why there is no way for the data to be 100% up-to-date across each data center. This point is extremely important when it comes to the SERPs you see because a SERP can be very different depending on the state of that particular index. There's no way to choose which data center processes a search, and there's no way to tell how much this affects keyword rankings.
There's another issue with having so much data: It requires extremely complex algorithms to use it effectively. Google makes small updates to its many algorithms each day, and makes very large updates a few times per year. Google even runs experiments with live search results (in 2020 they ran 600,000 live experiments on the results they showed to searchers). 
All of this means that the SERPs are constantly changing, and there's never one "true" index or rank.
Types of Rank Tracking Tool Settings
Now that you have a better understanding of the complexity of native searches, it's time to dig into the keyword ranking tools to find out how to get the clearest view of your client's current search rankings. 
Most keyword ranking tools allow you to set the parameters of what they track to ensure that it's doing what you want it to do. But before you start tinkering with the settings, we suggest reviewing your SEO KPIs for a quick refresh on your most important SEO metrics although it depends on your clients (see: Enterprise SEO Metrics, Dental SEO, and SEO for lawyers to compare.
Once that's done, you're ready to start tailoring the settings to your specific needs, and the most common settings for rank tracking tools are:
Platform: While Google is the most dominant search engine, it's not the only one out there. Some ranking tools only focus on Google, and others let you track data from multiple search engines such as Bing, Yahoo, Baidu, AOL, and DuckDuckGo. Bing might only receive 7.6% of search market share–but it's a significant amount to just ignore if your clients are an enterprise. 

Location: It's super easy if you're tracking keyword positions locally, but if you need to track globally or in different countries, towns, and cities, most rank tracking software lets you do at least some of those. Some keyword ranking tools can monitor local SEO for multiple locations!

Competitors: This one is important because you want to see how your client's websites are doing compared to the competition.
Troubleshooting Rank Tracking Tool Issues
Will all of these personalizations, data centers, algorithms, and keyword ranking tool settings, it's not uncommon for an agency to see data that simply does not align with what they were expecting–or what they are seeing between various tools. 
If you need to validate the ranking results, here are some common issues that can lead to data errors. 
Check the date range of the report in question

Review tags and filters to make sure it's not limiting the results

Confirm the campaign URL– adding a folder path (domain.com/blog) can alter the results

Review the location and language settings to make sure they match your client's target audience (not your agency location) 

Check keyword spelling

Watch future crawls, as these irregularities often correct themselves within a few days
Keyword Rank Tracking vs. Keyword Reporting
When onboarding a new client who is looking to your agency to boost their online visibility, it's essential to distinguish between two key processes: a keyword rank tracking tool and a reporting platform to share these results with your clients. Both are vital components of an effective SEO strategy, but their roles and impacts are distinct.
A keyword rank tracking tool is akin to a compass guiding your SEO strategy. It involves persistently monitoring the ranking position of a website on SERPs for specific keywords. By using these keyword ranking tools, you to gauge the effectiveness of your SEO and link-building efforts and adjust your strategies accordingly. You'll see which keywords are driving traffic to your client's website, which ones aren't, and how these trends change over time.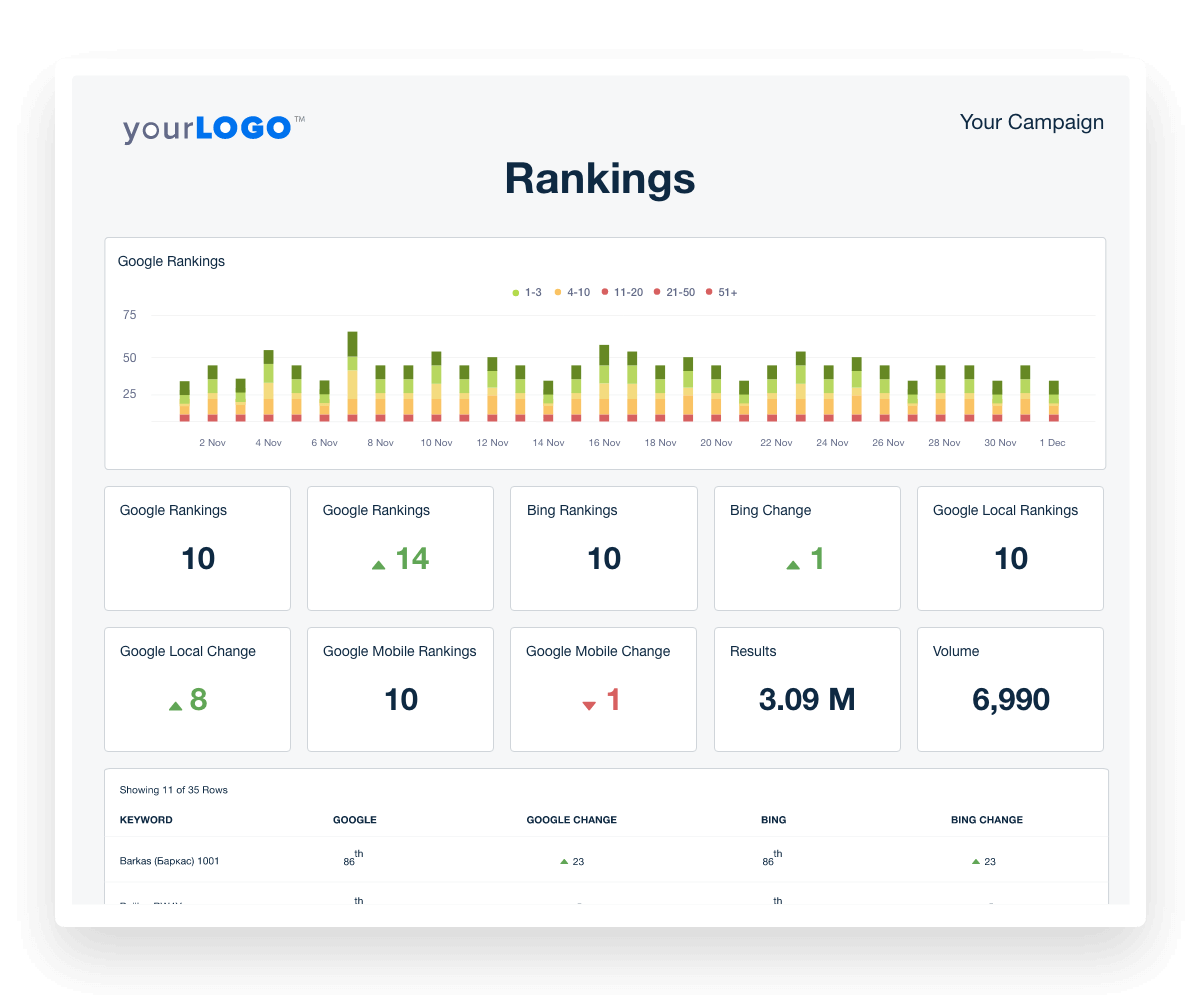 On the other hand, reporting these results to clients is about transparency, accountability, and strategy communication. It's the art of distilling complex data into easy-to-understand insights that your clients can understand and appreciate. Here, the focus is on presenting the data effectively, revealing the progress made, and showcasing your agency's value.
We sell SEO and PPC Services, our clients don't care about how they work, they care about calls and their bottom line. I can show them beautiful numbers, traffic patterns, increase in rankings, etc. But at the end of the day, they're paying us for a service to increase their revenue.

Ruben Roel, President, Investigator Marketing
But why is understanding this difference so important?
Firstly, it helps in setting clear expectations. SEO is a long-term endeavor, and the SEO landscape can fluctuate. It's important for clients to understand that keyword rankings can ebb and flow over time.
Secondly, it underscores the value of your agency's work. By effectively communicating the results of your diligent SEO efforts, you demonstrate your agency's commitment to achieving results and maintaining transparency.
If you're an SEO agency, ensure the top 2 widgets are keyword rankings and traffic. As your rankings go up, so will your traffic and having these side by side makes it very clear to the client that SEO is working. 

Joshua George, Founder, ClickSlice
Finally, this understanding shapes the narrative of success. SEO is more than just numbers—it's about increasing visibility, driving traffic, and boosting conversions. By distinguishing between tracking and reporting, you better communicate the holistic impact of your SEO efforts, moving beyond mere keyword rankings to reveal real-world benefits for your client's business.
That's why it's important to understand the difference between what your agency needs in order to effectively execute an SEO strategy versus what a client needs to see to validate that the job is getting done. 
Many digital marketers get carried away looking to deep into the data and spend hours creating a report. Some clients only care about how many times the phone has rang or where they appear on Google. You can save yourself hours just by asking a client what they want to see on a report.

Guy Hudson, Founder, Bespoke Marketing Plans
While many SEO rank tracking tools excel at the execution side of rank tracking, they often fall short in crafting comprehensive and easily-digestible client reports. 
These tools capture vast amounts of data but may lack the means to translate that data into a compelling narrative that a client can easily understand. That might be fine for people who are steeped in the world of SEO, but for clients who may not be as well-versed–the deluge of technical jargon and raw statistics can be overwhelming. 
This disconnect makes it challenging for agencies to effectively communicate the value of their work, underscoring the need for tools that not only track keyword rankings effectively, but also prioritize clear, engaging, and insightful client reporting.
Even the big SEO software companies didn't have a good reporting system and required manual exporting. I knew if I could do reporting more efficiently, it would make a huge difference to my business and I could spend more time on getting good results for them.

Will Mullins. SEO Specialist, Will Mullins Search Engine Optimisation Services
That's where Keyword Reporting comes into play. 
Using SEO Dashboards & Reports To Combine All of Your SEO Data in One Place
Once you've got your keyword ranking tools up and running, the data will start pouring in, and depending on how many keywords, locations, and competitors you're tracking, it can be a lot. It's up to agencies to make sense of the numbers for their clients, especially if they're using multiple keyword ranking tools.
Keyword ranking reports are the easiest to understand for clients and typically the most useful. They also like looking at general traffic and conversion data.

David Friedman, Technical SEO Manager, PaperStreet Web Design
And if agencies are struggling with how to visualize the data, it's going to be even harder for your clients. But what can you do?
The best way to address these issues is with an SEO dashboard that unifies all of the data from your client's website rankings, organic traffic, conversions, and more into one place. Not only that, SEO dashboards make it easy to visualize the data with powerful widgets to create beautiful graphs and charts to bring the data to life, making SEO reporting a breeze.
The real KPIs every client wants to know is leads and/or sales. We like to include both in our monthly reports. Ultimately, what is their ROI from the our efforts? When you can clearly demonstrate this month over month, it increases your retention rate and keeps clients paying you month after month.

Jacob Hicks, Owner, Magnyfi
Once the data is all in place, it's your agency's decision whether to give the client access to the live dashboard, or create regular reports using the free SEO report template.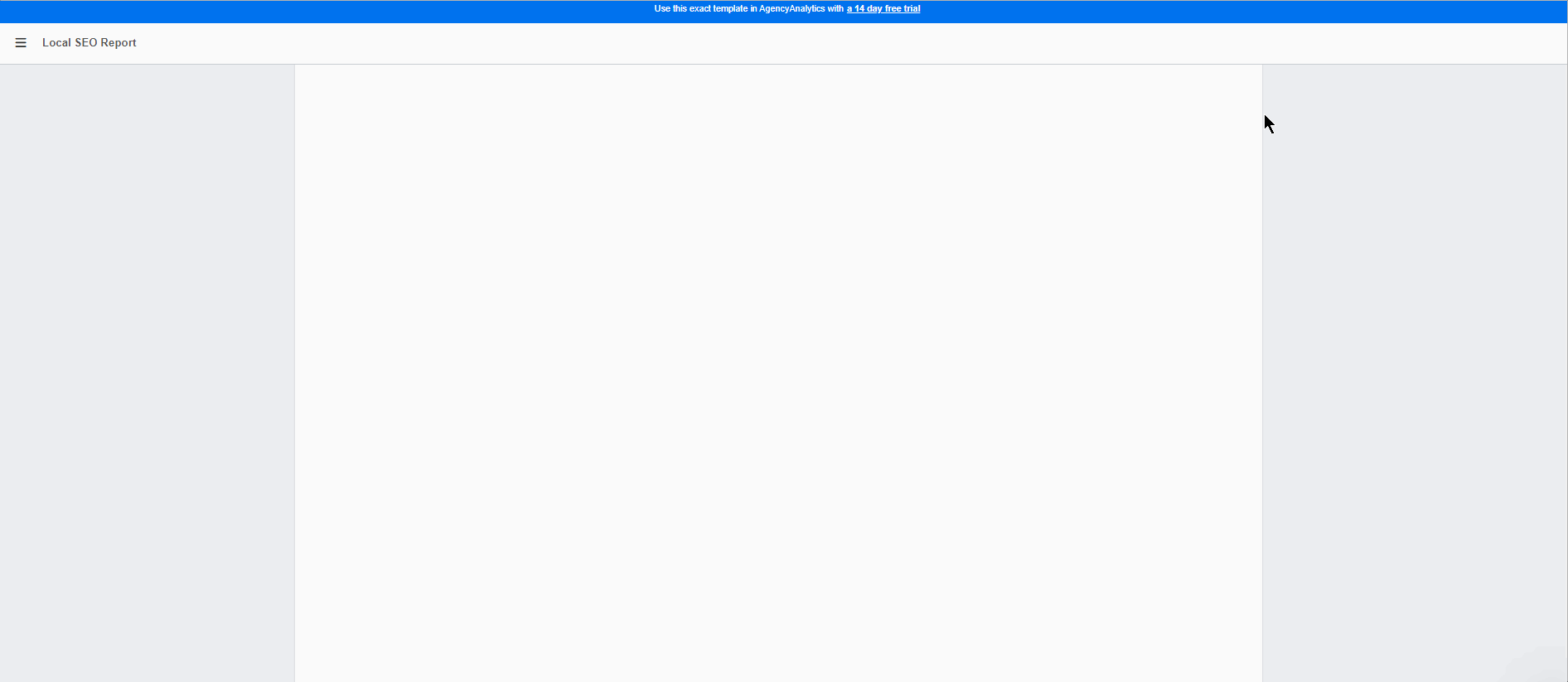 Simple reports, dashboards, templates, and automated reporting with all integrations are what many agencies dream about, and AgencyAnalytics has made that a reality with these intuitive white label analytics dashboards.
Read more: How To Build an SEO Dashboard for Clients
Putting It All Together
There are algorithms, data centers, personalization, location/language, Google experiments, and more all influencing how a SERP is displayed at any particular point in time.
From all of this, it's quite clear that rankings can fluctuate drastically from one search to the next. Even when there are no major updates to algorithms, SERPs can be volatile.
So how do marketing agencies overcome this?
By using keyword ranking tools (sometimes more than one) and looking at longer-term trends, rather than getting worried about short-term changes. At the end of the day, a rank tracking tool's purpose is to monitor trends over weeks, months, and years. Ask yourself: do your clients want to see every single detail or a tracking method that shows upward trends over time? 
Keyword rankings & organic traffic growth are critical KPIs, but what we're really measured on is our ability to create bottom-line dollars for the business. 

Tyler Krause, Owner, Conversion First Marketing
Use our Rank Tracker Tool to build beautiful multi-channel reports with just a few clicks. Schedule them to send on a daily, weekly, monthly, or quarterly basis. Try it free for 14 days. 
Michael is a Vancouver-based writer with over a decades' experience in digital marketing. He specializes in distilling complex topics into relatable and engaging content.
Read more posts by Michael Okada ›
Try AgencyAnalytics risk-free for 14 days. No credit card required.