Effective rank tracking is the bread and butter of any successful client SEO campaign. It's like your marketing agency's GPS system: without it, you'd be driving blind with no memory of journeys past. And top agencies can't just settle with arriving at their destination: they must prove to their clients that continual progress is being made to get to that coveted first page on the search engine. This requires you to present the data with foolproof, streamlined consistency.
In this comprehensive guide, you'll learn how to use rank tracking software to scale your services, showcase your value, and retain your clients over the long haul. We'll also explore how white labeling takes your agency's service offering to another level of professionalism. 
Join us as we cover: 
Rank Tracking: A Key Element for Effective SEO
Before we dive into the details of rank tracking software for agencies, let's review why we need it in the first place. When it comes to search engine results, it's a cut-throat competition for clicks. It's like being in the Hunger Games, where only the first page survives.
And the champion of this game? The #1 position on Google, with a whopping 27.6% of all clicks. So, unless you want your client's website to be left in the dust like a tribute who didn't stand a chance, it's time to prioritize your SEO strategy and aim for that coveted first-page spot. 
Source: Backlinko
At the end of the day, the reason you're aiming for clicks is to drive traffic–and ultimately–sales to your clients' businesses. And 76% of consumers who perform a local search on mobile visit the physical business within 24 hours. 
The most important success metric is, of course, sales. This begins with keywords that have proven to convert into leads, not just traffic. Once established, the focus of SEO is to rank in the top three positions for as many of these keywords/phrases as possible.

–David Rooks, Owner, Rooks Advertising
As an SEO agency, you need to keep track of much more than just individual rankings. You need to know which devices are driving traffic (i.e., mobile vs. desktop), whether your clients are ranking for localized searches, and how all these metrics change over time. Luckily, with the right rank tracking software, you'll have all the tools you need to stay ahead of the game.
Rank Tracking Software: A Crucial Component in SEO Performance
So your clients are frantically searching for their website on Google, convinced they're ranking number one. But in reality, their search results are as reliable as a weather forecast on April Fool's Day. With over 200 ranking factors, from browsing history to the phases of the moon, personal search results are not to be trusted. And as an SEO agency with thousands of keywords to track, you don't have time for that nonsense. 
Enter SEO rank trackers: they eliminate personal factors and allow your agency to monitor and clearly report the performance of specific keywords to your clients. So put down the crystal ball and let the software do the heavy lifting. Your clients (and your sanity) will thank you.
Rank tracking software frees up your agency's time to focus on the good stuff. By automatically monitoring your clients' keyword rankings, your teams will have more time to use their SEO skills on other tactics, like optimizing website content.
Automate your agency's rank tracking efforts to free up countless hours each month. Try this rank tracker tool when you sign up for your free 14-day trial with AgencyAnalytics today. 
It's very difficult to explain the value of a service to a client without visuals. Using the web analytics report and the SEO reports side by side helps us show our clients a correlation between SEO and Traffic.

–Ruben Roel, President, Investigator Marketing
The Power of White Labeling: Fueling Your Marketing Agency's Success
This may sound obvious, but an essential aspect of running a successful marketing agency means accepting that you can't do everything yourself. And while your team may be SEO experts, that doesn't necessarily mean they should build software from scratch to run your business.
Here's why using a white labeled off-the-shelf option is an effective tool for marketing agencies: it's much more cost-effective. You don't have to do all the heavy lifting when it comes to the software's design, development, and maintenance, but you still keep your branding consistent.
White label SEO software enables your agency to provide customized SEO reports that match your clients' needs–all without diluting your brand identity. In addition to a host of drag-and-drop configurations and graph selections, it lets you add your agency's logo, color scheme, and sometimes even domain hosting. 
Picture this: you're throwing a VIP party, but instead of giving your guests a fancy invite with your name on it, you hand them a secret code to enter. 
That's what white labeling is all about in the world of marketing agencies. You provide your clients with their own access to the software, but all they see is your agency's name and branding, making them feel like they're part of your elite inner circle. It's a win-win situation that'll leave your clients feeling cared for and your agency looking like a superstar. Not to mention increasing your chance of getting word-of-mouth referrals and improving your client retention rates. 
White labeling software is ultimately a cost-effective way to expand your agency's offerings without increasing your reporting workload. 
Ready to onboard new clients like a boss? With AgencyAnalytics, build custom, totally white labeled dashboards like this one in just a few minutes. Start from a template, or create your own, clone it, and tweak it to your heart's content. It's like having a personal onboarding genie at your fingertips! Start your free 14-day trial today. 
The Essential Features of White Label Rank Tracking Software
Rank tracking software isn't simply about monitoring keyword positions over time. It should also pack a punch to beef up a website's SEO. As a bare minimum, it should be able to track the search volume for each keyword, but also the following data to provide you with the insights needed for a successful SEO campaign: 
SERP Snapshots – See a live snapshot of the SERP, exactly as it is in search engines. AgencyAnalytics pulls data from Bing, Google Mobile, and Google Local.
Competitor Keyword Data – Monitor page authority, domain authority, backlink data, and more on each of your SERP competitors for every keyword. Understand exactly how your client stacks up against the competition.
Data Aggregation by Language – Is your keyword optimized for each target location's language?
Filter by Device – Whether the searcher is using mobile, desktop, or tablet affects your conversion rates.
Filter by Tag– Organize and view your tracked keywords by categories that make sense for your client's business. Then see how many keywords are ranking in each category and whether each category is gaining or losing rankings.
Ranking Reports for Every Location – Monitoring single or multiple locations is crucial if your client is a local business with a physical location. Track keyword performance right down to the ZIP code. 
Average Ranking – Keep track of the average keyword ranking being achieved per search engine. This high-level metric can be used to show clients' overall SEO improvement over time.
With all that data to play around with, agencies need robust client reporting tools that also offer the powerful white label capabilities we visited earlier.
6 Must-Have Features of a White Label Rank Tracker for Agencies
AgencyAnalytics' white label rank tracking software gives you everything you need to scale up your SEO services effortlessly and keep clients in the loop–even if it's on a need-to-know basis. Here's how. 
1. Automated SEO Ranking Reports with Laser Accuracy
Some clients just want to see a high-level report, while others want insights into every available metric. Since every client and campaign is unique, your reports should be too. With drag-and-drop widgets and an interface so easy to use, even your grandma could do it. 
Rank tracking gets very granular, and your rank tracking tool needs laser precision. Customize each report with bar charts, line graphs, and tables to eliminate the guesswork for your clients. Give your clients exactly what they're looking for in a fully unique, white-labeled SEO report that matches your branding. 
Create a report in minutes using an SEO report template. Mix and match your clients' keyword rankings with other marketing data to create big-picture reports that truly show your impact. 
Keyword Ranking is our metric; however, since our clients are ultimately concerned about ROI, we show them page view volume and ranking in our reports, and we use AgencyAnalytics screens to show leads generated from organic SEO efforts.

–Rick Warda, President, Suite Edge, LLC
Once you have all your SEO data in a single report, set your white label SEO reporting on autopilot by scheduling reports to send out like clockwork: daily, weekly, bi-weekly, monthly, quarterly, or annually. You can also personalize each report with an executive summary, comments about the significance of different SEO KPIs, and your own insights for each campaign.
AgencyAnalytics has completely transformed our reporting process, making it more efficient and professional. We love the ability to white-label reports with our branding and colors, and the ease of use has been a game-changer.

–Adam Binder, Founder + CEO, Creative Click Media
2. Live Keyword Ranking Dashboards With Powerful Data Aggregation
Now that your clients are happy with their clear reports, your team also needs a feature-packed dashboard to channel their inner detective and make savvy decisions to rule the search engines! 
Start with dashboard templates and choose metrics that matter most to your clients from 13+ SEO integrations. Track keywords from specific locations to unlock a treasure trove of data, including keyword positions, trends, and search volumes thanks to a full suite of white label SEO tools, including: 
Rank Tracker: Monitor keyword rankings for any location, language, and device on all the major search engines with keyword rank tracking. 
Backlink Monitoring: Track new and lost links with our in-depth backlink reporting and create a beautiful white labeled dashboard. 
Site Audit Tool: This SEO audit tool lets you analyze and eliminate the most common issues that impact your clients' performance. These comprehensive website audits include issues like 404 errors, duplicate content, and broken images.
With invaluable data at your fingertips, you'll be able to make smarter decisions–faster. 
AgencyAnalytics offers the best solution in terms of an easy to understand report. We also have one element of the agency which white labels SEO work. AgencyAnalytics allowed us to easily integrate data from other agencies and for us to produce reports in their branding at no extra cost.

–Guy Hudson, Founder, Bespoke Marketing Plans
3. Import Your Historical Data in a Snap
Ready to leave your old rank tracking tool in the dust? Don't let your hard-earned data go to waste–build on it and show your clients what you're made of!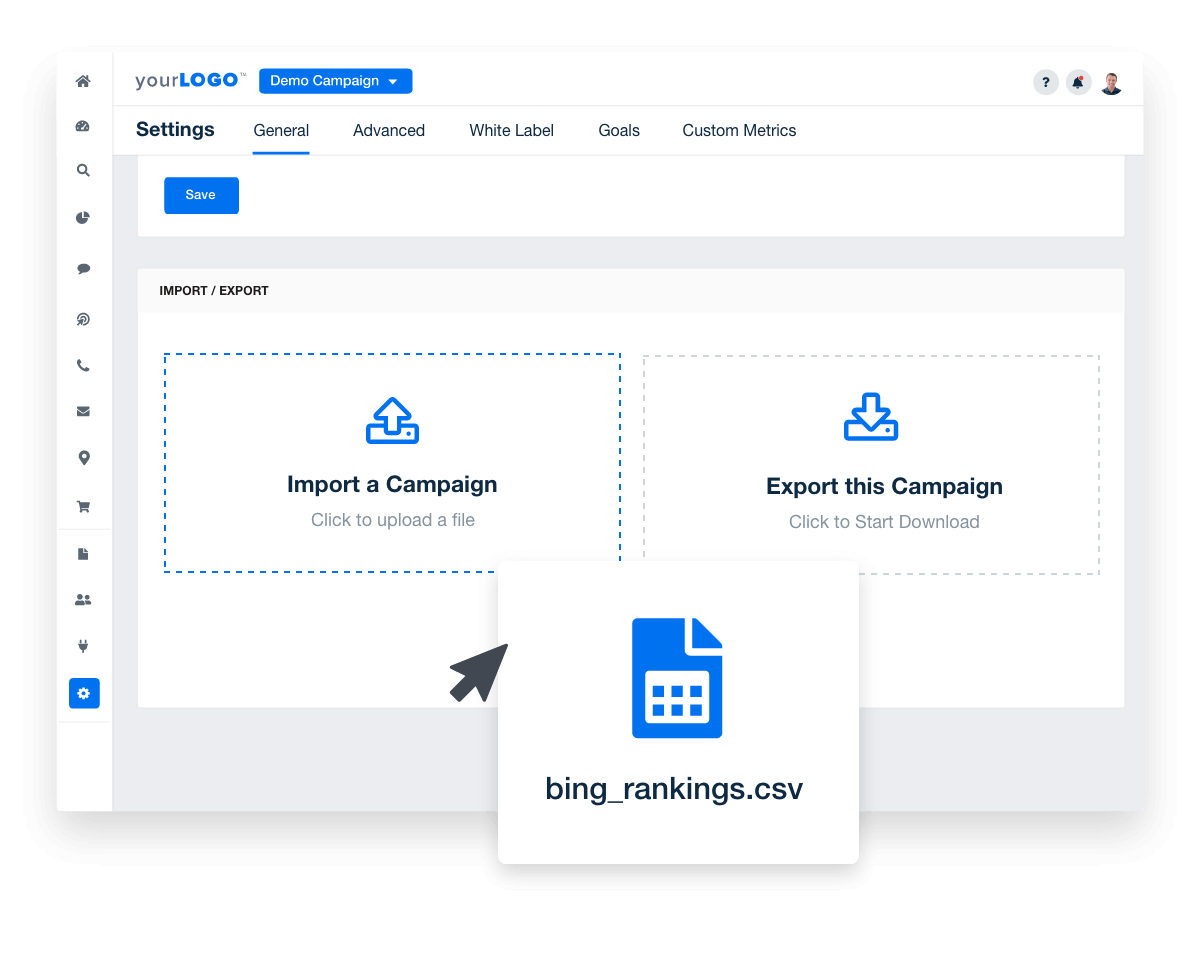 With AgencyAnalytics, easily import your historical Google and Bing ranking data and make it your own. Access it in all of your reports and dashboards to keep tabs on your progress and build a better SEO strategy for your clients.
4. Make Collabs Easy With Unlimited Client & Staff Logins
Make collaboration a breeze by creating as many user accounts as you want and customizing their access levels to keep your metrics under lock and key.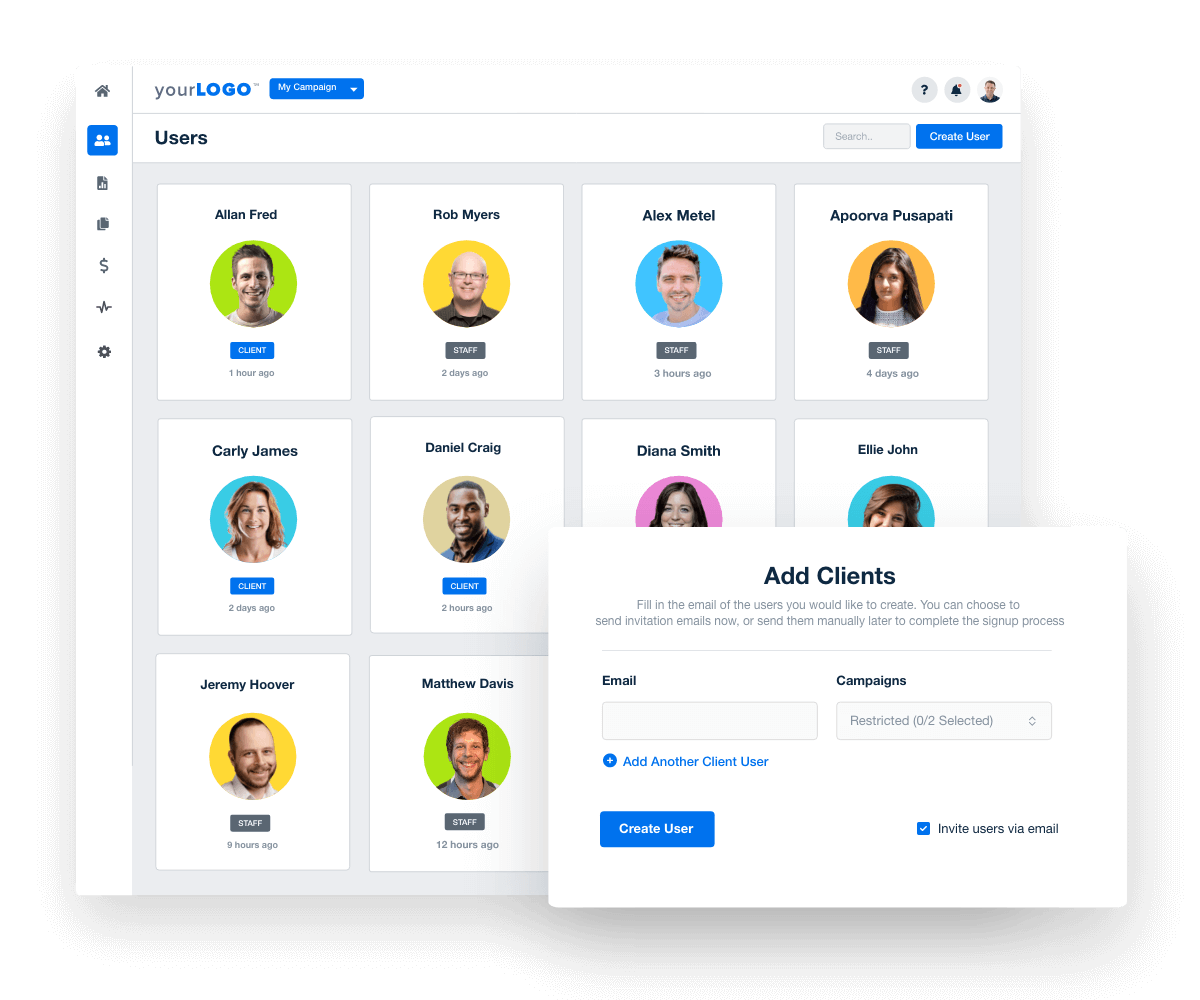 AgencyAnalytics puts you in the driver's seat so you can share what you want when you want. Give your clients and staff their own login to your white-labeled dashboard and customize exactly what they can see. 
Customize both your client dashboards and automated reports to match your agency's branding. Clients will see your logo, color scheme, and even hosting as if you built the platform in-house.
5. Get Insights On-the-Go with A Mobile Friendly App 
Feeling the need for speed? Perhaps not. But we live in a fast-paced world. A mobile interface provides you with lightning-fast metrics on the go, so you'll have everything you need at your fingertips to impress your clients and their stakeholders. 
With this white label feature, you can mimic "mobile app" functionality for a seamless transition between web and mobile. The custom mobile app features your brand logo and colors. The home screen icon can even match your dashboard logo.
Need a quick glance at your client's Google ranking report before a big meeting? No problem! Want to double-check a social media metric while sipping a piña colada on the beach? You got it! With mobile interface, you'll never miss a beat, no matter where life takes you.
6. Make Your Agency Shine With 100% White Labeling
With the best white label SEO software, your agency isn't just another face in the crowd–it's the star of the show! Upload your logo and scrub away any mentions of AgencyAnalytics to give your clients a bespoke experience that screams, "this is MY agency, baby!" But why stop there? 
We've got a treasure trove of pre-configured color templates and a precision color selector app that will make your brand sing like Rihanna at the Super Bowl halftime show. And speaking of singing, let's talk about hosting your dashboard on your own domain. You can start with a branded subdomain on a generic URL (yourbrand.agencyanalytics.app) and work your way up to a custom domain (login.yourdomain.com). 
After you've crafted the perfect SEO report and you're ready to dazzle your clients, why not white label the "sent from" email address for those scheduled ranking reports? It's the cherry on top of the sundae. Just keep in mind this feature is only available on certain plans.
For instance, the Enterprise plan lets you create multiple white label profiles to:
Manage multiple brands

Resell SEO services to other agencies

Customize your reporting for each individual client–like branding their reporting with each individual client's logo and color scheme instead of your own

White labeling client reports and dashboards with multiple brands, for example, your own agency and the customer
No more boring, one-size-fits-all reports. 
I compared a few other options but ultimately went for AgencyAnalytics for affordability, breadth of integrations, white-labeling opportunity, and just general clarity of information that I could find on the site.

–Lane Anderson, Founder & CEO, London Road Marketing
Now that we've discussed the specific features of our white label rank checker, let's look at how to white label your own reports and dashboards. So if you haven't already, sign up for your free 14-day trial and follow along.👇
How To White Label Your Reports & Dashboards in AgencyAnalytics
Step 1. Customize Your Logo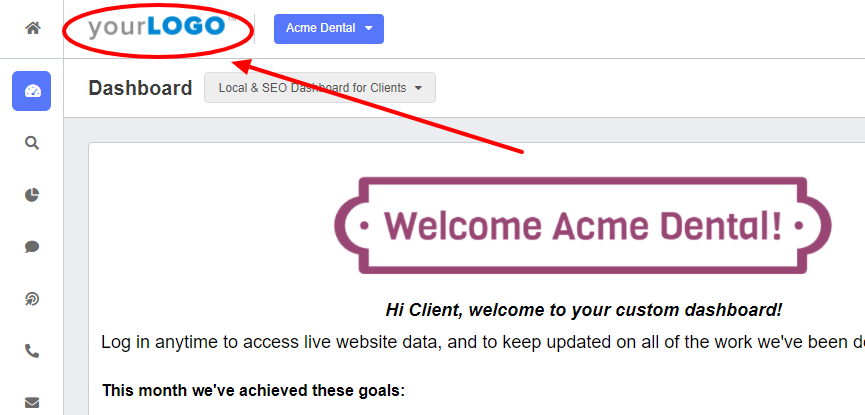 The first step to white labeling your reports and dashboards is to upload your logo. 
Simply navigate to white label settings by clicking Settings in the left sidebar and select Logos from the white label section of the Account Settings menu:
From there, you have the option to upload your dashboard interface, your reports, and your icon:
If you want to learn more about customizing your logo, check out this Help Center article.
Step 2. Customize Your Dashboard Colors
The next step to white labeling your dashboards and reports is to customize your color scheme. From the same "White Label" control panel where you just uploaded your logo, if you scroll down, you can see there's a section for colors.
In this section, you can choose to white label it with an exact hex color, or you can use our preset color themes:
Step 3. Set Up a Custom Domain
If you want to take your white label branding to another level, the next step is to host your dashboards on your own custom domain. Keep in mind the following white label settings are only available to the admin of your subscription.
To host the dashboard on your own custom domain, simply scroll down from the "Colors" section in the white label control panel. As you can see below, in this section you can either choose to setup a subdomain (i.e., "my-agency.agencyanalytics.app") or you host the dashboard on your own custom domain (i.e., "reports.yourdomain.com").
If you want to learn more about white labeling your domain, check out this article from our Help Center.
Step 4. Customize Your Report Emails
After you've uploaded your logo, colors, and domain, one of the more advanced white label features we offer is the ability to white label the "sent from" email address used for sending scheduled reports to clients. (Keep in mind this feature is only available on the Agency plan and higher. Learn more about our pricing plans here.)
By default, scheduled reports are sent from the address "noreply@clientseoreport.com", but you can also choose to send them from your own domain. To do this, you'll be required to create and modify the DKIM/SPF records through your web host. 
Since many of the steps to configure DNS settings vary dramatically between hosting providers, we don't provide much in the way of technical support for these steps. That said, if you'd like to start the process of white labeling your report emails, please contact our support team. 
Step 5. Set Up a Custom Mobile App
The last step to fully branding your reporting is to use our white labeled mobile site feature that lets you mimic "mobile app" functionality for your agency. 
To set up your mobile app, first, navigate to the white labeled dashboard link on either an Android or iPhone/iOS mobile device. This will be the white labeled custom domain or subdomain we set up in the previous step.
When you (or your clients) open that link on a mobile device, the site will prompt you to add a shortcut to your home screen, as shown below.
Simply follow the directions on the mobile device and click "Add to Home Screen".
After you've completed these steps, the logo and "app" name (which is pulled from your white label control panel) will appear on the home screen of your phone.
Our reporting process has come a long way since adopting AgencyAnalytics. We love the flexibility and customization of the platform, especially with the white-labeled reports that feature our own branding and colors. It has made a big difference in how we present our work to clients and how professional it looks.

–Adam Binder, Founder + CEO, Creative Click Media
How To Set up the AgencyAnalytics Rank Tracker
AgencyAnalytics has been building rank tracking tools since the early 2000s. Based on feedback from marketing agencies, we've continually improved the SEO white label rank checking tool into the accurate, up-to-date, and easy-to-use tool it is today.
Here's a Step-by-Step of How Our Rank Tracker Works:
Step 1. Select Your Keywords
Choose the keywords you want to track for this specific campaign.
Step 2. Select Your Location(s)
Choose one or more geographic locations for each keyword you want to track.
Step 3. Choose Your Language
Choose the language you want to track keywords in.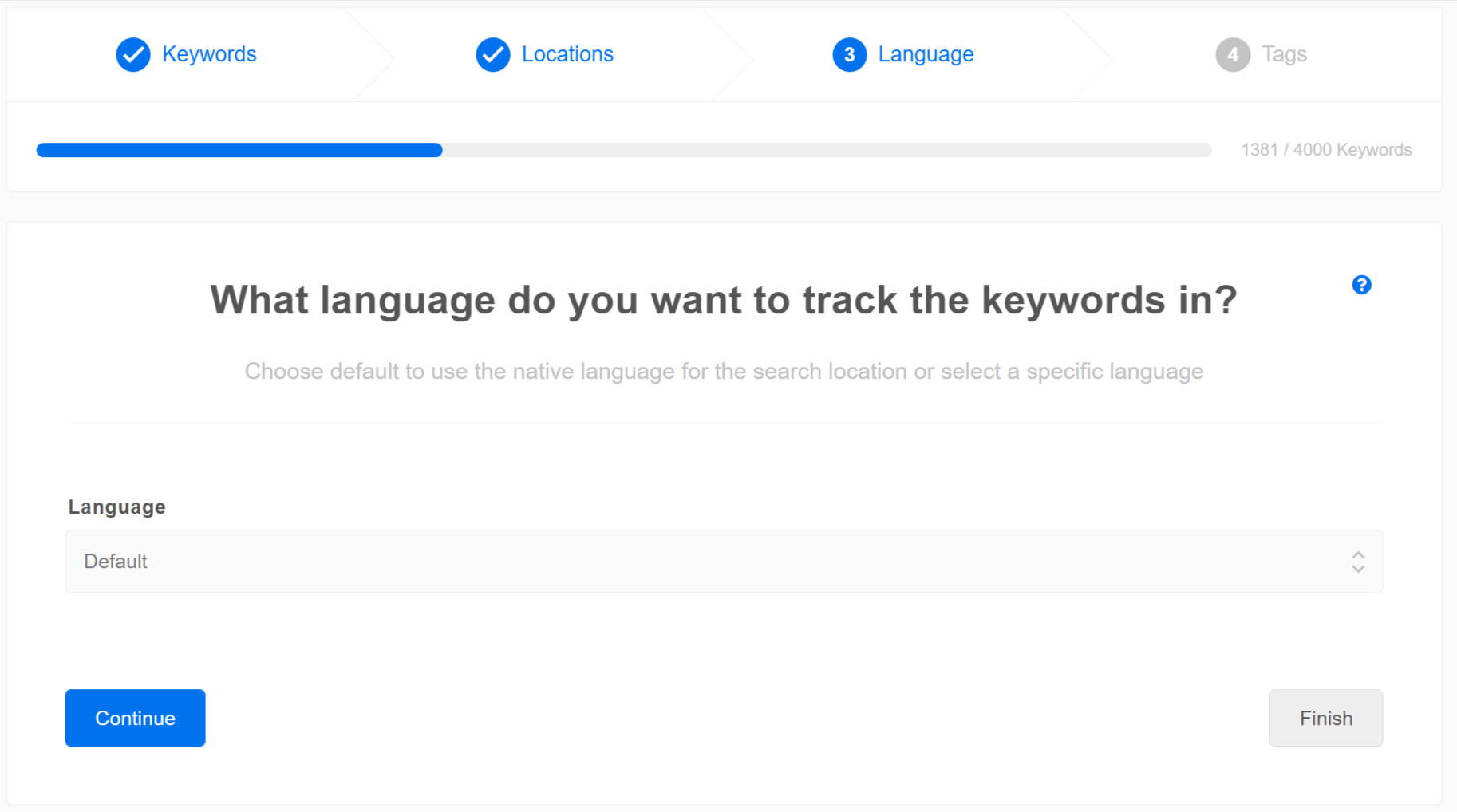 Step 4. Keep Things Organized
Organize your dashboard by adding any tags to your keywords. For example, you might categorize keywords with an "Opportunity" tag.
Step 5. View Last Updated Time
In your dashboard, you'll see the time the ranking data was last updated (rankings are updated every 24 hours), the page ranking for that particular keyword, and the SERP verification link
Step 6. Verify the Rank Tracker Manually
If you want to manually verify the rank tracker, simply click on the SERP link and you'll be redirected to the search engine for this keyword.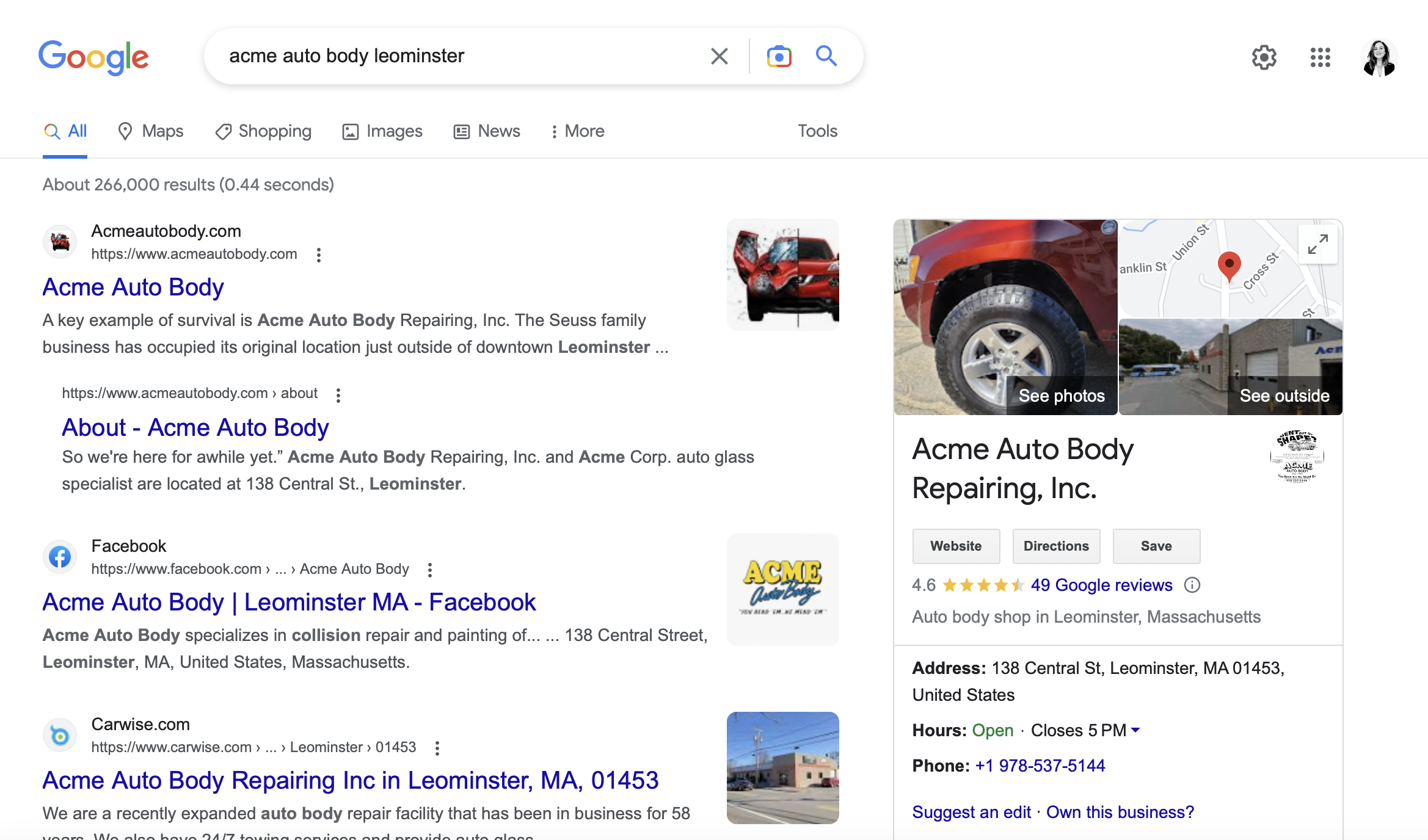 The Bottom Line 
White labeled rank tracking software is a cost-effective way to expand your service offerings, reduce client churn, and win back more billable hours for your agency. But you need a robust platform that grows with your agency as you scale. AgencyAnalytics is specifically built for just that, generating updated dashboards fast and turning them into automated reports with a flick of a switch.
Tired of spending hours creating reports? Say goodbye to the drudgery of manual reporting and hello to the effortless beauty of a multi-channel reporting tool. Choose from over 75 marketing channels to present a holistic picture of your clients' marketing health.
Say goodbye to the Stone Age and hello to the future of client reporting. See why 6,000 agencies rely on AgencyAnalytics. Start your free 14-day trial today.
Written by
Melody Sinclair-Brooks
Melody Sinclair-Brooks brings nearly a decade of experience in marketing in the tech industry. Specializing in B2B messaging for startups and SaaS, she crafts campaigns that cut through the noise, leveraging customer insights and multichannel strategies for tangible growth.
Read more posts by Melody Sinclair-Brooks ›
Try AgencyAnalytics risk-free for 14 days. No credit card required.