If your agency is exploring the ins and outs of creating a comprehensive Google Sheets SEO audit template, you've come to the right place. 
As you know, SEO isn't just a matter of adding structured data to a blog post or making a couple of website tweaks here and there. Conquering the top spots on search engines requires continuous investment, tweaks, and adjustments.  
The more time I spend on SEO activities that move the needle, the more successful my clients and my business are. - Will Mullins, Will Mullins Search Engine Optimisation Services
When your agency begins to scale, you'll need a sustainable way to conduct website audits for multiple clients or even pitch it as an add-on service. And that's where an SEO audit template comes in handy. 
Whether you're looking to create your own Google Sheets SEO audit template or you're exploring automation tools, read on to learn about: 
Let's get into it.
5 Top Uses for an SEO Audit Template
Wondering if it's worth the hassle? It certainly is! Even when you are using SEO tools to do much of the heavy lifting behind the scenes, an SEO audit template offers a systematic approach that's easily replicable and incredibly time-saving. 
Google Sheets is often the go-to platform simply because of the ease of collaboration, task assignment feature, and automatic backup.
Download Your Google Sheets SEO Audit Template
Use this checklist to keep tabs on your SEO efforts and performance.
Here's why SEO audits are essential, whether creating one from scratch or using a pre-built template. 
1. To Identify and Resolve SEO Issues
You can't fix what you don't identify. 
SEO-related issues are common, from outdated title tags to missing meta descriptions. Run an audit on a potential client's website, and you'll be hard-pressed to find one with a perfect score.
And in the ever-evolving world of SEO, nothing stays the same, so you'll need to adjust your client's strategy in case of any developments (such as algorithm changes). 
As a result, it's crucial to perform website audits regularly and identify any pressing SEO issues. 
Using an SEO audit template, pinpoint any potential SEO problems and increase the likelihood of a higher search engine ranking faster and easier. 
2. To Create a Standardized and Professional Approach 
Let's say you're managing multiple clients with robust and intricately designed websites. If you have over 50 clients and each client's website has 100 web pages, it'll be a mammoth task to conduct regular SEO audits without some form of standardization.
And it's no secret that agency processes are an absolute must to run your business successfully. A well-designed, standardized SEO audit template is just what you need to adopt a professional and repeatable approach and let your clients know that you mean business. 
Having an SEO audit template also means you won't waste time reinventing the wheel each time a client's website needs an audit. 
3. To Streamline SEO Processes & Client Reporting
Use an SEO audit template to add to existing SEO processes and inform client reports. Not only does it give tremendous value by standardizing the audit procedures, but it also adds another dimension to client reporting. 
An SEO audit template could also provide structure if you offer these insights as a standalone service.
Agency Tip: An SEO audit could also be used as a 'sneak peek' to woo potential clients into onboarding your agency's services and can help inform your agency's SEO Proposal.
4. For Task Management
If you're looking for a methodological approach to monitoring SEO-related tasks, an SEO audit template is the way to go. 
Create an ongoing, easily referenced SEO checklist to keep your clients' websites in tip-top shape. At the same time, this SEO to-do list should also hold your agency accountable for any agreed-upon tasks. 
Keep tabs on your tasks, so nothing slips through the cracks. Have your teams create their task lists alongside their client metrics. Try AgencyAnalytics free for 14 days.
5. To Identify Low-Hanging SEO Fruit
A comprehensive SEO audit should evaluate all aspects of your client's website. Some fixes will be easier to implement than others, resulting in a faster turnaround time for your agency. 
By focusing on quick wins, your agency can deliver value immediately. And this process can be repeated each month to show the constant improvements being executed.
Even if your agency doesn't manage a particular client's SEO, identifying these quick wins is a great opportunity to upsell your services or add value to your agency-client relationship. And because many aspects of SEO can impact other channels, such as ad quality scores, or social media bounce rates, your due diligence will be rewarded with a smooth-running website.
Some examples of low-hanging SEO fruit include:
Fixing metadata (such as crafting better title tags or replacing duplicate meta descriptions)

Adding sub-headers to a blog post with many views but a low conversion rate (which will make skim-reading easier)

Updating broken internal links

Embedding additional and relevant keywords into content to improve search engine rankings

Improving site loading times by compressing large media

Removing irrelevant external links
Check out the Google Sheets Export Extension: The easiest way to get your marketing data from over 75 top marketing platforms into Google Sheets for extra handling and analysis.
What Should Your Agency Include in an SEO Audit Template?
A well-designed SEO audit template should both help your team execute a client's SEO campaign while gathering valuable insights that help your clients understand what's working well and what needs improvement. 
Here's what to include when creating a Google Sheets SEO audit template.
On-page Optimization Checks
Your SEO audit template should ensure on-page optimization by identifying the following:
Any web pages with 4XX or 5XX error codes

Missing metadata (i.e., title tags, meta descriptions, ALT text, schema markup, headings/subheadings)

Missing files, images, or other media 

Missing robot.txt files

Missing or invalid sitemaps 

Incorrect or missing page indexing 

Duplicate content (which could adversely affect search engine rankings) 

Server errors

Low word counts for any website content

Any broken or NoFollow attributes internal links
There are so many elements that are important when it comes to SEO. But I'd say that the most important elements are the meta title and the meta description. This is because a well-written meta title and meta description can lead someone from simply seeing the page or blog in their search results to actually clicking on it and engaging with the content. - Jessica Tappana, Founder of Simplified SEO Consulting
Depending on the size of your client's website, this could take hours, days, or even weeks to complete if done page-by-page.
Don't waste time running a technical SEO audit manually–try the AgencyAnalytics SEO Audit Tool to identify and resolve issues quickly. Sign up for a free 14-day trial today.
Two Types of On-Page SEO Optimization
On-Page optimization typically falls into two distinct buckets:
Sitewide Technical SEO issues

On-page optimizations to target specific keywords and phrases
Both types of on-page SEO optimization are essential to the success of any website. Sitewide technical audits look for broader issues, like the ones outlined above, to ensure your client's website can be properly crawled, indexed, and ranked by search engines.
On-page keyword optimizations go deeper into keyword density, semantic keyword variations, and the other elements that help Google understand exactly what a specific page on your client's website is about.
Work to identify potential technical issues first so that these issues will not interfere with on-page optimizations. Once the site's technical issues are addressed, the focus shifts to the finer elements that make up individual web pages to give your client the best chance at ranking in SERPs.
Agency Tip: Use an SEO Audit Tool to do a site-wide audit to find and fix common errors, and then focus your agency's time and effort on optimizing the most important pages on your client's website.
Off-page Optimization Checks
Yes, it's essential to build and optimize an amazing website for each client. However, remember that there are also off-page factors that influence search engine rankings. 
Think of off-page SEO as a supporting boost to your client's brand presence and search visibility. This comes in the form of: 
Backlinks from credible websites

Brand mentions and shares on social media

Analyzing competitor backlinks (to compare performance)

Removing toxic backlinks (e.g., from non-credible websites)

A Google Business Profile (if applicable)

Listings on local directories

Customer reviews
Quality backlinks are important to SEO to help build value for a website and grow the online footprint. It is essential to not only focus on building quality links, but also to monitor all backlinks to remove low-quality links. - Christopher Bailey, Website Design and SEO, D2 Branding
That added 'thumbs-up' signals to search engines that your client's website content is credible, relevant, and authoritative. 
Keyword & Competitor Optimization
An key part of any SEO strategy is keyword and competitor optimization. If you know what your client's target audience is searching for, you'll understand their pain points, needs, and expectations. 
Clients are often interested to learn what search queries people are using to find their business. These keywords provide more data about the customer profile and are critical to developing an SEO strategy. - Valerie Jennings, CEO of Jennings Social Media & MarTech
On the flip side, your clients' competitors are also doing their research and looking for keyword opportunities to capitalize on. That's why you should also keep an eye on what's happening in the overall landscape.
For more granular keyword ranking insights, try the AgencyAnalytics Rank Tracker tool–it's free for 14 days. 
To get the most out of your SEO keyword audit, consider the following questions: 
Are there any keywords that my client's website is ranking well for?

Does the content that is ranking match the keyword search intent?

Are there any favorably ranking keywords or phrases that aren't being used?

What is the difficulty of the keywords my client is using?

Have there been any notable changes to my client's keyword rankings?

Are any long-tail keyword variations being used?

Are any question keyword variations being used? 

Which keywords do my clients' competitors rank for?

Are there any relevant keywords or phrases that competitors aren't using?

Are there any opportunities to improve keyword rankings (e.g., using a different variation)?
Read More:  Pros & Cons of the Best Keyword Rank Tracking Tools
Site Page Scores
Exceptional user experience (UX) is a non-negotiable when it comes to your client's site health. For example, say a user comes across your client's website on Google. After clicking on it, they're annoyed by the slow loading times and blinding color scheme. 
What will happen next? Unless they're incredibly intent on waiting for your client's website to load fully, they'll likely exit and move on.
To avoid any site page mishaps, evaluate the following: 
What is my client's website speed?

Is my client's website mobile-friendly?

For slower website speeds, are there any fixes that could be made to amend this issue (e.g., compressing on-page videos and images)?

Do my clients' competitors have any notable issues that affect user experience (e.g., a slow loading time)?

Are there any notable improvements to be made to the website interface (e.g., a visually unappealing color scheme)?
Website Performance and Analytics 
To improve your client's SEO efforts, you'll need to know how their website is performing and all related analytics. Tools like Google Analytics and Google Search Console provide valuable insights (which we'll explore further in the next section). 
To ensure visibility on Google, there are a few questions to consider such as: 
How many organic sessions does my client's website have?

What is the average bounce rate?

Does my client have a conversion goal, and if so, what is it? 

Is my client's website crawlable by Google?

What are the top queries related to my client's website?

What are my client's top web pages?

What are the top devices used by users viewing my client's website?

What is my client's accessibility score?

What is the overall performance score?
Agency Tip: If you're a fan of browser extensions, check out Google Lighthouse, which is an automated tool that gives insights on website performance.
Types of Issues and Severity
Your SEO audit template should categorize issues according to severity so you'll know which ones to prioritize.
Consider using the following groupings:
Critical: These types of issues should be prioritized as they have the greatest chance of negatively impacting your client's search engine rankings. This includes overused canonical tags and 4XX or 5XX page errors.

Warning: This should be used to categorize issues that could potentially result in compromised search engine rankings, such as missing title tags or a low word count for a blog.

Error: These issues are fixable errors that could be quickly addressed, such as duplicate meta descriptions on more than one webpage or broken internal images.
Historical Trends
As you get into the habit of running SEO audits for clients regularly, you should keep tabs on their historical data. 
SEO is long-term, and for a good reason. That also means that any ly executed strategy can have long-term ill effects that take twice as much work to overcome. - Andy Robson, Agency Director, Squidgy
That way, you'll understand any trends over time and notable progress to justify your agency's value proposition. For example, tracking site health scores across regular intervals is a good gauge of how your client's SEO efforts are materializing. 

By following this checklist, you'll analyze your clients' SEO efforts and be better positioned to make relevant recommendations.
What Tools Should You Use to Perform a Quality SEO Audit?
Running an SEO audit doesn't have to be a manual, tedious process. The right SEO agency software will help you to keep track of the most important SEO analytics. 
This free SEO tool helps you to understand exactly how Google views your client's website. Use Google Search Console to:
Measure site crawlability

Evaluate how often your client's website shows up on Google searches

Show existing backlinks

Check for any mobile usability issues
Agency Tip: Looking for a streamlined, automated way to view these insights? Check out the AgencyAnalytics Google Search Console dashboard that consolidates all the information you need without having to run manual searches each time. 
Your client's website should load fast to ensure a favorable Google search ranking (or any search engine, for that matter).
That's where Google PageSpeed Insights comes in. It's a free Google tool that analyzes how fast your client's website runs by assigning a 'speed score,' referencing best practices, and identifying specific performance issues. 
To gain an in-depth understanding of organic traffic and other related insights (such as average time spent per web page), Google Analytics is the way to go. 
It's also an excellent tool for tracking conversions and identifying potential SEO-related issues (such as a high bounce rate on a particular web page).
Use a fully customizable, drag-and-drop Google Analytics dashboard to view important insights all in one place. Try it free on AgencyAnalytics, free for 14 days. 
If you're looking for a large-scale way to scan for errors, invest in a platform like Screaming Frog SEO Spider. 
This powerful tool can crawl multiple web pages and quickly identify broken links, which will valuable time (especially if your agency is scaling). 
A platform like Majestic SEO comes in handy to understand how your client's backlinks are performing (or to identify any new opportunities). 
This platform also doubles as a keyword planner tool, which is a major plus. Whether you're incorporating a variety of keyword types into your client's strategy or keeping an eye on what the competitors are doing, Majestic SEO is an excellent resource. 
And with the Majestic SEO integration, keyword insights are seamlessly built into the automated AgencyAnalytics SEO audit tool (which we'll explore in the next section). 
Agency Tip: Explore other link-building tools on the market and decide on one that best fits your agency's needs. Whether you're looking for a free tool or you're ready to invest in a long-term option, there are many great options to choose from.
This local SEO platform provides a good gauge of your client's brand reputation on the ground and also points out any local SEO issues to address.
If you're managing multiple clients with intricate websites, Ahrefs is a great option for large-scale operations. With a built-in site audit tool, Ahrefs has the ability to crawl your client's entire website and identify any areas for improvement. 
Another reputable SEO tool is Semrush, which also includes an integrated site audit feature. This platform works well to identify your client's site health score, SEO-related errors, and the severity of any site issues.
Rounding off our list of SEO tools is Moz, another well-known platform with a dedicated site audit feature. Moz works by crawling websites and analyzing them for any technical SEO issues (such as page errors and missing metadata). 
But if you want to streamline your agency's processes, turn to the tool that does it all...
An Automated Alternative: The AgencyAnalytics SEO Audit & ReportingTool
Your agency may rely on Google Sheets for various tasks. And we get it–it's an excellent tool for compiling and sharing data. 
However, copying and pasting results into a manual spreadsheet could be painstakingly time-consuming, which may lead to errors and expending billable hours. 
Accurate data is huge in SEO. If you get the wrong data, it can send you completely down the wrong path. Having all the data in one dashboard is a lifesaver. - Will Mullins
If you're looking for a scalable and automated approach to website audits, consider using the AgencyAnalytics SEO Audit Tool. 
This interactive, automated dashboard consolidates the work of multiple SEO tools alongside all of your client's other digital marketing efforts and provides all the insights you need, such as:
Overall website health

Site health scores for individual web pages

Types of issues found and severities

Number of pages crawled

An analysis of page depth (i.e., the number of pages a user has to navigate to reach a specific destination) 

Numerical and graphical summaries of the most commonly found issues 

Historical trends of website health scores and number of pages crawled

Top keywords from Organic and PPC

Organic traffic and conversions
The Best Ways to Share AgencyAnalytics' SEO Audit Tool Findings
To get the most from this tool, here are a few options when it comes to client reporting:
1. Send Your Client's SEO Audit as a Downloadable PDF File
If your client prefers an e-mail attachment, it's easy to convert their SEO audit findings into a downloadable and white labeled PDF document. This report combines all of the critical SEO metrics your clients need and takes a fraction of the time to create compared to the laborious task of manually updating spreadsheets.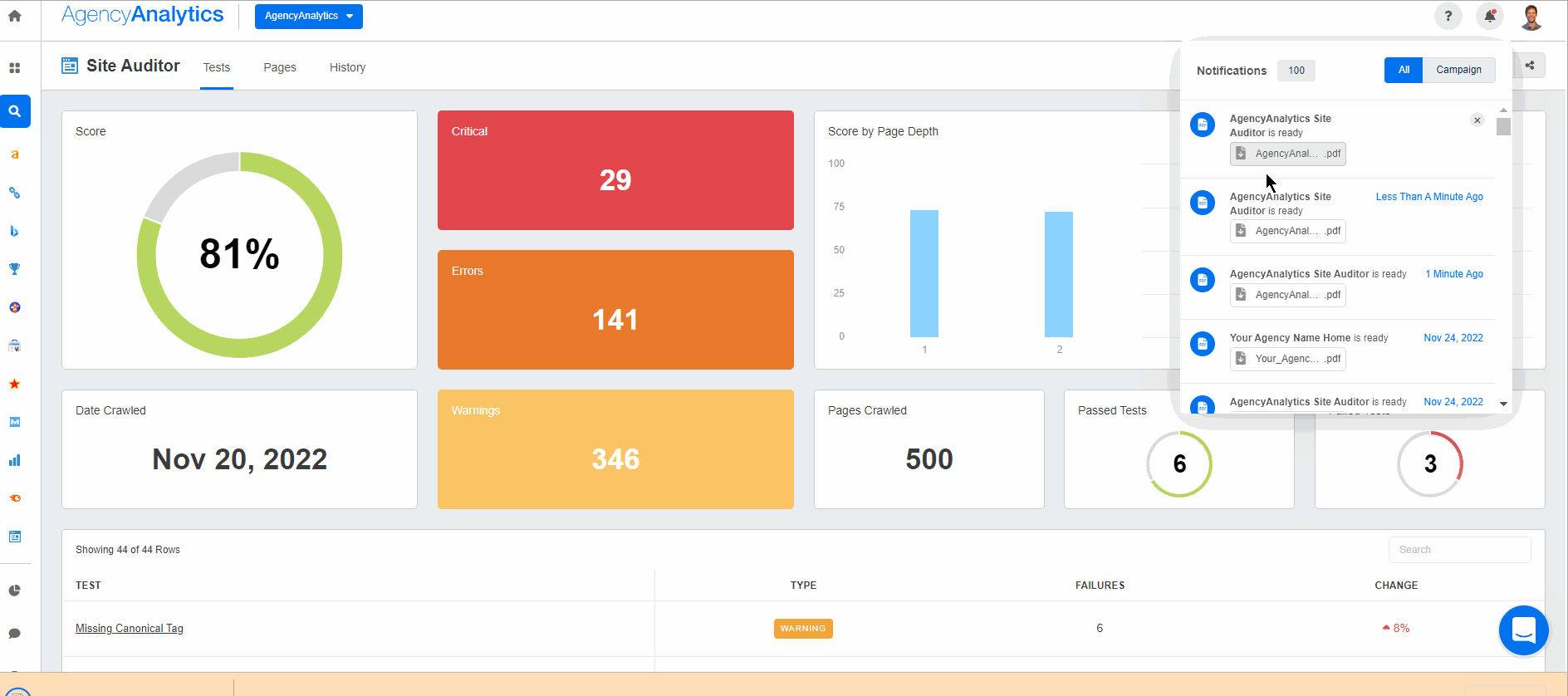 2. Download as an Excel File (and Easily Copy Into Google Sheets If Needed)
Similarly, export your client's SEO audit findings into an Excel file (which gives a numerical breakdown of what's happening). 
If your client prefers, transfer this raw data into Google Sheets for a more collaborative experience.
While not as visually appealing as a marketing report template, a data file allows for more granular manipulation of the metrics.
3. Create a Realtime Client SEO Dashboard
On the AgencyAnalytics platform, create client login profiles and grant access to real-time data. Your client then easily views their interactive SEO dashboard whenever they choose to, reducing the need for manual reporting, follow-up calls, and questions by email.  
And if they do have questions, those are easy to address with integrated client messaging.
Easily configure user permissions beforehand, which will control what a client has access to. This way, you won't have to share irrelevant information (such as vanity metrics). 
Customize it as you see fit! With our drag-and-drop feature, it's easy to create a dashboard that includes your client's SEO audit findings, SEO metrics, and other related marketing data (e.g., Mailchimp newsletter performance, which will highlight the performance of all the leads generated from SEO efforts). 
Build an SEO dashboard or use one of our pre-built dashboard templates. Make it your own on AgencyAnalytics, free for 14 days.
4. Generate a Shareable Link
After you've generated your client's SEO audit, you'll be able to create a shareable link. 
This option is helpful if you're running an SEO audit for a prospective client that isn't on your reporting roster. It also comes with an option to download the SEO audit as a PDF document.
5. Include SEO Audit Findings in an SEO Report Template
Finally, you'll have the option to create a fully customizable SEO report template that consolidates all your client's SEO insights in one document.
In addition to your client's SEO audit results, an SEO report should include:
An executive summary of the most important takeaways 

Insights on organic traffic

Whether SEO goals were met for the reporting period

An overview of landing pages and their performances (if applicable)

Changes to search rankings

Any changes to backlinks (such as newly acquired ones)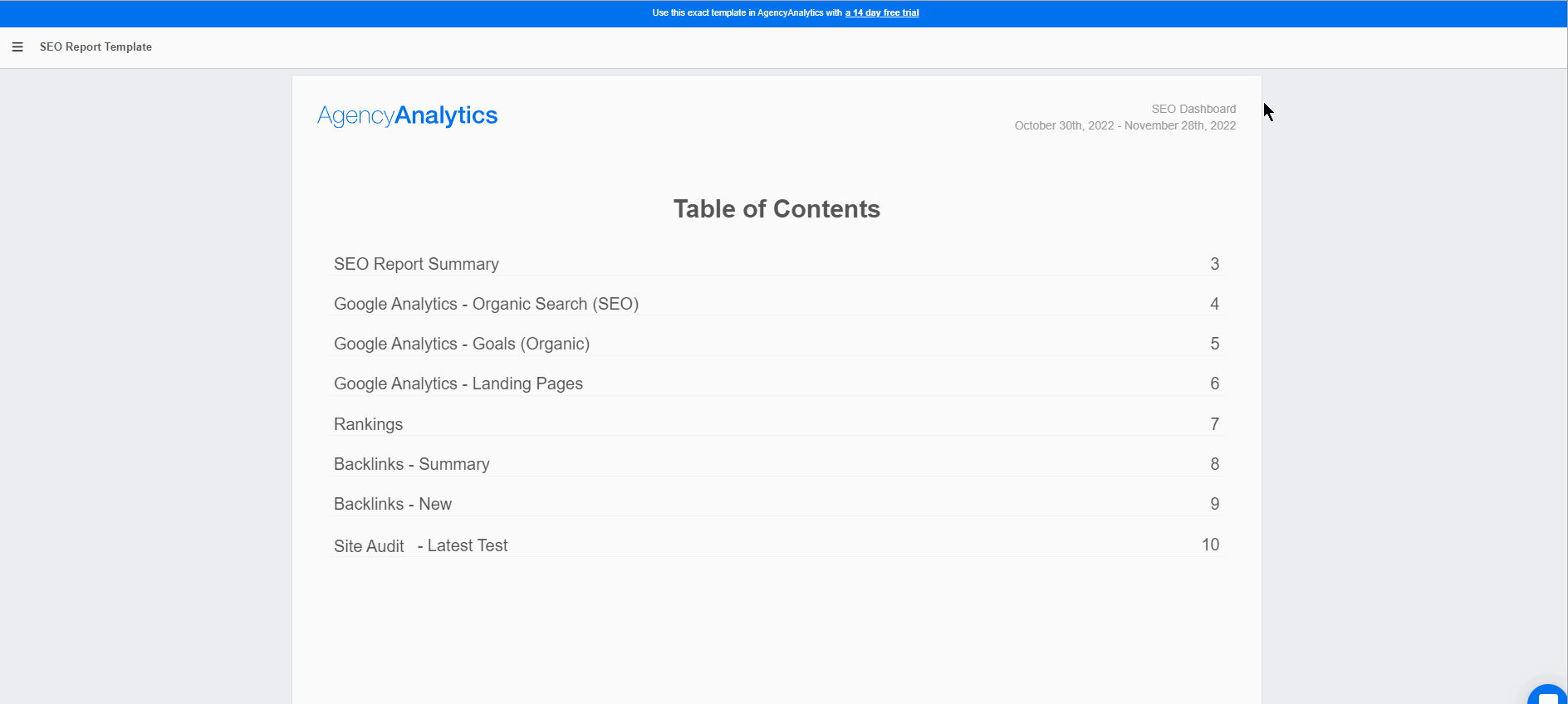 As an SEO consultant, accurate client reporting is essential to be able to evaluate how well various SEO strategies are working. To retain my clients, I need to be able to show them that their rankings are improving over time. - Kelly Fitzgerald, Founder, Savvy Marketing Services, savvymarketingservices.com
When and How Often Should You Do an SEO Audit?
You may be wondering how often you should audit your site and the best intervals to do it. There's no one-size-fits-all answer–consider the following. 
The size of your client's website: Larger websites with extensive page depth and intricacies will need more thorough, regular SEO checkups

The frequency of site updates (e.g., new product pages, changes to website architecture)

Your client's current website health: A severely compromised site health score may mean a more frequent SEO audit schedule is needed (at least until things improve considerably)

Your client's long-term goals: If your client is prioritizing SEO-related deliverables such as blog conversions, they'll likely need a more frequent SEO audit schedule
Our advice? Decide on a regular interval that gives enough time for SEO traction to build. For example, scheduling an SEO audit every six months may work well if your client doesn't frequently do an overhaul of their website.
On the flip side, a client that started a new blog, significantly altered their website design, and has aggressive traffic or website conversion targets may prefer a monthly or weekly SEO audit cadence. 
How To Use an SEO Proposal Template to Get More Clients
There's also a neat way to use the SEO Audit Tool as a lead-generating tactic for getting more clients. 
Let's say a lukewarm potential client approaches your agency for SEO services. In this case, using a winning SEO proposal will be your best bet to showcase your agency's product offerings and recommendations.
Use the prebuilt SEO proposal template to share all vital insights. Sign up for a free 14-day trial on AgencyAnalytics to access more pre-built report templates. 
Prove your worth by running a complimentary SEO audit and pinpoint which areas of your prospect's website could improve. 
Not only does this show what your agency is capable of, but it also directly ties into their business needs and is highly relevant to their unique situation. 
Executing SEO Audits Is a Must for All Agencies  
Knowing how to execute an SEO audit should be in every agency's playbook. 
Whether you're creating an SEO audit template in Google Sheets or you've decided to invest in tools for added support, SEO tracking and regular website audits are essential. 
And while a Google Sheets template may do the trick now, it'll be increasingly difficult to manage multiple SEO audits once your agency continues to grow. That's where an automated reporting tool like AgencyAnalytics comes in. 
No more digging through multiple platforms to understand the SEO big picture. Cut down on tedious manual work, add back billable hours to your day, and help your clients meet their SEO KPIs month after month with AgencyAnalytics. 
Don't waste time doing a manual SEO site audit. Try our full suite of time-saving features on AgencyAnalytics, free for 14 days.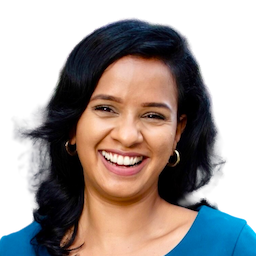 Faryal Khan is an experienced marketer and brand photographer with a passion for content creation. She creates value for brands through storytelling and captivating visuals.
Read more posts by Faryal Khan ›
Try AgencyAnalytics risk-free for 14 days. No credit card required.