Creating client reports is an intricate process. From data storytelling to future campaign recommendations, a lot of behind-the-scenes effort goes into it. 
Looking for an extra reporting edge? Here's some food for thought: 
What if there are client reporting features out there that strengthen your agency operations, seize back billable hours, and increase your efficiency? 

And what if these features can also have a two-fold effect of improving employee morale and reducing burnout from too much tedious, manual work?
Even if you're a seasoned AgencyAnalytics user, there may be features you don't know about or haven't taken full advantage of (yet). 
Let's take a look at what you might be missing out on. 
Popular AgencyAnalytics Features to Know About
On the surface of our platform, a few key features stand out more obviously. Here are the most commonly used ones that top marketing agencies leverage to create effective client reports.
White Labeling
Personalization goes a long way toward first impressions when you send a client report that reflects your agency's unique brand image. That's where our white labeling feature comes in–it's an added detail that shows a heightened level of professionalism.
We white-labeled our own domain with our logo which seems small, but shows that we've invested in our business, and in turn our clients' success. – Ross Taylor, Owner of Alameda Internet Marketing
With a few simple changes, add your agency's logo, branded color palette, and a custom URL to create a seamless reporting experience that looks like it was built in-house.
Multiple White Labeling: Ideal for Co-Branding and Multi-Brand Agencies
On our Agency and Enterprise plans, you have the option of multiple white labeling. This is especially useful for large-scale agencies that operate using different client-facing brands and want to keep brand consistency.
For example, you may want to use a different agency brand for your white-labeled SEO reports than the one you use on your client-facing social media dashboard.
No more worrying about brand confusion or lack of customization!
If you want to go the extra mile, instead of featuring your agency's brand, use your client's colors, logo, and even preset themes to create a white-labeled report that reflects their brand–quickly and seamlessly. 
Multiple white-labeling also comes in handy for co-branding client collaborations. Upload separate logos and color schemes while retaining a top-notch reporting structure that all clients easily recognize and get value from. 
Drag & Drop Report Builder
Say goodbye to manual report building! With the AgencyAnalytics drag and drop report builder, easily pull campaign metrics and drop them into your fully customizable report. 
Mix and match, move things around, and experiment with the best reporting structure for your agency's needs–it's simple and entirely in your control.
Many of our client relationships require customized reports because we're managing multiple marketing channels at once to run cohesive, integrated marketing campaigns. They don't want 7 reports–they want everything condensed into one, easy-to-read report. AgencyAnalytics' customizable reporting allow us to do just that. Clients love them and we do, too. – Graham Lumley, Director of Growth Marketing at Blackhawk
Report, Dashboard, and Campaign Templates
Why recreate the wheel month after month? With our report and dashboard templates, there's no need to. These pre-built, customizable templates are populated with all the commonly used insights you'll need to track data, monitor trends, and send reports clients value.
We love to use report templates to provide a consistent experience for everyone, which allows clients to become familiar and comfortable with our reporting. I have found that over time this reduces client frustration on reporting calls. – Lorianna Sprague, Vice President of Marketing at Trusted Search Marketing
Whether you're looking for a marketing monthly report template, a social media marketing report template, or a customizable dashboard, there's a large selection to choose from. Using these pre-built templates helps your agency speed up processes, standardize reporting across clients, and of course, scale. 
Collecting critical data all in one spot is amazing and has bought us time back. When you are tracking SEO, PPC, Social Media, and email marketing campaigns it can be time-consuming. This is why having a template and dashboard that efficiently does it all is a game changer. – Justin Hual, Co-Founder + COO at HIP Creative
And if your agency has dashboards and reports it uses as part of its standard client reporting process, you can even use them to pre-populate an entire campaign template. Use campaign templates to speed up your client onboarding process and avoid having to re-create your reporting setup again and again from scratch for each new client. Reporting consistency is that simple.
Client & Staff Management
If you have more than one staff member assigned to any given agency account or want to allow client login access, our client and staff management feature is at your fingertips.
By making full use of this feature, you'll ensure all staff members are on the same page and are able to contribute simultaneously when needed. 
It's important for the client to have some ability to check in and have some level of control over their content. It is their brand that we are representing and we want to provide transparency and access to data so they can check in as needed. – Patrice Valentine, President of ProFusion Web Solutions
And giving your clients access to their data is empowering. Not only does it give them the autonomy to check on campaign progress and see what's happening with their marketing efforts, but also it saves time by reducing follow-up calls and e-mails (another agency win-win).
Because our clients can have direct access to their AgencyAnalytics account, we don't need to send out reports on a monthly basis anymore. It saves us close to 70 hours per month. – Ruben Roel, President of Investigator Marketing
Your customizable staff- and client-login link is also available at the top right-hand corner for easy reference (which you can always adjust in 'Settings'). 
Manage your entire agency within the AgencyAnalytics platform!
Report Scheduling & Approval
When you go with an Agency plan or higher, get the added benefit of scheduling reports and an optional notification to do a final check before it's sent. 
Choose the reporting frequency that suits your client best. As Christoper Marrano, CEO of Blue Water Marketing states, "Our clients range from SMBs to larger corporations, so our reporting schedule is based on the needs of our clients. Some get weekly, others bi-weekly & the rest are monthly." Once it's set, you won't have to think about it–those automated reports will be sent like clockwork!
This nifty feature also gives you the option to require approval before sending (whether it's the admin of your account or perhaps agency management). Either way, it gives your agency a nudge to do any last-minute checks, clarifies data, and gives it a last look before hitting 'Send'. 
That way, you'll ensure your clients receive the most effective, up-to-date reporting data. 
Rank Tracker Tool (for All Things Keywords)
Getting daily keyword updates on your agency's and clients' SEO campaigns is essential in today's search-first world. With our Rank Tracker tool, it's a breeze!
Clients find keyword rankings really useful as it drives organic traffic to their website for potential leads. It feeds into conversions which are the most important part of reporting to many of our clients, as that determines success on their end and where to spend marketing budgets. – Brad Fogel, CEO at Operation Technology
This feature also comes in handy when you're scaling your agency and managing multiple keyword-related campaigns. 
As David Friedman, Technical SEO Manager at PaperStreet Web Design reflects, "The keyword ranking report allows us to keep a really good pulse on our campaign's visibility in Google search. It helps us be able to manage a lot of clients at once with overhead views."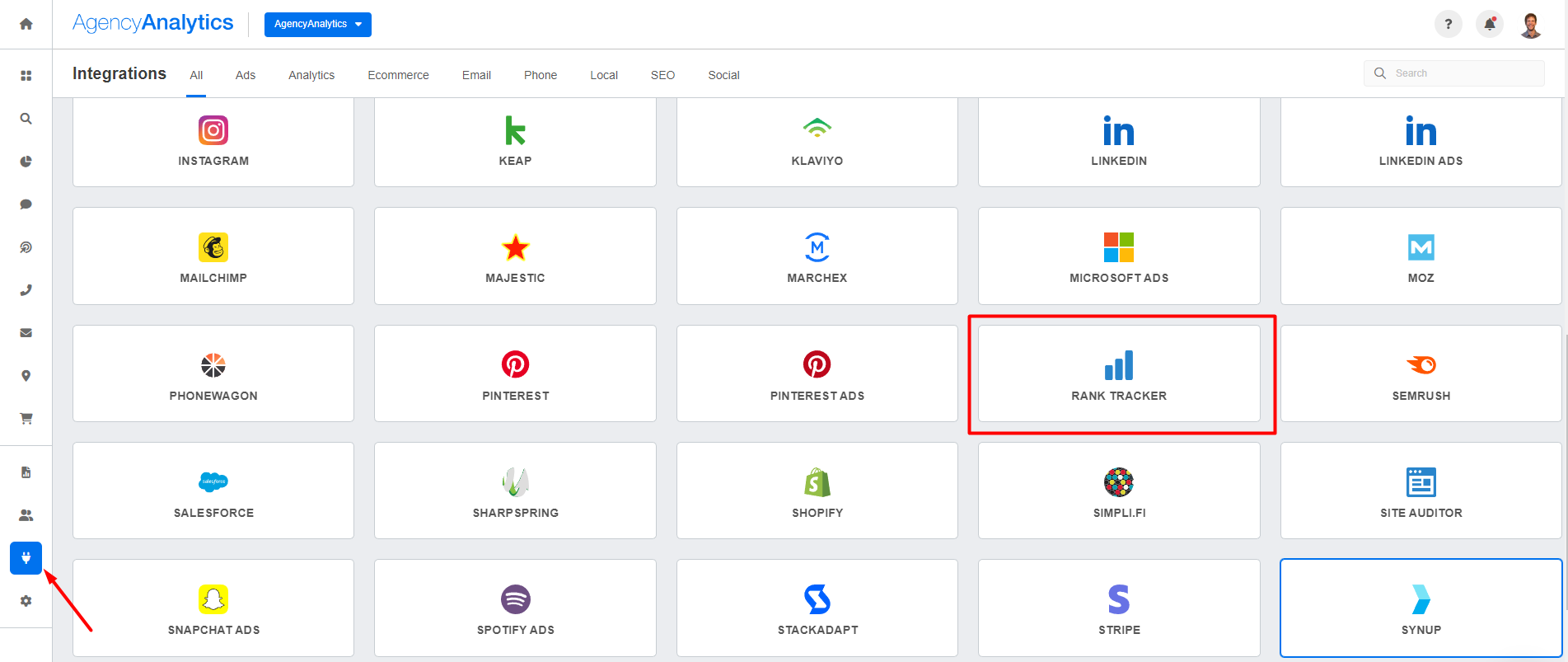 No more rummaging through multiple platforms to keep track of keyword updates. With your Rank Tracker tool, you're able to:
Keep on top of any keyword updates (such as ranking changes, competitor activity, and even new keyword possibilities)

Monitor any changes on Search Engine Results Pages (SERPs) 

Have a daily flow of accurate keyword insights from Google (including Google Mobile and Google Local) and Bing

Track historical keyword trends for more in-depth analysis and recommendations

Filter keywords by essential parameters, such as location and language (which comes in handy for internationally-based operations or campaigns)
The Rank Tracker tool is available as an add-on for new and existing AgencyAnalytics customers–see our pricing page for more details. Read More:  Pros & Cons of the Best Keyword Rank Tracker Tools
SEO Site Audit Tool
Whether you're managing 10 or 100 clients, SEO health is vital for marketing success. And as campaigns increase in complexity or you're onboarding more clients, keeping track of SEO efforts and running SEO site checkups without added support is increasingly challenging. 
With our SEO Site Audit Tool, monitoring progress is as easy as the click of a button. This feature comes in handy for monitoring: 
Changes to search rankings

An overall page score (which is a 'grade' that's weighted based on any potential SEO issues, page depth, and issue severity)

Any technical SEO issues (such as duplicate content, missing titles, and page errors)

New or broken backlinks (fueled by integration with Majestic SEO, which also ties in nicely with our link building report template ) 

Historical SEO trends to track progress and make improvements

Any SEO-related issues on a potential client's website, which can be presented in a SEO proposal to show your agency's value proposition and increase the likelihood of onboarding. Plus, use the free SEO proposal template to help your agency win more clients.
Like the Rank Tracker Tool, the SEO Site Audit Tool is also available as an affordable add-on for an existing AgencyAnalytics plan (see here for more details). 
Agency Tip: Get the most from this powerful feature by scheduling a technical SEO audit at regular intervals (such as weekly, monthly, or quarterly, depending on your client's goals). Pair this with an SEO analysis template to capture the most important insights and keep on top of any notable SEO-related updates.
Top AgencyAnalytics Features You May Not Know About
Wondering what AgencyAnalytics features you may have missed? 
Here's an extensive list of our commonly overlooked (but super helpful) features and why you should take full advantage of them. 
Tasks
To further streamline your agency's operations, use the Tasks feature to keep a rolling to-do list for your agency staff. 
For greater transparency and accountability, assign tasks to specific staff members while also seeing what's been completed. You'll be able to categorize and filter tasks for greater efficiency.
User Permissions
Sharing too much or unnecessary information with clients can sometimes get sticky. After all, reporting on vanity metrics or other flaky insights will lead to questions, inquiries, or even confusion.
One of the worst things you can do is report back to the client some perceived huge win based on whatever metric it is you're using, only to hear back that they are not seeing any positive improvement on their end. So accurate reporting on the proper metrics that actually move the client's needle is crucial. – Kurt Schell, President of Lithium Marketing
To combat this, the user permissions feature gives you the power to decide what to share with clients. This feature also functions as a 'cap' to control the scope of information your client has access to so they aren't overwhelmed with unnecessary details.
That way, you'll cover your bases while getting straight to the point.
To get the most out of this feature, opt for an Agency plan or higher to access an unlimited number of users and custom user permissions.
Client Messaging
No need to navigate outside the AgencyAnalytics platform to communicate with your clients–integrate a messaging app for a more seamless experience. With the client messaging feature, use AgencyAnalytics as a central hub without toggling between different apps.
After you've configured your client messaging settings and successfully integrated your chosen app, your clients will see a 'Chat' icon when logged into the AgencyAnalytics client end.
One of the biggest advantages of this is having your client's reporting and communication in one place without getting lost in a never-ending e-mail thread or undocumented phone calls. If your agency pricing is based on an hourly rate, streamlining operations will also help you to keep track of billable hours. 
Here are the messaging apps that AgencyAnalytics currently supports: 
Intercom

Zendesk

Elevio

HelpScout

LiveChat

FreshChat / FreshDesk

LiveAgent

Drift
Automatic PPC Markup
Keeping on top of clients' budgets is a high-priority item, especially when there's a significant investment and much at stake. The automatic PPC markup feature lets you:
Automatically add your agency's markup to PPC ad spend

Monitor and track the rate of ad spend, including that markup against set budget goals

See if there's any buffer room, perhaps for additional campaigns or even reallocation of ad spend

Show clients an upfront, accurate representation of what was spent so far
That way, you'll provide data upfront so your client knows exactly what's going on in their PPC report and what progress has been made.
Custom Metrics
Clients' reporting needs are not always available out of the box. Custom metrics come into play for clients with multiple campaigns or more complex data to report on (especially since they may count as KPIs or tie into long-term goals).
That's why your agency needs an extra edge with this powerful feature. With this added flexibility and functionality, combine data points and provide additional depth within client reports. 
Using the Custom Metrics feature is intuitive and easy, whatever your clients' unique formulas may be. It's also easy to clone an existing custom metric (if you've got significant overlap between client custom metric formulas). 
Agency Tip: Use a Custom Metric formula to calculate total ad spend across all ad platforms, so your client knows the true, consolidated cost of the campaigns you're running.
Google Sheets Integration
If you're using a spreadsheet to keep tabs on data, forecasts, or budgets, a handy Google Sheets integration seamlessly pulls all that information right into your dashboard. This time-saving feature enables you see the big picture of what's happening, without compiling data manually. 
Whether there's in-house historical data tucked away in a spreadsheet, custom data, or any other helpful information you prefer to keep in a Google Sheet, this feature will help you house all insights in one place.
Pull data from specific cells, create visualizations (such as line graphs), and organize your dashboard as you see fit! Once a Google Sheet is connected, data is automatically updated if there are changes in the referenced.  
The data visualization provided by AgencyAnalytics report templates goes above and beyond the reports you can create in Google Sheets, and it's all at the click of a single button. We really appreciate the automation as well. – Graham Lumley
If your Google Sheet is organized by date, that data will automatically update based on the reporting date range set in your client reports.
Plus, the Google Sheets Export Extension is the easiest way to get your marketing data from over 75 top marketing platforms into Google Sheets for extra handling and analysis. 
Account & Campaign Language
Because AgencyAnalytics supports clients around the globe, so does our platform. The account and campaign language feature also come in handy if your agency manages multi-lingual clients who'd prefer to receive their client reports in their native language.
Whether you want to report in English, Spanish, German, or any of the 7 supported languages, we've got you covered! With our timezone and language features, choose precisely when you want to send a report and in which language.
But don't just take our word for it. Here's what Mikael Sørensen, Head of Marketing at Adtention, a leading digital agency in Denmark, has to say:
AgencyAnalytics is a time savior, any agency which doesn't use a reporting tool like this, doesn't want to maximize their contribution margin.
Don't let a language barrier hinder your agency from delivering the best report possible. After all, you want your clients to understand their reports in the way that's easiest for them.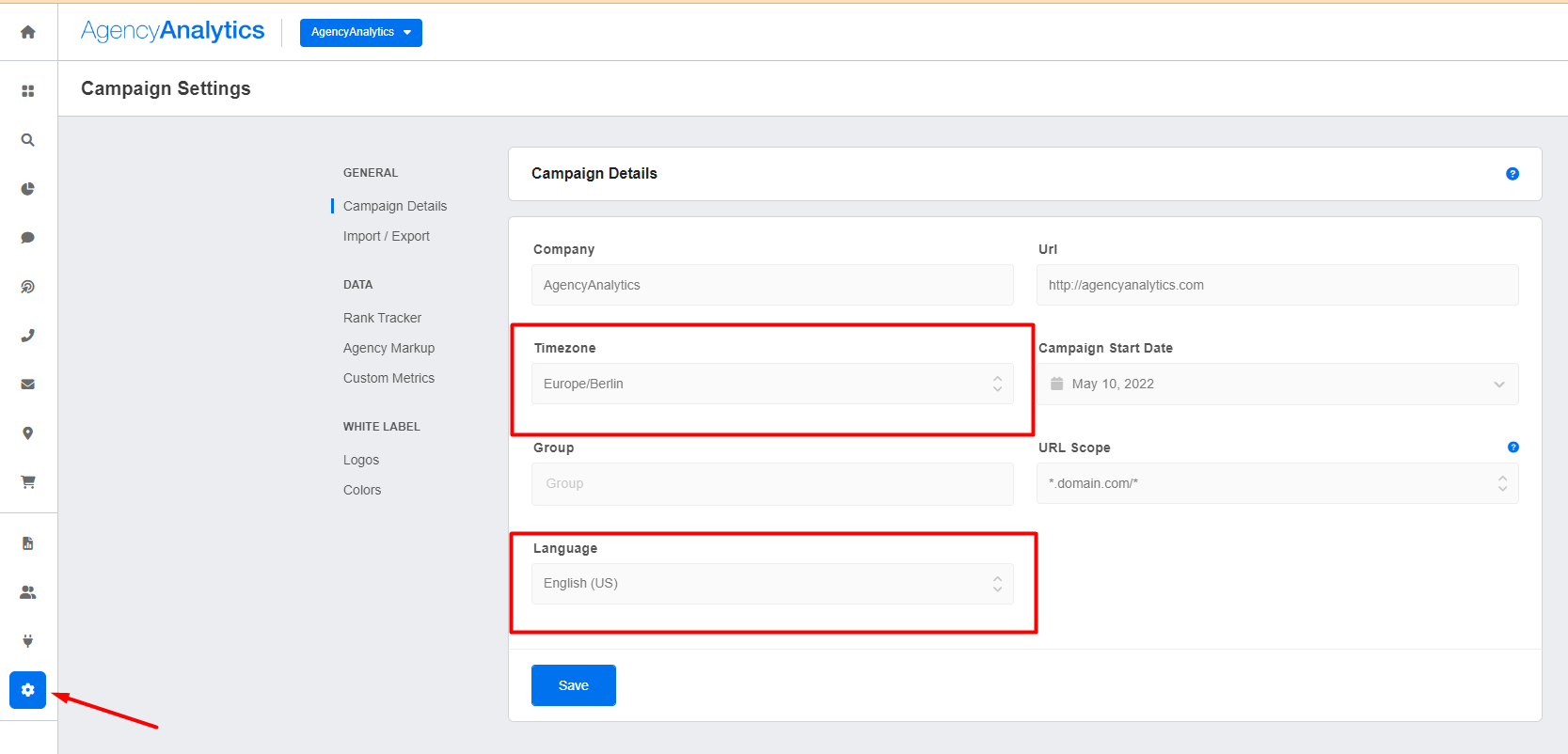 On the Agency and Enterprise plans, choose the language that works best per client campaign or account (English, Danish, Dutch, French, German, Spanish, or Swedish). 
Presentation Mode
Having a 1:1 with your client to discuss their report? No need to create a separate PowerPoint–just go into 'Presentation' mode! It's as easy as:
Clicking on the 'Share' icon at the top right corner > Hitting 'Present'
That way, you'll have a full-screen interface to add an extra level of professionalism and enhance the entire customer experience along the way. 
It also saves you time from having to navigate through different applications during those critical meetings.
Agency Tip: For extra dynamism, use your client's dashboard as a live presentation tool. This will help to keep their interest, visually showcase what's happening, and may even be an opportunity to show any missed insights. 
Annotations & Goals
Sending a report without context may lead to confusion, questions, and inquiries. Save your agency (and client) time by using our annotations and goals feature. Quickly set targets and track progress during your client's reporting period.
If you're managing multiple clients with similar goals, it's also easy to clone an existing goal from another client campaign.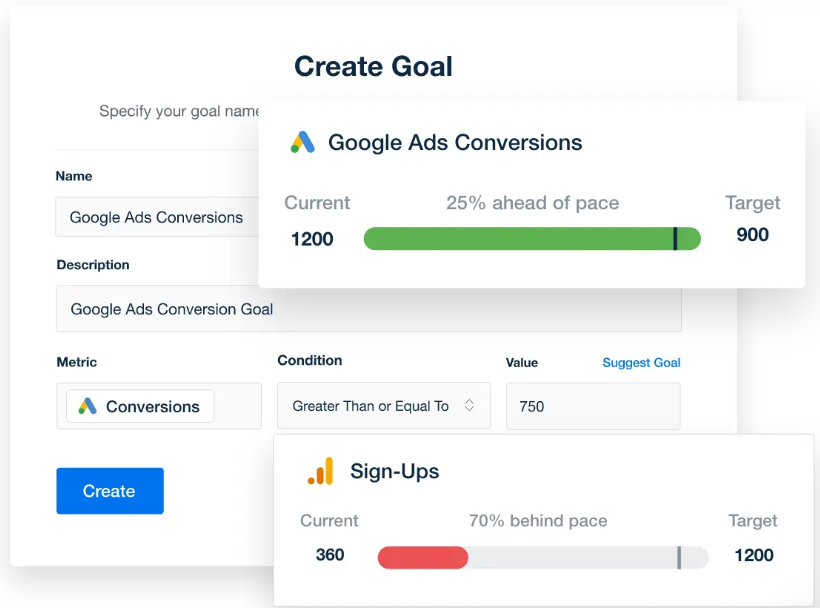 We always review the data and make specific recommendations that will be of value to the client. Data can be so in-depth and often needs context to evaluate how effective the campaign is, what needs to be adjusted and how it impacts the long-term goal. – Valerie Jennings, CEO of Jennings Social Media & MarTech
Not only does it add vital explanations for more complex data sets, but also it ties in neatly with data visualization. After all, you want your clients to understand their data at first glance (without having to sift through a barrage of information).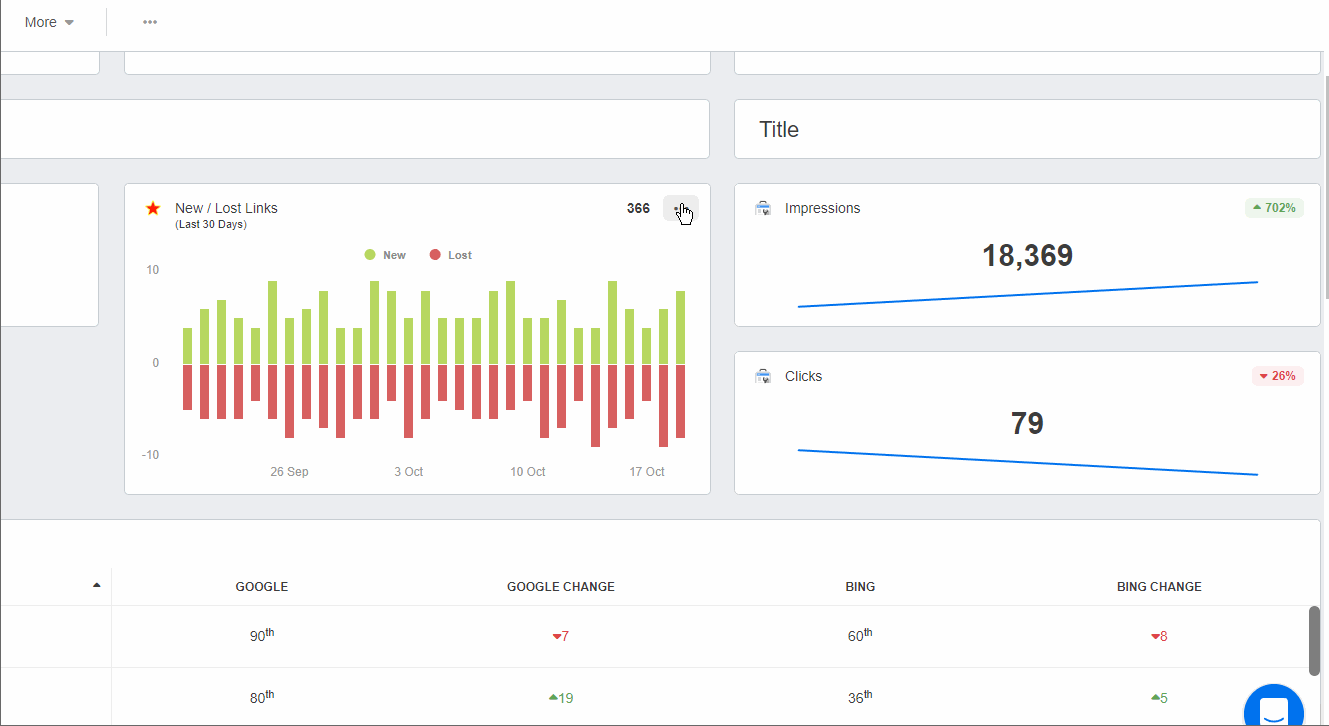 Use this feature to give updates on goals, add extra explanations where needed (e.g., recent campaign changes that led to a spike in conversions), and break down data into a digestible format.
Agency Tip: The Goals feature works well to track specific KPIs and easily monitor the effectiveness of your work (e.g., monitoring website traffic or total leads for a month). That way, you'll set clearly defined, transparent objectives and know whether you're on pace to hit them. Depending on your client's overall goals, use an appropriate reporting format to speed things up (e.g., a website traffic report template or an email marketing report). 
Embeddable Content
Got a URL link you'd like to include as part of your client report (e.g., an informative YouTube video)? Use the embeddable content feature to integrate helpful information such as:
Google Docs

Google Data Studio (now Looker Studio) reports

Slideshows

Calendars

Videos (such as Spotify players, Loom videos, and YouTube videos)

Social Media posts and feeds
Whether it's adding quarterly ad creatives or pulling in a live website interface, this feature enhances your client's data narrative and the overall reporting experience.
"Our account managers provide an overview of the report in email, video, or over the phone. It makes it more personal and our clients really like the recap. We make it easy for them to understand the main takeaways and account performance." - Jamie Contreras, CEO of Optemyz Solutions
Similar to the annotations and goals feature, embeddable content is an accompanying element that adds context, character, and insight to your client's report. 
Agency Tip: Use the Embeddable Content feature to include quick 1-3 minute videos to contextualize your client's report or key metrics and explain why they're important. This will give your reporting a premium feel and may even result in less meeting time.
Cross-Campaign Reports
Let's say you've got a client with a chain store in two countries and they're running Facebook Ad campaigns in both locations. The overall objective of both campaigns is the same, but there are a couple of variations, such as demographic targeting and messaging.
To assess the success and performance of this overall marketing effort, you'll need a seamless way to consolidate data from both campaigns into a single report.
That's where our cross-campaign reporting feature comes in. Add data from each campaign, make comparisons, and present this data to your clients in a clear, concise, and visual format.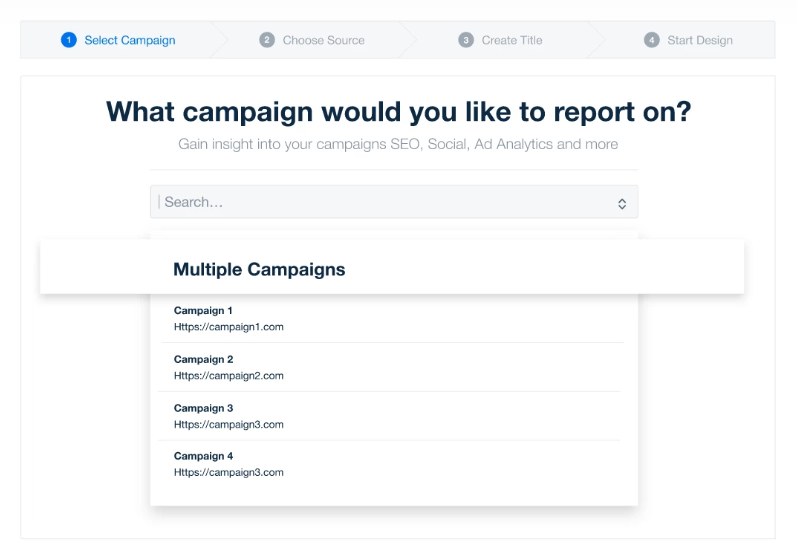 Both our agency staff and clients need accurate cross-channel data that is available in a few clicks. Whether preparing for a client reporting call, sharing reports with clients, or moving between platforms during a client call, the ability to be nimble and move between cross-channel data points 'on the go' is a big value to our clients. It also supports our retention efforts in a major way. – Dominic Hill, Vice President of Digital at ECOM DEPT
Not only does it combine all those key insights into one report, but also it's quite useful for those quarterly and yearly overviews.
Set Up a Mobile App
If you or your clients are on the go, mobile accessibility is a must.
Use the Mobile App feature to incorporate white-labeling and mirror your agency's branding. It's just like your client having their own mobile app! Setting up the mobile app feature is easy once your client has already created a custom domain.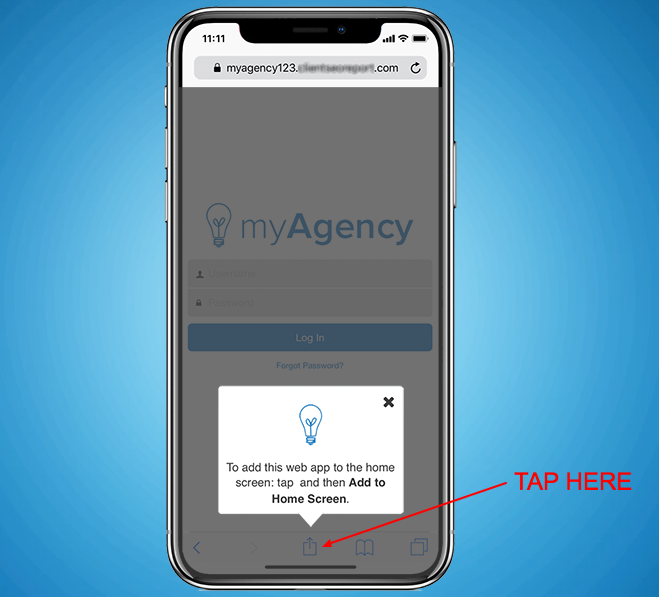 Date Range Override Function 
Not all agency needs are the same, and neither are their reporting periods. 
To make your user experience as customizable as possible, choose the exact time frame you'd like to report on with the date range override feature (which is often overlooked).
Instead of going with the default date range, simply click on the exact dates you'd like to report on. It's also a valuable feature for year-on-year or month-on-month comparisons. 
Integration Connection Overview 
With over 75 integrations, the possibilities are endless! But as you manage multiple clients with varying degrees of campaign complexity, you'll need a way to track their integrations.
With the integration connection overview, quickly see which integrations are connected for each client account.
Keep an eye out for the green tick at the top, indicating a successful integration. Otherwise, you may need to reconnect the account to get that data stream in. 
How to Request More Features 
Is there a feature your agency would like to use that you're not yet seeing it on the AgencyAnalytics platform? Use the 'Request a Feature' option!
It's as easy as:
1. Navigating to the top of your AgencyAnalytics dashboard
2. Clicking on the '?' icon and heading to 'Request a Feature'.
3. You'll then be redirected to this page, where you can log the type of feature you'd like to see, along with a general category. 
As an AgencyAnalytics user, your feedback is valuable and indispensable–after all, our platform was built for dynamic marketing agencies like you!
Interested in what's happening or if we've recently developed a specific integration or function? View our latest product updates by toggling over  'What's New'.
Built For Marketing Agencies Like You
And there you have it!
Whether you're just starting off with AgencyAnalytics or exploring how to optimize your reporting experience further, these features will help you help your clients and seize back more billable hours for your agency. 
The most valuable piece of advice we can give when it comes to client reporting is to make sure you learn how to utilize all of the features available in AgencyAnalytics. If you aren't integrating all of your client data points, creating custom dashboards, and setting up automated report notifications to your team and to your clients, you are missing out. –Graham Lumley
Remember to bookmark this page for future reference–and happy client reporting! 
Explore the AgencyAnalytics platform to streamline your workflows today. New to AgencyAnalytics? Sign up for a free 14-day trial–no credit card required.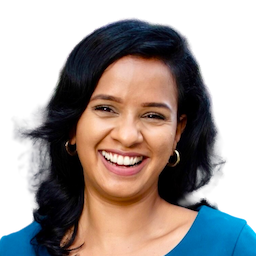 Faryal Khan is an experienced marketer and brand photographer with a passion for content creation. She creates value for brands through storytelling and captivating visuals.
Read more posts by Faryal Khan ›
Try AgencyAnalytics risk-free for 14 days. No credit card required.