Many of your clients likely view their competition as something that needs to be defeated—yet in certain circles, such as sports, the competition can actually be used as a great source of learning.
Athletes often spend hours studying their competitors' performances, trying to learn from their strengths and weaknesses. The same goes for SEO. 
Agencies that adopt this approach to their client's competitors can also benefit significantly, especially regarding their SEO strategies. 
SEO is one of many important factors that determine a business's success, and it's amazing how much you can improve your clients' rankings by analyzing their competition. 
In this guide, we'll cover several strategies that help agencies gain valuable insights into their clients' competition and improve their organic rankings. 
Why Is SEO Competitor Analysis Important? 
Completing an SEO competitor analysis is crucial if you want to get your clients' websites to rank higher in the SERPs and outrank their competitors. 
The objective is to use a competitor's flaws to your client's advantage. 
Identify any issues (and strengths) your client's website has when stacked up against competitors. If you recognize that a competitor's site has slower loading speeds, you're better set up to maximize your client's site speed and improve their UI to surpass the competition.
And by looking into the competition's backlinks, you'll uncover even more information to capitalize on, such as top resources in their industry and what keywords to use. 
For example, if your client runs a dental practice, getting them to outrank their competitors will require specific dental SEO strategies to give them a boost in their local markets. Try a local digital marketing approach that includes optimizing their website for particular local directories their audience is using, such as Google Business Profiles, Yelp, and so on. 
At the end of the day, conducting a thorough competitor study helps identify where you can leverage your client's strengths against their competitor's weaknesses and shore up the areas where your client may be vulnerable. Combined, this helps inform the SEO strategies you execute for your clients.
When Should You Conduct An SEO Competitor Analysis? 
Competitor analysis is not a task done once and never looked at again–it's an ongoing process. 
Algorithms change, competitors' websites change, new pages are added, and sometimes the search engines themselves change how much and what kind of information they display. 
For example, if your client's competitor tweaks their website with schema markup that includes local keywords, Google may reward them for that and rank them higher in the SERPs or with a featured snippet, leaving your clients in the dust–aka, page 2,3, or 5 in a Google Search!
As for a specific time to conduct the analysis, this could vary from client to client and their specific industry. However, a good rule of thumb is to consider these milestones as prompts for an updated competitor SEO analysis:
Major algorithm updates 

You notice your client's website stagnating (or dropping) on the SERPs. 
When an SEO competitor analysis is done properly, you create better, more targeted content that attracts quality traffic to your client's website.
Monitor advanced SEO metrics like trust score and domain scores in a live dashboard that you and your client's access in real-time. 
How To Run an SEO Competitive Analysis 
Running an SEO competitive analysis is both an art and a science. That said, it's virtually impossible to understand exactly how Google will rank a particular page. So while studying a competitor's SEO strategy is certainly valuable, keep in mind that rankings fluctuate constantly this should never be the only thing you learn from the competition. 
However, there are a few steps your agency should follow: 
Step 1: Find Competitors 
Have a conversation with your client and conduct your own research to identify competitors in their industry. This multi-step competitor identification process could yield a large list, making proper analyses difficult. The goal is to identify a smaller, well-honed list of their top 5-10 competitors based on their search engine rankings. 
How To Find SEO Competitors
One of the first steps would be to speak with your clients to find out who they think their competitors are to ensure no rock is left unturned or that you didn't leave out an important competitor. 

Next, compile a list of websites that rank the highest for your client's priority keywords. Then, use Google or a keyword ranking tool such as STAT, Semrush, or searchmetrics to see how your client stacks up against their competitors. 

Last, but not least, search for keywords in Google and identify the top businesses that appear. Also, by typing "related:" followed by your client's URL in the search bar, Google reveals who they think are similar websites. This may only work for larger, more established sites, but is still a worthwhile strategy to try.   
Be sure to consider the number of keywords each domain has and the number of common keywords. The more keywords your client shares with another website, the higher their competition is. However, it's important to note who your clients should not compete with. 
For example, even if they rank for similar keywords, you don't want to waste time and resources competing with large sites that are not directly tied to your client's industry. After all, information sites like Wikipedia, news organizations, or Top 10 retailers will be hard to beat on many high-volume keywords.
Once you're done pulling all of the possible competitors together, merge the lists, remove duplicates, and trim off the ones that are either irrelevant or impossible to compare. 
You should end up with a list of 5 - 10 solid, direct competitors to work with.  
Step 2: Run a Competitive Keyword Ranking and SEO Audit
The second step to understanding the competitive landscape is understanding which of your client's competitors is winning the SEO game. 
Run an SEO site checkup and keyword ranking report on each of the competing websites to set a baseline. 
Some of the top SEO KPIs to compare include:
Website Authority and Trust Score: New sites with single-digit authority scores will find it challenging to compete with trusted sites that have a score above 50.

Number of Indexed Pages: If your client's site only has a dozen or so pages, competing against a goliath with thousands of indexed pages will be very difficult.

Backlinks and linking domains: Relevant, high-quality backlinks remain one of the main Domain Authority and ranking influencers, which is why off-site SEO is a critical part of overall SEO success. 

Keywords in the Top 10: Understanding where you are starting from will help your team establish a plan for growth. The AgencyAnalytics rank tracker tool and other SEO reporting tools help determine which keywords (and their competitor's keywords) are ranking well and which are not:
Read More: Pros & Cons of the Best Keyword Rank Tracker Tools
How To Conduct SEO Site Audits 
Generate leads and increase conversions for your clients by conducting a website audit for them. 
Use an SEO audit tool to optimize your client's on-site performance and fix technical issues that can affect search performance, including:
Missing titles

Duplicate content

4XX errors

5XX errors

and more. 
Each of these technical issues is then sorted based on severity and also summarized into a single site score.
Agency Tip: If you notice your client's eCommerce business isn't gaining traction like it used to, it's time to look into Shopify SEO strategies. Keeping track of their Shopify analytics in an eCommerce dashboard proves that your agency is taking the necessary steps to improve your client's traffic and, ultimately, their bottom line.
However, don't just focus on optimizing your client's site. Conducting a competitive audit offers insights into what others are doing, their strategy, and what your client may be missing out on. For example, website design and site optimization affect search performance in a number of ways, including bounce rates, conversion rates, time on site, and more. Spend time analyzing the competition's websites to see how they're designed and whether or not they're optimized to best meet customer needs.
Address Any Technical SEO Issues on Your Client's Website 
Technical SEO issues include everything from broken links and indexability to H1 title tags and meta descriptions. Set your client's website up for success in the SERPs by monitoring their website's overall health. Making any necessary improvements results in their site getting more visibility. 
Completing a Competitor Domain Analysis 
Using a competitor analysis tool is another way that helps your agency analyze a competitor's SERP results and website authority.  
This is an example of a competitor dashboard created with AgencyAnalytics. It provides several key metrics, such as: 
Trust Flow

Citation Flow

Indexed Pages

Linking Domains

Backlinks

Keywords in the Top 10
Step 3: Keyword Gap Analysis to Identify New Opportunities 
Use a tool to identify keyword opportunities and look for quick wins. If your client is only a position or two away from ranking for a specific keyword, focus your efforts on winning that spot for them. 
If your client isn't ranking for a particular keyword, but their competitor is, ask yourself why. 
Do they have more authority with more backlinks that are helping them rank higher? Or perhaps they have relevant content that backs up those specific keywords.
Step 4: Content Analysis & Using Competitor Content For Ideas 
Analyze the competitor's content on a page-by-page basis. This helps you understand why that particular page is ranking higher than your client. If your client has an eCommerce business, do they have 'How-To' content that supplements their product pages? Do they have product descriptions or reviews listed on their website? Make a list of any areas you could improve on your client's website where their competitors are excelling or areas where competitors are lacking that your team can take advantage of.
Also, one of the best ways to get ideas for new articles is by looking at what your client's competition is publishing. While you certainly don't want to copy their work, use it as a source of inspiration for your own content calendar.
Make a note of which posts have been liked and shared the most. Are they seeing success with videos, infographics, or blog posts? This could be an indication of other media formats to incorporate into your client's content strategy. 
Consider how they're promoting their content and if there are elements that you can incorporate into your client's strategy: 
Are they utilizing their social media platforms? 

Email marketing? 

Syndication and guest posting?
Analyzing your competition's promotional strategy is a great way to inform your strategy to promote your client's content. 
Agency Tip: Don't forget about guest posting on other websites in your client's industry. Often, this is best suited for other websites that are not direct competitors but that offer some complementary product or service. Guest posting is a great way to get your business in front of a new audience while also increasing your client's domain authority with a backlink.
Evaluate the Competition's Top Pages Data
There are many different kinds of "Top Pages" data, and each can be helpful in improving your client's SEO analysis. For example, analyze top pages by links, social shares, organic traffic, total traffic, and so on. Look at which content has been the most successful and which hasn't performed as well.
Try to find any gaps in their strategy and then brainstorm ways to fill them. Perhaps they had some successful posts a few years ago but haven't taken the time to update them—this is a great opportunity to capitalize on by giving the same ideas a fresh twist on your client's blog.
The key is to analyze the competition's top page data, and learn from their success and their shortcomings while still tailoring your client's marketing strategy to their own unique audience.
Step 5: Study the Competition's Social Media Presence Using a Social Reporting Tool
Social media marketing also plays a huge role in search engine optimization. They're often the best way to promote new content, reach your target audience, and drive web traffic. 
After analyzing the competition and developing a plan for your client, it's also key to track their results with a social reporting tool to ensure the strategy is playing out as expected:
A social media dashboard makes it easy to track each platform's growth over time so that you and your clients see exactly where traffic and conversions are coming from, and which areas may need improvement. 
After you've developed your client's initial social media strategy, their competition is a great place to learn from and improve results. See which platforms they focus on, the posting frequency they use, and analyze how well each performs. Also, look at how they're using social media to represent their brand and, most importantly, how their followers respond. 
While it's helpful to look to the competition for ideas and to learn from their mistakes, you'll ultimately need to create your own social media marketing strategy that fits your client's own unique brand personality.
Summary & Key Takeaways
In the process of optimizing your client's site to rank in search engines, one of the best strategies is to learn from existing competitors. Many of the benefits you can derive from SEO strategies come from analyzing their existing SEO and social media marketing campaigns. That way, you quickly learn what type of content may resonate well with your client's audience.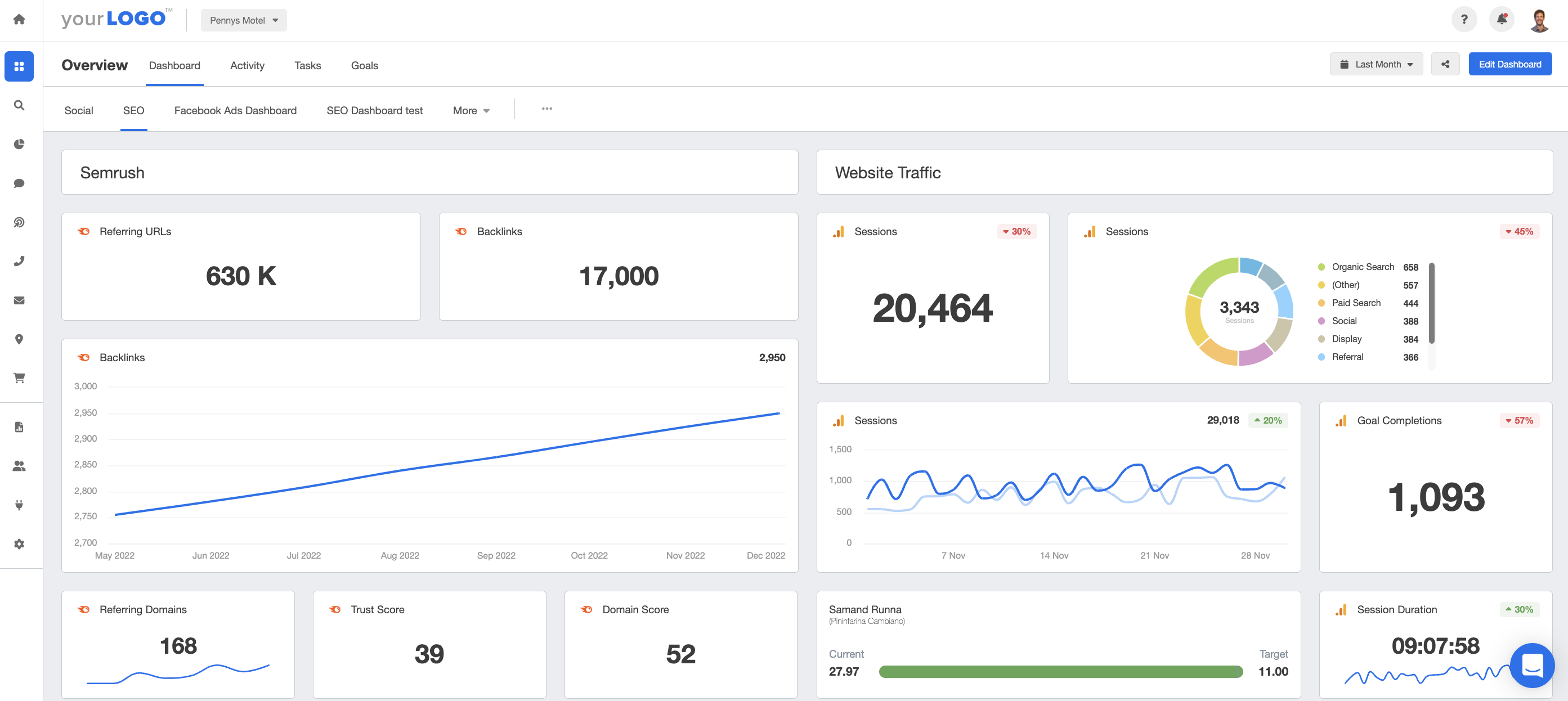 Keep track of all the effort you put into improving your client's SEO with dashboards that keep your team (and clients) on the same page. 
Create custom user permissions to allow clients access to their marketing data, send out automated client reports, and more with AgencyAnalytics. Start your 14-day free trial today.
Joe started his career as a developer and since has created many internet businesses. He has now moved on to the position of CEO and has enjoyed all the challenges it has brought.
Read more posts by Joe Kindness ›
Try AgencyAnalytics risk-free for 14 days. No credit card required.