Everyone from small startups to Fortune 500 companies uses Stripe to accept payments. And if your clients are part of the 3.1 million companies using Stripe's payment processing service, this integration is for you.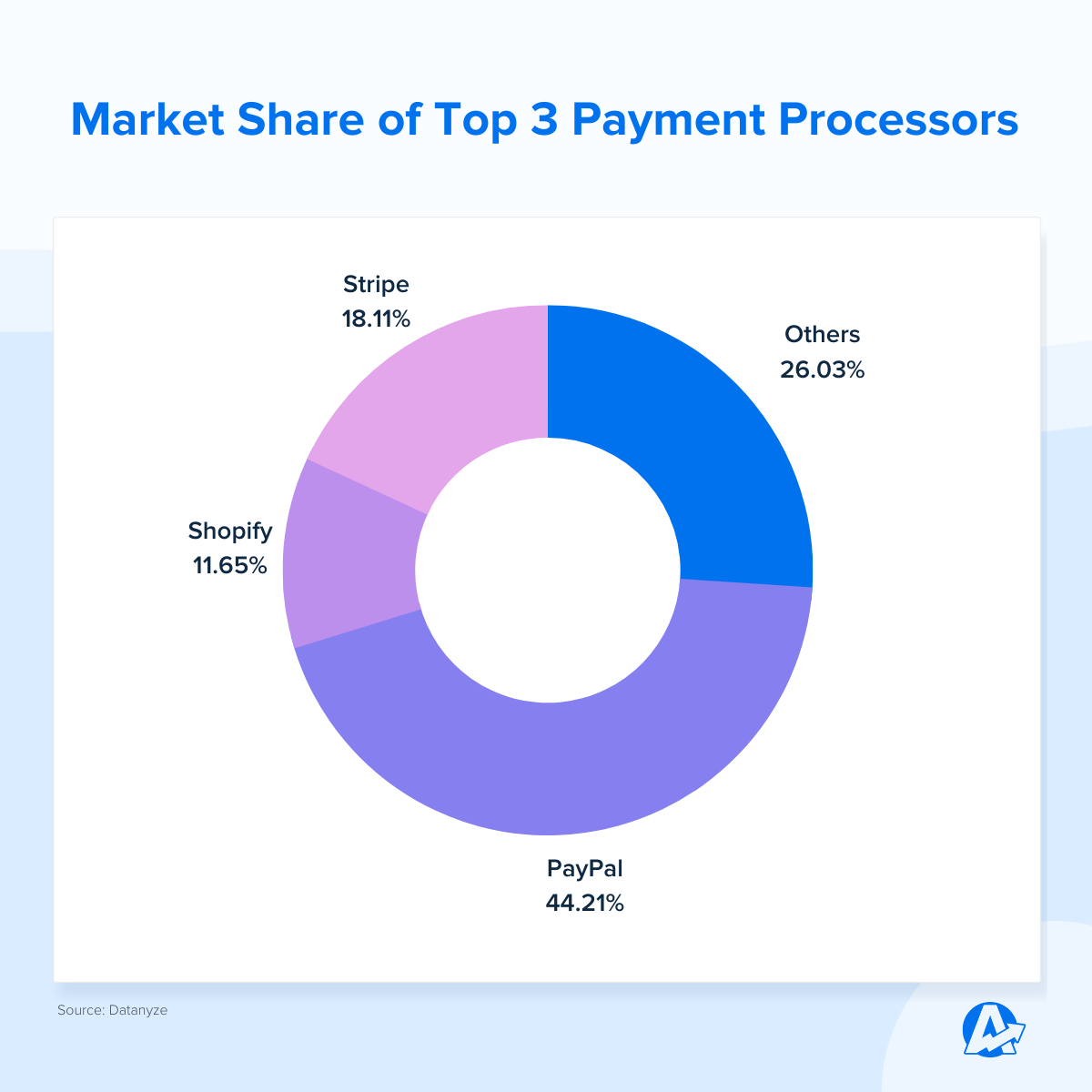 The new Stripe integration with AgencyAnalytics provides instant visibility into the most insightful payment data. The live data aggregates into a live dashboard for agencies to manage customer acquisition and retention alongside their clients' other campaign metrics. 
With the Stripe integration, 
Monitor all received payments,

Track new customers each month,

Track monthly recurring revenue (MRR),

Track active subscriptions,

And more.
Track Payments To Profitably Grow Your Client's Business
Let's say your client is running an eCommerce company and you've been charged with profitably growing their business. To do this, you need to understand the value that new leads bring to the table as well as the lifetime value of new customers.
Using the Stripe Reporting Dashboard, you quickly and easily see the payments being generated for your client and the refund rate–which your team can use to calculate and adjust target CPAs for new customers quickly.
For example, if the average order value for your client is $400, but they have a 15% refund rate the projected final revenue amount is closer to $340. Understanding the refund rate helps your agency set realistic acquisition targets.
Your team uses this data to set MQL, PQL, and SQL targets. Staying on top of key payment metrics is key to making smart decisions and adjusting campaigns in real-time. You don't have to log in to each client's Stripe account using the Stripe integration to pull these metrics. They are available side-by-side with campaign, website, and SEO analytics to paint a complete picture of the business.
Stripe payment data is used to inform marketing decisions by understanding customer spending habits and your client's overall revenue growth. This information helps agencies better target marketing campaigns and understand what is driving the business forward, like:
Making decisions about the actual value of new customers, including those with recurring revenue products. 

Adjusting acquisition campaigns by understanding how much customers are willing to spend on a product and how long they are likely to stay with your clients

Understanding which products are most popular with customers and determining whether or not to offer discounts on certain products
Agency Tip: Whether your client is in the SaaS space or has a monthly automatic reorder program in place, understanding Churn Rate is important. If you know your Churn Rate, you can calculate a basic Customer Lifetime Value projection. Customer Lifetime is 1 divided by the Churn Rate. So, if your Churn Rate is 1% per month, your Customer Lifetime is 1/.01=100 months or a little over eight years.
By understanding how customers interact with products, businesses and their agency partners can make better marketing, pricing, and inventory management decisions. Additionally, this data helps companies to track their progress over time and make necessary changes to their business models.
Simplified Stripe Reporting
It's not uncommon for clients to offer a mix of products or services that are both transactional and recurring. From a SaaS subscription to a Cheese of the Month Club, these customers purchase once but pay multiple times. This lack of differentiation makes traditional marketing reports challenging because there isn't a straightforward way to differentiate between one-time payments and the first month of a subscription.
Stripe offers their own dashboards summarizing payment data–but they are highly technical and difficult to add to your client reports. 
Using the Stripe integration from AgencyAnalytics, your agency quickly sees the overall revenue picture, including the total revenue generated during a set period and the breakdown of one-time (transactional) and recurring (subscription) revenue to better forecast and plan the growth of the entire business. 
Use the drag-and-drop report builder in AgencyAnalytics to combine your client's payment data alongside over 75 other integrations of your choice to create complete and detailed dashboards and reports in a fraction of the time. 
Want to see specific data aligned with Stripe payment metrics? Use custom metrics to compare revenue against total ad spend. By using a simple formula to combine the ad spend from every platform and compare it against the total payments received, quickly see what percent of revenue is being reinvested into marketing. 
Once you've created a custom metric, add it like any other widget to your client's custom dashboard or to reports.
Custom metrics are so flexible, use them for specific data points or projections, such as:
The options are practically endless. Almost every data point within the AgencyAnalytics dashboard can be combined with your client's Stripe metrics to create revenue estimates for key marketing activities. 
What's Included in the Stripe Dashboard?
Use the Stripe reporting dashboard to get a clear picture of what is happening behind the payment wall without having to lift a finger. 
Alternatively, add your Stripe data points with the widgets and chosen graphic representations into your own custom marketing dashboard crafted for your client's unique needs. Drag and drop the sections you wish to highlight most to the top, and turn it into a ready client report with a few clicks.
Track Payment, Revenue, and Customer Data 
The Stripe integration pulls in your clients' real-time data into a visual dashboard organized into four tabs:
Account Overview

Payments

Subscriptions

Customers 
1. Account Overview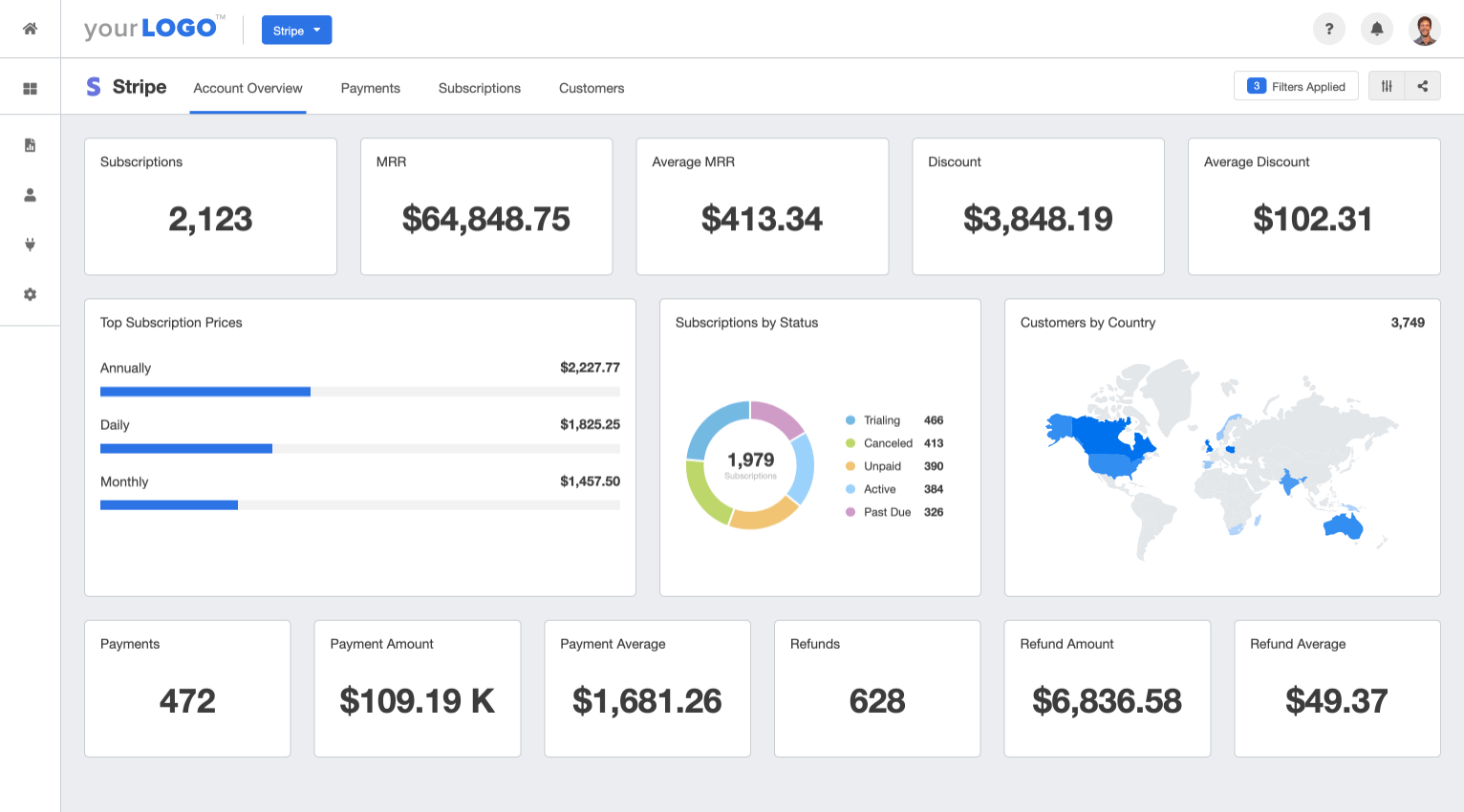 The first tab offers insights into your client's overall financial performance. See the total amount of payments and refunds processed and the current MRR for active subscriptions. 
Widgets include both active and lifetime data to give you the complete picture. Track:
Active Subscriptions

Current MRR

Current Average MRR

Discounts Applied

Average Discount

Top Subscription Prices

All Subscription Statuses

Customers by Country

Total Payments Processed (Lifetime)

Total Payment Amount Received (Lifetime)

Average Payment Amount (Lifetime)

Total Number of Refunds Issued (Lifetime)

Total Amount of Refunds Issued (Lifetime)

Average Refund Amount (Lifetime) 
2. Payments 
Show how payments, refunds, and revenue have increased over time with easy-to-understand line graphs that help you track business growth in a visual way. Set a specific date range, or use the compare feature to see how payments have changed month-over-month or year-over-year. Widgets include:
Payments - Line Graph

Refunds - Line Graph

Total Payments 

Total Payment Amount 

Average Payment Amount 

Total Refunds

Total Refund Amount Recent Payments

Recent Refunds 

Refund Rate (Refund # / Payment #) % 

Payment Details (Table)

Refund Details (Table) 
3. Subscriptions
Track subscription revenue by monitoring New, Active, and Canceled customers as well as PQLs who are currently on a Trial. This is especially important if your clients are SaaS businesses or have an automated refill program in place. 
Widgets include:
Total Subscribers - Line Graph

New Subscribers by Status - Pie Chart

New MRR by Price - Bar Chart

Total Subscriptions 

MRR during the set period

Average MRR

Discounts Applied

Average Discount

Churned subscriptions during the set period

Churned MRR

Average Churned MRR

Churned discounts

Average churned discounts

New Subscription details

New Churned details 
Agency Tip: The descriptions in the Stripe Dashboard are user-defined. Add Descriptions to the Subscription types in your client's Stripe account to create more intuitive, at-a-glance Stripe Dashboards and reports.
4. Customers
The Customers tab offers a quick overview of your client's current customers to see how the customer base has grown over time and intuitive visualization to identify your client's best geographic locations. 
Widgets Include:
New Customers During that Period

New Customers by Country

New Customer details, including name, description, email, country, and date.
Connect the Stripe Integration in 3 Easy Steps
1. Navigate to the campaign you want to connect to the Stripe integration. 
2. Click on Integrations from the menu bar, and then select Stripe from the list of integrations. You will first be prompted to connect a new account which requires entering your Stripe credentials. 3. After you enter the login credentials, the integration is complete, and your client's Stripe payments and subscription data will be imported and displayed within the dashboard.
Streamlined Stripe Reporting for Agencies
Adding revenue information to your client reports tangibly showcases your clients' revenue growth. Automating your reporting saves your agency countless hours on the tedious data-retrieval process for you to focus more time on scaling your agency.
Agency Tip: Create client-facing Stripe dashboards to eliminate the back-and-forth emails between reporting periods. Leverage the unlimited user access option and use it as an invaluable agency tool, keeping all information on a need-to-know basis without confusion. 
Clear up your client and staff communication bottlenecks using the Stripe integration. Start your free 14-day trial today to see how AgencyAnalytics simplifies your agency's workflow.
Written by
Melody Sinclair-Brooks
Melody is a marketing manager, writer, and startup consultant with a background in behavioural neuroscience. Through a data-driven approach and a passion for product-led strategies, she helps businesses achieve growth in today's competitive digital landscape.
Read more posts by Melody Sinclair-Brooks ›
Try AgencyAnalytics risk-free for 14 days. No credit card required.