White-label SEO reports have become a game-changer for marketing agencies seeking to showcase their brand, streamline workflows, save time and resources, and enhance client trust. By customizing these reports with your agency's branding, you not only create a professional image that distinguishes you from the competition, but also deliver top-notch, data-driven insights that keep your clients coming back for more.
Sure, in the early days of a digital marketing agency, it's common for the team to create their SEO reports manually. After all–you do what you gotta do. But trying to cobble together and then white label SEO reports can be a time-consuming and overwhelming process for marketing agencies as they grow.
Stick around as we cover:
Manual Reporting: An Agency's Nightmare 
Your agency may be able to limp along with drudgerous manual reports for a while, but one day–as most mature agencies have experienced–the team members find themselves drowning in spreadsheets, graphs, and a never-ending list of keywords. 
The lead SEO analyst, let's call her Sarah, starts pulling her hair out as she tries to make sense of the mountain of data in front of her. And, yes, every hour spent on this tedious task feels like an eternity. 
Meanwhile, the account manager (who we're going to name Jack) nervously paces the hallway, anxious about getting the reports done in time for the client presentation.
To make matters worse, as the deadline approaches, Sarah discovers a critical error in the data, which forces her to redo several hours of work. Exhausted and disheartened, Sarah and Jack know there must be a better way. 
And they're not alone.
Our old client reporting process was a headache, to say the least. We would spend hours gathering data from various sources. Then, we had to manually compile the information using screenshots, spreadsheets, and charts. The process was manual, error-prone, and not at all scalable. And don't even get us started on the stress levels at reporting time.

Adam Binder, Founder + CEO, Creative Click Media
It Doesn't Have to Be That Way!
White-label SEO report builders make tracking progress and delivering client results in a professional and polished way easier for marketing agencies. They also foster long-term success by improving client satisfaction, brand trust, and loyalty.
Our reporting process has come a long way since adopting AgencyAnalytics. We love the flexibility and customization of the platform, especially with the white-labeled reports that feature our branding and colors. It has made a big difference in how we present our work to clients and how professional it looks.

Adam Binder, Founder + CEO, Creative Click Media
6 Benefits of White Label SEO Reports
When agencies switch to white-label SEO reports, they quickly realize the many advantages. Here are just a few of the benefits you're about to discover:
1. Enhances Client Trust & Satisfaction
By maintaining consistent branding across all client reporting, white-label SEO reports help to create an environment of trust and transparency between your agency and clients. 
This builds loyalty that will last long after the project is complete.
The software has been a game-changer for us. It has helped us become more efficient, transparent, and trustworthy with our clients, which has been invaluable to our business growth.

Calum Maxwell, Managing Director, Optimise Online
2. Gives Your Agency a Professional Look & Feel
By showcasing your agency's branding in the reports, you create a professional look and feel for clients. This sets your agency apart from the competition and gives your brand more credibility.
Less grunt work is important for my employees, and professional-looking reports are important for our branding and for our customers. Win-win-win.

Nico de Jong, CEO of Forward Marketing
3. Streamlines Workflows, Saving Time & Resources
The foundation of a great SEO report is accurate data. After all, slapping your logo and brand colors on a hard-to-read report won't do much to improve your agency's brand perception. 
But collecting, analyzing, and visualizing that data takes time. Instead, automating the reporting workflow minimizes manual data entry and reduces the time spent collecting information from multiple sources. 
This gives your team back time to focus on more critical tasks.
Winning back that time allows the team to focus less on doing admin tasks, and focus on client campaigns. The more time we focus on clients, the better the results are and, thus, the happier the client is. Happy clients = more revenue for the agency. Saving this time has been massive for us, as no one is wasting all those hours in reporting anymore.

Joshua George, Founder, ClickSlice
4. Opens the Doors to Better Communication with Clients
When executed properly, comprehensive SEO reports minimize the need for lengthy, confusing explanations and back-and-forth discussions, as the data is presented in a way that even those without an extensive background in SEO can appreciate.
By offering updates on crucial metrics, such as keyword rankings, organic traffic, and conversion rates, regular reports ensure that clients stay well-informed and engaged with their campaigns and provide measurable SEO ROI.
And having those positive results automatically connected to your agency's brand is a win-win! 
We get results, but we are also just as focused on making sure that our clients feel like they are seen, heard, and respected. Our clients are our partners, and there's no such thing as too much communication.

Rachel Jackson, Lead SEO Wit Digital
5. Showcases Your Expertise and Industry Knowledge
As the saying goes, it's not what you know–it's what you can prove. The customized, automated reports offered by white-label SEO report builders are the perfect way to prove your SEO worth and demonstrate your agency's expertise and industry knowledge to current (and potential) clients.
Instead of spending hours manually collating data, use that time to provide up-to-date insights into progress and performance. It's easy for your agency to showcase its ability to deliver results with annotations and report summaries that tell the client, "this agency knows its stuff!".
The biggest challenge is differentiating from more affordable but poor-quality services being offered by so many freelancers or small firms who don't have a very high skill set. It is very hard for clients to be able to tell who is legitimate until they've experienced that difference. So "trust me, we're different" doesn't really work. They've heard it before.

Lane Anderson, Founder & CEO, London Road Marketing
6. Supports Agency Scalability
White-label SEO report builders are pivotal in enhancing an agency's scalability by simplifying the onboarding process for new clients.
With ready-to-use client dashboards and report templates–all custom-coded with your agency's brand colors and logo–agencies quickly clone and customize these resources to meet each client's unique needs, significantly reducing the time and effort required for setup.
Client campaign templates go a step further, enabling your team to duplicate entire setups of preferred dashboards and reports for effortless onboarding.  
With this streamlined approach, agencies are better prepared to accommodate a growing client base while maintaining the quality of service and stretching their resources too thin.
Scaling a business is no easy undertaking. When half of your business is losing time performing mundane tasks instead of working in productive ways, we effectively cap our expansion by slowing down how quickly things get done.

Ruben Roel, President & Founder, Investigator Marketing
How To Create a White Label SEO Report in Under 30 Minutes
If you're looking for a quick and easy way to get started with white-label SEO reporting, AgencyAnalytics is the perfect solution.
The platform provides an intuitive report builder that makes it simple to build highly customized reports in no time. With the drag-and-drop editor, agencies easily add elements–such as widgets, annotations, goals, and logos–while setting up tracking tasks and alert triggers to ensure timely data updates.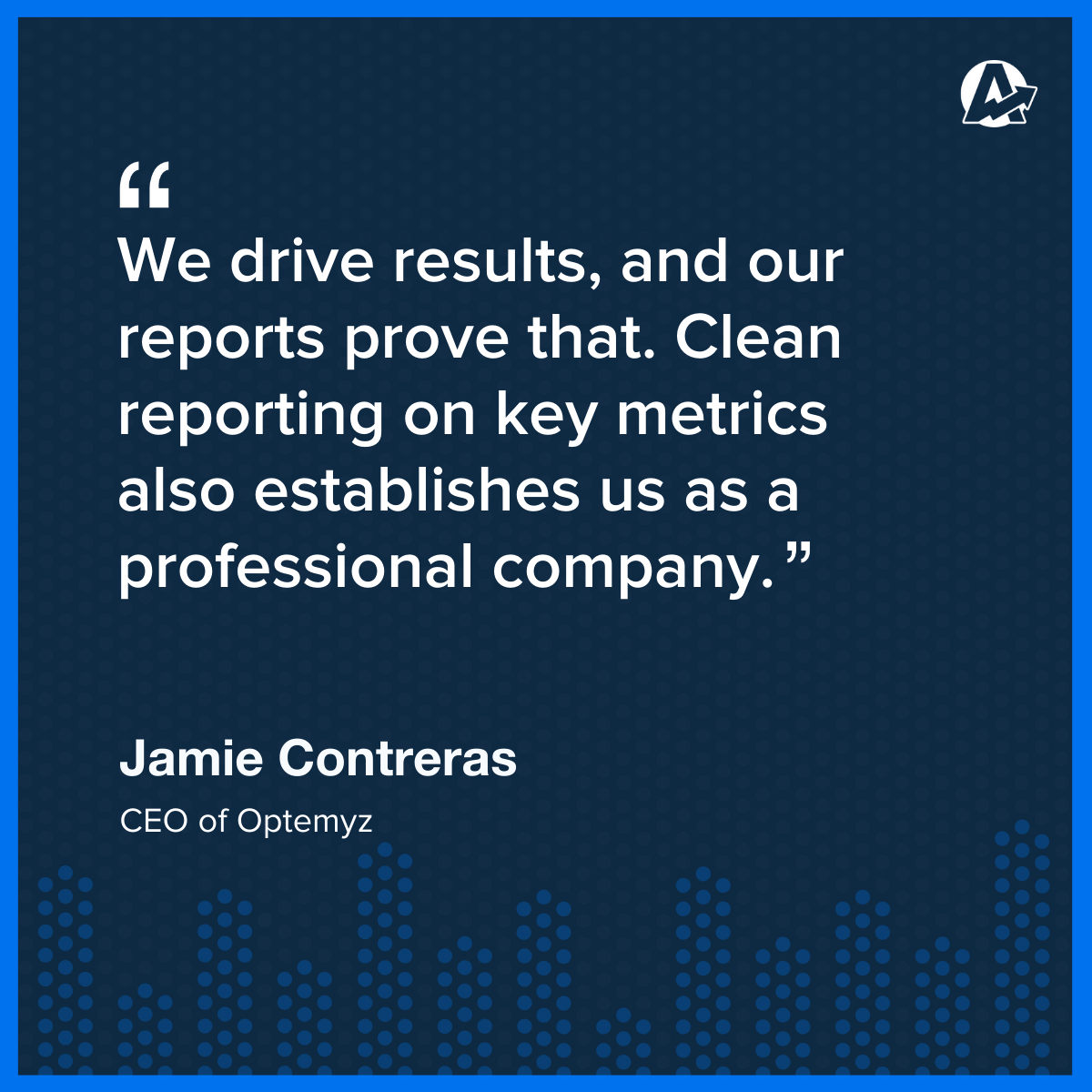 No more spending hours upon hours pulling together everything you need to create comprehensive SEO reports. Let the automated reporting system do the heavy lifting for your agency and pull together data from all the necessary sources. 
Step 1: Create a Campaign
To set up an SEO dashboard in AgencyAnalytics, create a new campaign for each client website you want to track. Typically, each client will have their own campaign–although some clients will require multiple campaigns if they have multiple locations or different branded websites. 
Step 2: Connect Appropriate Integrations
The next step is connecting your data sources from our extensive list of 75+ integrations. Start by integrating Google Analytics (UA or GA-4, whichever your client uses) and Google Search Console. Select the other key SEO integrations for optimal use of the SEO dashboard template.
Then, connect our powerful SEO tools, including the Backlink Manager, Site Auditor, and Keyword Rankings tool. With a systematic approach to data integration, your agency benefits from valuable insights, efficient reporting, and informed decision-making, ultimately enhancing the overall effectiveness of your marketing strategies.
Step 3: Run an Audit & Keyword Rank Tracker To Set the Baseline
With the website added, it's time to run your first website audit. Navigate to the SEO audit tool within the dashboard. Here, you can start the audit process, which involves the tool crawling and analyzing the website for a variety of SEO factors like meta tags, keyword usage, and link profiles.
After the audit is complete, AgencyAnalytics will generate a comprehensive SEO report. This report provides valuable insights into the website's SEO performance, highlighting areas of strength and opportunities for improvement.
In other words, it sets the baseline and helps your agency understand how much work needs to be done to make the client's website in today's digital ecosystem. As part of your digital marketing strategy, it's important to understand these insights and use them to inform your SEO initiatives.
Another baseline element that's important to understand is the client's current keyword rankings. A preliminary keyword rank tracker report is the perfect way to do this, because it lets your digital marketing agency know where they are currently in the rankings, at least for the top-priority keywords, allowing you to measure progress over time.
Agency Tip: Queue up your first technical SEO audit and keyword rank tracker crawls as soon as the tools have been integrated so they can run in the background while you're working through the remaining steps. 
Step 4: Create a Client-Facing Dashboard
Now that you've integrated your client's data sources, creating a dedicated SEO dashboard is the next step.
Using the SEO dashboard template makes this a piece of cake!
Agency Tip: If you're a full-service agency, you'll want to create the best marketing dashboards for each channel—for example, social media, PPC, SEO, and so on.
Step 5: White Label With Your Agency's Branding
Before presenting the dashboard to your clients, customize it with your agency's branding. This white-labeling process involves incorporating your logo, aligning the color scheme with your brand's identity, and even hosting the dashboard on your own domain.
Doing so creates a cohesive and professional appearance that resonates with your clients and reinforces your agency's credibility and expertise in the industry.
Agency Tip:  Have multiple agency brands, or want to focus the white label branding on the client's brand, use the multiple white label feature available on select plans. 
Step 6: Create Your White Label SEO Reports
Once the dashboard is set up and white-labeled, it's time to generate your SEO reports. With AgencyAnalytics, easily customize the pre-built SEO report template with annotations, summaries, charts, images, and much more.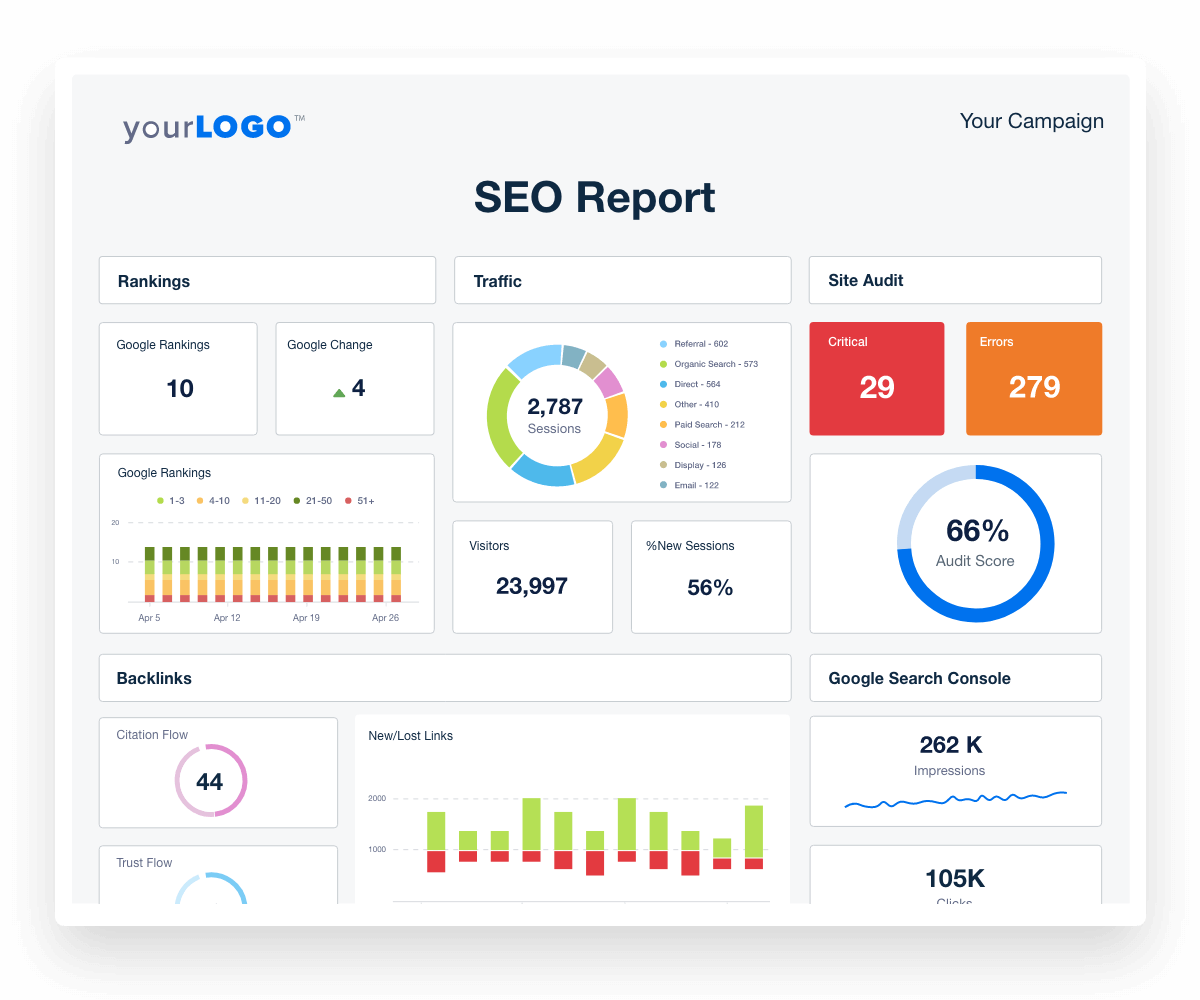 The best white label SEO reports, such as those generated by top digital marketing agencies, are characterized by their ability to integrate metrics from multiple data sources. This is essential in order to paint a comprehensive picture of a client's organic performance.
The more data sources a report pulls from, the more insightful and valuable it becomes. This is where the white label features of platforms like AgencyAnalytics truly shine. A professional white label SEO report will not only pull data from the website itself but also integrate data from external sources like Google Search Console, Google Analytics, and more.
This provides a broader view of the client's organic reach. The end result is a detailed, comprehensive, and professional report that fully represents the value and impact of your digital marketing agency's SEO efforts.
Want to make sure you hit all of your clients' reporting deadlines? Use the Report Scheduling feature, and all of these customized reports are sent on a regular basis without manually generating and sending each one. On the Agency or Enterprise plan, your team is notified before reports go out so they can do a final check to ensure there are no surprises.
Case Studies of Successful White-Label SEO Report Implementation
Here are some real-world examples that showcase how successful marketing agencies have used white-label SEO reports to improve their performance.
Case #1: Rankings.io
Rankings.io streamlined its KPI reports and saved over $150k annually after automating their white-label reporting using AgencyAnalytics.
Founded in 2013, Rankings.io is an SEO agency that helps lawyers and legal firms grow their businesses with first-page keyword rankings.
Because of the nature of their field, and the sheer volume of clients they work with, it was taking over 380 hours each month just to pull together SEO analytics to create reports. In late 2017, Chris Dreyer found his solution: AgencyAnalytics.
The robust reporting features of AgencyAnalytics automated the time-consuming process of generating KPI reports, essentially eliminating the need for an SEO analyst position.

Chris Dreyer, rankings.io
Chris especially loves the white-label capabilities that allow him to create automated reports, PDFs, and mobile dashboards all branded with the Rankings.io logo.
Case #2: Squeeze Marketing
Squeeze Marketing turned the AgencyAnalytics SEO reporting tool into an automated upsell engine, letting their current clients know what they're missing every month. 
It's one thing to use these powerful tools to retain existing clients. Still, there's an entire world of new clients available... just waiting for the right agency to come along.
Squeeze made a habit of including SEO data in their clients' other reports–even if they don't currently handle their SEO efforts. 
As Michael Gasser, Co-Owner & Partner of Squeeze Marketing, discovered–when you show clients what they're missing, the next logical step is for them to turn to you to find it.
"Clients realize that Squeeze is the one that is effectively reporting in a way that allows them to assess other agency's work as well," Gasser describes.
For instance, clients will see a report with an SEO section included. If they're not happy with the numbers they're seeing, they often end up asking the Squeeze Marketing team if they also offer SEO services.
"We have that conversation quite often," Gasser smiles. 
You wouldn't think the little things make that big of an impact, but AgencyAnalytics has fundamentally changed our internal process for the better. 

Michael Gasser, Squeeze Marketing
Even if you haven't signed a new client on the dotted line, an SEO report is a very valuable tool in your agency's tool belt.
Use them to create winning SEO proposals (and, yes, there is an SEO proposal template for that) to make the client acquisition process faster and easier, helping your agency get more clients.
Case #3: Bespoke Marketing Plans
Bespoke Marketing Plans utilizes white-labeled reports from AgencyAnalytics to inform their WordPress clients about the Local SEO services they offer, improving their branding and saving over $10k in wasted reporting time each year. 
Guy Hudson started his SEO agency in 2020 to offer SEO expertise to local, service-based businesses in the UK. He now has 25 ongoing SEO clients that his small-but-mighty team works with to improve their bottom lines. 
Even after spending around 35 hours each month just to create SEO reports, clients still called with questions because they didn't understand the data. To avoid this, their agency started creating "explainer videos" to go along with the reports, costing them even more time. Then, he discovered AgencyAnalytics.
AgencyAnalytics makes reporting as easy as possible. We can generate a variety of custom reports with AgencyAnalytics that can be tailored to the specific needs of the client if necessary. With streamlined reporting, we're now able to reinvest our time to grow the agency.

Guy Hudson, Bespoke Marketing Plans
Bespoke Marketing Plans has reinvested that time into training on new growth strategies such as video outreach, Facebook Ads, and content marketing. 
Case #4: Portland SEO Growth
Portland SEO Growth leveraged the AgencyAnalytics white-label SEO reporting tools from day 1 to accelerate their clients and the agency's growth.
Joey Randazzo started Portland SEO Growth with a bang, kickstarting his agency with enterprise clients such as Autodesk, WebMD, and several other Fortune 500 companies. Their core service is content creation, a critical tool for building SEO authority.
The team didn't want to waste time manually creating SEO reports, and Randazzo had worked with AgencyAnalytics in one of his previous roles. The moment he started his agency, he immediately tapped into the potential of AgencyAnalytics to help grow the business and deliver results to their clients.
It's difficult to quantify the true value of AgencyAnalytics...not only has it saved us time, but has also reduced client churn and helped us land new clients with the site auditor. The platform has been worth at least a few hundred thousand dollars each year for our agency.

Joey Randazzo, Portland SEO Growth
The team uses client dashboards internally to identify opportunities to improve each client's organic search rankings. They also look for content that can be easily optimized to drive quick wins.
What To Look For When Choosing the Right White-Label SEO Reporting Tools
White-label SEO reporting tools have helped many agencies like Rankings.io, Squeeze Marketing, Bespoke Marketing Plans, and Portland SEO Growth streamline their workflow processes while boosting client trust and satisfaction.
When looking for the right white-label reporting software for your marketing agency, look for features tailored to your agency's needs, including custom branding capabilities, automated reports & dashboards, actionable insights on content gaps, search engine analytics tracking, and more. 
That way, you focus less on creating tedious reports and more on delivering results for your clients.
Features to Consider
Read More:  Pros & Cons of the Best Keyword Rank Tracker Tools
SEO Report and Dashboard Templates
Yes, white-label SEO reporting tools will save you time and money. But the platform should also provide report templates you can use as a starting point.
Look for software that has pre-made templates ready for your customization. 
Start with a template. Set it up exactly as you will want it. Then clone it from there. It will save you hours of work if you are fastidious in creating the first one. CJ Dunbar, Brand Manager, Suite Edge
You also want to make sure the reports have enough flexibility in terms of data points included and visualization options.
Here's an example of the SEO Report template, available for free to all AgencyAnalytics customers.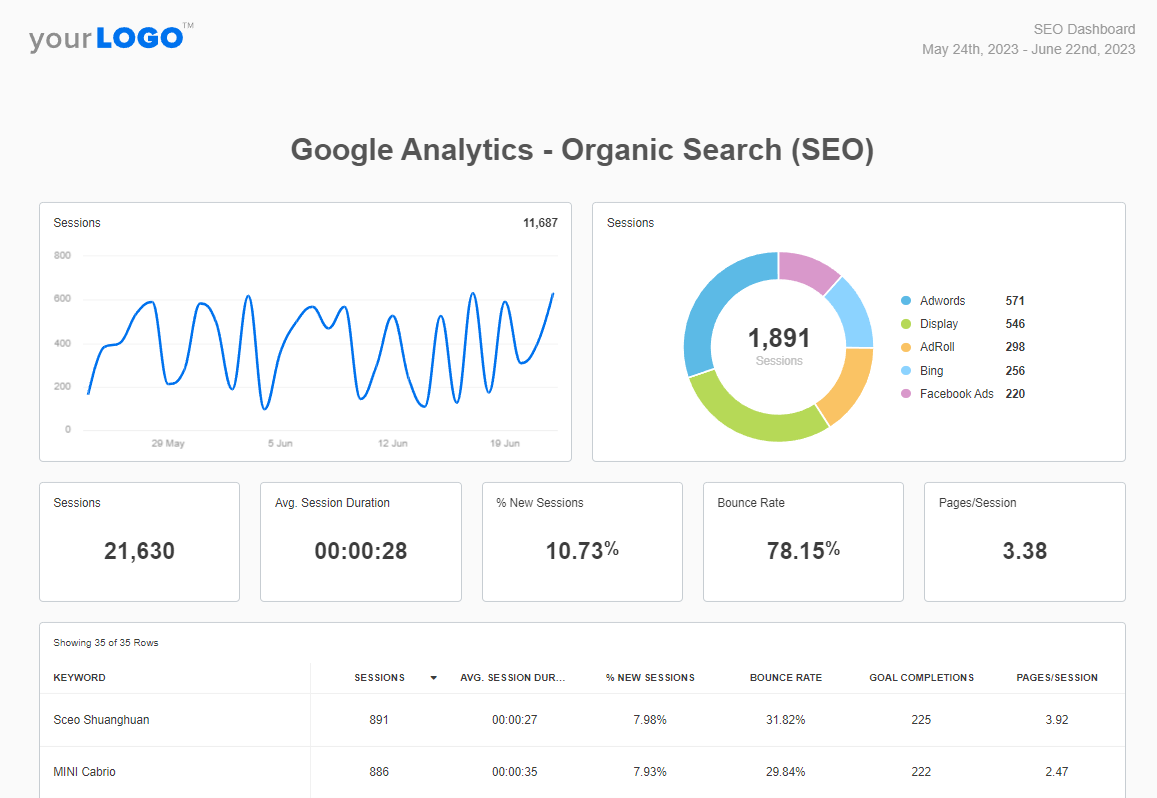 Use this exact template for free! Get started with your 14-day trial.
If you'd prefer to go the live SEO dashboard route, there's a template for that too!
This comprehensive SEO dashboard template displays all of the essential elements of an SEO campaign in a real-time interface. Providing data on critical SEO KPIs, including keyword rankings, organic traffic, web conversions, and backlinks. The dashboard is updated in real time, so you don't have to manually grab new data each reporting period.
In all, having customizable report and dashboard templates ensures that each client receives well-designed visuals they are familiar with, like tables, graphs, charts, etc. 
It's an easy way to streamline your reporting workflows and show off your agency's professional image–without having to start from scratch every time!
Integration With Other Marketing Tools
Even if you're not reporting on other efforts, having a holistic view of a client's entire marketing ecosystem never hurts. 
Look for a platform that seamlessly connects with other digital marketing tools like Google Analytics (including GA-4), Google Ads, Facebook Ads, and Microsoft Advertising–and doesn't charge extra for each integration. 
Not only will clients love seeing a complete picture of their marketing efforts, but your team also gains access to this data to inform your own efforts.
For example, top-performing keywords on Google Ads are a great source of inspiration for the content and other SEO efforts to aim for the top organic positions. After all, if they're worth paying on a PPC basis through Google Ads, why not target first-page keyword rankings for the same term?
The large number of integrations allows us to report on all activities in one cohesive, comprehensive, beautiful report instead of a bunch of disjointed pieces of information. It really elevates our professionalism and is part of what allows us to charge the prices we know we're worth.

Lane Anderson, Founder & CEO, London Road Marketing
AgencyAnalytics: The White-Label SEO Reporting Platform Built for Marketing Agencies
When it comes to white-label SEO reports, AgencyAnalytics has established itself as a top choice among marketing professionals. 
With over 6,500 agencies relying on its cutting-edge features, AgencyAnalytics consistently delivers expertly crafted reports that showcase each agency's unique value and expertise.
Stand-alone SEO tools like Semrush, Ahrefs, Moz, and Raven Tools undoubtedly have their merits and may play a role in an agency's SEO ecosystem. However,  it's important to remember that clients–ultimately–care about the results delivered rather than the individual steps taken to achieve them. 
AgencyAnalytics stands apart by providing a comprehensive yet user-friendly platform that consolidates essential SEO data, creating clear, actionable reports highlighting your agency's accomplishments and demonstrating your impact on the clients' bottom lines.
With AgencyAnalytics, we headed into a new era of reporting. It is no longer seen as dreadful work, we save lots of time and our reports have also become way more valuable to our customers. We keep growing and our reporting needs to grow with us. Luckily, AgencyAnalytics grows with us every year thanks to the tons of new functionalities they introduce annually.

Nico de Jong, CEO of Forward Marketing
In an industry that thrives on demonstrable results, AgencyAnalytics is the essential partner to help your agency shine.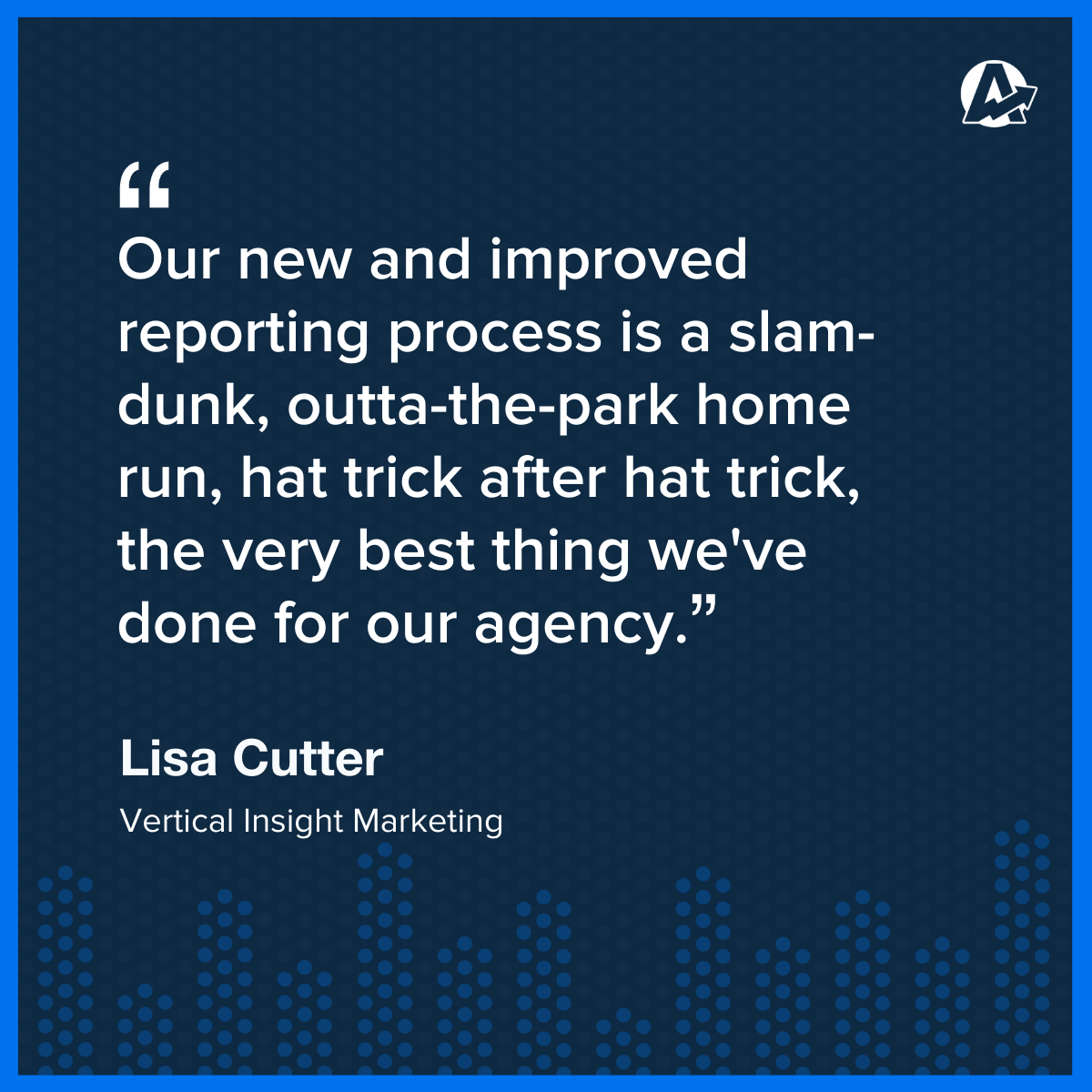 Start streamlining your workflows, improving client retention, and saving time with AgencyAnalytics today! Get started with a 14-day free trial. Your team (and clients) will thank you for it.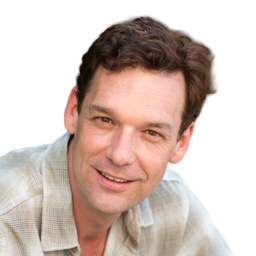 Paul Stainton is a digital marketing leader with extensive experience creating brand value through digital transformation, eCommerce strategies, brand strategy, and go-to-market execution.
Read more posts by Paul Stainton ›
Try AgencyAnalytics risk-free for 14 days. No credit card required.