Do you sometimes get angry with yourself because your agency's growth is slow?
And finish every day feeling resigned that once again you haven't done any of those important things you've set out to do?
Well, there's no point in beating around the bush here:
Running an agency can be a harsh experience.
The constant pressure, deadlines, communication chaos, and client demands can easily leave you at your wits end.
But you know what's even worse?
Those little, pesky tasks like responding to support emails, chasing signoffs or validating prospects.
Not only you have to do them over and over and over again, but they take your attention from what you really should be doing.
However, did you know that you could completely automate most of them? And have them run on autopilot with hardly any need for your input?
That's what I'm going to talk about in this post. I'll show you 5 of the most crucial agency's business processes you could automate and save hours of time every week.
Intrigued? Then let's get cracking.
#1. Approvals and Signoffs
Oh I bet this sounds soooo familiar:
You send a client a draft of a campaign plan or anything else they need to approve. You stress how important their feedback is at this stage of the process…
…only to hear nothing back for days on end.
You know you can't move forward without their approval, but your client just doesn't seem to care.
And so, instead of doing the work, you spend time sending reminders and requests for feedback, over and over again.
It's no surprise then that the approval and review process is when many client relationships go sour.
Luckily, many workflow tools, like KissFlow or Process.st allow creating processes that include automated email reminders triggered if a specific stage of the process hasn't been completed on time.
Another alternative is follow up tools, like Followup.cc that will automatically send a client a couple of follow up emails to bump your message to the top of their inbox.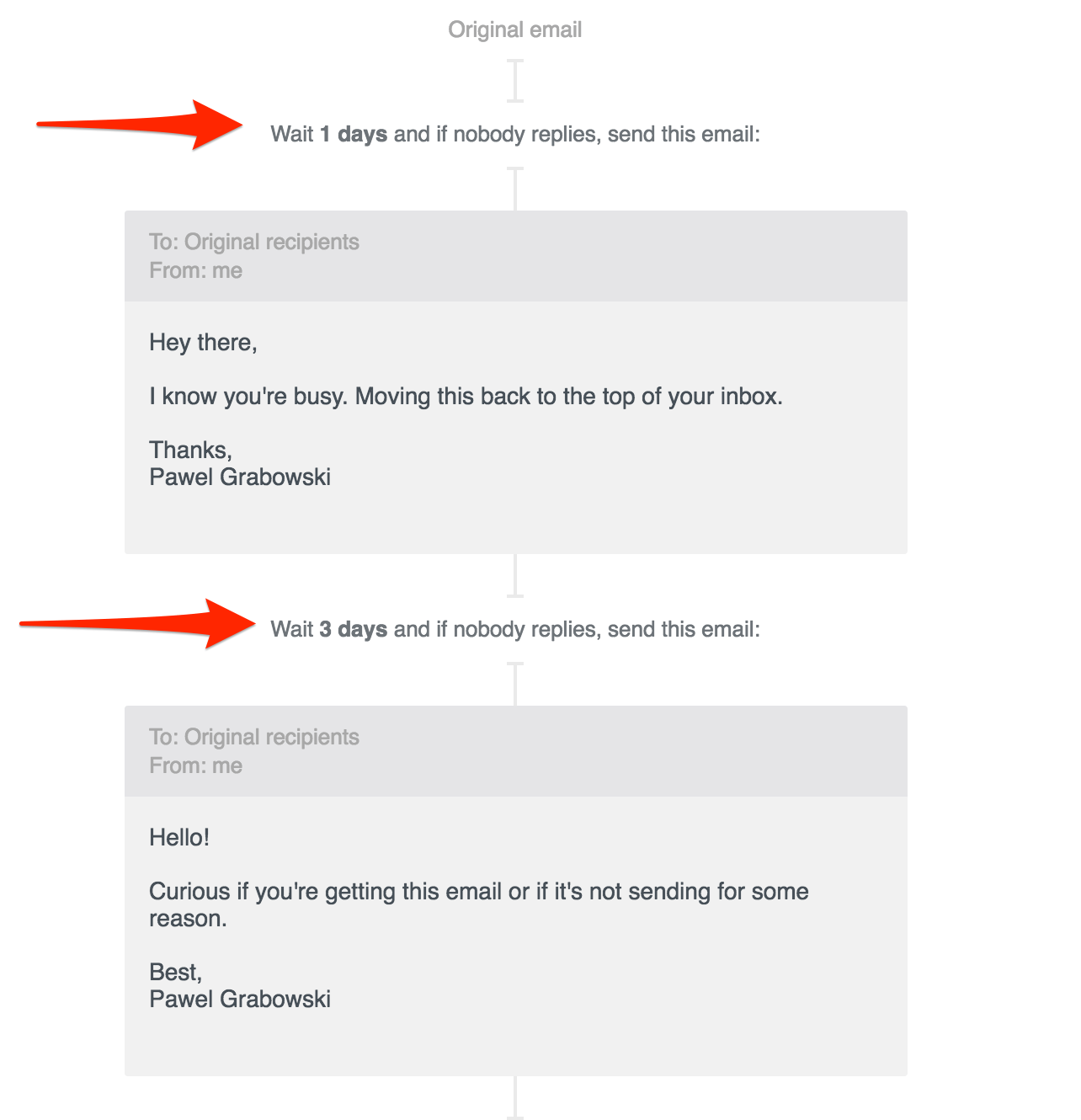 (A screenshot of the Followup.cc's default automated follow up schedule. Arrows added by the author.)
#2. Qualifying Leads
Not every prospect is a good fit. And few things are more frustrating than finding it out after you've invested time into the new relationship.
Because of that, many of us develop ways to screen new prospects.
Some agencies use their contact forms to find out more about a prospect. I talked about it already in this post.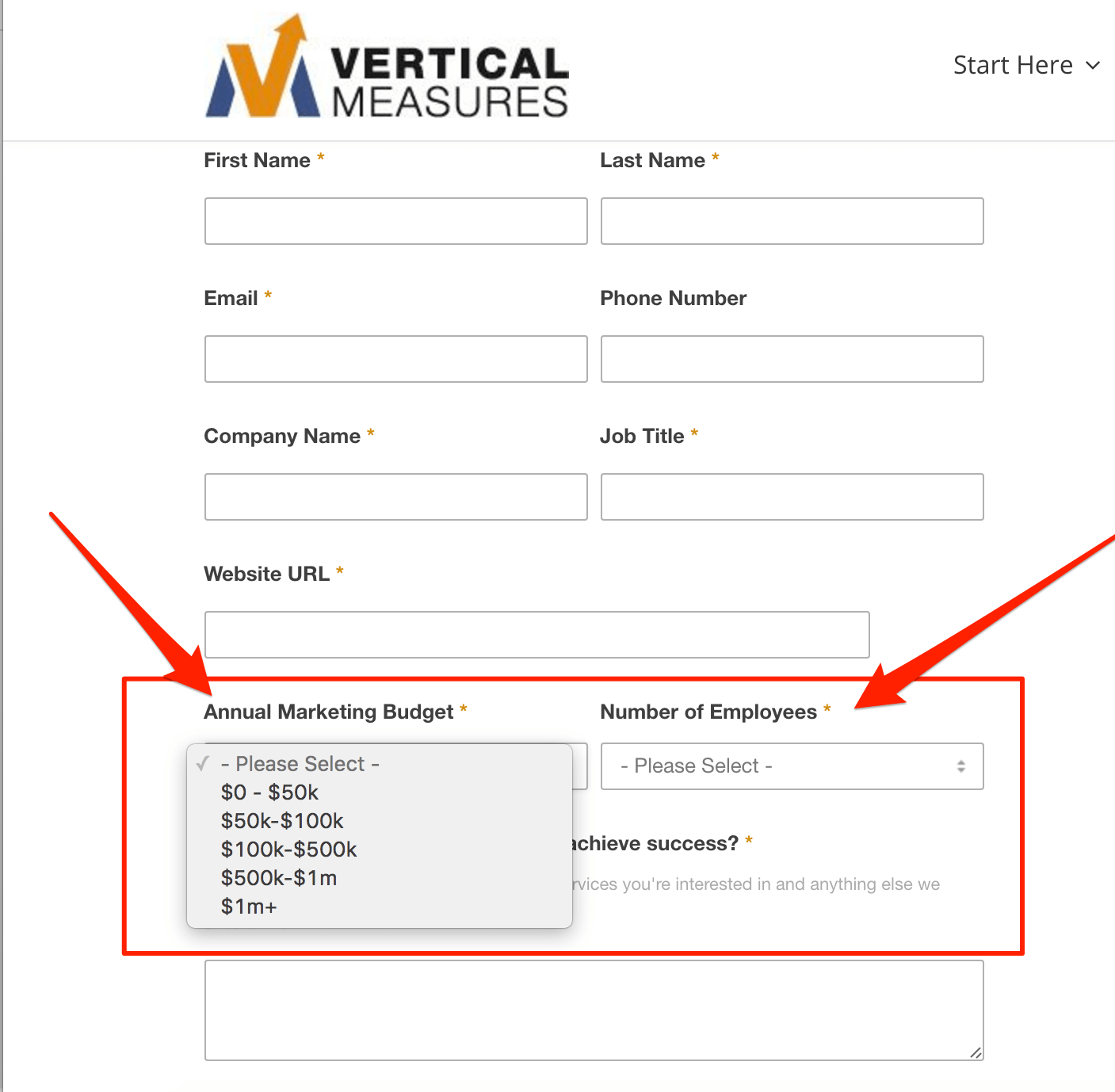 Others, spend time researching the person and their company online.
The thing is, the process still takes an awful lot of time, doesn't it?
Luckily, you can automate the most of it.
Before switching to selling only online products, Paul Jarvis, a freelance web designer, used to run almost the entire process on autopilot.
Instead of manually replying to every inquiry, Paul introduced a system in which the first steps in the client interaction were completely automated.
His process looked like this (taken from his in-depth post on the topic):
And did it work? He explains:
"What I've found in the first few months of doing things this way, is that my initial fear that maybe people would be put off by not actually hearing from me at first, wasn't valid."
Every person I asked —"Did you enjoy the process? Were you okay that I didn't personally get involved until the call?"— were all completely happy that it was so quick, answered their questions, and felt really smooth.
Out of six people who went through the new process lately, five booked projects with me. The sixth didn't read the part about me being booked four months out and couldn't wait that long.
For those six people who went through the process, I saved hours and hours by not having to answer questions I've answered hundreds of times before or doing the "when are you free" dance."
Draft Revise, a productized A/B testing agency, also uses a semi-automated lead qualifying process. To work with them, a prospect needs first to apply for a slot by submitting their email address. In turn, they receive the company's Welcome Pack as well as a questionnaire that helps Nick, Draft Revise's owner to quickly validate if they are a good fit.
Simple, isn't it? And I'm sure it saves Nick a ton of time.
On a side note, I'm going to be implementing a similar process for my agency really soon. Hopefully, it will help cut the lead validation time and onboard new clients on autopilot.
#3. Reporting
You know, pulling out the data for a client can actually be fun…
…providing that you work with only a handful of companies.
But as your agency begins to scale, reporting can quickly become a tedious procedure, one taking up hours on end each day.
Luckily, this process is dead easy to automate. Most reporting tools include the set-and-forget option that allows you to specify what information you want a client to receive and when. And then, leave it to the tool to compile and email the actual report.
#4. Late Payment Notifications and Other Billing Inquiries
Not every client will delay payment. But I'm sure you'll agree that getting paid often requires effort beyond just sending the invoice.
You need to send payment reminders, account balance sheets, and much more before you finally see the cash in the bank.
However, many of these tasks can also be automated, right in your accounting software.
If you use tools like Freshbooks, Quickbooks, Wave or The Invoice Machine to manage your accounts, activate a cadence of automatic reminders for each invoice.
The app will then email a client late payment reminders in pre-set intervals, leaving you to do more important stuff.
(The Freshbooks' default late payment notification cadence)
Similarly, most online accounting tools allow you to set up recurring invoices, payments, and other accounting-related aspects of your work, and have them run by themselves.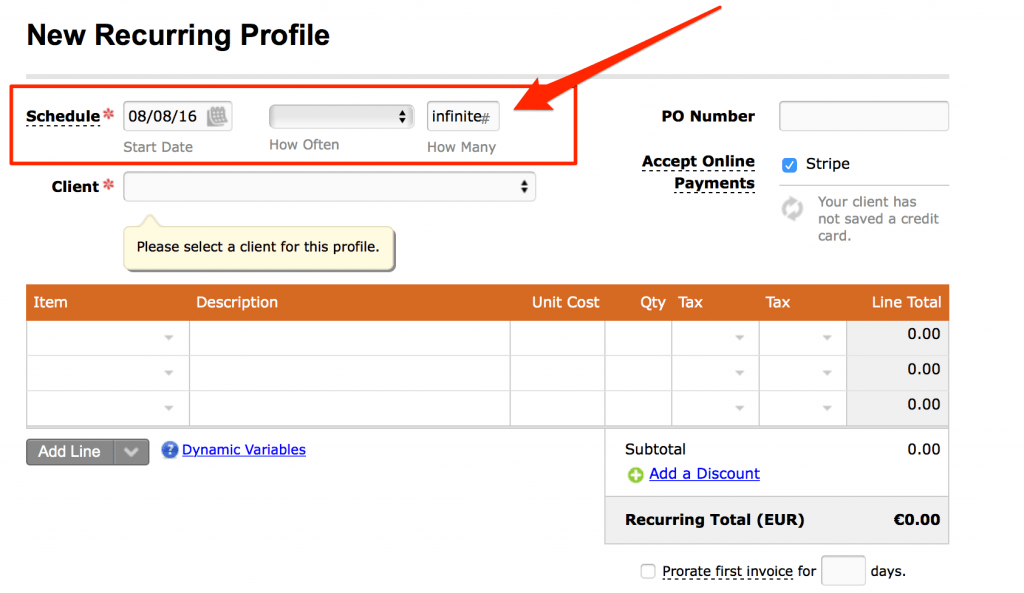 #5. Client Relations
Let's face it:
In our game, retention is everything.
Long-term client relationships are not only more profitable but provide stability and sustain your agency's growth.
It's just…managing clients is one heck of a task, isn't it?
From maintaining client records, sending regular updates, timely responding to inquiries to socializing with them, it all can eat up a large chunk of your day.
Not to mention that the time you spend on building client relationships multiplies with every new account you open.
Unfortunately, you can't automate every aspect of managing client relations.
Luckily, some things you can set-and-forget, and others you could hack to cut the time you spend on them.
Reporting. This is something we've already talked about above.

Onboarding. Set a drip campaign that will onboard new clients for your agency. To find out more, check out my new client onboarding template or the client onboarding questionnaire template.

Project Updates. Use canned responses to skip writing the same update over and over again. Sure, you still have to send the update. But at least you don't have to spend any time compiling the message.

Follow Ups. We've touched on this already as well. Tools like Followup.cc allow you to develop follow up templates you could then attach to any email you send. They will then send them in pre-set intervals unless a client performs a specific action on your message.

Reminders. Lastly, use Followup.cc also to schedule reminders for yourself to act on specific messages you send. Another great tool to check out for scheduled reminders for your Gmail is Right Inbox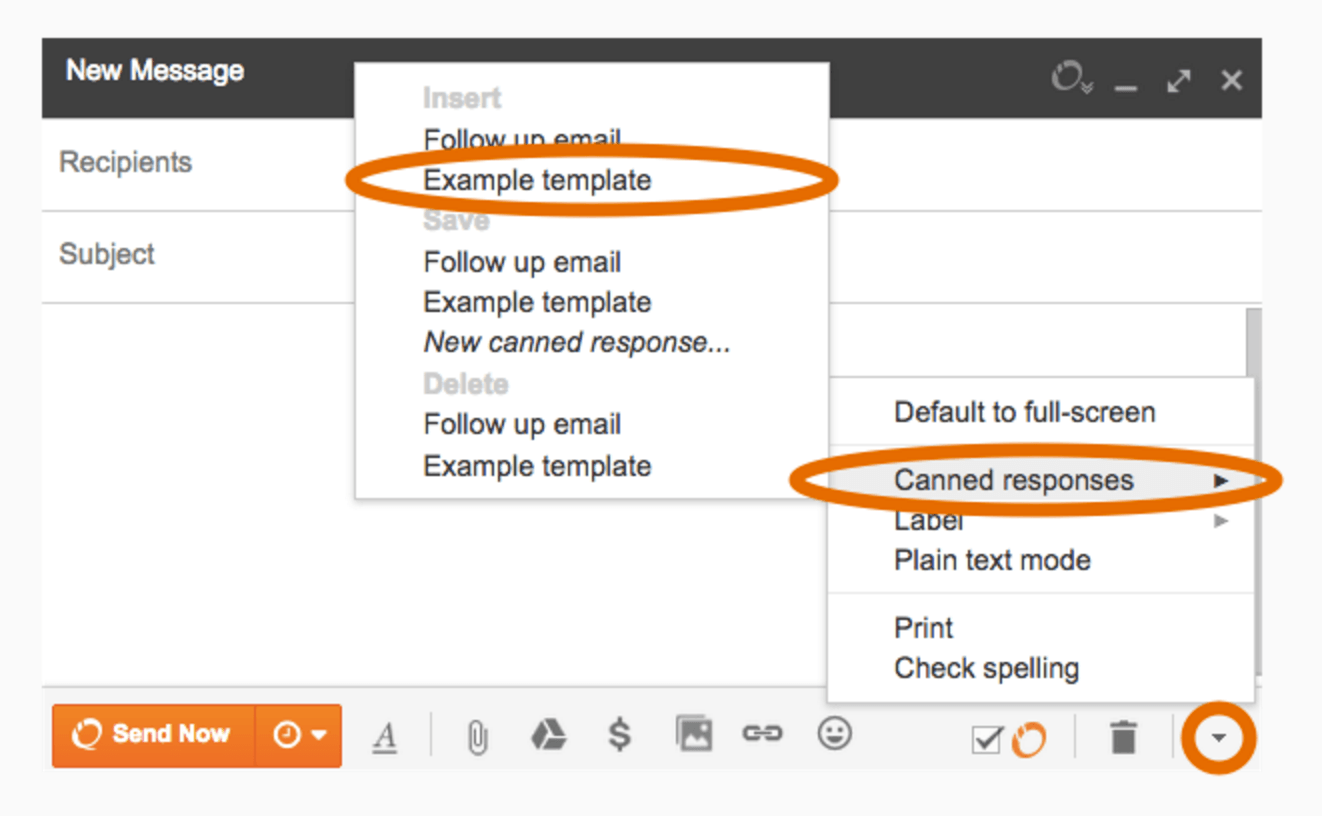 (Example canned response – image source)
(Example of a message with attached reminder in Followup.cc. Instead of sending a follow up email, this option will just remind me about the message.)
What about you?
Do you automate any of your agency's processes? What are your experiences with that? Let us know in the comments below!
Try AgencyAnalytics risk-free for 14 days. No credit card required.