As a marketing agency, time is of the essence, and client dashboards are a way to instantly maximize efficiency. 
When you hear the term 'client reporting,' it may not sound like the most exciting thing on your to-do list, but arguably, it's the most important. After all, it's the only way for your clients to understand marketing progress and make informed decisions.
We want to deliver our clients the most amount of value at the most minimal cost to us (and them). Being able to create and send clear, beautiful, comprehensive reports quickly is such a huge value-add.

–Lane Anderson, Founder & CEO, London Road Marketing
While you may be able to get away with copying and pasting metrics into a manual spreadsheet, after a while, it's exceedingly time-consuming. Not to mention it increases the likelihood of human error, which is a huge no-no as your clients depend on data insights for decision-making.
What if there was a way to free up your staff's time, improve overall efficiency, and set the groundwork for scaling your agency?
Read on to learn how to win back billable hours and keep clients happy with an automated client dashboard. 
10 Ways a Client Dashboard Saves Your Agency Time
From streamlining project management to cutting down on manual work, a client dashboard is a real game changer for agencies like you. 
Let's explore further. 
1. Automates Data Retrieval
As you move into the big leagues and further along the digital agency life cycle, manual data tracking just isn't sustainable. It's nearly impossible to manage many clients–far less scale–if you're digging through multiple marketing platforms for data insights each time reporting cycles roll around. 
After adding fifty new clients to your agency's roster, do you really want your staff to spend an entire week (or two) creating manual reports? We didn't think so. 
As Brian Ferritto, Partner at 42connect, recalls, "In the very beginning, the reporting was manual and time intensive. We knew long term this was not a viable option. We tried more automated services such as Google Data Studio (now Looker) and others. These were a bit more automated but cumbersome, difficult to connect with all ad platforms, buggy, and not visually appealing."
Luckily, a client dashboard automates data retrieval and removes this painstaking exercise from your staff's to-do list, and bypasses all the limitations of using GDS. All you have to do is connect your clients' marketing platforms to AgencyAnalytics and let it do the data-fetching for you. 
Stop pulling data insights manually. Get access to a range of client dashboards on AgencyAnalytics–it's free for 14 days. 
Whether you're looking for a consolidated marketing dashboard or a campaign-specific one, you have options that'll put hours back into your day. 
Choose from a range of top marketing dashboards such as:
Choose a pre-built dashboard that suits your agency's needs (or create a custom dashboard). Set it, automate it, and don't think twice about manual data retrieval. 
2. Flips Dashboards Into Client Reports in Seconds
Every agency is familiar with Hell Week. You know, that hectic end-of-month period when all those client reports are due, and there are a million other things on your plate.
But it doesn't have to be that way. With just the click of a button, turn any AgencyAnalytics client dashboard into white-labeled, data-driven reports (or create your own automated KPI dashboard if you prefer). 
Depending on your clients' preferences, take their AgencyAnalytics dashboard and flip it into a:
Downloadable PDF, 

Shareable link, or

Custom email 
It's that simple!
And if you prefer to start with report templates from the get-go, we've got that too.
AgencyAnalytics report templates have significantly reduced the time required to create reports for our clients by 5X. After integrating Google Ads, Google Search Console, or any other of the dozens of platforms that connect with AgencyAnalytics, you can create a report in less than a minute that's ready to send to a client right away.

–Graham Lumley, Director of Growth Marketing at Blackhawk
3. Streamlines Task Management
Sticking Post-Its above your desk will only go so far for efficient task management. Yes, there are project management tools available, but that means yet another browser window that your team has to keep open at all times. 
Why not streamline the entire process while keeping your clients in the loop? By tracking tasks on AgencyAnalytics, share comprehensive to-do lists with clients and your staff–right within a client dashboard. That way, everyone knows what's in the pipeline, and it keeps transparency on the table.
Not only does this improve your agency's overall efficiency, but it also saves your agency time from having to answer task-related inquiries.
Create an ongoing task list that keeps your clients up to date and your staff accountable. Try it on AgencyAnalytics–it's free for 14 days. 
4. Allows Efficient Goal-tracking
Setting goals is one thing, but tracking them is another. After you've fine-tuned your clients' marketing strategies, you need a way to show how their goals are progressing each month. 
Do you really want to sit at your desk and Google 'How to create a formula to track marketing goal progress'? Probably not (and you don't have to). 
Stop making guesses and manual calculations each month to know how your clients are tracking against their goals. By creating custom goals on your client dashboards, you'll streamline the entire goal-tracking process and provide project milestones in a highly visual format.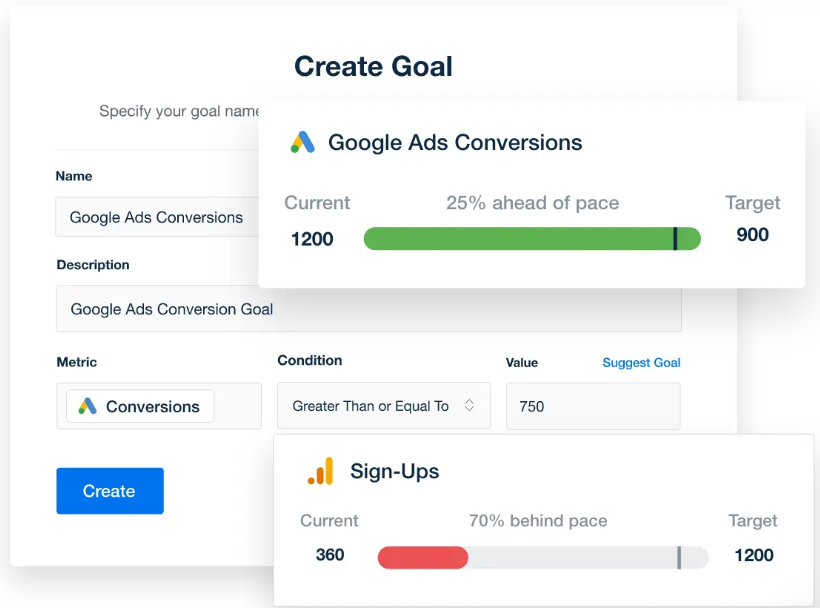 5. Lets Clients See Real-time Updates
For clients who need on-demand access to the data, what better way to save time than granting login access to a client dashboard? Instead of answering phone calls or emails about your clients' metrics, put the ball back in their court. 
No matter the time of day (or night), give your clients the autonomy to view their metrics and see how things are progressing in real-time. 
And having login access to a client dashboard may even mean reduced time at your agency-client 1:1 meetings, which is a win-win for both of you. 
Save time by managing your clients and staff in one place. Create custom profiles on AgencyAnalytics by signing up for a free 14-day trial. 
Agency Tip: Before granting client login access, create custom user permissions if needed. That way, you'll only share what's necessary and avoid questions about vanity metrics (or other less important details).
6. Adds Extra Context Through Annotations
Marketing campaigns can get complicated, especially when many moving parts and metrics are involved. Even as a marketing agency, there are instances where you'd really have to sit with the data and understand what it means before explaining it to a client.
Your clients are busy running their businesses and may not have time to figure out everything on their own. It's especially confusing if they've opened a client dashboard and don't understand what's happening. 
There's a solution, though! Use the handy annotations feature to give more context, provide explanations where necessary, and let them know exactly what's happening. 
Was there a spike in inbound marketing metrics because of a viral social media post? Perhaps there was a drop in follower count. No need for your client to call about it. 
It's as simple as reading an annotation on their content marketing analytics dashboard (or whichever dashboard template you choose). 
7. Automatically Adds PPC Markups
If you're running PPC campaigns, your clients likely want to know how much is being spent as things progress. 
To communicate your agency's margins effectively, enable the PPC markup feature. Add your agency's pre-set margins, and they'll automatically show up on your client's dashboard.
That way, your clients won't have the need to call you with questions like, "Have we maxed out our ad spend?" Clients also won't have to wait till they've received a monthly invoice to know total ad spend. Not only does this save your agency time, but it also keeps things transparent at all times. 
Automatically add your agency's markup to PPC ad spend and save time from follow-ups. Try it on AgencyAnalytics–it's free for 14 days
8. Streamlines Client Communication
Even if you've added annotations, an executive summary, or even a video embed to explain your client's dashboard, they may still need clarification. And being the rockstar agency that you are, you're always looking to provide support when needed. 
Instead of relying on an external platform, use the client messaging feature to keep communication within the AgencyAnalytics platform. It's a breeze to set up on any client dashboard!
Integrate your favorite messaging tool (including Zendesk, Intercom, and HubSpot) with Agency Analytics, and seamlessly integrate communication with your client reporting process. 
By incorporating your client messages within your reporting platform, your agency streamlines the communication process. This means less time getting lost in email threads! 
Agency Tip: Establish communication protocols beforehand to enforce boundaries and ensure the optimal use of your staff's time. This may mean setting specific time frames for client messaging or having procedures for more urgent matters (e.g., starting a message with 'Urgent Request' for faster turnaround times). 
9. Fastracks the Client Onboarding Process
As you know, onboarding new clients sets the stage for the rest of your agency-client relationship.  You want clients to have an excellent first impression and feel like they've made the right decision in choosing your agency. 
Reporting on analytics may seem like one of the more complex parts of onboarding, but not when using AgencyAnalytics. 
When we're onboarding new clients, there's a huge checklist of tasks to go through: you know the drill. It's a tedious and lengthy process. With AgencyAnalytics, the step for implementing reporting is a snap. Because you can create reports with just a few clicks, that whole process is effortless, and anyone on the team can do it. 

–Graham Lumley, Director of Growth Marketing at Blackhawk
Streamline your client onboarding process by:
Setting goals and deciding what's worth reporting on (e.g., setting content marketing KPIs in alignment with an increased web traffic goal or social media KPIs to track community engagement) 

Coming up with a plan of action (e.g., creating ten new blog posts/month with specific keywords)

Connecting their marketing platforms with AgencyAnalytics (FYI–there are over 75  integrations to choose from!)

Using a pre-built client dashboard to report on consolidated, campaign-level, or platform-level insights 

Customizing their client dashboard with all relevant metrics (if preferred)

Deciding on how to share their data insights (e.g., granting client login access to their client dashboard or automatically scheduling a report)
That's it! Brief your new client, customize their dashboard as needed, and be on with your busy day. 
And with just the click of a button, it's easy to duplicate dashboards for other new clients with similar needs. 
Creating a custom client dashboard is as easy as dragging and dropping widgets. Save time on client reporting with the drag and drop editor tool from AgencyAnalytics–it's free for 14 days. 
Having quickly replicable client dashboards also means you won't need to reinvent the wheel each time a new client comes along.
Start with a template. Set it up exactly as you will want it. Then clone it from there. It will save you hours of work if you are fastidious in creating the first one. Spend as long as it takes on the first one. It will pay off in the long run!

–CJ Dunbar, Brand Manager of Suite Edge
For example, say your agency provides a range of SEO services. While client needs vary a bit, there's often overlap in the types of metrics you need to keep track of. Instead of building an SEO dashboard from scratch, it's much more efficient to replicate it and customize it as needed. That's where an SEO dashboard template comes in very handy!
Also handle the client's PPC and Social Media campaigns? A comprehensive digital marketing report template consolidates all your client's data into one centralized hub, driving efficiency, improving targeting, and maximizing conversions. Alternatively, create your own a-la-carte report using a digital marketing reporting tool.
10. Creates Intuitive Data Visualization
When it comes to client reporting, data visualization is a highly effective way to show what's happening. Think about it–would you rather look at a Google Sheet full of numbers or a graph showing what's happening at first glance? 
No more getting lost in numbers. With AgencyAnalytics, use a visual client dashboard that creates a story from all those numbers. After all, data storytelling is the only way to turn complex data into a meaningful narrative while creating value for your clients. 
The result? Happy, well-informed clients and less time explaining number-heavy insights.
The data visualization provided by AgencyAnalytics report templates goes above, and beyond the reports, you can create in Google Sheets, and it's all at the click of a single button. We really appreciate the automation as well. 

–Graham Lumley, Director of Growth Marketing at Blackhawk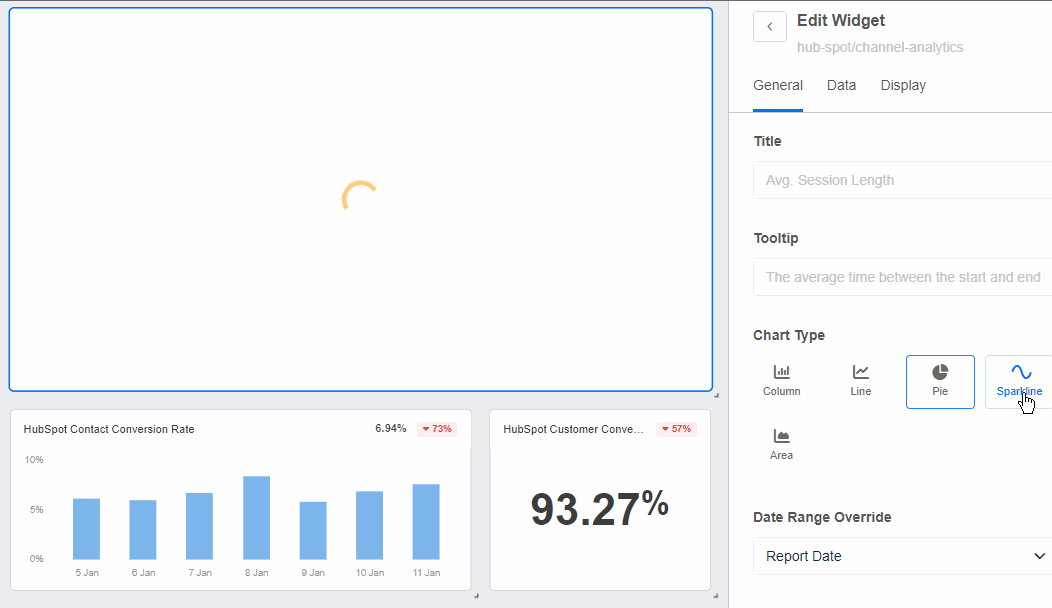 Choose the visuals that make your clients' data pop. Create highly-aesthetic client dashboards on AgencyAnalytics; it's free for 14 days.
Use an Automated Client Dashboard To Stay One Step Ahead
Having an agency client dashboard improves efficiency and frees up your staff's time. 
From using a ready-made social media dashboard to building a PPC dashboard, AgencyAnalytics is the automated reporting tool that'll put billable hours back into your day. 
Agency Analytics is one of the most essential tools we use as an agency. Not only do we use it daily with our internal team to check specific KPIs we are tracking through various dashboards, but it has also saved us countless hours with our monthly reporting. The reports we output and email to our clients have the data clearly visualized and look professional, giving our clients a report they can finally understand!

–Brian Ferritto, Partner at 42connect
Choose from a range of client dashboards and save valuable time. Try the automated reporting tool used by over 6,000 agencies. Sign up for a free 14-day trial today!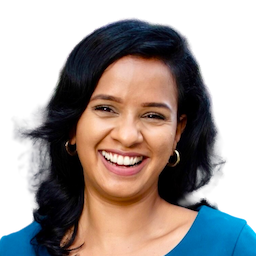 Faryal Khan is an experienced marketer and brand photographer with a passion for content creation. She creates value for brands through storytelling and captivating visuals.
Read more posts by Faryal Khan ›
Try AgencyAnalytics risk-free for 14 days. No credit card required.