Your AgencyAnalytics custom marketing dashboards just got even better!
Today, we've rolled out several brand new features for our widgetized dashboards based on customer feedback.
If you missed it previously, we launched a major update to our widgetized marketing dashboards on January 18th, in what was probably the biggest update to our platform in several years.
Initial reviews have been overwhelmingly positive, and more customers than ever are taking their reporting to the next level by creating client accounts for their customers to login and track their data.
But we quickly realized that there was an opportunity to make the new marketing dashboards even better by tweaking just a few features.
So today, we've made the following updates:
1) Pre-configured Dashboard Templates
We launched the new marketing dashboards with a couple of features that were designed to reduce the time that agencies needed to spend setting up each dashboard, in the form of dashboard cloning and dashboard templates. But customers have indicated that they'd prefer the option of applying a professionally designed dashboard template with a single click. So we're now offering just that!
We've custom crafted 5 different pre-configured dashboard templates options that you can apply right from the "Setup Dashboard" screen.
To apply any of them, first click "Setup Dashboard":
Then, click "From Template":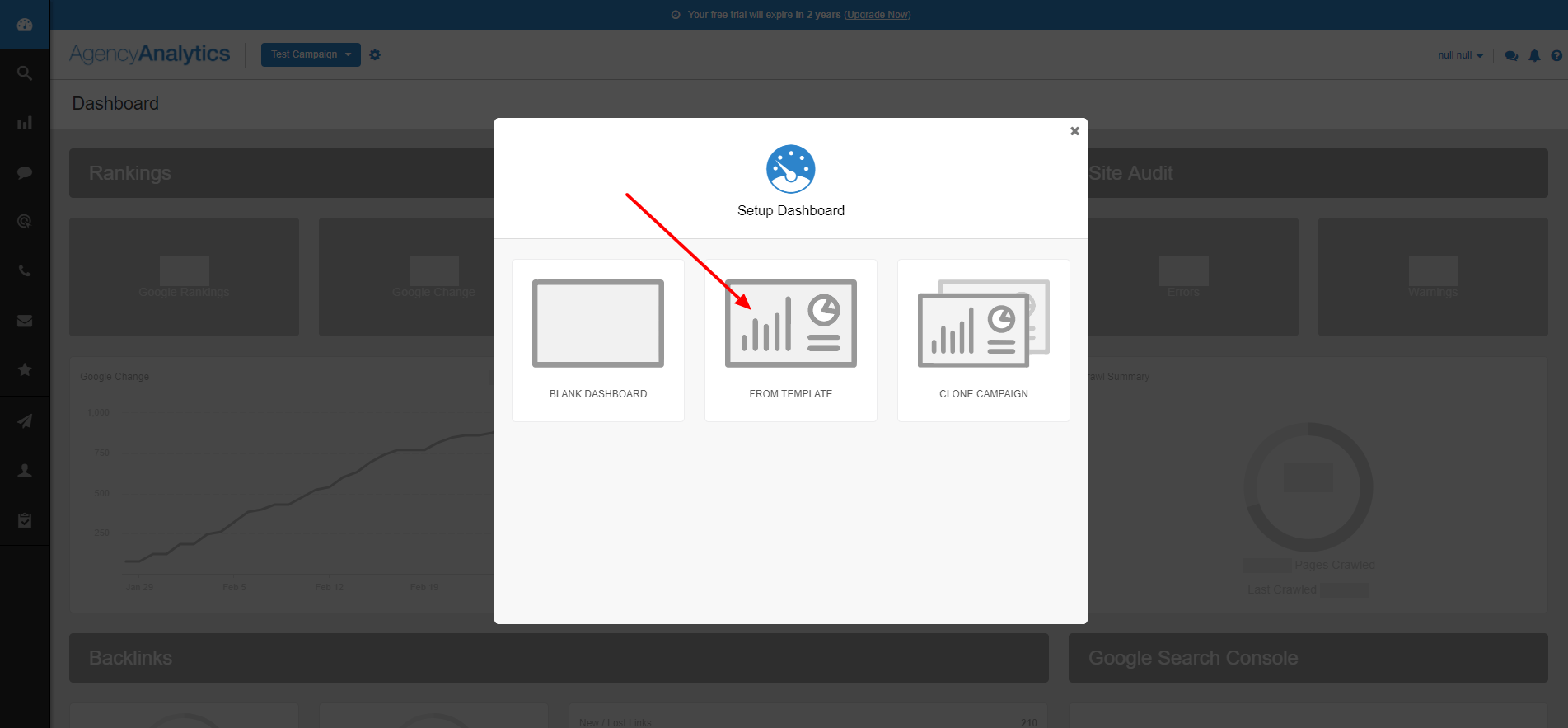 This screen used to show only templates that you had created on your own. It now also includes pre-configured templates that we've built for you!
They include:
Click any of these templates to select it, then click "Create Dashboard"
After you've applied the basic pre-configured template, you can then tweak and customize it in the specific campaign dashboard as you see fit.
2) Mobile Dashboards
The original dashboards were difficult for many customers to format properly and make them look nice on both desktop and mobile. You can now configure both a desktop and mobile view, separately, for each individual client dashboard. The pre-configured dashboard templates come with a mobile view included.
To configure the mobile dashboard view:
First, configure your dashboard as normal. Then, click to toggle on "Edit Mode":
Click the drop down, and choose "Mobile":
You'll then be presented with the mobile version of the dashboard, which can you then edit to optimize mobile appearance. Changes are saved on the fly.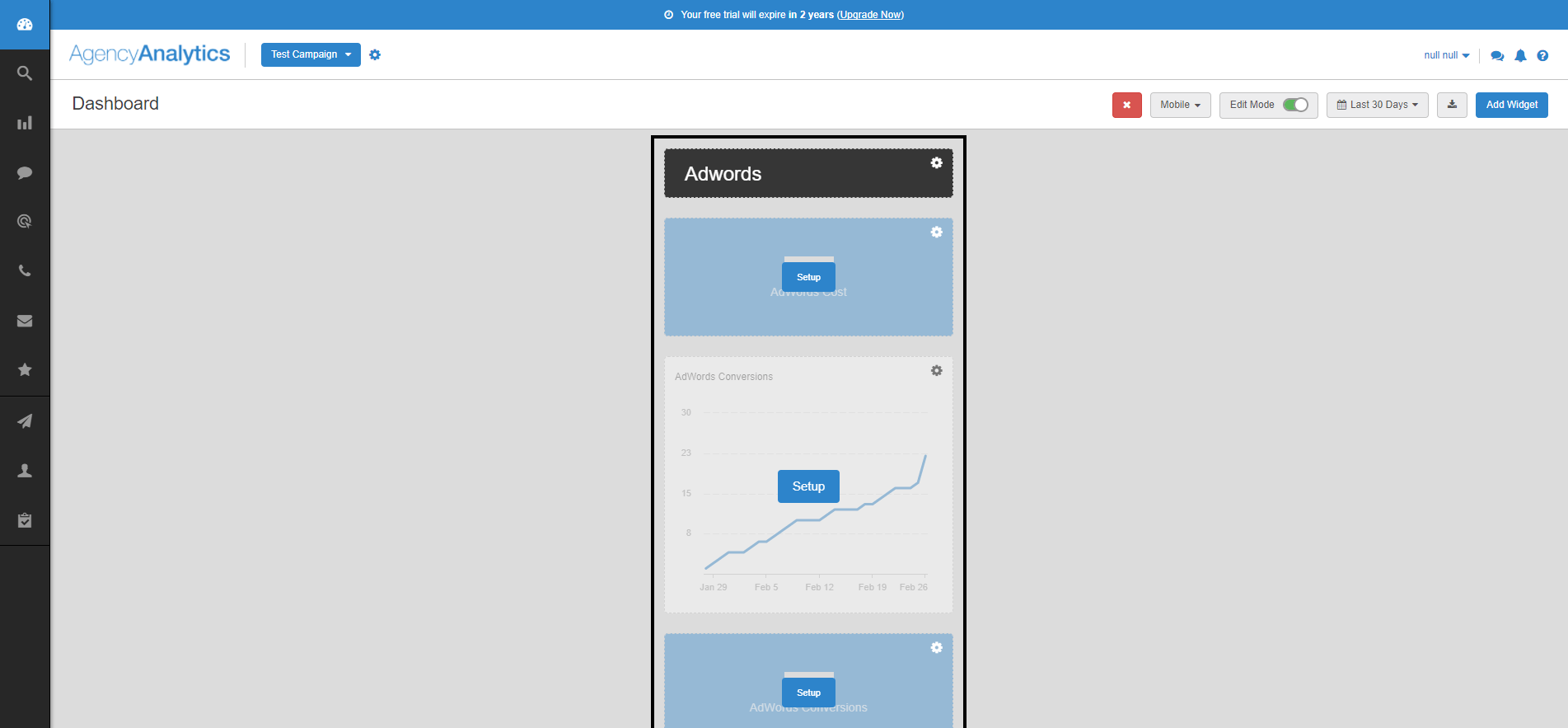 3) Clone Dashboard Templates
Now, in addition to the ability to clone individual client dashboards during the onboarding process, you can also clone dashboard templates! This makes it easy to create multiple templates that contain slight variations without having to re-create the entire template from scratch.
To clone a dashboard template, navigate to your Dashboards control panel, and click "Create Dashboard"
Then, in the window that appears, choose "Clone Template"
Finally, choose the template to clone, and click "Create Dashboard"
4) Minor Changes
In addition to the pre-configured dashboard templates, mobile dashboards, and the ability to clone dashboard templates, we've rolled out a few minor changes to the marketing dashboards today. These are:
Changed the "X" button for dashboard deletion so that it's only visible in "Edit" mode

To accommodate the above change, we changed the position of the "Edit mode" slider

New widgets are now added to the bottom of the dashboard rather than the top

Fixed a bug with scroll visibility for OSX
We hope that these changes make the custom marketing dashboards more user friendly and that they help with rolling out client dashboard access to all of your customers at any scale.
Questions? Comments? Feedback? Don't hesitate to reach out!
Trever Clark is a Digital and Social Media Strategist. Passionate about: SaaS onboarding, customer success, and home-distilling artisanal whiskies like a true Grand Rapids hipster.
Read more posts by Trever Clark ›
Try AgencyAnalytics risk-free for 14 days. No credit card required.