Reporting is a tedious task that many marketing agencies struggle with at the end of each month. And for growing agencies, it's important to automate such tasks in order to scale. Whether you have 5 clients or 500 you'll need to be personal, yet professional. 
To effectively communicate your clients' marketing, you will need a strong reporting engine that transforms information from many sources into intuitive graphs that your clients will appreciate -- with little effort. 
That's where robust reporting tools come into the picture. Hold on tight because your agency is about to choo-choo on out to client stardom.
Here are 9 tips to turn your agency into a reporting powerhouse:
#1 - Roll Your Clients' Data into One Dashboard
There's a fine line between too much data and not enough of it. As a marketing agency, you're at the frontline every day, making important decisions for your clients with numbers shooting out at you from every direction.
Your responsibilities are twofold: on the one hand, your clients expect transparency when it comes to their data. There is a wealth of information to share, including Google Ads metrics, Facebook KPIs, Instagram analytics, and SEO data.
But too much of it can leave them confused. That's why each client gets a singular, visual dashboard with all the metrics you choose to track for them. All the data, none of the fuss.
Read More: 15 Best Marketing Dashboards To Help Your Marketing Agency Scale
Marketing today is a complex beast and switching between platforms can make you dizzy. Not to mention wasting a lot of extra time. 
Connect any digital marketing channel in just a couple of clicks with a tool like AgencyAnalytics. Choose from Google Ads, Facebook, Google Analytics, GMB Insights, and over 75 marketing data integrations. Combine your marketing channels with in-house tools like our powerful keyword rank tracker tool and SEO reporting tools for automated reporting made simple.
#2 – Tailor your Dashboard for Each Client 
Your clients all have different priorities. Make sure your reporting reflects that by using custom metrics for in-depth reporting. 
Clients want to see their performance across all their marketing channels. With custom metrics, you easily combine data from multiple integrations into a single metric and clearly communicate your campaigns' successes.
Custom metrics provide you with the flexibility required to accurately track the performance of each campaign across all channels. That's right. ALL of them.
Talk about at-a-glance! AgencyAnalytics takes metrics from over 60 integrations and conveniently gathers them all in one place. Pick and choose the channels and metrics that are most important for each of your clients. Then simply drag and drop them to easily and effectively communicate proof of your marketing success. Read more: How to Use Custom Metrics for In-Depth Insights and Reporting 
#3 – Add a Personal Touch
Your clients want to feel special. Even if you've got 50 or more of them. Add your own personalized insights and commentary to your dashboard. With custom dashboards, you can:
Write individual comments for each section of your report

Craft an executive summary

Make recommendations

Clarify unusual data patterns
Infuse your report covers with lively background images and colors, and play around with title box widget settings for the ultimate customization. Let your reports stand out and reflect the premium value you offer.
Set up fail-safe mechanisms even if you've already automated your agency reporting. Approve each report before it is sent, to ensure you have nothing missing and for the opportunity to further streamline your reporting while still providing your own personalized insights and advice.
Read more: How to put your agency's reporting on autopilot
Pro Tip: Use your reports to influence your upsells! Instead of automating your client reports, you might opt to check each report before they go out to identify gaps in the marketing campaigns. By reviewing your reports, you can upsell services your clients need to fill those gaps.
#4 – Tell a Story
Once upon a time, there was a marketing agency that never made sense of their data. Their clients were lost and didn't seem to understand if this marketing agency was really helping them. Then along came annotations…
Highlight important changes, set goals, keep clients up to date with the progress and tell stories with your data.
Here's Why Every Business Needs to Adopt Data Storytelling 
#5 – Use Visuals   
Your clients don't have the time, or sometimes even the know-how to interpret complex marketing metrics. You've got to help them visualize the data. 
Like any story, you'll have to set the scene for an excellent story. As a marketer, that means your visuals are crucial in communicating data. And choosing how to represent your information is almost as important as the information itself for your clients. 
Here are some Best Practices for Data Visualization for agency reporting.
#6 – Streamline Your Workflow within Your Agency
Delegation within your agency is key to scaling your marketing efforts. By creating staff accounts, you assign employees to specific campaigns, giving them access to the tools they need to succeed all the while restricting access to sensitive data. 
Also use this to monitor how well they manage your clients' campaigns. Optimize your agency's success rates by stepping in if your marketing team needs help.
Here are more marketing agency tools to help you organize your marketing team's workflow.
#7 – Give Clients Access to their Data on Their Own Schedule
Transparency is the ingredient for trust. And with everything on-demand nowadays, clients will want to have access to their data whenever they want. Give them login info to their dashboard so they can log in to their details instantaneously.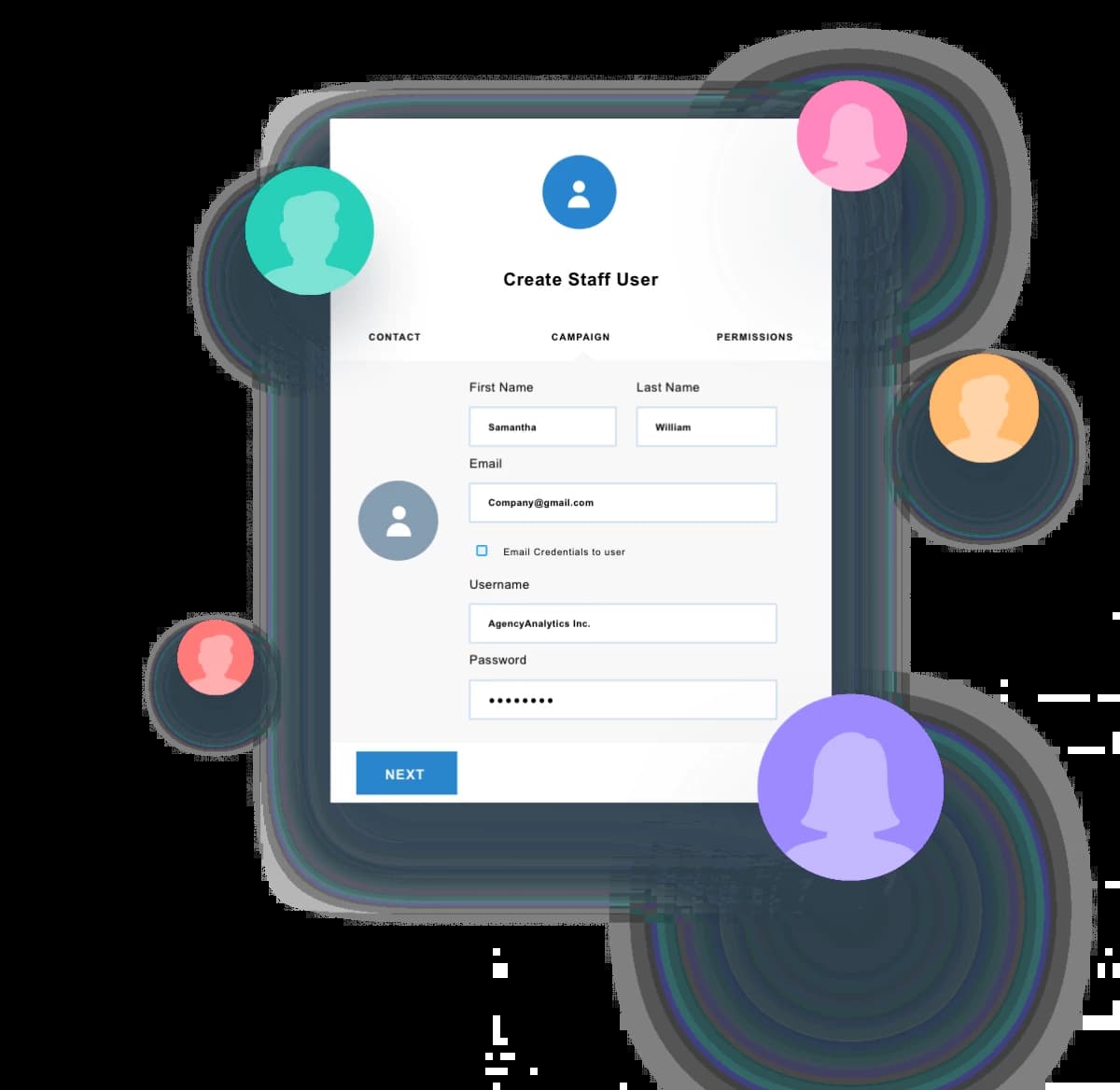 With simplified client management, you monitor and manage all your client data in one simple interface. Whether you have one client or thousands, our intuitive dashboards let you navigate between accounts to find the data you need with a single click.
Agency Tip: You can give more permissions to some clients than others, so the less marketing-savvy ones don't get overloaded with too much info. 
#8 – Diversify the Format 
The ability to easily share reports is important for clients. You'll need your agency reporting to be available in different formats so that they can export the data to PDF, CSV, XLS, and email. With AgencyAnalytics, easily share data with clients right from within a dashboard, including the option to download a PDF, send a report via email, share a link, or present the dashboard with clients in full-screen presentation mode:
#9 – Use Pre-Made Templates 
Short on time? We've got loads of dashboard templates for you to pick and choose from to help get you started in minutes! And with premade report templates for all your agency reporting needs, you'll be feeling like a kid in a candy shop. 
These ready-to-use marketing report templates offer a quick, standardized, and client-friendly solution for data presentation, freeing up your time for more strategic tasks, including:
Impress your clients with eye-catching, easy-to-understand reports that spotlight your triumphs. Consistent reports also mean you easily track campaign performance and make data-driven decisions faster.
Case and Point: Automate Your Agency Reporting
You're busy. And if you don't have an automated reporting system for your clients, you are spending countless man-hours doing what a well-established company can do for you in a matter of minutes.
With over 75 integrations, SEO reporting tools, and an intuitive dashboard to adjust to your heart's desire, you create custom reports for each of your clients – and fast – without having to overthink it each month. Learn more about our agency reporting tool.
Written by
Melody Sinclair-Brooks
Melody Sinclair-Brooks brings nearly a decade of experience in marketing in the tech industry. Specializing in B2B messaging for startups and SaaS, she crafts campaigns that cut through the noise, leveraging customer insights and multichannel strategies for tangible growth.
Read more posts by Melody Sinclair-Brooks ›
Try AgencyAnalytics risk-free for 14 days. No credit card required.